Well hello Friday, how are you all doing? I don't know about you but this week has whizzed by, which means only on thing…it's nearly the weekend! We are currently in the middle of having building work done on our house, so this weekend while Dexter is at Beaver camp, Nik and I will be house shopping, looking at bathrooms, wardrobes, filling in spread sheets and trying to get as much done as possible. It's been a pretty noisy 2 weeks so far, I would not recommend working from home while you have building work done, it's far from easy, but I keep reminding myself of the end result and hope it will all be worth it in the end. So on with today's wedding and it's the turn of Dominique and Nelson who were married on 10th April 2021 in Phoenix, Arizona. The thing that really grabbed me about this wedding are the amazing ceremony flowers. The ceremony backdrop is breathtaking, as are all the flowers running down the aisle, so so beautiful! I also love the celestial accents which really add something else to the whole day. Big thanks to Suzy Goodrick Photography for the beautiful submission.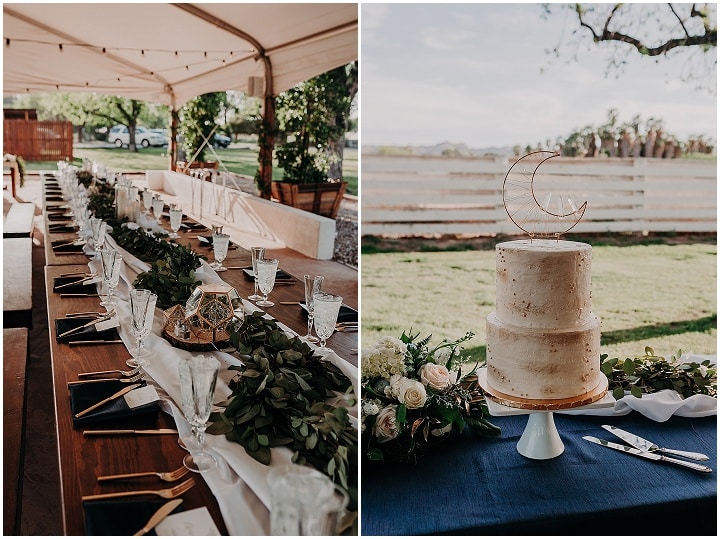 With a 1920's inspired bouquet, Hayley Paige gown, and celestial accents, Dominique and Nelson's wedding is a garden oasis that can only be found in the Phoenix desert.
Dominique's personal details showcased pieces from her grandmothers wedding day and family heirlooms that have been passed down for generations. The couple honored their late grandparents with memorial bouquets and surprised her parents with these thoughtful touches. The reveal, which happened moments before the ceremony, will be an emotional memory for years to come. The bride's dad also surprised her during the father daughter dance with a special made enamel pin of a sunflower, her favorite.
The aisle was adorned with floral arrangements and Thailand imported flowers hung from the trees, all hand designed by Moelleux Events. Dominique rocked a Hayley Paige gown with layered necklaces and celestial pieces in her hair. Nelson even showed off his mullet for the big day.
It was an intimate wedding filled with details to honor their family, intentional moments with Dominique's parents, and flowers you wouldn't believe. What a night to remember!
Supplier Shout Outs
For more information on Suzy Goodrick Photography go to
[jprel]