Yay for Friday! It's been a long old week so I have to say I am super excited for the weekend! This weekend we are going out to dinner with friends, going to a Victorian Christmas Market, decoration shopping, ice skating and finally getting the Christmas tree up and the outdoor decorations. With the house build I haven't been feeling particularly Christmassy, as the whole process has been pretty stressful, so I'm hoping after this weekend I may be in the Christmas spirit a bit more! What about you? Do you have any Christmas activities planned? On with today's styled shoot. The shoot took place on 29th September 2020 in Kansas City, Missouri. It's a unique shoot with a celestial theme, full of colour, dramatic lighting, smoke bombs and some beautiful decoration. Big thanks to LGEmerick Photography for the submission.
Leah from LGEmerick Photography tell us more about the shoot.
Our inspiration rose from the vivid, imaginative colors of Pantone's 2021 palette. The bright optimism of the shade and hues ripped us from the doldrums of 2020 right into a world of vibrancy and delight. We wanted to show something playful and different from the usual color combinations that dominate most spaces in hopes of inspiring the bride that wants something classic with a twist (without being bohemian).
Also with the difficulties many brides faced in 2020 we wanted to pull in a celestial element to showcase the bigger picture. Love, when it is true, is something that is written in the stars. So we pulled in lots of fun celestial imagery to drive this point home. From the bride's hair pieces, to her necklace, to the grooms bow tie, the cake, the cookies, the moon lamps on the table… we wanted not only out-of-this-world colors but also to capture the idea that love is bigger and brighter than anything this world can throw at us.
Plus our couple is a real life married duo with eleven years of wedded bliss and two kiddos under their belt. So their smiles and snuggles are the real deal!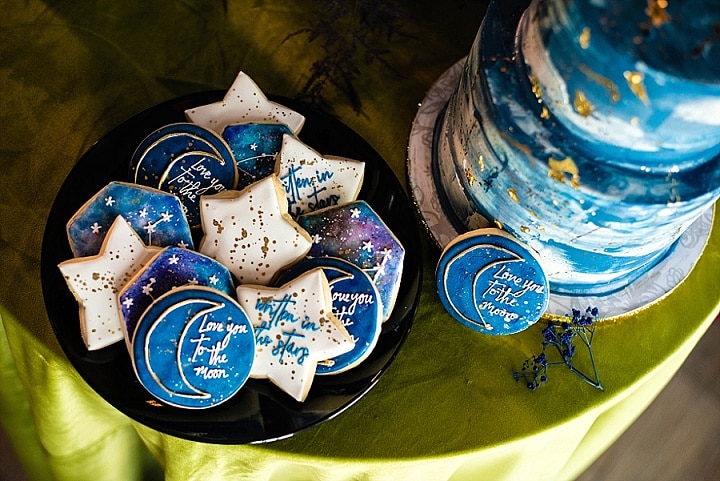 Supplier Shout Outs