Happy Monday and how are you all? How was your weekend? Did you survive the rather unseasonal weather? We had a bit of a chilled weekend, it's been so busy lately, we just needed a weekend of catching up. I got lots of jobs done, took Dexter to the Cinema, it was all good! Now I'm ready for the week ahead of us, starting off with this super cute backyard wedding from California. Ciera and Bruce's wedding was never meant to be a backyard wedding but then Covid hit! Their original guest count of 200 went down to 40, their venue had to change, as did a lot of the requirements for the suppliers. However they pulled together, got it all sorted and the wedding was able to carry on! They filled the day with bright and cheerful sunflowers, that really made the day super special and really stand out. Big thanks to Lisette OC Photography for the lovely photos.
I wanted our wedding to be cheerful and happy in the color scheme and style…it is a joyful occasion!!! We had a simple rustic vibe with dusty blue, navy and sunflower yellow. There were touches of burlap and natural woods, but a lot of white and casual elegance.
Ciera and Bruce were married on 25th July 2020 at St. Angela Merici Church in California, with the reception at the brides parents backyard. 'Having a church wedding was important to us. We ended up having the reception dinner in my parent's backyard due to COVID. It wasn't what we had imagined for the day, but now anytime we go to my parent's house we can have memories of our wedding day! We had 40 guests. We got engaged in July 2019 and got married in July 2020. We had most of the event planned by Winter 2019 (attire, vendors, venue, etc). In May 2020 we went back to the drawing board and spent the last two months working within the California restrictions. My Mama and family were a huge help!'
How they met 
Bruce & I met at work actually! He was in the marketing department and I was in sales. When he saw me in the hallway for the first time he literally stopped dead in his tracks! A few days after our first encounter we officially met at an office happy hour. One hiking date later and the rest was history!
The proposal
On a trip to Alaska (where Bruce had lived for a number of years before moving to California) we were out on a hike in the middle of the Alaskan Tundra when Bruce got down on one knee as he said how special it was to have the girl he loved in a place he loved and then asked if I would marry him. I was so surprised and shocked, I actually said "Oh my gosh, No way!" first. "No" probably not the first word he wanted to hear from me, but my next words were YES, OF COURSE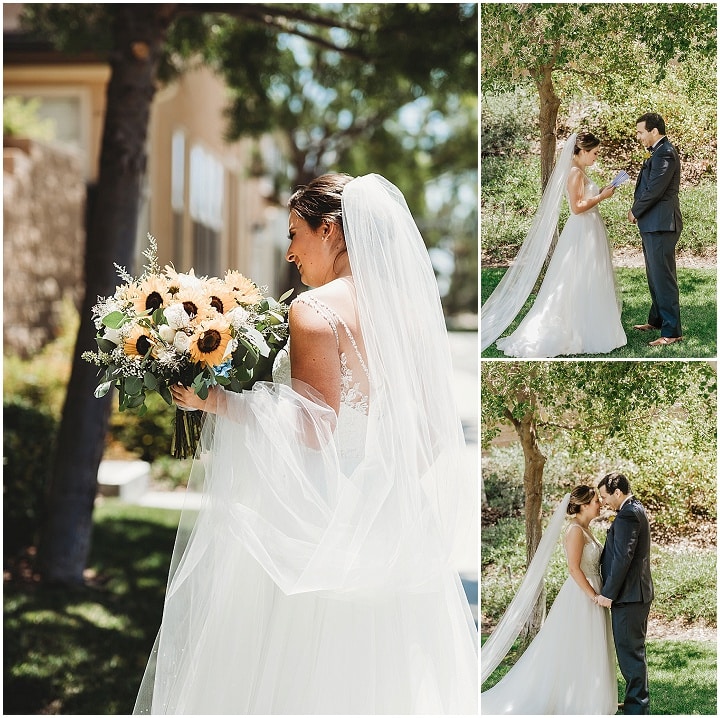 Where did you splurge and where did you save?
We ended up saving on our venue, we rented tuxes instead of buying and we worked with an amazing florist which allowed us to splurge on photography and videography.
How did you choose your photographer?
I wanted to find a photographer that had a natural editing style and an eye for candid photos as well as family portraits. I was nervous about a photographer being able to take nice photos in our church that is dark and hard to move around in. Lisette had actually worked a wedding in our very church and was able to share her success in the venue! Lisette was easy going and so kind throughout the whole process…which included venue changes, running late and pandemic PPE. She also gave us sneak peaks while on our mini moon and delivered our full album prior to her deadline date.
The dress 
Love and Lace Bridal Salon
The suit
Friar Tux
Theme or colour scheme
I wanted our wedding to be cheerful and happy in the color scheme and style…it is a joyful occasion!!! We had a simple rustic vibe with dusty blue, navy and sunflower yellow. There were touches of burlap and natural woods, but a lot of white and casual elegance.
Flowers 
We loved our floral design for the wedding. I knew what I wanted but couldn't find any Inspo photos online. With the information I had in my head, our florist Kevin Reeder created the most beautiful pieces. The traditional bouquets with a few sunflowers made for a cheery and summery look.
Decoration 
We kept decorations pretty simple. The main focal point was a rented ivy wall and large "B". We added wood carved name tags for each family member in attendance. We had sunflower centerpieces and our guest book puzzle.
Food 
We utilized Craftsman Catering in Anaheim Hills for a beef and chicken plated meal. The owner was amazing to work with!
Wedding cake
Pacific Patisserie was able to make a beautiful cake (taking my inspo from email correspondence only!) with two different flavors. We loved it's timeless simplicity with a rustic flair.
Entertainment
Our church singer Solene Le Van was a highlight for everyone at our wedding ceremony!
Who supplied the stationery?
Pop Fizzle Gifts via Etsy was able to make custom Save our New Date announcements, which we sent out with ceremony zoom details, ceremony program, puzzle piece, advice card and favor.
Where did you go on your honeymoon?
We had a mini moon to the La Valencia hotel in San Diego. We grabbed take out food and picnicked out on the La Jolla coastline. As we ate each meal, we would read the marriage advice that each of our original guests sent in prior to the wedding. Although simple, it was a  beautiful way to spend our time as newlyweds.
Personal touches
A month before the wedding,  we sent out original guest list (200+ people) a puzzle piece and a piece of paper. We asked that they return the paper with words of advise and well wishes and return the puzzle piece signed for our guest book. It was awesome having everyone "there" at our reception in some way. We read the marriage advice on our minimoon and can cherish the letters for many years to come.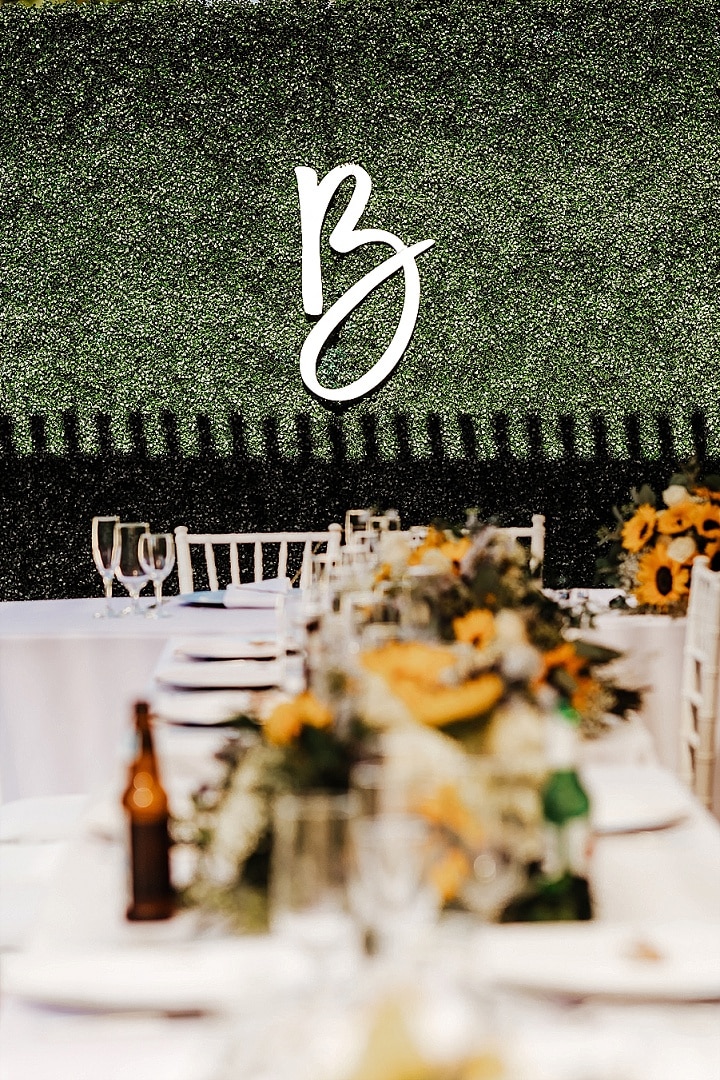 Special moments 
Bruce's dad was unable to make it to our wedding due to the pandemic. He surprised us and filmed a rehearsal dinner speech that played the night before the wedding. At our newfound small reception dinner, nearly everyone gave a speech or toast. With less people and pressure, our families were able to share which led to many years and hearty laughs!
Advice for other couples
COVID wedding planning was hard…it's just the truth. However, our day was so special and we appreciated every moment because we worked hard to get there. Don't get discouraged and remember what is most important about the day.
Biggest surprise 
One of our biggest surprises was how fast the day goes by. I had heard this from other brides, but it really is true! One of my favorite memories was sunset photos with my husband at the end of the day. We were able to catch our breath from the whirlwind of the day and revel in the fact that we were MARRIED!
I was also surprised at how gracious most of our vendors were in the midst of the pandemic. We were (mostly) very lucky that many of our vendors were flexible with our needs as times changed, amount of services changed, dates changed, etc. Our florist, hair & make up, bakery, new caterer, photographer, videographer and many more were so helpful in a time of uncertainty and stress for brides and vendors alike.
Supplier Shout Outs
For more information on Lisette OC Photography go to
www.lisetteocphotography.com / www.lisetteocphotography.com/blog / FACEBOOK / INSTAGRAM / PINTEREST