I have a gorgeous wedding for you to finish off the week, all the way from Laguna Beach in California. It's the beautiful backyard wedding of Mayna and Josh who were married on 27th October in a backyard space on the very street they live on. All the neighbours pitched in to help and Mayna and Josh put pretty much everything else together themselves. The wedding has some gorgeous DIY touches and this open air ceremony and outdoor reception, makes me long for more reliable weather in the UK so we can have these sorts of weddings here! Massive thanks to Mike & Deb from Funny Face Photography for the amazing photos.
Mike and Debs have been kind enough to tell us a bit more about the day
Most of what you see in the photos they did themselves, she said she tried to shop locally as much as she could, ordered the flowers from a local shop and did them herself for the wedding.  Her husband built the 2 bars that they used to serve their guests as well as the dance floor.  The location for the wedding is a big backyard space behind a few houses on her street so all the neighbours helped out.  The band,  Flashback Heart Attack, is an amazing 80's tribute band and also friends of Mayna and then they had In-n-Out come to feed their friends and the Funny Face Photo Booth rounded out the super fun night.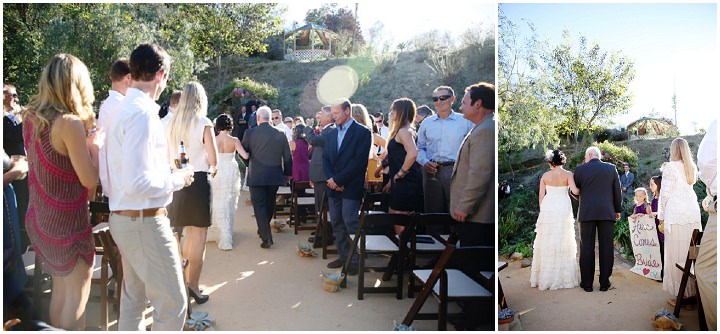 Supplier shout Outs
For more information on Mike and Debs work go to
www.funnyfacephoto.com
[email protected]
FACEBOOK
@funnyfacephoto