Happy Friday everyone and how are you today? If travel is on your mind and you are itching to go away on holiday then today's Bora Bora elopement is for you! As you can imagine I see a lot of weddings in my job, but I have to say that this wedding has one of the most stunning backdrops I have ever seen, it really is what paradise looks like! Tell me this isn't pure wedding perfection. Devon and Travis were married on 22nd September 2020 in Bora Bora with a traditional Polynesian wedding ceremony. With a first look to kick the proceedings off, they then traveled by a very small canoe to a secluded beach where they held their beautiful wedding ceremony, followed by their own personal trash the dress shoot! What an amazing collection of photos to have of your wedding day, this is one lucky bride and groom to hold their wedding in such an amazing location. Big thanks to Bora Bora Photographer Damien Gobron for the stunning images.
Damien the photographer tells us more about the day
Let me ask you,Where you mind wanders when you imagine the perfect beach wedding? If you are like me and you picture yourself with a flower crown barefoot in a warm sand beach, with a Tahitian priest, a conch blower, dancers and romantic polynesian music, then Bora Bora is your destination wedding dream.
The Polynesian Wedding ceremony held in all the Tahitian islands is a celebration of joy and love. It includes a hand-fasting blessing ceremony, exchange of flowers crowns and leis and being wrapped in a Tifafai or quilt.
The groom awaits his bride on the beach while an outrigger canoe paddled by a bare-chested Tahitian man transports the bride inside a heart of flowers and then the Polynesian wedding ceremony begins. To start the conch blower will sound the conch shell. and the master of ceremony will divide one leaf into making two bracelets and will put them around your wrists to tie the knot, With your hands together you will get blessed with pure water of the blue lagoon
The bride and groom will exchange Leis and fresh flower crowns. In French Polynesia a Lei is given at every joyous occasion.
To symbolize the union, you will find yourselves wrapped in a tahitian beautiful quilt. Protected by this traditional handmade blanket you can kiss.
To celebrate the union the dancers and musician will perform the traditional songs and moves and even invite you to join them. And of course , we schedule a season session to trash the wedding dress in the blue lagoon, a bride mermaid dream!
If you always have dream about toes in sand, one-of-a-kind backdrop, tropical flowers, dancers and music in a ceremony full of symbols and traditions the Polynesian Wedding is for you.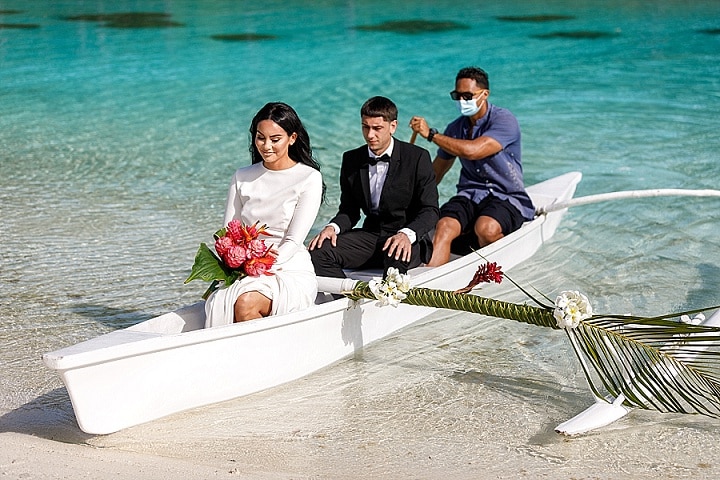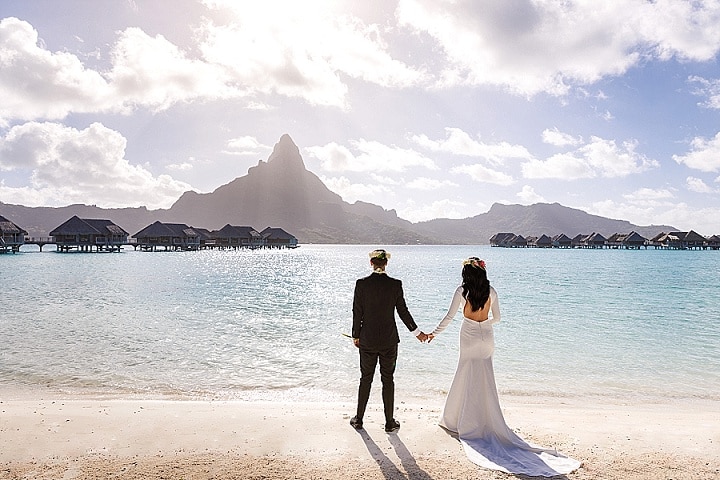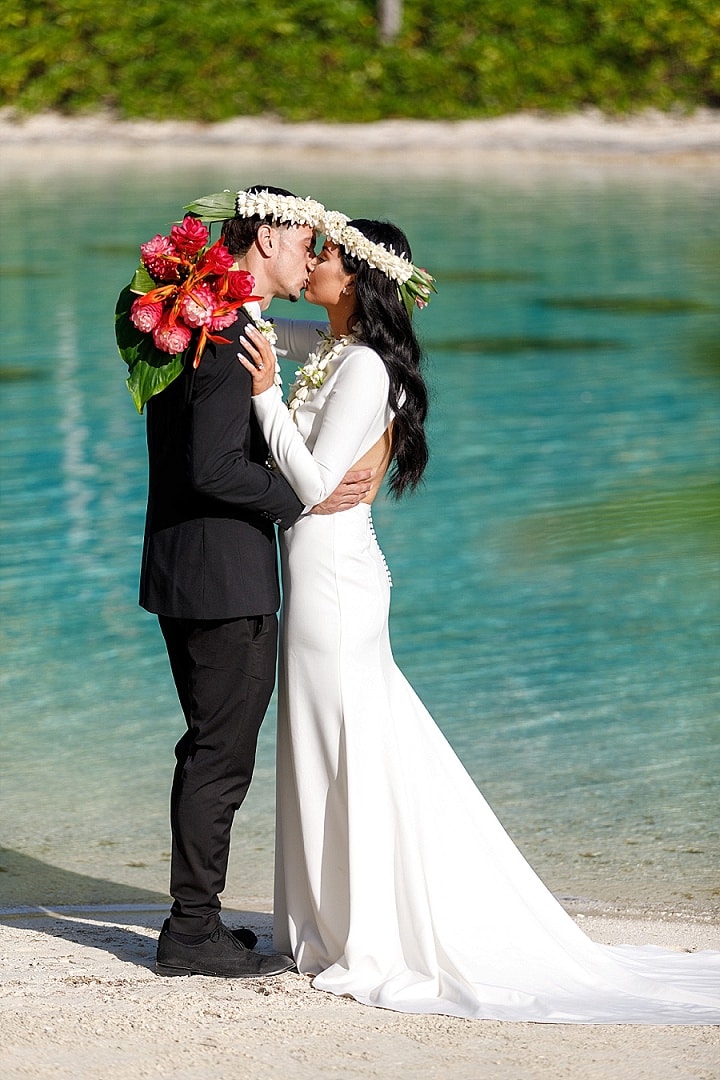 Supplier Shout Outs
For more information on Damien Gobron go to
[jprel]