Today we are back with Lisa and Alex from 2 people 1 life for wedding number 44. Last time we caught up with Lisa and Alex they had arrived in the paradise island of Tahiti ready to embrace the culture with a full on Tahitian traditional ceremony. Today they are enjoying the totally beautiful setting of Bora Bora, but not just as you would normally do swimming in the sea and chilling on the beach! Lisa and Alex take a trip out on a Million Dollar yacht and experience the high life! It really is an amazing day that ends in the most gorgeous wedding ceremony! I'm not at all jealous of them…..honestly I'm not!!
(In case you have missed it the whole story Lisa and Alex have spent the last two years travelling round the world getting married in every country they visit, you can read more about their adventures HERE.)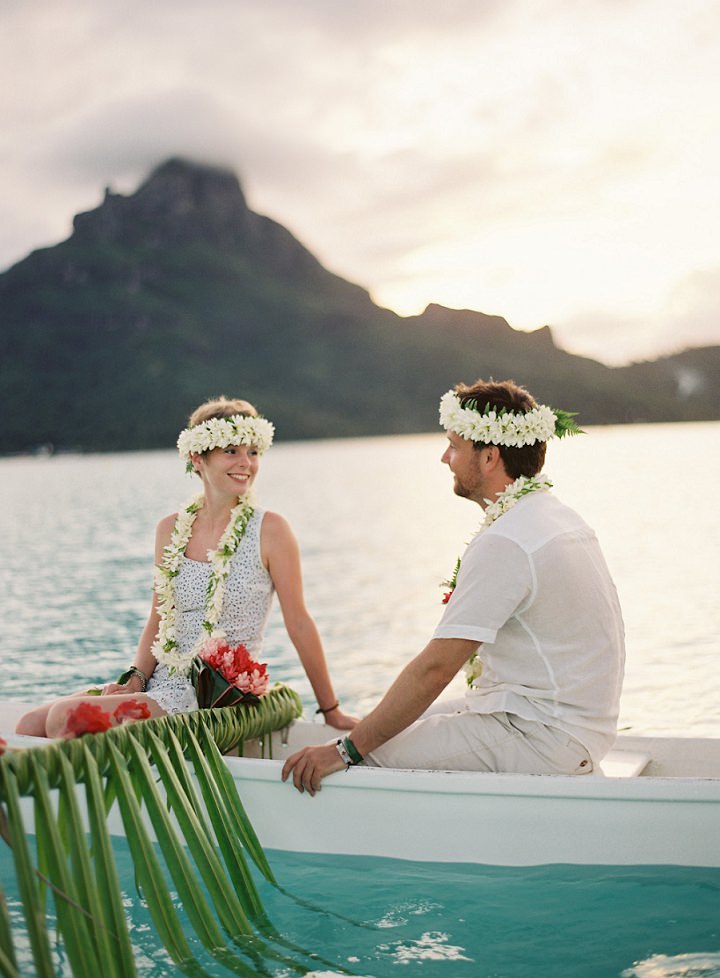 We had a VERY busy day ahead of us in Bora-Bora on our 44th wedding. We kept re-reading the schedule and trying to make sense of it…we were due out at 'sea' all day and had only half an hour between getting off a boat trip and being at the altar ready to say our 'I Do's'!
HOWEVER, what we didn't realise was that we were not going out on any old boat, we were going out on a luxury yacht with showers, rest rooms, a chef filled kitchen, a dining area, bedrooms, champagne on ice and a wonderful relaxing area! When we saw the stunning yacht approaching we looked at each other in disbelief and tried to look behind it for OUR boat! Catherine stood with her camera at the ready and looked equally perplexed!
When a smaller boat appeared from behind the now stationary, sparkling white boat and started zooming towards us we were just completely gobsmacked by the whole matter. The speed boat pulled up and helped us on board and we were introduced to the fabulous crew of the Tahiti Yacht Charter! We whizzed back to the super sleek yacht and were welcomed on board the magnificent beast that would take us on our Island tour.
We wandered around a little awe struck probably mimicking goldfish with our mouths hanging open as we were shown around below deck, offered refreshments and planned our day with the crew.
As we sailed we chatted with the crew who told us about the Island, its history and how they charter the yacht for weeks with families and groups on the holiday of a life time. Such an incredible job and one they were very, very good at.
We had SUCH an amazing time. We snorkelled with black tip sharks, tried our hand at paddle boarding in the perfectly clear waters and even had a little adventure in a pair of canoes. We ate an incredible meal prepared on deck with a glass of champagne or two and were invited to wear traditional Tahitian clothes and head pieces to take some pictures on the fantastic million dollar yacht.
We weren't at all sweaty or salty when it was time to disembark and we wished we had been more prepared as we could have taken time on the yacht to prepare for the wedding. The situation was definitely more enjoyable than had we been out in a dingy for the day! We were showered and ready to run to our bungalow to change and try to apply a spattering of make-up and still be on time for our ceremony.
We thanked the amazing crew for such a wonderful experience and waved as they whizzed back to their gorgeous floating luxury apartment and we jumped onto our awaiting golf cart and were whisked back to our room to change.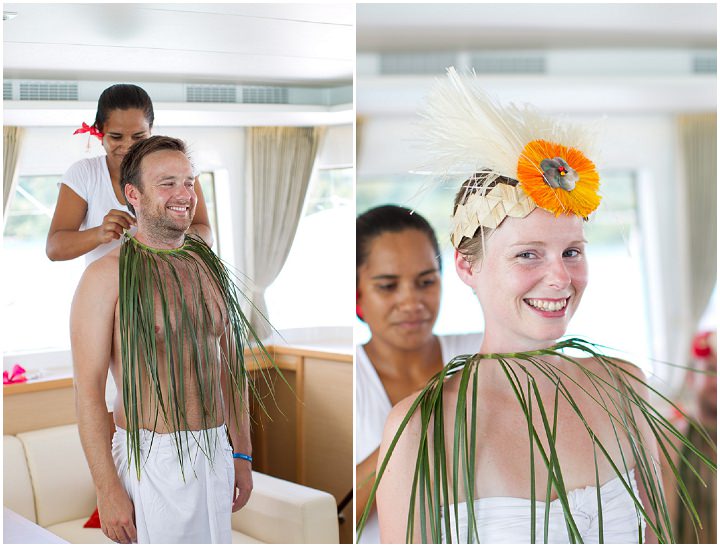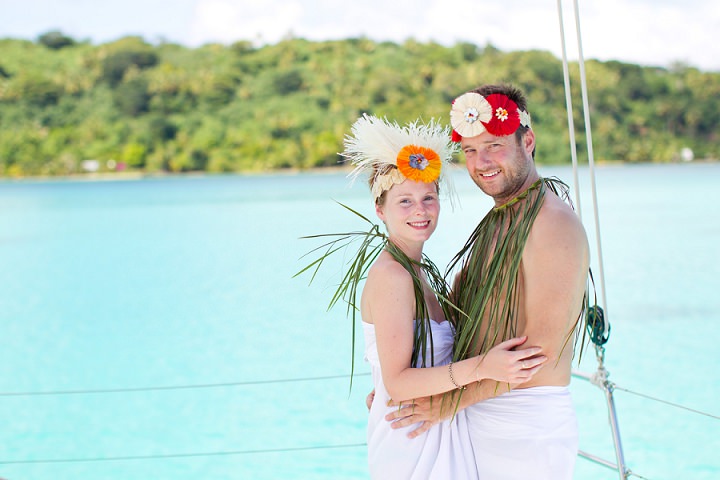 The ceremony was to take place in the stunning, and very exclusive over-water Glass-bottom Chapel, floating on the lagoon and ideally located in front of the  "Mont Otemanu". A colossal green volcano island that sprouts from the clear blue water across from the Bora Bora Intercontinental resort and Spa, a perfect backdrop to such an idyllic setting!
Sophie, the Wedding Coordinator escorted us to the Chapel in the islands main means of transport…a golf buggy! Another awesome mode of wedding 'car' added to the ever growing list!  The Tahitian Priest welcomed us with open arms and to the sounds of ukuleles and Polynesian love songs.
Traditionally dressed men and women sang, danced and scattered heavenly scented petals as we arrived outside of the Chapel and we were then welcomed inside where we stood with a whole new underwater world going on below our feet.
The ceremony was just beautiful and mixed traditions and local touches to make the wedding even more special! The Master of Ceremony 'unified' us by tying us together using "Auti" leaves, rather like the handfasting ceremony but with a local twist! We were told to tie the knotted leaves to the outside of our bungalow door when we returned which means 'private', do not disturb! We had a little giggle at that!
With our hands bound together we were blessed with pure water from the lagoon, adorned with flower necklaces and crowns and after the ceremony we were wrapped in a "Tifaifai" (a large local blanket) which symbolises the Polynesian union.
We were then baptised with Polynesian names and received our "Tapa" (wedding certificate). Our Polynesian names are "Poehere tane" & "Poehere vahine" which means "Pearl of love"
After the nuptials, the local men and women performed typical Polynesian dances and songs to celebrate our love and unity and invited us to dance with them. We of course tried our hardest at the dancing. I had to wind my hips slowly around and poor Alex had to have a go at the knee knocking dance that all of the very toned and tanned men are so good at!
We laughed at ourselves as we tried to join in and once we were suitably exhausted we thanked everyone and were led to a beautifully decorated outrigger canoe which was our wedding transport back to our incredible over-water bungalow. Our canoe 'driver' sounded the "Pu" (conch shell) to let everyone know we were wed!
The serene ride back to our bungalow was a blessing. The sun was slipping behind Mount Otemanu and we soaked up the last rays of light as we slid silently though the crystal clear waters rippling below us.
When we arrived via our balcony we were surprised yet again by stunning cake, a bottle of champagne and more stunning flowers which was to be transported to our private romantic dinner by the lagoon.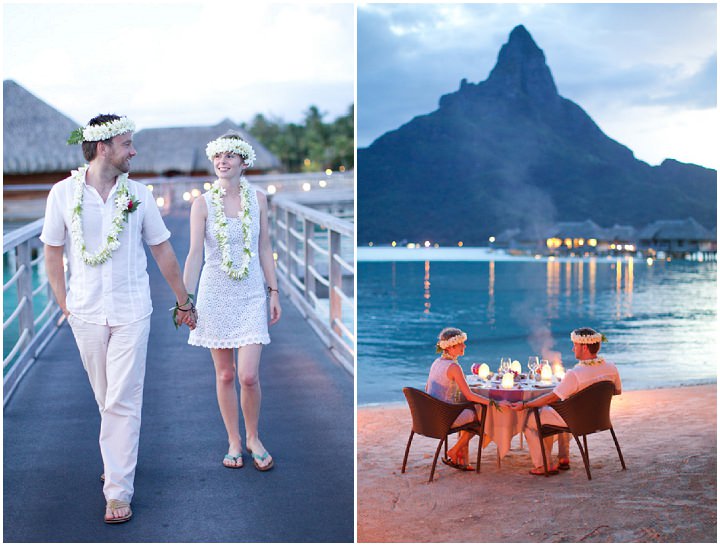 We had such an incredible day, so many wonderful life experiences in a short 12 hours! Experiences we will never forget and that we will recommend to everyone we ever meet for the rest of our lives! Bora Bora is truly heaven on Earth, a place made for the ultimate relaxation, a place to immerse yourself completely in beauty and nature and the perfect place to run away to to get married in an incredibly unique way!
Supplier Shout Outs
To follow Lisa and Alex's journey go to
http://2people1life.com/blog/
http://2people1life.com/blog/the-whole-journey
FACEBOOK
@2people1life

If you have missed any of the previous weddings you can catch up HERE 

[jprel]