Todays Guest Blogger is Amy Russell from It's Your Choc who I met last year at The Harrogate Wedding Fayre.
Here she talks about her love of Chocolate and her wonderful personalised chocolate bars.
"You know that advert – the one where they ask "do you dream in chocolate?" Well I do! Every day I am surrounded by hundreds of chocolate bars. Every woman's ideal situation I hear you say but there is one problem – I can't eat any of it because it belongs to my clients.
You see I make personalised chocolate bars. Which are great for parties, weddings, corporate, in fact any kind of celebration, but not so good for me as I want to eat them!! But how would my brides feel if I called them and said "sorry you can't have your wedding favours because I have eaten them!" Not too happy!!!"
"So back to the chocolates. Today I have had a delivery of 300 fresh new bars which will all be wrapped up within the next few days. I have just printed out 81 place cards for a wedding next month and 100 golden wedding wrappers for a party at the end of this month. All need to be individually cut and then wrapped by hand. Yes each bar is hand wrapped and if we are not happy with the wrapping we rip it off, print another one and start again. I am a perfectionist so I expect my products to be perfect as well. After all every bride wants a perfect wedding day don't they?"
"So how did I get into wrapping all this yummy chocolate? I got made redundant way back in 2008 and felt very disillusioned with my old career. I wanted something flexible, that could fit around my family and that I would enjoy. What better way for me, a self confessed chocoholic, to do that than to work with chocolate!! Ever since I started I have been surrounded by chocolate, but also by lovely, happy people with something to celebrate. Each person's celebration is unique and special to them and it's an honour to be able to help them with that."
"I especially love weddings. They are so romantic and exciting. The start of a new life together – although there are frequently tears! Like at a national wedding fair and one bride wrote her new surname on the order form and realised that was the first time she had ever written it – tissues were needed in abundance!! But it was a great feeling to have been there at that special moment. Like when I deliver the place cards to a bride a few weeks before the wedding. I wish I had a video of when they open the box because their faces are great – their eyes widen and a massive grin appears on their face as they see how fantastic the favours look combined with the place cards. Even though we work with the brides every step of the way with the design and they approve the final version there is always a little moment of terror that they will have changed their minds after I have printed, cut and wrapped 100 or so of their bars! Thankfully ever order I have done has been perfect – or so they tell me."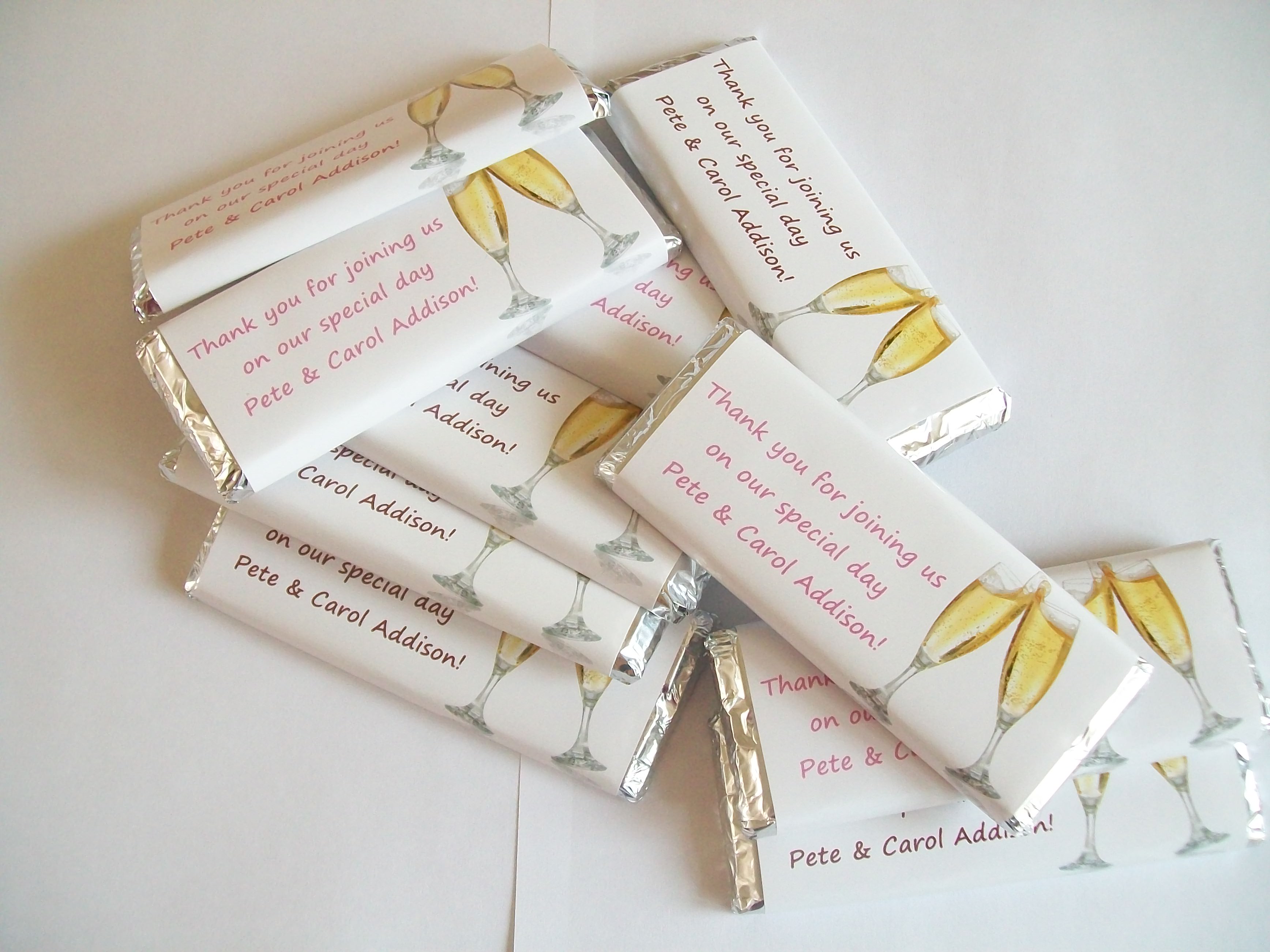 For more information on Amy's lovely chocolate bars go to:
www.itsyourchoc.co.uk
[email protected]
0113 2649542
If you want to meet Amy she will be exhibiting at the Rainbow Wedding tent at Sheffield Pride on 26th June.