Happy Wednesday everyone and well done, you have made it to the middle of the week. If you are homeschooling I feel your pain, it has been a bumpy road so far in our house! But onwards and upwards, lets hope that today is a good day for everyone! Today we head to Switzerland for this intimate forest wedding, full of romance and a touch of forest magic. Eva and Michel wanted a relaxed wedding, close to nature, with minimal fuss and great food, and this they got in abundance. The whole day is beautiful, simple but perfect for what they wanted. I just love the way the reception area changes at night time, as the festoon lighting lights up the area. Big thanks to Yvo Greutert for the lovely images.
Magical, romantic, intimate with a unique mood and just perfect for us. Having the wedding party in nature with our closest friends and family made it our most beautiful day!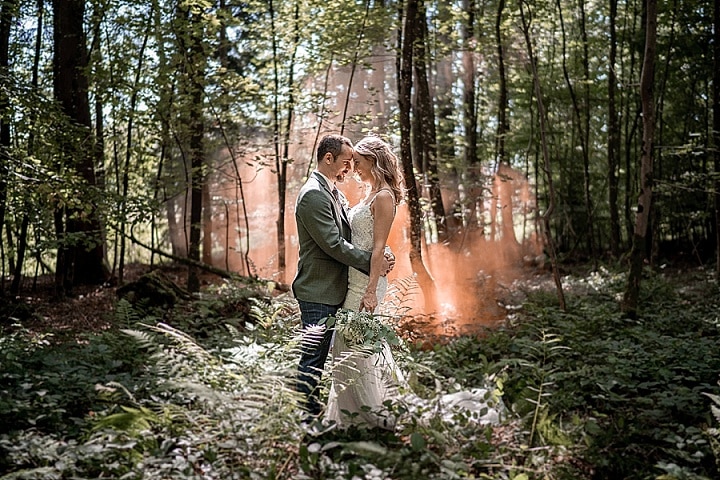 Eva and Michel were married on 5th September 2020 at Spichigwald, Bern, Switzerland. 'We like to spend time outdoors together and Eva grew up near this forest. In addition, the forest house is very beautiful and offers a good infrastructure for all service providers. We were 40 adults and 14 children attend the wedding. We took a year and a half to plan everything without any stress. That was ideal, without pressure and with enough time to compare offers. It was also an incredibly good time with a lot of anticipation.'
How they met  
We got to know each other on the internet and met for the first time after one month. On our first date we stayed overnight and open air in the beautiful nature in the Swiss Jura. We immediately felt a special connection. At our wedding we had been a couple for over 5 years.
The proposal
After Michel had already secretly asked Eva's father for his daughter's hand with baked camel biscuits weeks earlier, he proposed to her romantically at a sunset in a Deer Park. To do this, he put the beautiful engagement ring around a rolled-up letter on which the question was formulated in many different ways, whether Eva would like to share the rest of her life with him. Of course she said yes.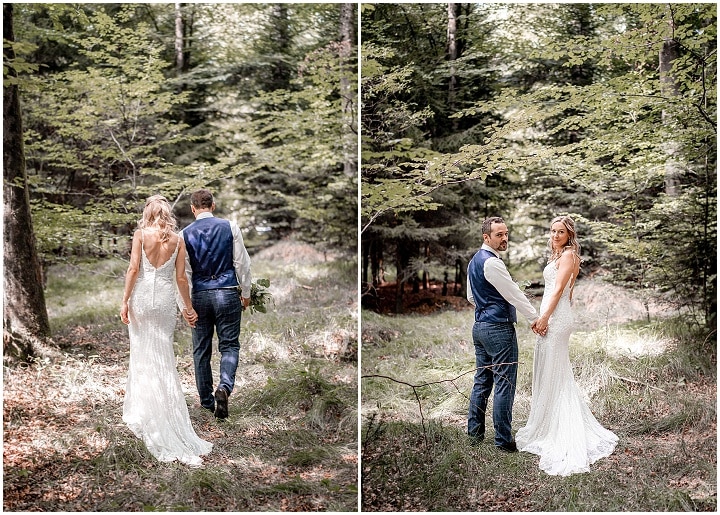 How did you allocate your budget?
We definitely didn't want a big, pompous wedding with a castle and a carriage or the like and thought that we wouldn't need a big budget with our ideas and self-made decorations. However, we quickly realized that our budget had to be doubled in order to design a wedding according to our ideas. We then set an upper limit and Eva checked carefully that we always stayed within the budget.
Where did you splurge and where did you save?
The biggest item was the food. Then the fee for the band, the photographer and the DJ. The caterer was simply unique, we were all blown away by the quality and many of our guests raved about the food for a long time. The same with the band. These are things that were just important to us. Of course, we also wanted a photographer whose style of the photos and the processing of the images corresponded to our taste. It was a long search until we finally came across Yvo.
We didn't have a specially rented vehicle for the bride and groom, no fireworks or other shows because we celebrated in the forest and didn't have a wedding video made, which would certainly have been nice.
We didn't have a wedding planner, as Eva did the planning on her own, and it was a lot of fun.
Only the flower decoration was done by a great local florist.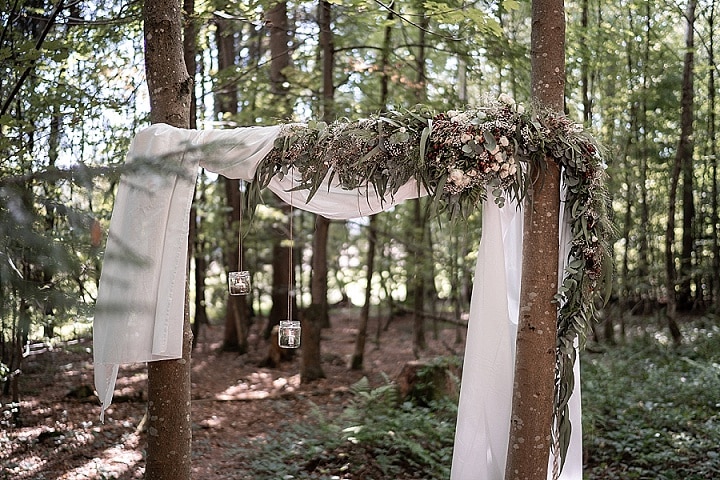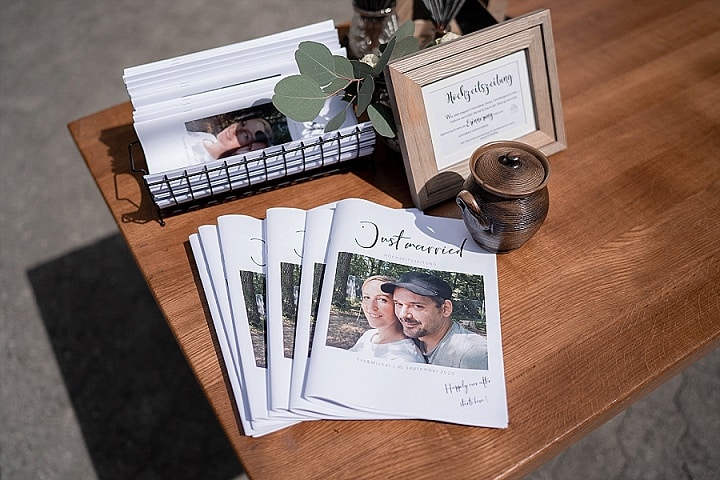 How did you choose your photographer?
After a long search and research on the Internet, Eva found Yvo Greutert. After the first video chat, it was actually clear to us that it would harmonize. He was great, professional, reserved and, as you can see, took very beautiful pictures!
The dress 
My dream dress is the "Debrah" model by RosaClara. I found it in the bridal fashion store "Brautkleid-Träume" near Zurich. I fell in love with the many small details and the high quality. My accessories are from Biano. There are beautiful handmade things for the bride.
The "Lucy" bridal shoes are from Kate Whitcomb and are simply incredibly comfortable. Because of the ants in the forest, however, I quickly switched to Tamaris closed-toe shoes.
The suit and bridesmaids
We put together Michel's outfit ourselves at Peek & Cloppenburg, including the beautiful tie. Also in the P&C we found her beautiful dress from "Lace & Beads" with the maid of honor.
Theme or colour scheme
Forest wedding. And the color scheme was of course the colors of the forest.
Flowers 
Various eucalyptus, white branched roses and other white flowers, gypsophila and red berries. There were still some light blue flowers in the bridal bouquet, but we don't know all of the flowers.
Decoration 
We had lots of oriental carpets, various pillows and a lot of lambskins for the ceremony in the forest and as a stage floor for our band and for the children's area, where they could read comics or look at picture books. We also designed small seating areas with carpets and Michel had received the order from Eva to make a wooden swing for the decoration and delight of all guests.
On the tables we had wreaths of flowers around golden five-armed candlesticks, golden cutlery and various decorations in gold or white on the theme of the forest. The candles in the tent sky were electric wax candles and various battery-operated fairy lights so that there was no risk of having to constantly re-light them.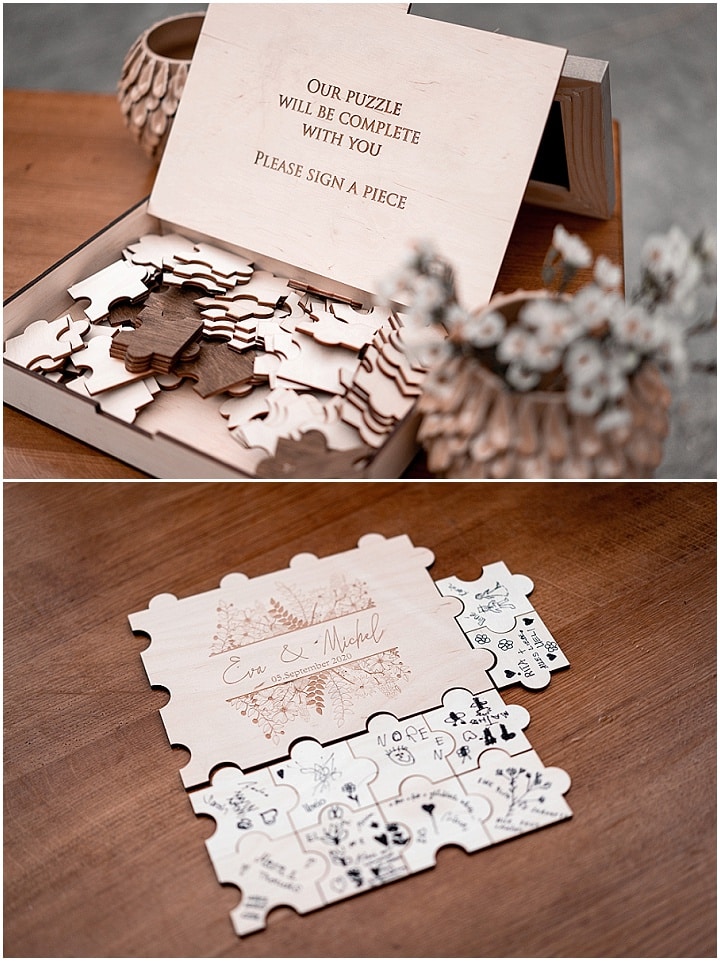 Food
After a great aperitif, the first course was cherry tomatoes with buffalo mozzarella, various grilled / stuffed vegetables, veal tartar with parsnips and tonno vitellino (tuna with veal sauce) with Amalfi lemon compote. Then there was artichoke triangoli with thyme-lemon butter.
For the main course beef fillet strips on a balsamic sauce with rosemary potatoes, rocket mousse, confit date tomatoes and summer vegetables.
For dessert there was carrot tart / vanilla creme brulée, chocolate mousse passion fruit / raspberry, espresso PannaCotta and Amalfi lemon tart
Our caterer "Casa Nobile" from Bätterkinden definitely has it.
Wedding cake
The wedding cake was made by Mara, Eva's maid of honor, with a lot of love and probably a lot of work and diligence herself. We never expected to get such a professional, incredible cake. Each stick had its own biscuit, its own filling, according to the tastes of the bride, groom and children.
Entertainment
We had a fantastic life band, later a DJ for the party in the Waldhaus and some contributions from the guests. We had two great nannies for the children who were recommended to us by a friend. Otherwise, we primarily wanted our loved ones to be together comfortably without a strict supporting program. The highlight of the wedding should be the ceremony in the forest anyway.
Who supplied the stationery?
We ordered the invitation cards from sendmoments.ch, but also designed and written many details by hand.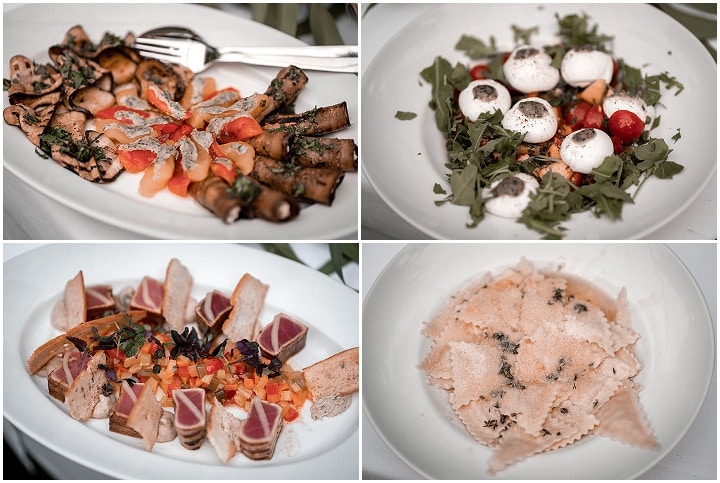 Where did you go on your honeymoon?
Immediately after our wedding we went on our honeymoon to Austria in the Zillertal. To be more precise, in one of the "Rosuites" at Roswithas Almhof on Lichteben. Our luxurious chalet "Erika" with whirlpool and sauna smelled wonderfully of wood, was stylishly furnished and the Austrian hospitality was clearly felt. Since we had to forego the massages due to Corona, we got an upgrade and thus, in addition to the lavish breakfast in our own chalet, a multi-course dinner of your choice also delivered to the chalet every day. We couldn't have imagined a nicer place to relax and enjoy.
Personal touches
Eva made all the presents herself. Has filled many different flower seeds in jars, labeled them, packed wedding almonds in matching white and gold in sacks.
Special moments 
For both of us, the wedding with the personal words to each other was very touching and therefore the highlight. The ceremony with our children was also extremely important to us.
Advice for other couples
Invite the people you love. Then it can just be the best day. It is also worth planning in good time to avoid stress and to find the right service provider.
Biggest surprise 
The incredible wedding cake and the wedding newspaper we didn't know about, the romantic mood.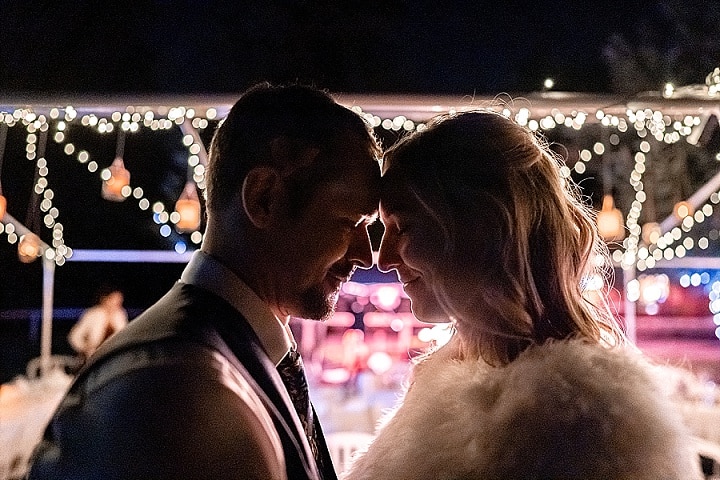 Supplier Shout Outs
For more information on Yvo Greutert Photography go to
www.yvogreutert.com / www.yvogreutert.com/blog / [email protected] / INSTAGRAM
I am a wedding photographer and filmmaker based in Switzerland. I am also often photographing in Spain, France and Italy, as I lived for almost a decade in these countries and still maintain a special connection. I believe that great photography is all about capturing true emotions. Because when an image contains emotions it will allow you to relive all the great moments that you shared that day. As true emotions happen spontaneously, my style is mainly documentary. This means I am observing and will capture the most important moments in a natural way.