Happy Friday everyone, I am SO happy it's Friday as I go on Holiday on Monday! I am SO excited! I will be working all weekend getting all of next week's posts written up and ready for you, but then Sunday afternoon it's time to pack as we leave at 4am on monday morning (ouch!) We are off to Ibiza, it's Nik's birthday on the Sunday while we are there and it's our 10 year wedding anniversary on the same day. We actually got married twice as we had to have the legal ceremony in the UK before our Ibiza wedding, so this year we are celebrating both of them. I cannot wait to see Ibiza again and show Dexter the island.
On with today's wedding and it's a real beauty, courtesy of Teri Bocko. Jamie and Jonathan chose 1909 as they wanted an outdoor forest feel for their intimate Winter wedding. Jamie is in events so she found it no trouble at all planning for her big day and I'm sure you will agree she did an amazing job. The soft tones and beautiful flowers are just so romantic, yet with a rustic edge. A gorgeous day from start to finish, I'm sure you will agree.
The day was so relaxed – it felt like the most natural thing in the world to be getting married in a forest with our friends and family. We like good food, good drink, and great company, and the wedding was everything we hoped it would be.  
Jamie and Jonathan  were married on 29th December 2018 at The 1909, Topanga in California. 'We knew we wanted an outdoor wedding, some place where we could feel like we had the whole area to ourselves. We saw the 1909 and knew it was perfect – we could be married under a big oak tree, have dinner in a meadow, and dance the night away in a building reminiscent of a tree house, built into the side of a hill. We had 70 guests and it took 6 months to plan, although in reality I only planned for about 4 months of that!'
How did you meet?
We met in grad school in New York City. We were friends first before realizing we had to be together. We've been together for six years – in fact, our wedding was the day after our six year anniversary.
The proposal
Well, technically I proposed first while we were on vacation in the south of Spain, enjoying a glass of wine on our balcony at night overlooking the city of Granada. I blurted out, "Do you want to get married?" He said yes – but insisted he wanted a big romantic proposal. So fast forward a few months to the Grand Canyon, where he proposed while we were sitting on the edge overlooking the amazing view.
How did you allocate your budget?
I run events for a living, so I sat down straight away and planned out the relative costs for the wedding I envisioned. It helped that we were doing a smaller, intimate wedding with just close friends and family.
Where did you splurge and where did you save?
We picked a BYOB venue, as we knew we wanted great wine (and a friend of the family gave us a discount!). I also saved on the dress – I picked it out at a sample sale and it was the first dress I tried on. I also picked out my shoes at a discount store just a few days before the wedding itself. We did splurge on the food and on the florals and décor.  Food in particular is important to our families, and we have very high standards for our Italian food!
How did you choose your photographer?
We planned our wedding remotely from New York City, where we're based, so a lot of the outreach was done over the phone. I really loved Teri's previous work, and felt a great connection when I spoke with her by phone. We actually met in person on the day of the wedding itself, but I felt like I'd known her for ages.
The dress
The dress was by Tadashi Shoji and the shoes were Cole Haan. I kept accessories simple – a pair of turquoise earrings I'd purchased in college and a simple gold ring.
The suit and bridesmaids?
To make it easy, we rented suits for all of the groomsmen and the groom. Each had a tie in a different shade of blue to match the bridesmaids, who wore long skirts in different shades with cream tops. I let them pick everything out themselves – I wanted them to enjoy the pieces again and I love the slightly unmatched look.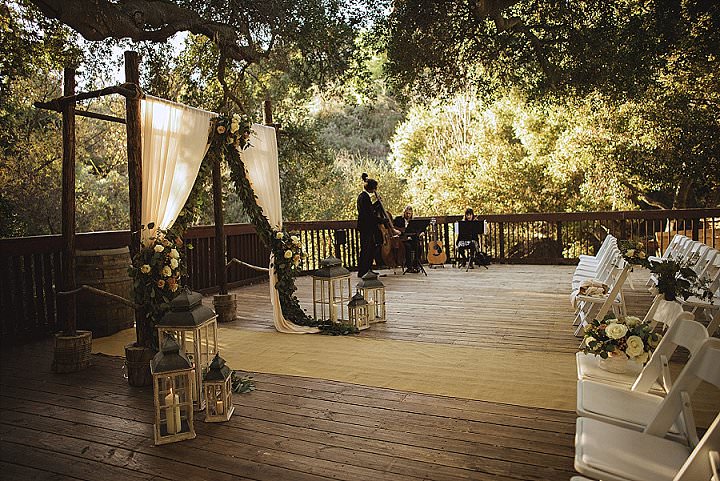 Theme or colour scheme
My mood board incorporated shots of the sea – blues, greens, and turquoises, along with dusty pinks. As it was a winter wedding in California, we went with cool colors and muted tones.
Flowers
I love the wildflower look – nothing too arranged or too planned. Our florist used a variety of flowers in cream colors, along with roses in honor of my mother, and lots of greenery.
Decoration
I wanted a rustic, beachy feel to the décor. We used blue fabric and macramé for table runners, strewn with sea glass and studded with candles. We used tiny succulents in metal pails as escort cards, set into a wall built out of apple crates. For the ceremony, we had a wooden arch draped with white fabric and florals, with lanterns sitting alongside, and a burlap runner down the aisle.
Food
We indulged our mutual love for Italian food, with lasagne, pasta with potatoes and peas, chicken, and our favourite, osso bucco. We also served focaccia, olives, and antipasti before dinner.
Wedding cake
Jon isn't a big fan of cake, so instead opted for ice cream and ricotta cheesecake. The cheesecake was made by a friend from a recipe I love and decorated with flowers. The ice cream was from a great little place called Carmela's – we had salted caramel, espresso bean, pear champagne, and brown sugar vanilla.
Entertainment
During our pre-ceremony champagne reception and the ceremony itself, a three piece band played songs we'd chosen for the occasion. After the ceremony, we switched to a DJ. Jon and my sister are both singers, so we also included in a bit of live entertainment throughout the night – they sang a duet, and Jon sang a song for me near the end of the evening.
Who supplied the stationery?
One of my bridesmaids is an art director, so she created the pieces based on my colors and themes.
Personal touches
The groom, maid of honor, and best man all performed during the wedding – during the ceremony and afterwards on the dance floor. We created our own signs to post and brought instant cameras to let guests capture the evening and post photos in the guestbook. We also had one my best friends marry us, as we wanted it to be someone we were close to who knew us well.
Special moments
Six months before the wedding, my mother passed away from lung cancer. We thought she had more time, and had planned the wedding quickly in the hopes that she could be there. We wanted to honor her and remember her. Her name was Rose, so we included roses in the florals and placed a special bouquet on a seat at the front of the aisle for her. During the ceremony, the groom, best man, and maid of honor sang "Red is the Rose," a lovely Irish song that reminds us of her. There were lots of tears, but also lots of laughter throughout the day.
Advice for other couples
We decided to do a first look prior to the first guests arriving so that we could greet everyone and hang out with them before the ceremony. We'd highly recommend doing this, as it gave us time to see everyone and we didn't spend the entire dinner moving from table to table. In general, don't get too caught up with all of the details on the day itself. Just enjoy it, even if everything isn't exactly as you planned.
Biggest surprise
My father told me he was going to wear jeans and cowboy boots to my wedding, even though I asked him to please dress up to walk me down the aisle. He refused, and I gave up asking. On the day of the wedding, he surprised me by showing up in a black suit and tie.
Supplier Shout Outs
For more information on Teri's work go to
www.teribphotography.com / www.teribphotography.com/mainblog / FACEBOOK / INSTAGRAM / PINTEREST / TWITTER