Happy Thursday everyone, the Christmas countdown is on in our house, what about you? With exactly 2 weeks to go to Christmas Eve I am super excited for the big day! I have nearly finished the Christmas shopping and the other jobs are getting there, slowly but surely! I hope you are feeling festive as well, I'm sure we could all do with some sparkle in our lives at the moment! Today's wedding is sure to put a smile on your face. JiYeon and Ludovic were married on Bali last year, after dreaming of a tropical wedding. The wedding came in two parts. A traditional ceremony, followed by a more relaxed rustic Western ceremony with the most gorgeous reception. I just love the hanging flowers, the pastel shades and I think I counted 4 wedding dresses? Big thanks to OneThreeOneFour for the stunning images.
It was truly the most magical day of our life. We became husband and wife with the blessing of the people that you love and who loved us wholeheartedly. 
JiYeon and Ludovic were married on 5th June, 2019 at Villa The Sanctuary Bali. 'I always dreamed of a Jungle wedding, and we needed a whole site for our wedding which lasts the whole day without any destruction. we wanted to create the Sanctuary for us and our guests. Villa The Sanctuary Bali was the perfect location for this. we fell in love with the site a moment we see them. We had 40+ guests and it took Less than 5 months to plan, we knew what we wanted and it was easy to piece them together.'
How they met 
We met at a BBQ party 6 years ago and hit it off quite well. We were just friends for a year but things progressed as we got to know each other better and now it has been 5 years since we got together!
The proposal
Ludo proposed to me face to face on a swing at a park where you could see the whole view of the CBD area of Singapore. It was a really breathtaking sight and the ambience was great. We sat down on the swing chair and were just chatting as usual then the moment happened.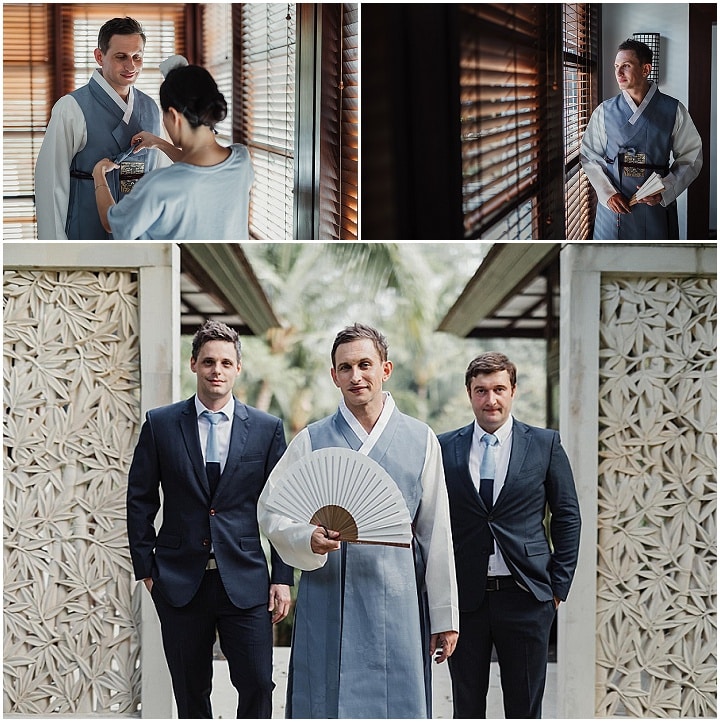 How did you allocate your budget? 
We had an amazing wedding planner on-site so she gave us an idea for the budget for the day related expense which was the biggest chunk like food, decor, music etc. I believe that it was about 2/3 of our overall budget for the wedding.
Where did you splurge and where did you save?
We did splurge on food and drinks. Our guests came from all over the world to Bali for the wedding so we needed to treat them well with all the amazing food to show our thanks. We were able to save some money for the decor without lowering our expectations since I am a designer myself. I knew where to save but without compromising on the quality. I believe your day can look extremely stylish and lovely even without crazy decor.
How did you choose your photographer? 
We searched for a lot of photographers in Bali but they have some really high price points and most of them do not have the style that we want. Onethreeonefour was great since there are quite a number of photographers and videographers on their team and we are really happy with the outcome, thanks to Onethreeonefour.
The dress 
I made my dress and veil from the local wedding dressmaker called Diageo. For my wedding shoes, it's designed by my friend #jadekonnen and specially made just for me. She is an amazing designer who made female footwear but she specially made this pair of wedding heels for my special day.
The suit and bridesmaids
Ludo's suit was made at the famous tailor in Singapore. I got my two bridesmaid dresses online.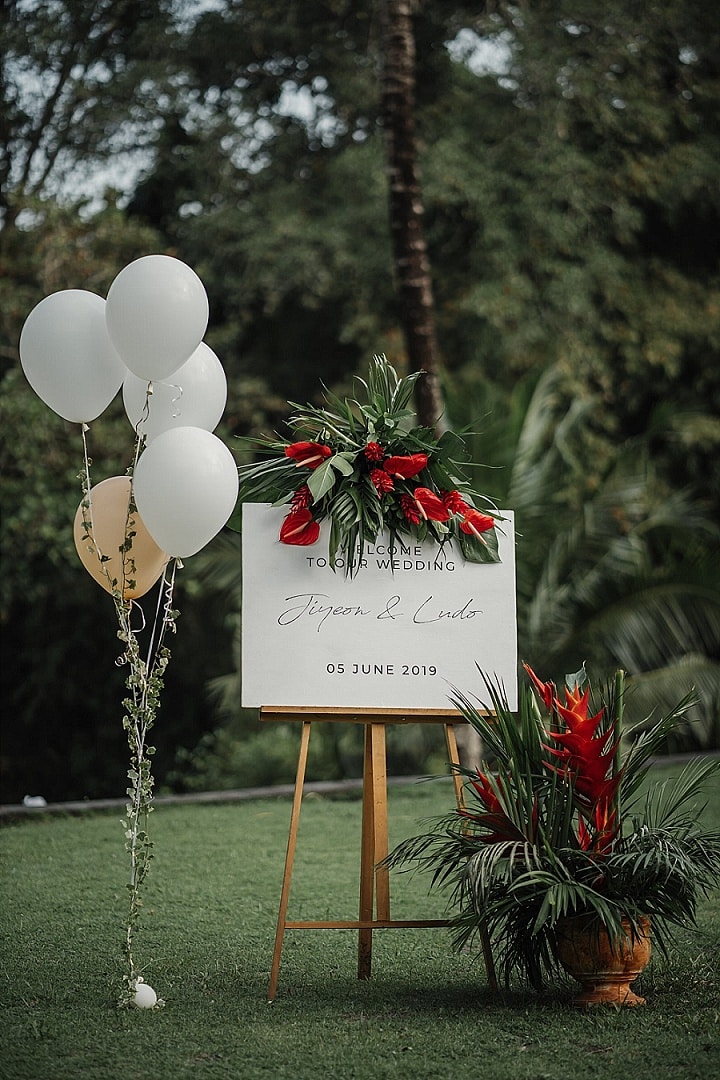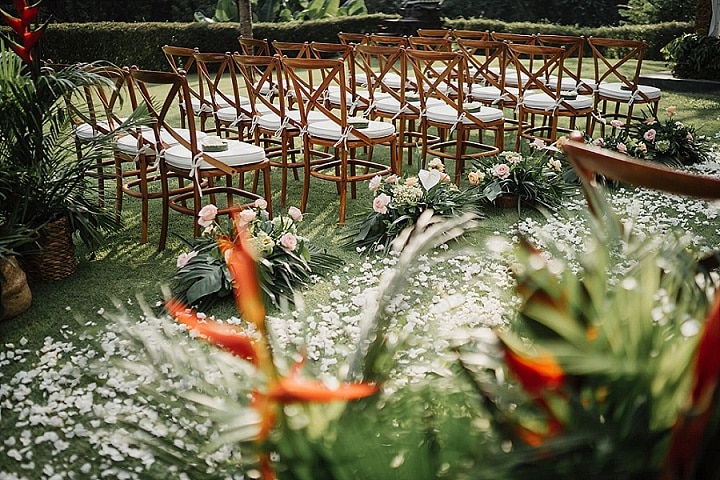 Theme or colour scheme
Yes, it was a Tropical rustic chic, Green and white as the main colour with some pastel and gold to support some boho feels ( but not too much – bit more of the cleaner side of palette).
Flowers 
We worked with Flossie. I wanted to have a clean but tropical vibe so we mainly  used, Phalaenopsis, White Anthurium, Blushes Peony, Monstera etc.
Decoration 
Many flowers, candles and rattan accessories to give a more boho vide. We also used LED balloons together with fairy lights for the reception to make it  more cosy and whimsical.
Food 
Balinese inspired fusion European. We wanted the event to be up and lively so we chose the buffet style, so that everyone could move around and interact with one another.
Wedding cake
It was a tropical flower sugar deco cake.
Entertainment
We had a DJ for the party and live Jazz trio for the cocktail to set a cost ambience.
Who supplied the stationery
Myself with the help of friends
Where did you go on your honeymoon
No official honeymoon as the two of us have already planned a trip to Europe for a friend's wedding.  Since we gathered family and friends for the wedding, we decided to extend our stay in Bali and travel with them.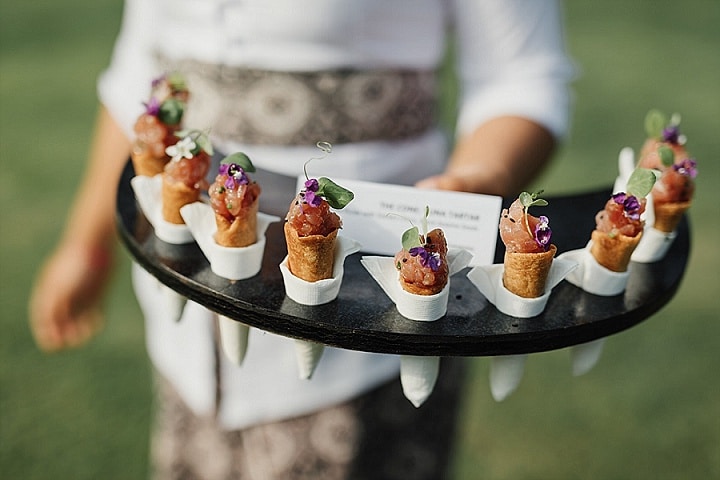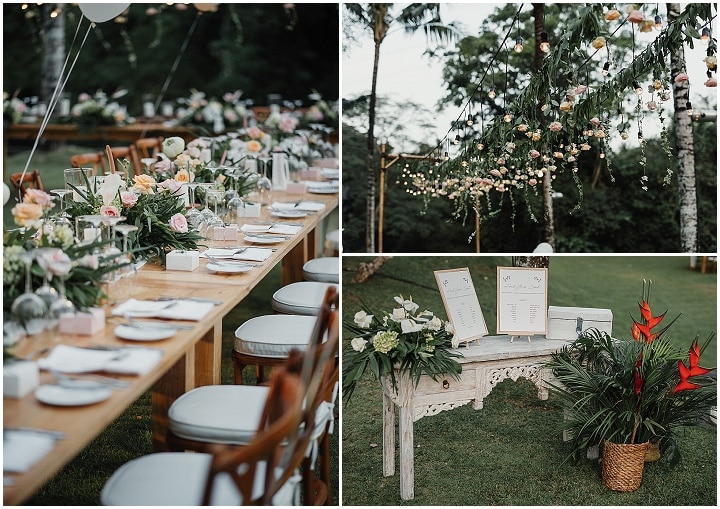 Personal touches
Since I'm a designer, most of the decor ideas were coming from me and I made a wedding gift for the guest personally.
Special moments 
We had two ceremonies, one for Korean one for European. at the entrance of the Korean ceremony, I stepped on the skirt and lost my shoe under the skirt. I thought I would lose my balance and fall in front of everyone but luckily, I managed to walk and everything was good afterwards,
Advice for other couples
Enjoy the preparation period, It can be stressful but after all, will be a good memory to share between you two. Prepare to enjoy the happiest day of your life with a mind first, rest comes after.
Biggest surprise 
My emotion and Ludo's vow. I didn't expect that I would be that emotional for the whole day. I was intoxicated with the atmosphere and joy I cried almost for the whole day.
For more information on OneThreeOneFour go to
www.onethreeonefour.com / www.onethreeonefour.com/blog / [email protected] / FACEBOOK / INSTAGRAM / PINTEREST

OneThreeOneFour is a destination wedding photography company based in Singapore. Our services are designed to be hassle-free and affordable, with no crew travel fees. We keep our pricing simple and transparent with no hidden costs to worry about. Trusted by over 2300 couples and rated 4.9 stars on Google. From pre-weddings to post-wedding anniversary celebrations, we are here to bring you on an unforgettable adventure.

[jprel]