We have reached the half way point of the week, well done!! Lets all make the most of today before we head into another lock down! Nik, Dexter and I are going out for tapas this evening, as a kind of last supper! Supporting local trade and just hoping that they get to open again sooner rather than later. And if you are in the US you may or may not be waking up to a new President! Let's hope it's some good news!! So on with today's glorious wedding and it's a real beauty! A Gloucester Tipi wedding sent into me by Courtney Louise Photography. Hannah and John chose an Airbnb to pitch up their tipi, which led to a super chilled and relaxed day. This was followed by a massive party that went on into the small hours. The whole day is full of sunshine, good friends, lots of lovely flowers and a whole lot of fun!
The best party we ever threw! A calm, relaxed afternoon surrounded by our favourite loved ones.
Hannah and John were married on 31st August 2019 at Chipping Campden in the Cotswold district of Gloucestershire 'It was an AirBNB house so offered us complete control and flexibility over how we wanted our wedding day to be. We had 90 guests an it took a year to plan.'
How they met 
We met at work – I (Hannah) was quite hesitant at first as John had rather interesting first date chat (e.g. do you have any friends (!!!) he claims he was nervous!) but of course he won me over! We had been together 3 years before we got married.
The proposal
John is very into wine and has completed various wine tasting qualifications (yes that is a thing!). As he turned 30, I said he could choose the summer holiday destination, which was naturally Bordeaux, to basically drive around and try all the various wines. On the first full day in Bordeaux he had booked for us to stay in an actual castle – Chateau Le Carnet – and had organised a tour of their vineyard, followed by a picnic in the grounds. I didn't pick up on it at the time, but John managed to drink half a bottle of wine before the tour, apparently "sampling" but of course it was actually to calm his nerves! After finishing the tour we were sitting underneath a willow tree with the picnic basket, when John said I had missed taking a key ingredient from in the basket, which low and behold, was an engagement ring!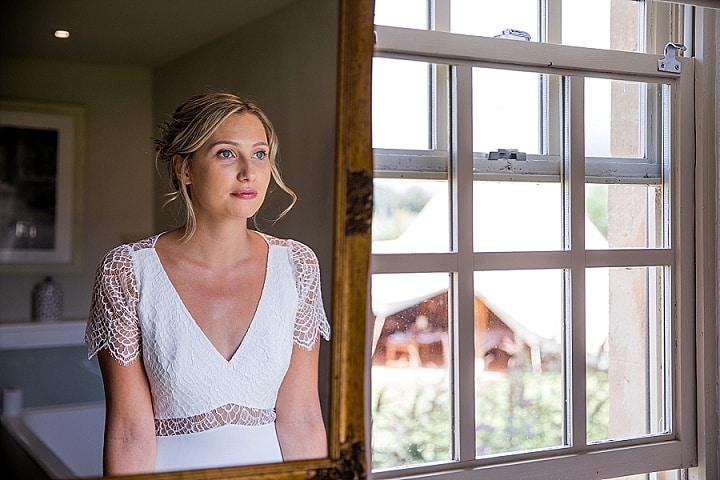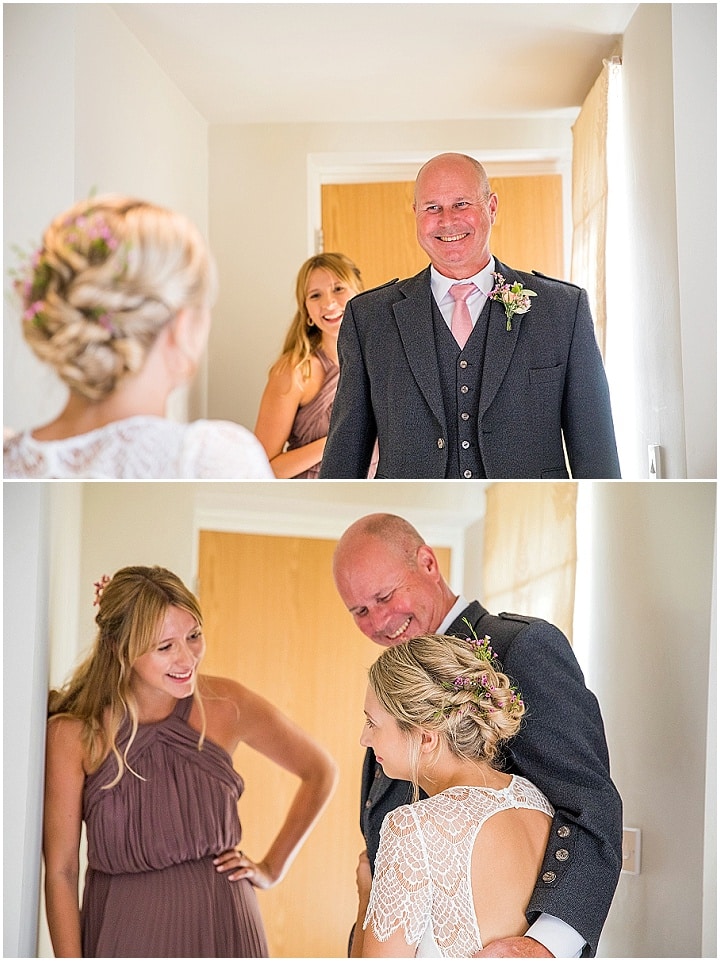 How did you allocate your budget?
We agreed upfront what our max, and what our max plus contingency was, as we'd heard from friends you always spend more than you anticipate! As we just wanted essentially a party, we approached it with a party head on (instead of a wedding head) and prioritised that way.
Where did you splurge and where did you save?
Splurged on the food, and the add ons such as hampers for the bridesmaids, white balloons on the entrance to the house… all the little bits certainly added up. We saved on the venue as we managed to secure an AirBNB for 4 days which was a slither of the price official wedding venues would have charged us.
How did you choose your photographer?
Purely through Google and what their photo style was. I loved Courtney's photos as they were so colourful and vibrant, and they felt like they had life in.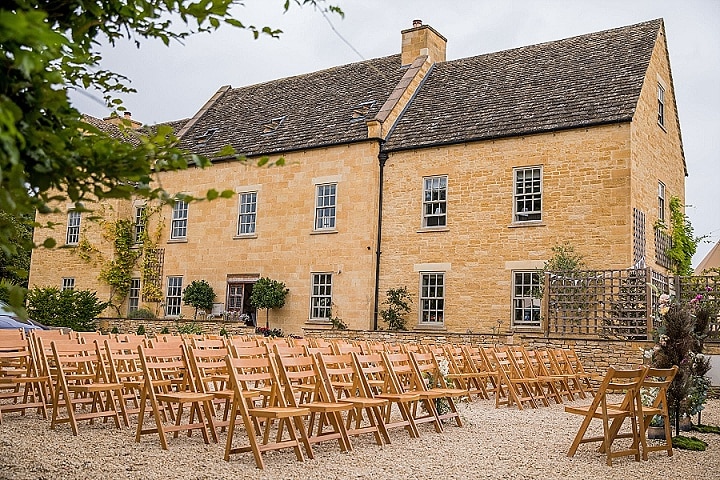 The dress 
A french designer called Mademoiselle de Guise made my dress. I had white heeled sandals from Carvella and I didn't wear a single accessory other than my wedding band and engagement ring!
The suit and bridesmaids
The suit was rented from T.M.Lewin and the bridesmaid dresses were all from ASOS!
Theme or colour scheme
Loosely around different shades of pinks with greenery added in.
Flowers 
I had wild flowers – can't remember for the life of me all the names but the brief was not too formal – I wanted it to look like the flowers had grown straight there from the ground.
I had 2 tall flower stands at the end of the aisle and bunches of flowers up the aisle. These were then lifted and shifted to go outside the tipi and on the tables after the ceremony.
Decoration 
We had a tipi for the wedding breakfast and party, so we had a large flower hoop in one of the tents. We then had a bar in the middle tipi which was again decorated with flowers. There were pink and purple candlesticks on each table, which looked beautiful when it was dusk, and there were large white balloons up the entrance to the house.
Food
We had bbq food! (Luckily my dress wasn't tight!!). A combo of different pulled meats, mac and cheese, and some salads for good measure!
Wedding cake
We didn't have one. We opted for dessert instead.
Entertainment
We had a band which were fantastic and just kept on playing and playing. We eventually took the party in the house and had a good mix of songs from spotify playing until the wee hours.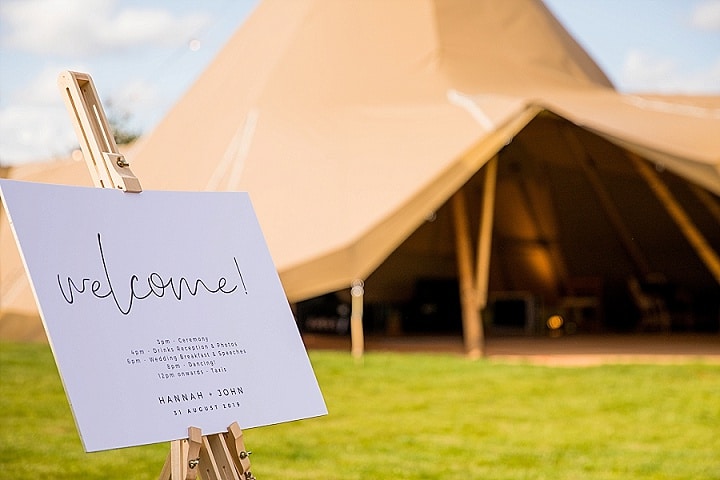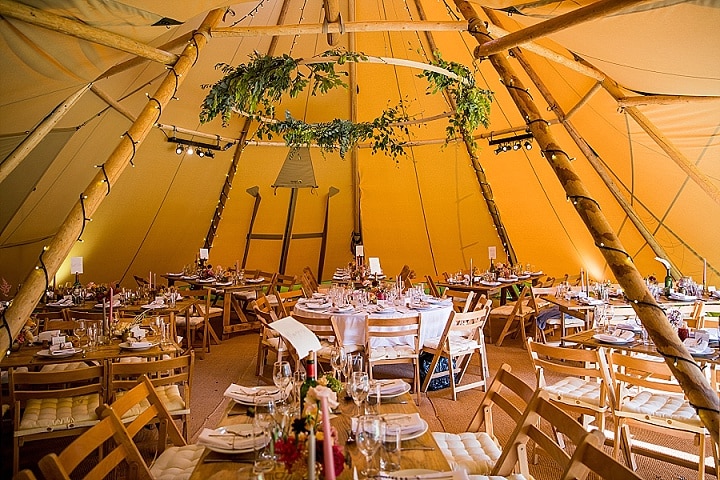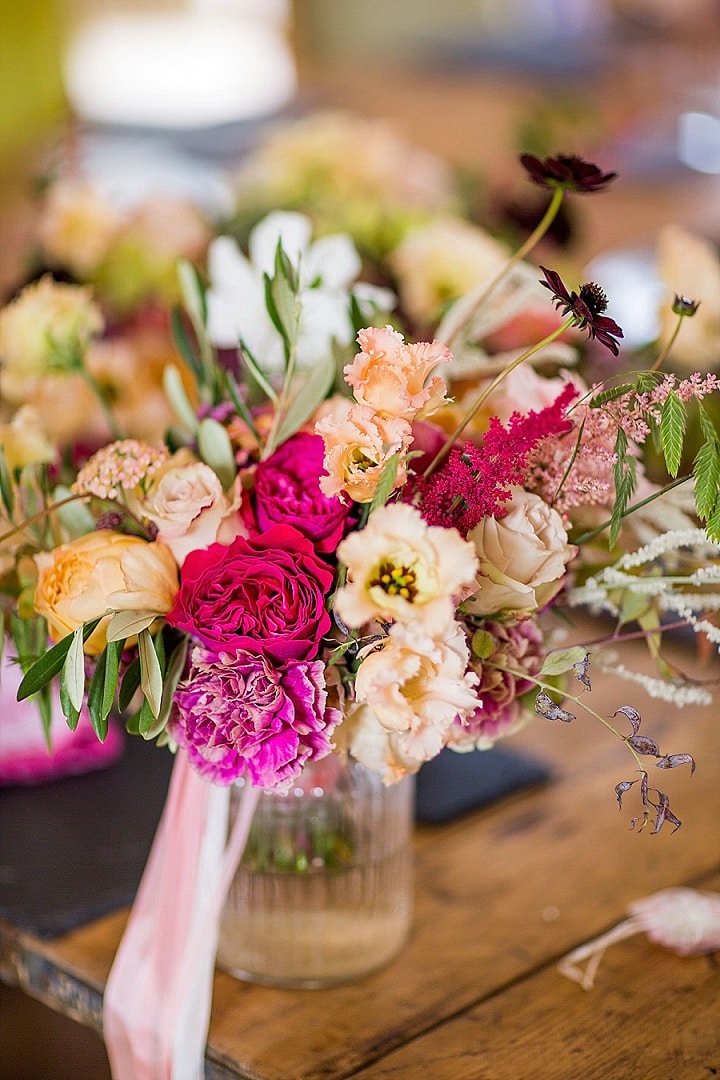 Who supplied the stationery?
I found a supplier on Etsy that I really liked – it was a template service that you downloaded, edited with all the details you wanted and then printed them off yourself too.
Where did you go on your honeymoon?
We did a mini-moon straight after the wedding weekend to Tuscany (again, wine related!) which was beautiful and really well needed after the thrill of the wedding weekend. John usually has a beer at the airport before we depart on holiday but for the first time ever he was so tired he sacrificed this ritual!
We were due to go to Mexico for our big honeymoon at the end of March this year, but unfortunately it was cancelled due to Covid…! I'm now even more grateful that we managed to get away to Italy for a few days so we at least have that to look back on.
Personal touches
There were a few personal touches – John's mother sadly passed away a few years ago and he fondly remembers his mum drinking WKD Blue on new years eve every year so we had a cocktail at the bar in the tipi called "Jeans Juice" which included WKD blue. We also repurposed my late Grandfathers art easels to hold the seating chart and the welcome signs – they still had spot of paints on them which I loved. The table names were all wine regions in France as an ode to our engagement in Bordeaux, and the card with the table name on was also matched to the wine bottle.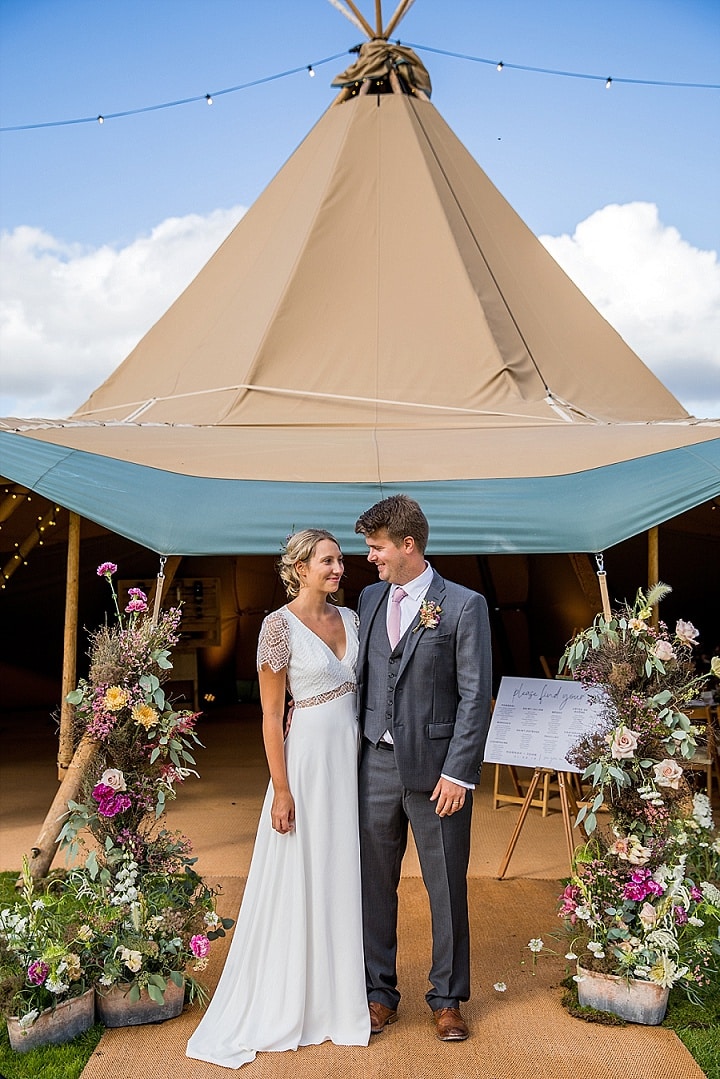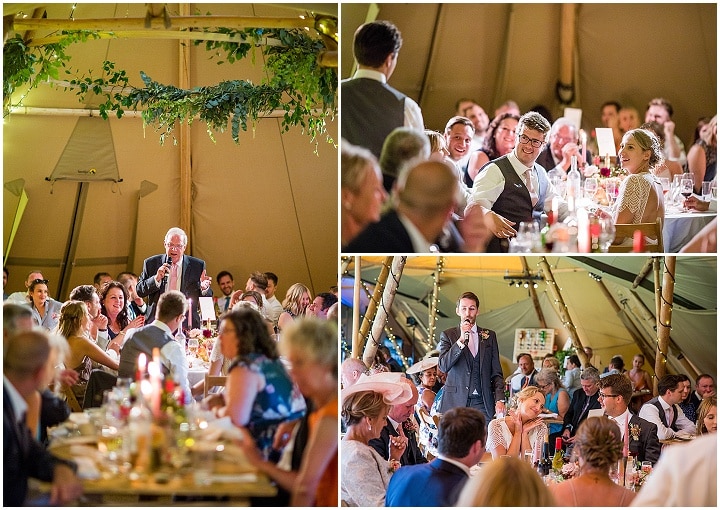 Special moments 
I think just being able to have all our loved ones together was pretty special in itself. My family lives in all sorts of directions – Texas, South Africa, Bermuda, Scotland – so it was really lovely to have everyone there celebrating John and I.
The speeches were also all great and were all so perfect! Laughter, tears and just outright ridiculousness – exactly what you want!
Advice for other couples 
If you're getting stressed about planning, it's not worth it! Planning your wedding should be an enjoyable experience so don't sweat the small stuff, the important thing is the love!
Biggest surprise 
For me personally it was the gift my sister bought me for the day – for something old she had made a locket with both sets of grandparents wedding photos in it. It was such an unexpected gift and I was really touched.
Supplier Shout Outs
FOR MORE INFORMATION ON COURTNEY'S WORK PLEASE GO TO:
www.courtneylouisephotography.co.uk / www.courtneylouisephotography.co.uk/blog / [email protected] / 07823 440536 / FACEBOOK / INSTAGRAM / PINTEREST / TWITTER

[jprel]