Happy Friday everyone, I hope you are all well, happy and enjoying the week so far. Today we have a super pretty bright and multi-coloured barn wedding for you. Rebecca and Craig were married at Cripps Stone Barn and they had a fantastic day, in the hottest week of the year so far! (I think that week was our official summer!) It was full to the brim with homemade DIY projects, which helped them keep the budget down, as well as gorgeous geometric details and the brightest of multi-coloured decoration. The whole day is bursting with colour, smiles and so much love. Photos courtesy of Courtney Louise. Happy Friday everyone, have a fantastic weekend.
The most amazing day ever; relaxed, colourful, fun and beautifully hot and sunny! Everything we could have hoped for and more to quite honest!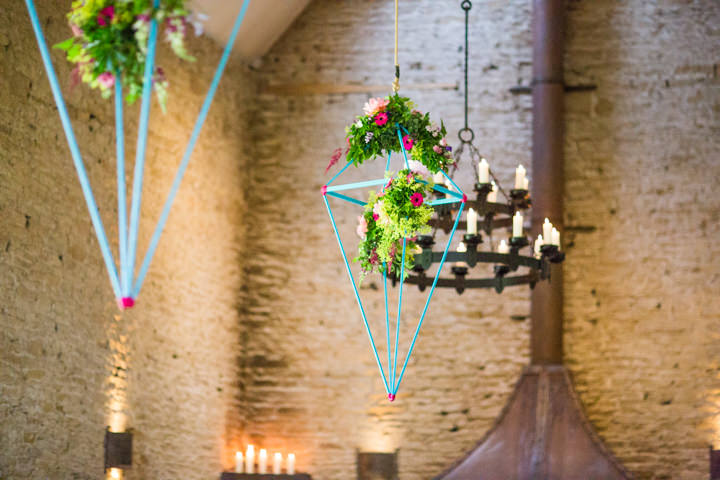 Rebecca and Craig were married on the 17th June 2017 at Cripps Stone Barn, Upper Windrush, Gloucestershire. 'We fell in love with the venue the first time we went to visit. It was the very first venue we viewed and other barns that we looked at just didn't compare. We loved the relaxed atmosphere of Stone barn, you immediately feel at home there. It was also a blank canvas that we knew with a few little touches we could make the place just what we wanted, we loved the rustic, industrial feel of the place. The food was also just what we wanted, BBQ and straight forward sharing bowls. The venue was just perfect really! We had 66 guests and the wedding took about a year to plan. Once we got the venue booked we left it a couple of months before we started planning everything else!'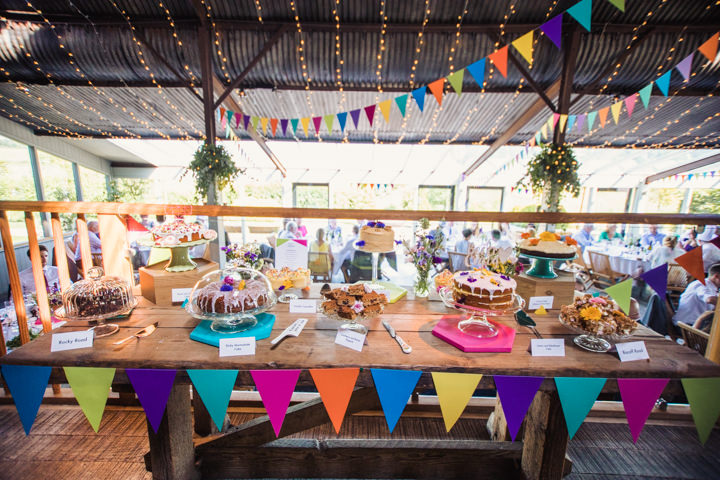 How they met
We met at work! We both worked together in an NHS hospital and after getting talking one day, things just went from there! We've been together 4 and a half years
The Proposal
We got engaged in Times Square New York in January 2016. Craig took me on a surprise trip there just after my birthday! I had to wait for my engagement ring, as Craig's plan to buy it from Barney's whilst we were in NYC didn't go well. He snuck to the jewellery floor to find the baguette ring by Finn but was only to be told that they didn't have one…meanwhile I was downstairs on the ground floor unknowingly admiring the ring he had picked! We had no idea until he later got the ring and I said I had seen it in Barney's. That didn't go down well…but we can laugh about it all now!
How did you allocate your budget?
We worked out what things meant the most to us and allocated our budget accordingly. We wanted everyone to have a memorable day so the venue, food, entertainment were our top priorities, along with a photographer as we wanted the memories captured!
Where did you splurge and where did you save?
We splurged on the venue, food and drink. These are the things that we felt our guests would really care about. We saved on decorations, photo-booth and anything we felt we could do ourselves.
Why did you choose your photographer?
Courtney Louise was the first and only photographer that we met with in the end! We had picked up her card on a wedding open day at another venue and did lots of research on her website. Her style of relaxed, candid shots was just what we wanted. Courtney Louise was so lovely and friendly when we me her we just knew she was the one for us. We could not be happier with our choice our photos are amazing.
The Dress
My dress was from The Farnham Boutique, in Farnham, Surrey. Victoria there was amazing, the original dress I tried had a keyhole back which I didn't want. Within minutes she had drawn a new design with a full lace back, it was perfect and made in no time at all. The beaded belt with also bought from there. I wanted a pop of colour when it came to my shoes so I went for bright blue suede court shoes, a bargain at £11 in the New Look sale.
The Suit and Bridesmaids
Craig's suit was from Moss Bros. He went for the Tailor Me option after trying lots of standard suits. This way he could pick all the fabrics and finishes, and have a beautifully fitted suit. The bridesmaid dresses were cobalt multiway dresses from Coast. I went for these as they could all wear them however they wanted and loved the colour. It matched my shoes!
Theme or Colour Scheme
Bright, multi-coloured and geometric! We love colour and clean geometric shapes and really felt that the industrial barn could lend itself to this. We also wanted to do something different, weddings tend to be pastels and white.
Flowers
Bright, colourful flowers was the only brief I gave Beth our florist! She did an amazing job. We had beautiful coral peonies, billy balls, daisies. I also had the most amazing flower crown! I ended up wearing it the whole day in the end as I loved it so much, I even wore it the day after too!
Decoration
All of our decorations were homemade! I made the bunting to hang in the barn and to tie to the giant balloons. We did the balloons ourselves too. My dad was amazing and did so much work for us. He cut out the wooden hexagons that we used as the base of our table centrepieces. From the offcuts he then cut our larger triangles that we turned into table numbers and then smaller ones that we used as place card holders. We painted everything ourselves in bright colours to match the bunting. Dad also made the hanging diamonds that our florist then decorated to go in the ceremony barn. I had seen something similar on pinterest; Dad did such a brilliant job. They looked beautiful on the day! I also made our table plan and the welcome sign and timings sign.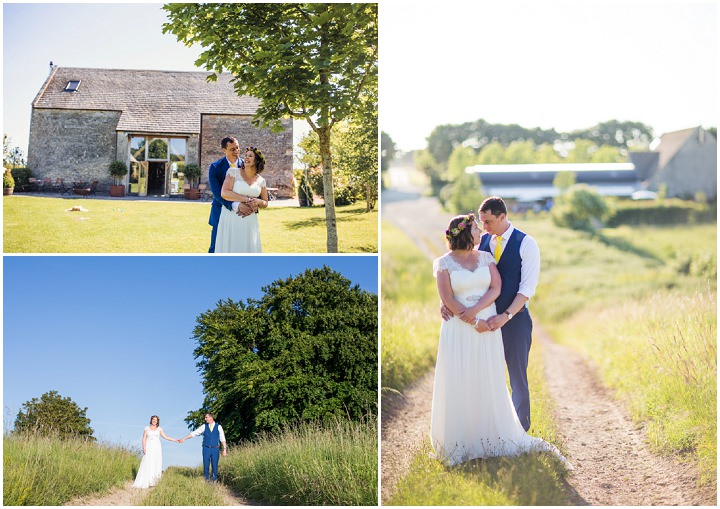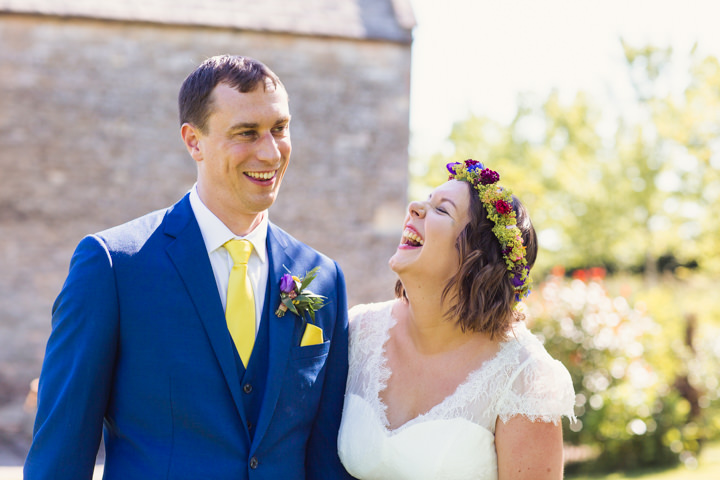 Food
We had canapes after the ceremony and then had the most amazing meal! Cripps kitchen smoked salmon with horseradish, BBQ leg of lamb carved at the table by our guests with dauphinoise potatoes and green beans all served in sharing bowls and lemon tart to finish.
Wedding Cake
We had an entire cake table! I love baking and I didn't want one tiered cake, instead wanted to make multiple different cakes myself! With the help of my Mum, Charly one of my bridesmaids, and my friend Romanie we baked a variety of cakes to go on the multitude of cakes stands I had collected! Far too much cake, but everyone loved it!! It was suprisingly relaxing doing all the baking the couple of days before the wedding and a lovely thing to do with my Mum.
Entertainment
A friend's cousin, Paul, played the acoustic guitar for us during the ceremony and reception. He was just amazing; I think everyone could have listened to him all day. For our evening entertainment we then had a band called Funk the Revolution, they were brilliant! They played our first dance song beautifully, one of my favourite moments of the day.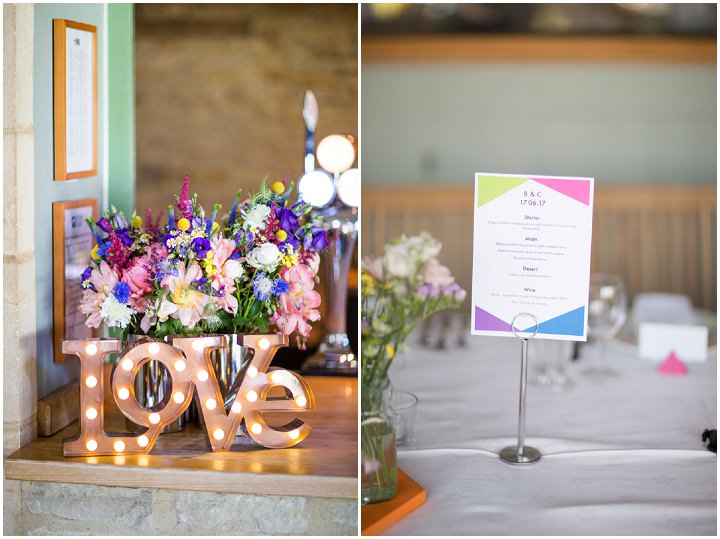 Who supplied the stationery?
We did! We designed it all ourselves and got it all printed. We couldn't find anything we liked and found everything very fussy. I loved designing and making it all.
Personal Touches
We did nearly everything ourselves! I love crafting and DIY projects. I even went as far as drying out rose petal over the 6 moths before we got married to make our own confetti, that I then bagged up with personalised stickers to seal them! My brother also made us the most fantastic photo booth. We bought a bunch of props and decorations and then Josh did all the technical bit with a touch-screen and a camera! It was great! Everyone loved it and it got some brilliant pictures. We also made a frame with pictures of both our grandparents in as none of them were with us still. We wanted to make sure that they would still play a little part in our day. We finished the evening off with marshmallows and sparklers with the fire pits.
Special Moments
The first dance! You are the best thing by Ray Lamontagne is such a beautiful song that means a lot to us, and the band did a great job.  Also for me the drive to the barn! I had no idea that my Mum had booked the amazing car we arrived in. I had told Mum just to book a taxi! It definitely made it a special trip for Dad and I.
Advice for Other Couples
Don't get carried away with pinterest! But equally when you pick a theme that you really like and it means something to you, don't let others deter you. We pulled it off, and at the beginning I'm pretty sure people thought we were mad!
Biggest Surprise
How relaxed we both were on the day! We had the most amazing day and didn't feel that either of us had worried about anything once we were there. The staff at the venue were so professional and ensured that the day went without a hitch. We were both so in the moment all day that it was just the most wonderful day.
Supplier Shout Outs
FOR MORE INFORMATION ON COURTNEY'S WORK PLEASE GO TO:
www.courtneylouisephotography.co.uk / 07823 440536 / FACEBOOK / T: @courtneylphoto /  [email protected]
I AM A COTSWOLD BASED FEMALE WEDDING PHOTOGRAPHER, COVERING THE UK AND BEYOND, WITH A RELAXED AND UN-OBTRUSIVE APPROACH.