Happy Friday everyone, I hope you have had a good week and have enjoyed some of this glorious weather we have been having? Here in Sheffield it is sunny with showers and we are expecting thunder storms later so I have no idea what we will be doing this weekend. We have plans to see friends, but as we aren't currently allowed to meet them outside, I'm not to sure what we will be doing, I'm hoping the rain stays away! I am finishing off the week with this lovely Hindu wedding Wedding, which is full of bright, vivid colour. Karam and Arun held two ceremonies, one western ceremony inside, and then a Hindu ceremony outside with traditional Punjabi wedding rituals. This meant they go to wear two different outfits, both stunning. I just love the colours of the Hindu wedding, so vibrant and eye catching. What a beautiful celebration. Big thanks to Hampshire Wedding Photographer Miki Studios for the awesome images.
'A colourful, bright (and very hot) day with 2 beautiful ceremonies (inside and out) with 2 outfit changes and the best day of our lives with our friends and family closest to us. A selection of suppliers we would choose time and time again!'
Karampreet and Arun were married on 4th August 2019 at Frolye Park, Hampshire. 'As soon as we went to view Froyle Park, we knew this would be the place we get married! The place was exactly to our liking and we felt that it captured our taste perfectly. The ability to have a civil ceremony inside and a Hindu wedding outside was a must for us and Froyle Park made this possible in such incredible surroundings. We would both fully recommend everyone takes a look at Froyle Park if you are planning a wedding. We had 150 guests and it took 18 – 24 months to plan.'
The Proposal 
August 6th 2017. We decided to book a holiday to Croatia. Arun knew that this is where he wanted to propose! He had arranged so that following the proposal, he booked a lovely restaurant to celebrate. On a HOT day in Dubrovnik, Arun contemplated on the best spot to pop the question. He struggled for one, and decided to pop the question over dinner… whilst the sun was setting as we looked out onto the beautiful clear water.
Where did you splurge and where did you save?
We splurged on photography and film and it was the best investment and decision of the whole wedding. We couldn't be happier with the memories that Mick and Ash have given us of our day. We are instantly transported back to all the emotions of the day by watching the film and seeing the images.
How did you choose your photographer?
We found MIKI Studio online. The photographs and film blew us away. They have exceeded our expectations incredibly. Mick and Ash are insanely good at what they do, and I am not surprised with the recognition they receive. They captured us perfectly and the images and film just showed how much in love we are with one another.
The dress
Karam – My dress was by Justin Alexander. I went dress shopping with my sister who spotted the dress in a shop in Datchet. It was the 2nd dress I tried on and I knew immediately it was the one for me as it made feel special. I felt like a princess in that dress, marrying the love of my life, like a real-life fairytale.
The suit and bridesmaids
I decided to go with a tuxedo. I've never worn one, and I always wanted my wedding suit to be a tux! I decided to get it totally custom made, even embroidering our initials into the jacket. The colour I chose was perfect, and it went along with the wedding colour scheme.
Theme or colour scheme
We chose to have pastel colours for our wedding. We had a vision of what we wanted, and we didn't want it to look OTT. The venue is so beautiful itself, so we felt the colours would compliment it really well.
Flowers
One of the highlights of the day were the flowers, seeing the flowers on the bandstand made my heart miss a beat. The red roses, eucalyptus and fern looked everything we had envisioned.
Decoration 
We didn't add any special decorations, Froyle Park is one of those venues that doesn't need it.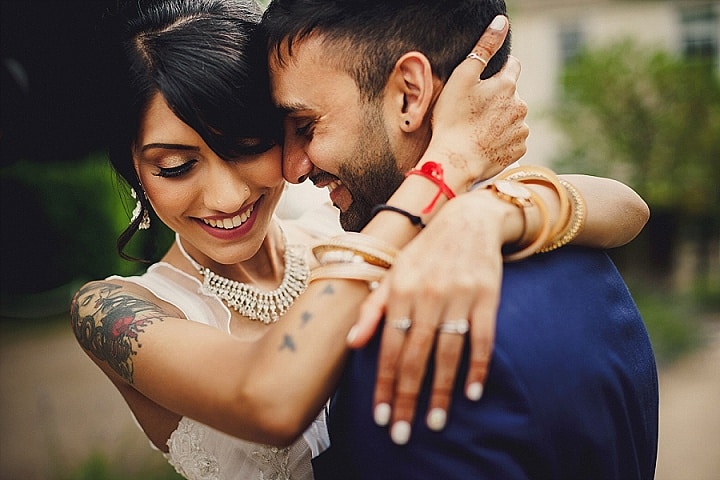 Food
The most delicious Indian food ever! Premier Flavour, our cater did the most amazing food (there was so much). No one left hungry!
Wedding cake
Oh So Delicious made us the most amazing cake. Cake is a big deal for us and they got it spot on. It looked and tasted so good!! There wasn't a lot left, that's how good it was.
Entertainment
During the day, we had a String Quartet playing a set of our favourite songs which sounded beautiful, so peaceful and calming. The evening was quite the opposite which is exactly what we wanted. A very loud and full dance floor was the best way to end our day by Calibar Roadshow. The vibe and energy these guys have it unbelievable, the dance floor was packed from the first moment to the last.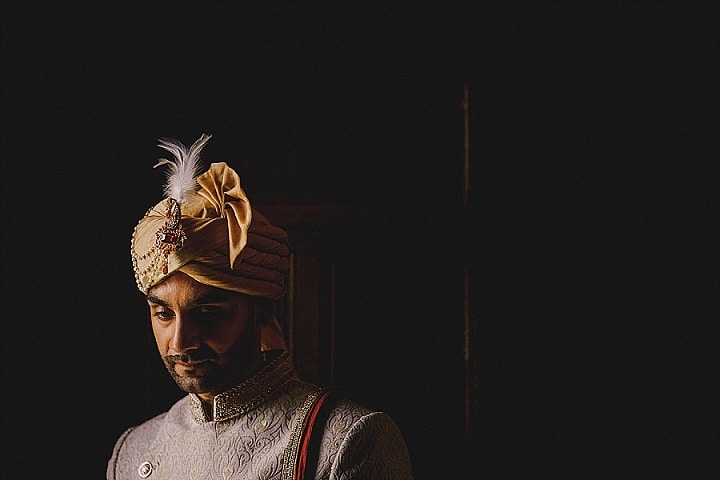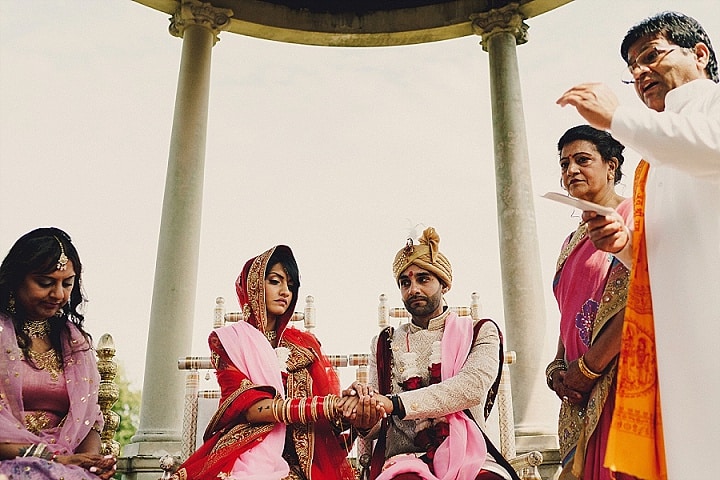 Who supplied the stationery?
Marry Me By Amoretti – the best in the business. Such a beautiful set of stationery, we couldn't have been happier. Arianna from the team was delightful and made the whole process so easy. They created our wedding cards which surpassed our expectations. The design was unique and absolutely to our taste. The design process was fun and Arianna was extremely helpful. Would definitely recommend them!
Where did you go on your honeymoon?
Bali – A truly wonderful country where we would go back to in a heartbeat! The place is full of scenic views and great people and the food is out of this world!
Special moments 
Karam is a huge fan of Nightmare Before Christmas, we had a Jack Skellington and Sally cake topper. The topper is from the final scene of the film, where Jack and Sally embrace each other and realise they are "simply meant to be". Very us!
Advice for other couples 
Top tip in general – Try not to stress with the wedding planning, try to take it all in and enjoy it. Your wedding day is the start of a beautiful chapter so take your time on the day to absorb everything and really enjoy yourselves, it's your day after all! Take a moment and go off together and enjoy it.
Top tip for men – It's ok to cry!
Biggest surprise 
Another highlight was from Ash, our photographer. Whilst we were eating, he edited 10 highlight images from the day and sat us down and we looked over the images with tears in our eyes. It seemed impossible to edit images on the day taken only a few hours before but still made us laugh and cry very happy tears. We loved the images that much that we asked our DJ to display them on the large screens for our guests to see. Needless to say, all our guests loved them and many of our friends took their details so I expect we will see Mick and Ash again and again!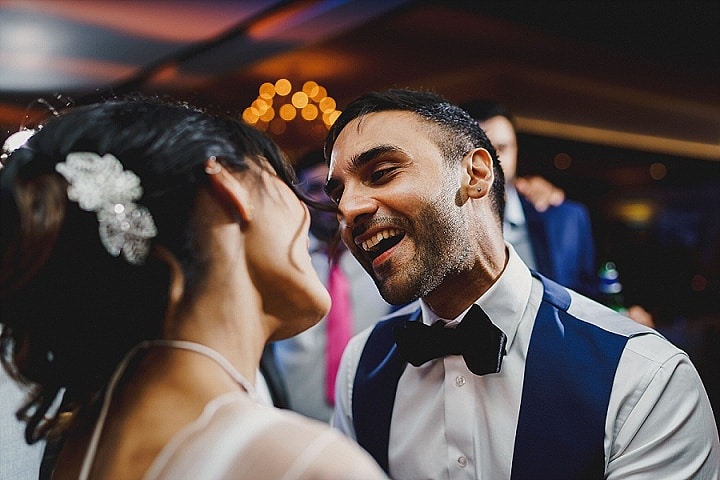 Supplier Shout Outs
FOR MORE INFORMATION ON MIKI STUDIOS GO TO 
www.mikistudios.com / www.mkistudios.com/hampshire-wedding-photography / www.mikistudios.com/wedding-videographer-london / [email protected] / FACEBOOK / INSTAGRAM

[jprel]