Happy Wednesday everyone, can you belive we are halfway through the week already!? Have you got your decorations up yet? I put mine up last night so the house is now looking very festive! I have a gorgeous wedding for you today, so bright and beautiful, with 3 different meals and 3 different dress changes from the bride and groom. This Hindu wedding is full of colour, amazing patterns, wonderful decoration and lots of DIY decoration from the bride and her family. A real family effort to pull off this stunning wedding that I'm sure you will agree is just wonderful. Big thanks to Luke Hayden for the photos.
'The longest, fastest day of my life, with two wedding ceremonies, showers, sunshine, 3 big meals and 3 costume changes, a cricket match, and my best ever party – somehow all rolled into one day. The planning was a little(!) fraught at times, but I could re-live the day over and over again.'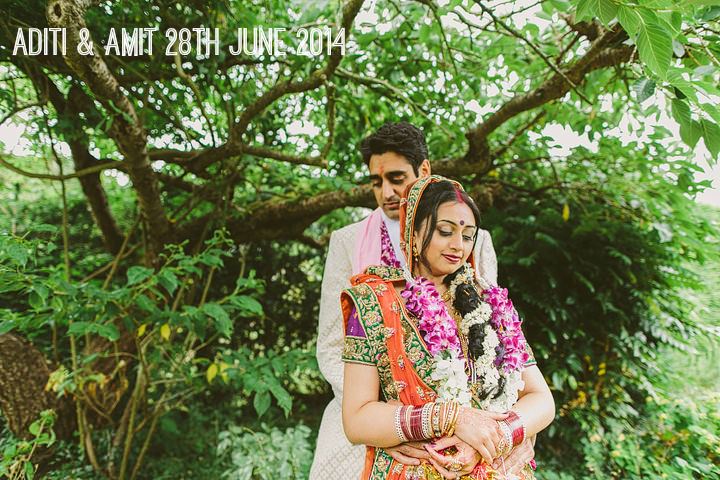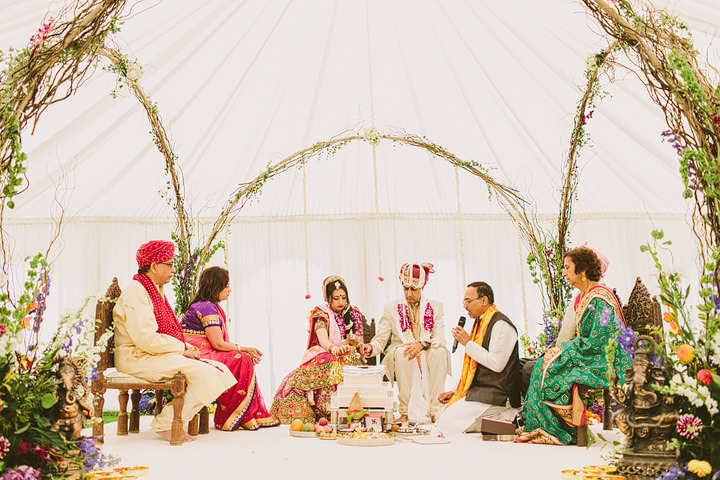 Aditi and Amit were married on 28th June 2014 at Micklefield Hall, Hertfordshire. 'There is a folly with a pond at the end of the main gardens, which is licensed for civil ceremonies, and meant we could do both our Hindu and civil ceremonies in the same day… practical and so pretty! There were around 280 guests and it took 8.5 (full!) months to plan.'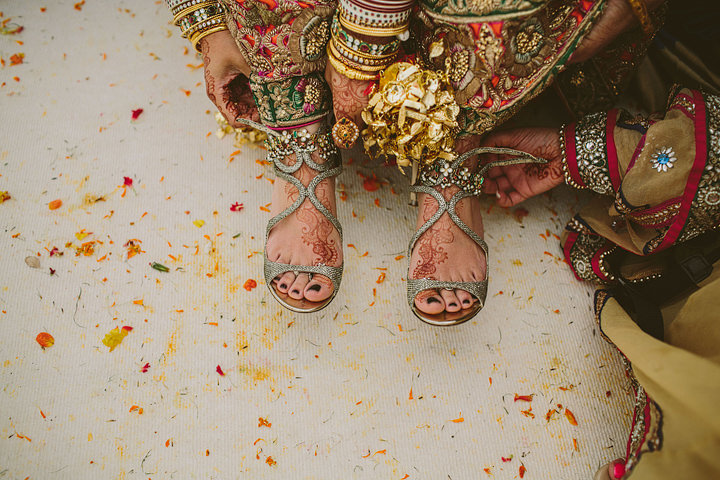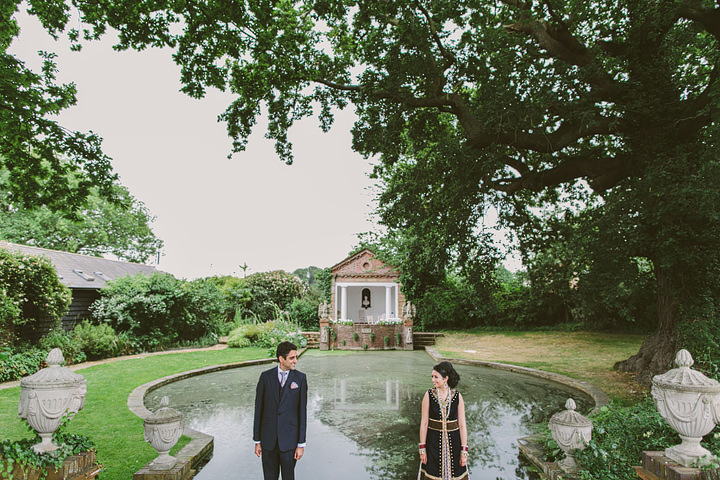 The Proposal
It was a treasure hunt, which took us back to a number of the places we had been on dates to. Amit had hidden clues in random public places, which spelt out a postcode in the South Downs, where he proposed on a beautiful farm/spa. The big surprise was that he had had a friend who is into photography follow us around all day to document it. I got a beautiful book of pictures afterwards, and I didn't know they had even been there !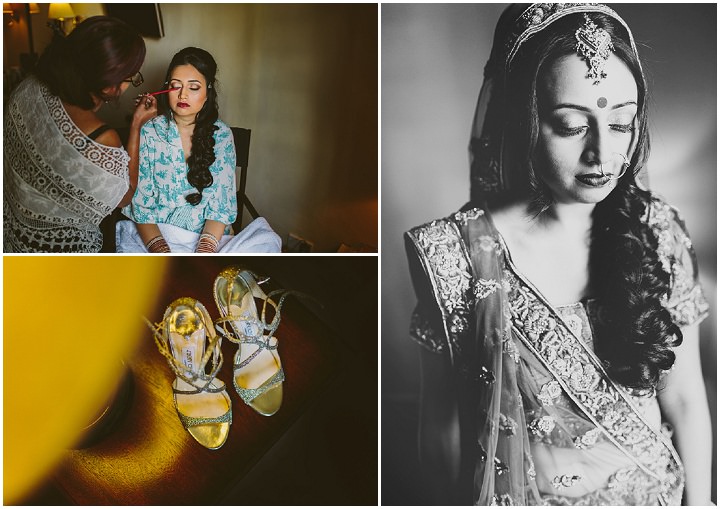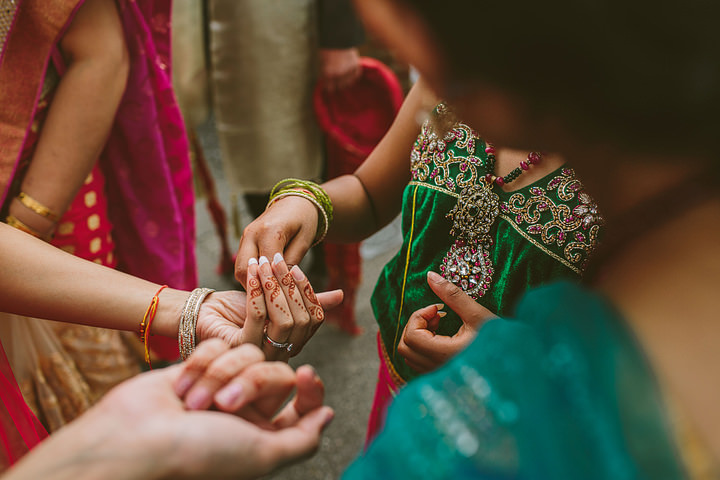 How did you allocate your budget
With three meals being served across the day, food took the lions share. Décor was really important to me as well… although we DIY'd the favours and details, these occupied the most resource because it was time consuming for our numbers, but it was totally worth it, as the wedding felt a bit smaller and more personal.
How did you choose your photographer
Luke Hayden was recommended to us by another photographer who thought we would prefer his style, and we were excited to meet him after viewing some sample pictures on his website. He was even better in person, and exceeded all expectations on the big day, where he went out of his way to provide us with a beautiful set of pictures which we were thrilled with. We got to know him better on a pre-wedding shoot around London and felt really comfortable with his easy going manner, and impressed by his ideas and creativity.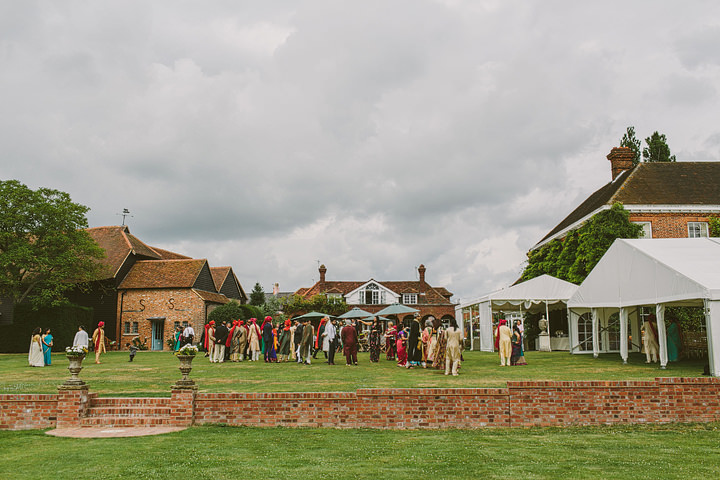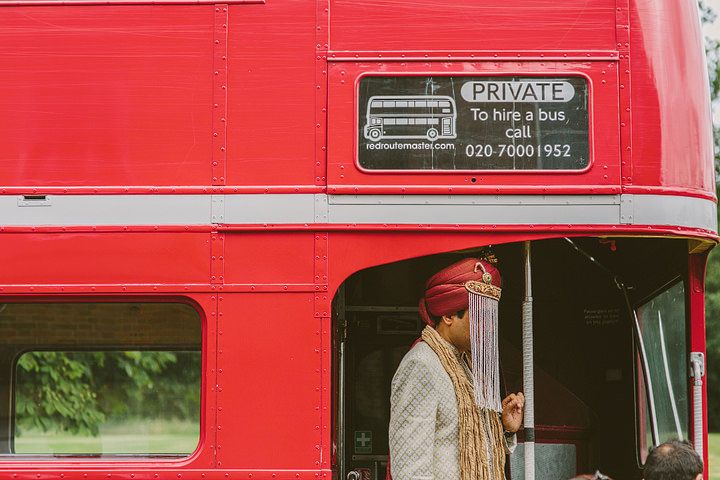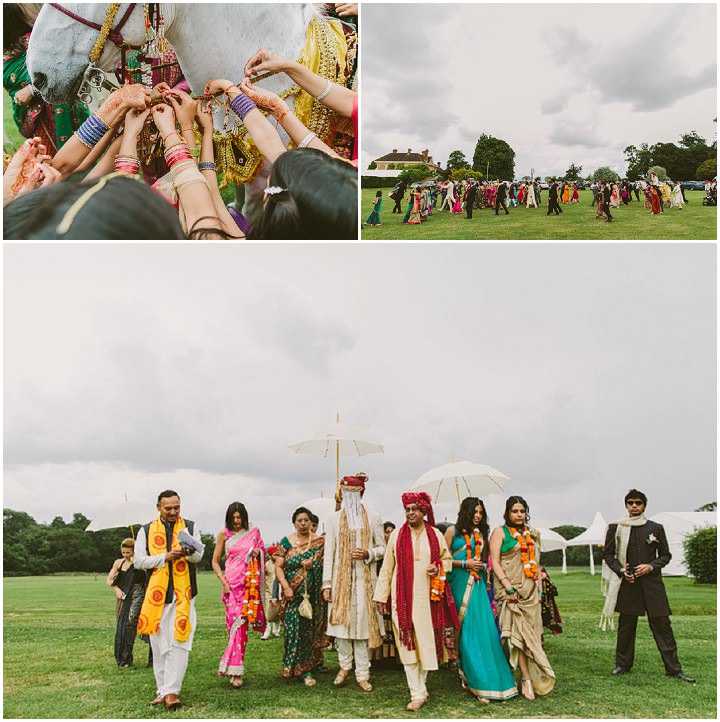 The Dress
Awesome up-and-coming Kolkata-based designer Prakriti Poddar made my civil wedding outfit, the 'lehnga' for the Hindu wedding was from a bridal store, also in Kolkata. Jewellery was a mix – some from Amra Pali, Kolkata (London concession at Selfridges) and some from good old Southall Broadway! Shoes were by Jimmy Choo.
The Suit and Bridesmaids
Amit's suit and accessories were from Duchamp, and the shoes from Loacker. The bridesmaids were in various shades of peacock, with matching 'maang tikas' (jewellery which goes through your parting and down to your bindi dot). They each held a brass tray with a candle lit for the hindu ceremony and small bouquets of peonies, wild roses and lily of the valley for the civil ceremony. The flower girls had jasmine in their hair, and a costume change into a white and gold 'salwaar kameez' for the civil ceremony. Amit's best 'man' Beth, wore a cream and brown sari with a peacock blue blouse that matched a little with the bridesmaids, and a little with him.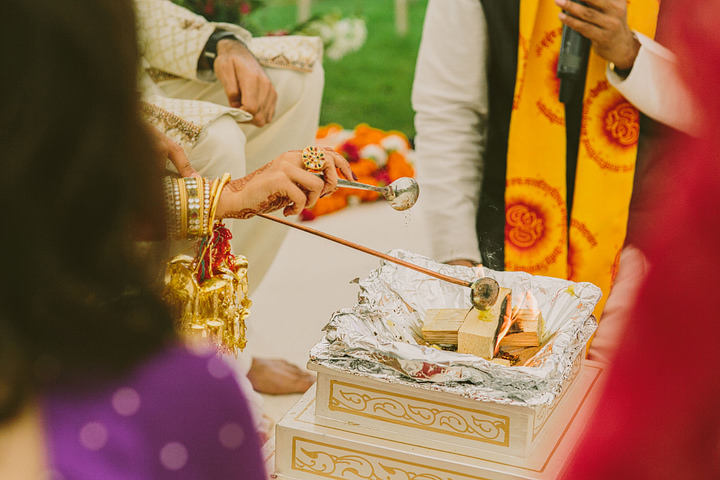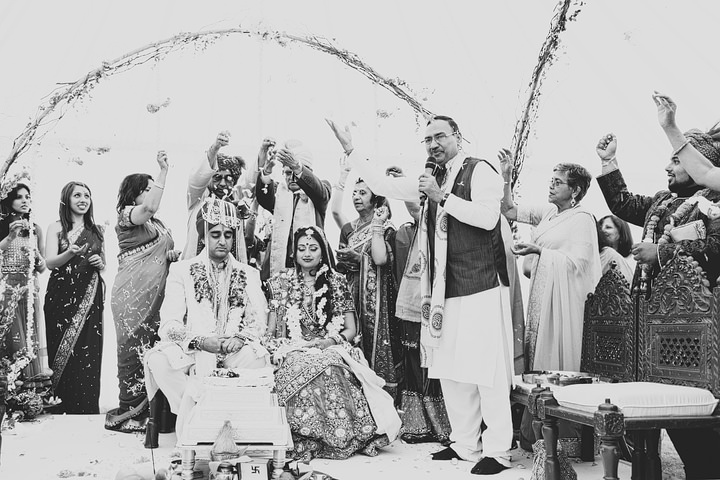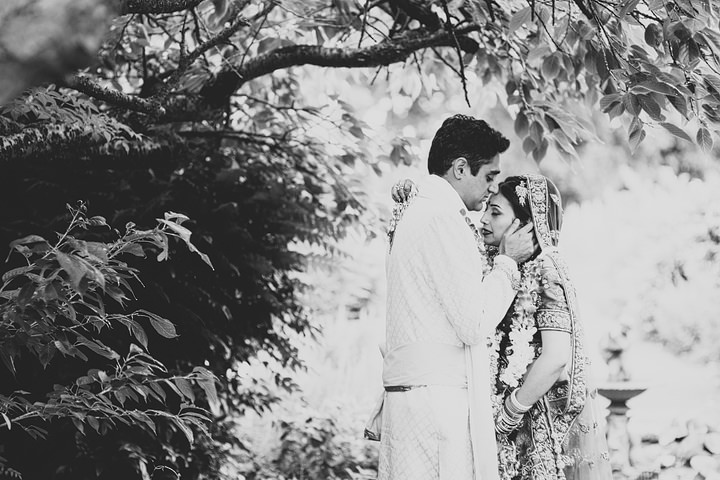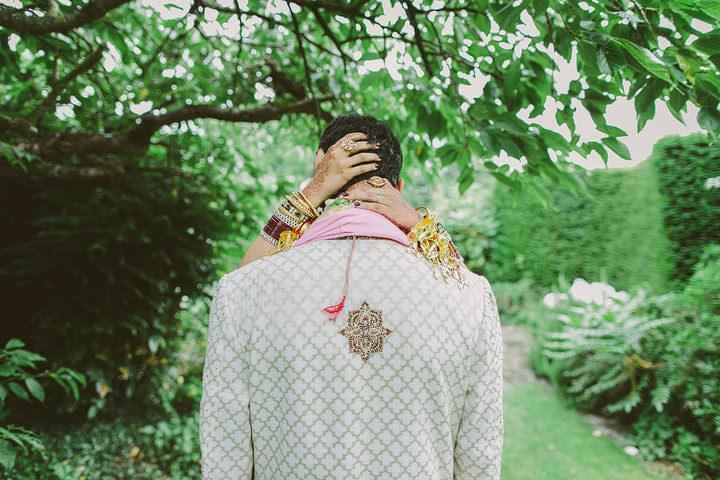 Theme or Colour Scheme
Marigold Yellow/Orange, deep purples, fuchsia, yellow, leaf green, whites and creams.
Flowers
Fresh jasmine wound through a fishtail plait for the Hindu ceremony. For our Milni, (a ceremony where corresponding family members on the Bride's and Groom's side greet each other with garlands,) we had garlands of marigolds. Mine and Amit's 'Jai Malas'(larger garlands) for the Hindu ceremony were purple orchids and tuba roses. The mandap, traditional structure under which the ceremony takes place, was four arches of flowers – dahlias, lily of the valley, delphiniums, etc. woven from the base to the top. Our button holes were Cymbidium Orchids, yellow for my guys and orange for Amit's, bouquets were white, cream and pale pink peonies, with a few roses and some lily of the valley
Decoration
We had chandeliers hanging from the ceiling of the marquee decorated in the same flowers as our mandap, with two of its arches going along the back wall. Our centre pieces were a mixture of trees and brass birdcages, with flowers woven through them and candles in them for when the light went down.

Food
We had an Indian brunch buffet before the Hindu ceremony, Indian-style canapés and street food at lunch, and then full Punjabi dinner
Wedding Cake
Was by South London based Brightside Bakery. It had delicious chocolate sponge and salted caramel icing, was decorated with iced marigolds and lotus flowers – it was a hit.
Entertainment
We had tabla and sitar players at lunch, a cricket match during the champagne reception and DJ's for our party after dinner. My cousin Varun played electric guitar at beginning and end of the civil ceremony, which was beautiful.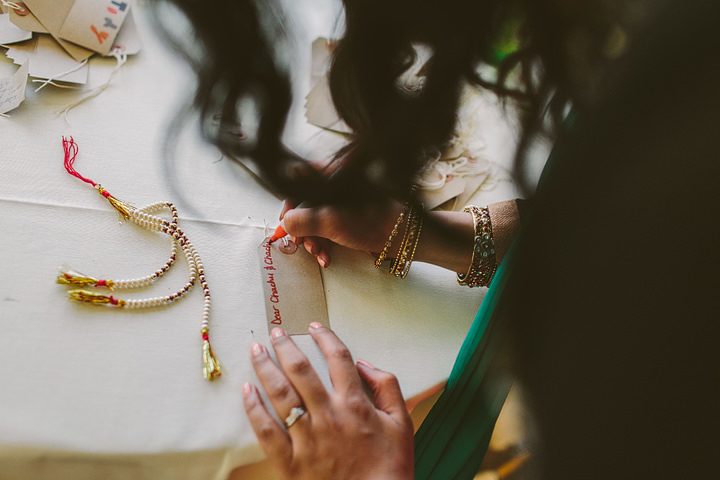 Buy or DIY your Stationery
We DIY'ed… we designed the save the dates, invites, CD covers, notebooks, iron-on transfers for tote bags and a hundred different types of sticker on a design programme.
Personal or Handmade Touches
For the cricket match, there was a scoring board with Indian Premier League team mash-ups of our family names i.e. 'Kapoor Knightriders' and the 'Sibal Sunrisers' – a bit of an in-joke for 20/20 cricket fans.
Our seating plan was three freestanding garden trellises with lace/ ribbon tied to them and tags with names/tables written on them. My dad painstakingly wrote the names and tables of every person in the room on each tag – perks of being his only daughter, maybe! They each had a picture of a white or pale pink vintage Indian ambassador car on them (which was our wedding car for the end of the night). Our tables were places dear to us, people's houses, restaurants and street names. I had taken or found pictures the places, which were placed on each table.
There were CDs with some of our favourite tracks on dotted around. I designed the sleeves and my brothers burned the CDs, stuck the stickers on them and packaged them – it was a production line!
I designed pocket notebooks in keeping with our theme, on which I hand wrote people's first names (or who they are to us, e.g. Mum) – to double up as place settings. Our other favours were boxes of Smarties for boys (plain white boxes with a sticker that said "Hey There Smarty Pants!" on it) and packs of bindis for girls, which I managed to get hold of by clearing one bemused vendor of his entire stock in a Delhi market. My mum stuck stickers with "Hello Pretty" on over a hundred of those packs and tied them with brightly covered ribbon. As we had hoped for, favours were shared out so there were plenty of boys with bindis and girls with sugar highs by the end of the night.
Bridesmaids, sister's, mums, aunts, grandmas, great aunts and our brothers each got a tote bag with a custom design on. For bridesmaids it was "I was a bridesmaid and all I got was this lousy tote bag". In fact, in the bridesmaids' bags were a pair of Rajasthani slippers, bangles and some other treats.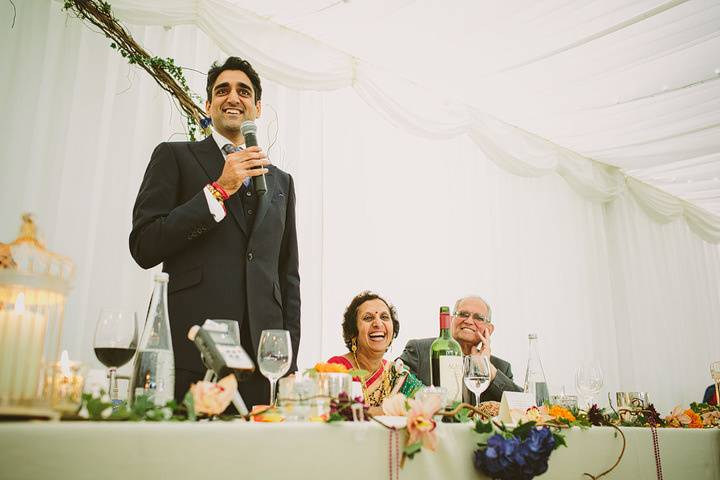 Special Moments
There were too many! Some favourites : 1) the weather clearing just in time for the registrar's arrival, and Amit managing to persuade the venue people at the last moment to move the chairs to either side of the pond, so that we were able to have our civil ceremony there as planned, 2) seeing my bridesmaids in peacock coloured saris and lenghas standing together, looking beautiful 3) my brothers turban clad with peacock feathers, so dashing; 4) dancing with my parents at the reception, relieved it had all gone to plan; 5) Seeing my gran, who had been unwell, reappear in time for dinner after a rest, looking fabulous, and very happy that she was able to be there; 6) My brother's speech – which was perfect; 7) Going for a walk with Amit in the grounds for five minutes during the reception while the party carried on in the marquee – we were flies on the wall for a brief spell! 7) Watching the paper lanterns go up at the end of the night surrounded by everyone we love ☺
Advice to other couples
When people make an intervention to tell you that you have gone too far, they are probably right! However, contrary to popular belief, people do notice the little details and all the strife will ultimately pay off! Try and delegate what you can, we were lucky enough to have lots of help from our families which meant we could enjoy the day.
Biggest surprise
Having our couple photos done after the civil ceremony, and suddenly hearing the shouting and whooping from the cricket match that we thought the rain had ruined all chance of, and then, managing to hit the ball in said match and score a run in my dress and heels!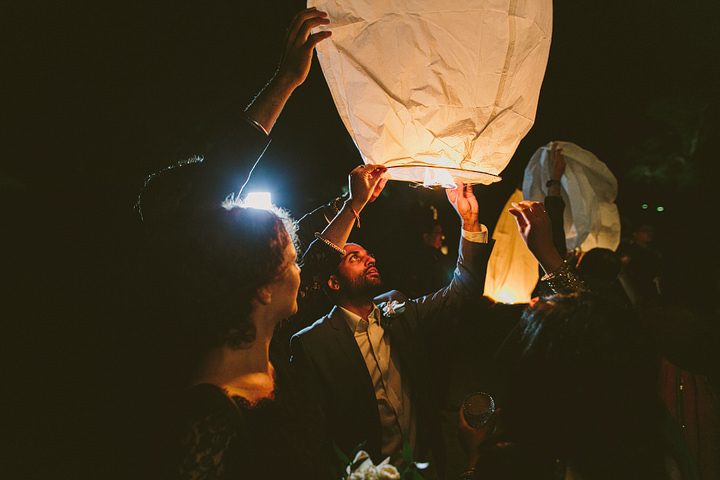 Supplier Shout Outs
For more information on Luke's work please go to:
www.lukehayden.co.uk / [email protected] / FACEBOOK / TWITTER / 07984 178 819
I'm an Essex Wedding Photographer shooting weddings nationally and internationally. My approach to weddings is to capture everything as it unfolds in front of me.