Happy Friday everyone. I hope you have had a good week? How are the wedding plans coming along? I would love to hear from any of you who have postponed your wedding from this year and re planning it for next year. You can join the Boho Brides and Grooms Facebook group HERE. I am always up for a chat and we have about 1200 members now, so there is always someone there with some sound advice to offer. Today we have the delightful wedding of Amy and Tom who were married at Mythe Barn, last year. Their wedding is soft, romantic with some beautiful rustic touches and filled with love, emotion and lots of laughter. Big thanks to London Wedding Photographer Miki Studios for the awesome images.
We wanted our wedding day to be relaxed and memorable for all our family and friends. It was the most magical day surrounded by the people we love and we just had the best time.
Amy and Tom were married on 27th July 2019 at Mythe Barn, Atherstone in Warwickshire. 'We came across the venue by accident and fell in love with it as soon as we saw it. It felt like a special place and the staff there are second to none. They genuinely care about their clients and make you feel like a friend. They have a very professional manner with a very personal feel. We had 100 guests and it took two years to plan.'
How they met 
We met through a mutual friend and have been together for 7 years
The proposal
Early on in the relationship, Tom dropped a pen underneath a chest of drawers in the bedroom. I saw him on one knee and thought he was proposing! I gasped and said "oh my god!" … needless to say it was quite embarrassing when Tom revealed the pen he was retrieving. Fast forward another year or two… Tom wanted to make the proposal personal so when I arrived home from work on the last day of the summer term I found a note and ribbon attached to the front door. I followed the ribbon and rose petals around the house to different photographs of us and messages from Tom. When I got to the stairs I found a small paint pot and a paintbrush with the words "You'll be needing these!" Then the ribbon continued up the stairs and to our bedroom. When I opened the door I found that Tom had painted the words "I love you so much, will you marry me?" with a yes and no box for me to paint a tick inside! Obviously I was over the moon and when I turned around, Tom was on one knee in the very spot where he dropped the pen! We then went on holiday that night to Ibiza to celebrate!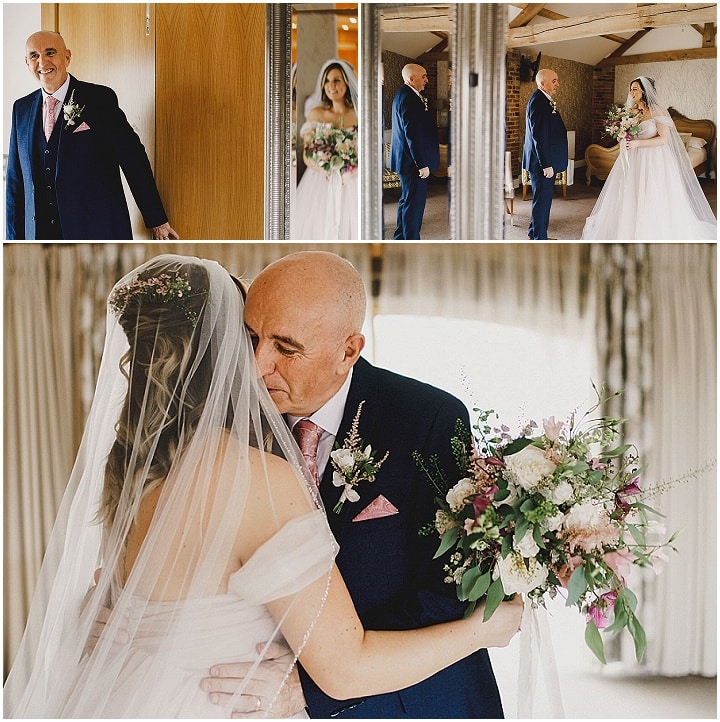 How did you allocate your budget?
We asked others what was important to them when they got married and used that to focus on the right things. For example the photographer: Friends had said make sure you invest in a good photographer because the films and photos will be your memories.
How did you choose your photographer? 
We visited a wedding fayre in Derbyshire and found a photographer we liked but they weren't available on our wedding day. They knew about Miki studios and recommended them to us. Oh god, we are so glad they did!  It was great to have Mick and Ash with us on our special day. We felt comfortable and relaxed all day knowing that they were capturing each memorable moment for us.
The way they interacted with our guests was fantastic and they felt like part of the family. We had a few little sneak peaks of our pictures on the day. This filled us with excitement for when we would get all of our photographs back.
We would absolutely recommend Miki Studios to anyone. They are professional, fun and friendly and their incredible work speaks for itself. We can now relive our day through their hard work every time we sit down to look through all of the gorgeous photos.
The dress 
Blush by Hayley Paige. I spent years (even before we got engaged lol) searching for the perfect dress. I was drawn to the one I picked as I loved the colour of it (Blush) and noticed that the name of the gown was 'Milo', this is the name of our cat, which made me love it even more. We bought my dress through the Bridal Room at Broadway and I would recommend them. We were looked after by Amy (loved that she had the same name as me) who was wonderful and paid attention to the detail. The fitting service was just lovely and we felt really comfortable there.
The suit and bridesmaids
Sawyers and Hendricks Via Slaters in Birmingham.Tom always wanted a blue suit and we fell in love with the one he wore as soon as we saw it. It was the first and only one he tried on. Dresses from Maya Deluxe via Asos
Theme or colour scheme? 
Blush and pale greys
Flowers
We loved planning the flowers because we asked Natalie Penn, who is the sister of one of our groomsmen, to do them. The result on the day was breathtaking.
I had waxflowers in my hair, and the bridesmaids too. Along with my bouquet, the button holes and bridesmaid hoops which were all fabulous, the foyer, reception room and ceremony room were filled with whimsical seasonal flowers in relaxed trailing bohemian style.
Decoration  
Informal relaxed bohemian style with loose floral arrangements, and candle lit lanterns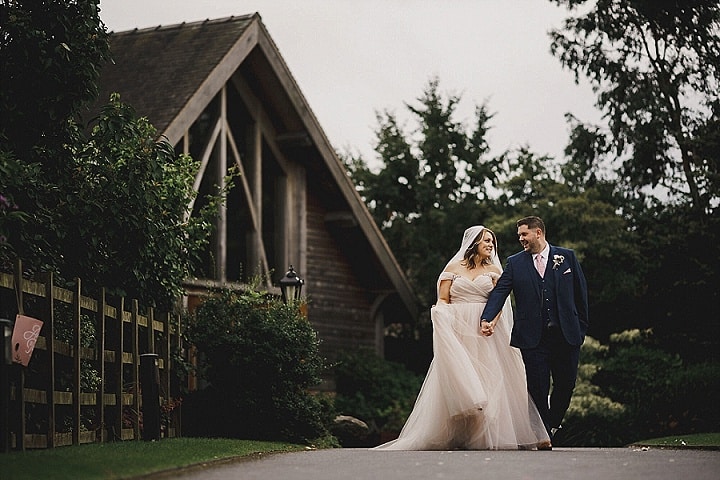 Food 
The food at Mythe Barn was amazing! Galloping Gourmet provided all the catering and it was first class from start to finish.We had gorgeous canapes followed by an incredible wedding breakfast including a steak main course and a street food style fire-pit barbeque in the courtyard in the evening.
Wedding cake 
My friend Chelsie Cook made the cake which was a three-tiered semi-naked cake. It looked great and tasted delicious! We found a lovely cake topper in a small boutique in Shrewsbury: two little mice dressed ad bride and groom. Really unusual and just perfect for us.
Entertainment
We had a really lovely duo called Noah's ark singing whilst the guests were gathering before the ceremony. We wanted to make sure that our guests felt happy and relaxed at all times. We thought it would be a fun surprise to have a mariachi band to serenade our guests in the courtyard after the wedding breakfast. Everyone loved it and we were so pleased we did this! It really got the party started. They were called the Burrito Boys. We'll never forget the moment all the groomsmen appeared on the dancefloor with their waistcoats turned inside out to reveal the floral lining: planned in advance from the day we visited the suit shop!
Who supplied the stationery?
Our stationery was designed and organised by Emma Hill, my best friend. I remember all the fun times over several evenings planning this. Very special. 
Where did you go on your honeymoon?
Our honeymoon was at TRS Yucatan in Riviera Maya Mexico. The location was amazing and the staff at the hotel were incredible, friendly and remembered our names and the things we liked every day. We were treated like celebrities! I couldn't recommend this resort enough, total paradise with plenty of fun!
Did you have any personal touches? Or things that you did yourself?
We did! Too numerous to mention, but here's a flavour:
We gathered everything for the ceremony aisle and dining room ourselves over the two year build up and really enjoyed putting things together, like the old rustic ladder we filled with candles flowers and photos.
Photos of Tom and I as toddlers with an & sign in the middle.
Table centres were test tube holders with wild flower stems and lanterns.
We used old wooden crates to hold accessories in the aisle and dining room.
We put baskets of fun goodies in the loos for guests to enjoy and added signage which said: "You look hot, now get out here and shake what your momma gave ya".
Special moments 
Seeing each other for the first time in the aisle, knowing that there wasn't a dry eye in the room.
There was a lovely moment when my mum wrote a special poem for us as a reading.
Tom seeing his sister Mollie walking down the aisle as a bridesmaid.
There was a lovely moment when we were having our photos taken outside and we could see all the guests smiling faces at the window.
My brother Dan was master of ceremonies and we loved that.
I'll never forget my dad's speech was just wonderful; really emotional.
The Mariachi band in the courtyard was great. Everyone loved it.
Our first dance in front of the "this will be forever" sign.
We loved the photo booth which was open so we could all see everyone being silly and it was so nice to see people from different groups mingling together.
Advice for other couples
Remember to take time out of the day to be with each other. It's easy to think that you need to spend time with every guest, but it can soon swallow up all the time and you can miss those special moments. Friends had given us this advice and we made sure we found some special moments to appreciate all the little touches and each other.
Biggest surprise 
Not so much a surprise but more of a feeling: We knew we were in for a wonderful day, because of all the preparation with all our amazing suppliers and all the personal finishing touches, but mostly because of all the lovely people we planned to share our day with. The love and happiness just flowed right through the day and nobody wanted it to end.
Supplier Shout Outs
FOR MORE INFORMATION ON MIKI STUDIOS GO TO 
www.mikistudios.com / www.mikistudios.com/haarlem-mill-wedding-photography /  [email protected] / FACEBOOK / INSTAGRAM

[jprel]