Well hello Wednesday and hello what could be the hottest day of the year so far! Today homeschooling finishes at lunch time as we have the new super sized paddling pool pumped up and ready to use, along with our new garden furniture that Nik finished putting together last night. We were meant to be going on holiday on Monday so we are going to camp out in the garden and pretend it's Ibiza! In the wonderful wold of weddings I have the gorgeous Lancashire wedding of Emma and Rowan to share with you. This DIY loving couple created a beautiful wedding, full of the most amazing decoration, all lovingly put together by hand. The attention to detail is superb, with the soft dusky blue tones mixing perfectly with the classic white and greenery decoration. The whole day is elegant and well thought out, yet relaxed and laid back at the same time. Anna Wood Photography was there to capture the day for us.
The most tremendous fun and an unforgettable day! It's such a shame we can't relive it all again.
Emma and Rowan were married on 1st September at The Alma Inn, Laneshawbridge in Lancashire. 'I (Emma) had stayed at this venue several times over the years whenever I worked away from home. From the very first visit I just fell in love with the place. I'd seen them set up many a wedding during my stays and I often wondered what it would be like to get married there. I took Rowan there a couple of times over the years and he loved the place too. We knew we didn't want a church wedding and we knew we wanted it to be different from every other wedding we'd been to before. It was a no-brainer as soon as we sat down with the wedding co-ordinator, not only did The Alma have the look and feel of what we wanted and the whole place would be exclusively ours for the day but the price was an absolute steal too! We had approximately 50 day guests and 70 evening guests. A relatively small affair, just what we wanted. From engagement to wedding we had 18 months to plan and prepare. We got engaged in May and knew we wanted to get married the following year.'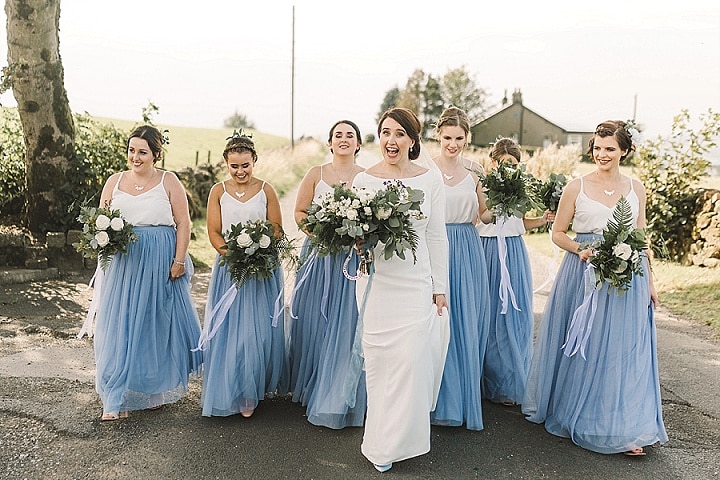 How they met 
Rowan and I attended the same school and sixth form although we never knew each other and never spoke. The most I saw of him was the back of his head in biology class once or twice a week! We happened to bump into each other in a club a couple of years later and after that kept in touch via Facebook. After a few more nights out together we decided to officially become a couple in September 2008. In 2011 we bought a house together and in 2014 we welcomed a naughty (but loveable) little puppy into our lives. Rowan finally decided to propose after 9 years together (and plenty of not so subtle hints), just before our 30th birthdays.
The proposal
It was just before Rowan's 30th birthday and we were on holiday in Italy. We'd spent a week exploring the Amalfi coast and on our final night we found a swanky cocktail bar with the most amazing view of Positano (Franco's bar). I was sulky and sad with a serious case of the end of holiday blues when Rowan decided to get down on one knee and finish the holiday off in style. The bar was heaving, everyone clapped and cheered and the bar staff brought us champagne.
How did you allocate your budget?
We had a rough amount in mind for how much we wanted our wedding to cost, we would allow ourselves to go over budget if absolutely necessary but it had to be for the right reasons. We allocated £10,000 (honeymoon not included) and in the end it came out at about £12,000 – which in the grand scheme of weddings is pretty reasonable. We had the venue ticked off pretty much straight away, so this left us clear as to how much we had left to allocate on other things. The next most important thing on our list was the photographer and the wedding rings – as one of our close friends told us, the things that will stay with you forever after the day is over are the photographs and the rings you wear every day – make sure they are 100% right regardless of the price! The rest of the budget fell into line once we had these things in place.
Where did you splurge and where did you save?
We saved money by doing a lot of things ourselves, such as the invitations, menus, place settings and decor. I'm quite crafty and love making things and Rowan is unbelievably handy when it comes to woodwork. We chose stationary and decor that played to both our DIY strengths. I then wanted to compliment all our hard work on the decor with beautiful flowers, so this is where we decided to splurge a little bit. I am not a florist, and as crafty as I am I just cannot do flowers. I struggle to make flowers in a vase look pretty!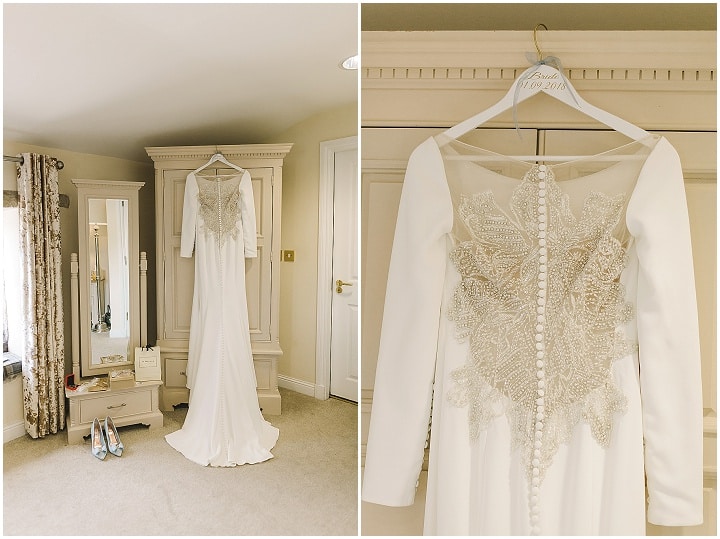 How did you choose your photographer?
If I'm honest, I didn't know where to start looking for a photographer which was nerve wracking as it was so high on our priority list. I took to Facebook to ask for recommendations and it was a close friend who pointed me in Anna's direction. It just so happens that Anna & I used to be very good friends when we were at school, her photography style looked perfect for us.
The dress 
I've known what style of dress I wanted for years and luckily it was the only dress type that suited me. I wanted to feel classy, elegant and sophisticated. Not only that but it suited the venue perfectly, there's no way I could have wound my way through a quaint country pub in a massive princess dress! The dress I fell in love with was a Justin Alexander purchased from The Harrogate Wedding Lounge. I didn't want many accessories  as I didn't want to detract from my dress.
The suit and bridesmaids
Rowan decided to go to Reiss for his wedding suit. He'd seen the one he wanted months in advance and bravely waited for it to go into sale at a heavily reduced price.
For the bridesmaids, we eventually decided to go for pale blue tulle skirts (from ASOS) and white cami tops (from Zara), which ended up being ideal as 3 of my bridesmaids announced they were pregnant and would definitely be showing by the time the wedding came around! I made the girls floral hair combs and bought them necklaces to accessorise.
Theme or colour scheme
In the end, the colour theme centred around the bridesmaid skirts, pale and dusky blues with plenty of white and foliage green to complement. We didn't want a heavy colour theme but I think we pulled it off subtly.
Flowers 
We wanted white flowers of any kind with lots and lots of foliage, we just love greenery so it was vital that where ever we could have a floral garland or centre piece – we had one! Pinterest was our best friend when it came to deciding on the flowers, that and the amazing florist that we had the privilege of working with. I'm not overly familiar with flower names, but Julie at Hedgehog florist took one look at my Pinterest board and knew straight away what would work.
Decoration 
Rowan was making decorations out of wood for months, but his hard work sure paid off. He made the A frame and outdoor signage from scratch and let me loose with the painting afterwards. He made the table numbers and the cake stands, he even made the easel and the board for the confetti display/table plan – everything was just finished off to Rowans unbelievably high standards and I couldn't have been happier or prouder of him. To display the table flowers I collected varying designs/sizes of glass bottle, we had gold lanterns, candlesticks and tealight holders. I made lavender and rosemary scented candles out of old jam jars. I even made the confetti.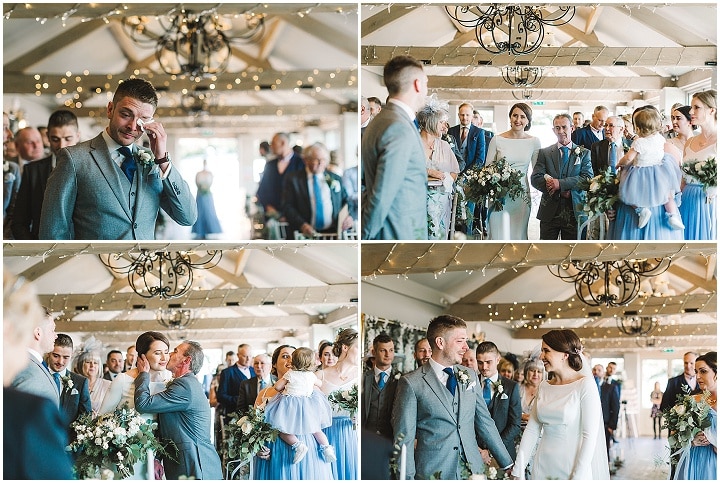 Food 
Starters: Potted ham hock with lancashire cheese and pineapple ketchup, Breaded goujons with a watercress salad & tartare sauce, Goats cheese crumpets with a waldorf salad & rosemary honey
Mains: Slow cooked brisket in ale, Slow cooked crispy pork belly, Cauliflower cheese tart
Dessert: Trio of desserts
Wedding cake
We knew we wanted a semi-naked cake adorned with fruit, foliage and flowers. I've never been a fan of fruit cake so we opted to go for a three-tier cake with each tier being a different flavour sponge. I entrusted the cake tasting to Rowan and one of our close friends and groomsmen. In the end the boys settled for Chocolate Orange, Lemon and Vanilla & raspberry sponge.
Not content with having one delicious cake though, we also had a pork pie cake! My dad is a butcher and he sourced us the most incredible pork pie and cheese tiered cake, consisting of various yummy flavours, fruits and cheeses. This too went down an absolute storm with our guests!
Entertainment
We were lucky to find Matthew Stephens who provided us with our musical entertainment throughout the whole day. Before the ceremony, he entertained our guests with his acoustic guitar set, and then accommodated our requests for specific songs to be played for the walks up and down the aisle. Throughout the day, he played guitar and provided more acoustic entertainment for us and our guests. He was incredibly flexible, moving with us around the venue, mingling with the guests and taking requests. At night, he ramped up the entertainment factor with a couple of live sets followed by a pumping disco late into the night. Every meeting with Matthew in the run up to the wedding was a pleasure!
Additional entertainment at the evening reception was a homemade photobooth.
Who supplied the stationery?
Stationary was done by me, with a little helping hand from Rowan and our bridesmaids – everything from save the dates, invitations, order of service, table place settings etc. I designed everything on Illustrator, sourced and bought all the materials, bought a printer and got crafty! It was tremendous fun and I'd love to do it again – i'd love to make a business out of it one day.
Personal touches
As mentioned above, many elements of our day were personal as we had put some much blood, sweat and tears into the making.
Another of my favourite personal touches was having a photo of Rowan and our dog Poppy tied to my gorgeous bouquet.
Another personal touch from me was providing the groom and groomsmen with a little wedding day tipple, again as a thank you for being with us on our special day.
Our wedding favours were charity donations and pin badges for 3  charities close to our heart – Dogs trust, cancer research & the alzheimers society.
Special moments 
My bridesmaids brought some really special touches to my morning, by setting up my bedroom with personalised decorations, creating milestone cards, bringing me breakfast, ensuring my prosecco glass was regularly topped up and by keeping an eye on all the preparations downstairs. For the both us, our highlights were just everything about the day, we can't single anything out. It was all just perfect and we looked forward to and enjoyed every part of it!
Advice for other couples
I read this bit of advice on every wedding blog I came across before the wedding, but it is 100% true and I will repeat it here. Enjoy every single moment of the day because it will be over far too quickly. Steal a moment whenever you can where it's just the two of you, to have a chat, a kiss and a cuddle and reflect on the massive life changing moment that you have just spent months planning. And for the bride – absolutely make sure you have broken your shoes in before the big day!!
Biggest surprise 
That I didn't cry like a baby when I walked down the aisle…but Rowan did!!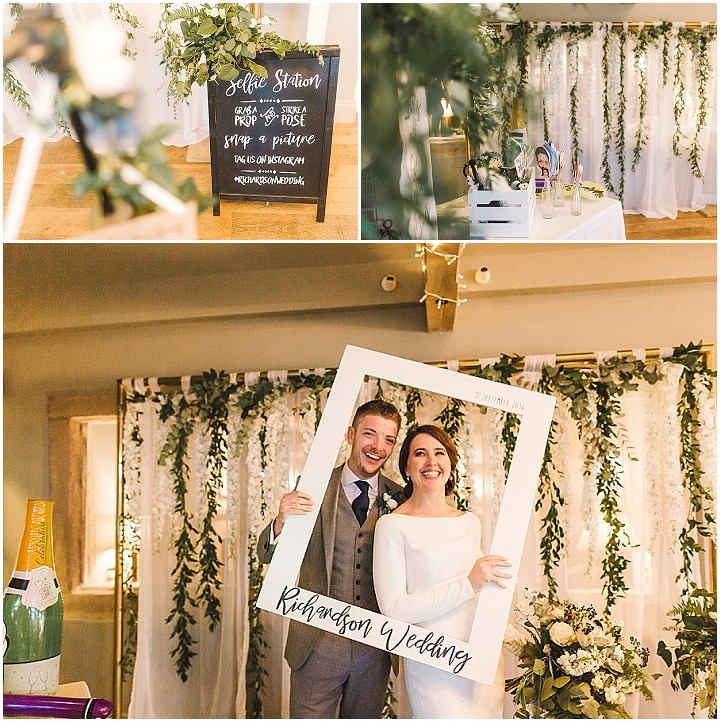 Supplier Shout Outs
FOR MORE INFORMATION ON ANNA WOOD PHOTOGRAPHY GO TO
www.annawoodphotography.com / [email protected] / FACEBOOK / INSTAGRAM 
I'm a wedding photographer based in Leeds and travelling across Yorkshire and the North of England. I specialising in unique, relaxed and creative weddings and love nothing more than a wedding full of laughter.