Welcome back to the Blog after a mini break over the Easter holidays, we have a cracking wedding for you to get you back on track after the bank holiday weekend. This Lancashire Wedding is totally gorgeous and full of well crafted, beautiful photography courtesy of Pete and Laura from Lawson Photography. Carrie and Mark had a relaxed day filled with beautiful white fowers, foliage and a book theme that ran throughout the day. Filled with gorgeous decoration and the cutest table displays, this wedding is just a joy to look at from beginning to end. With fab food and great entertainment from Disco Wed, it is obvious from everyone's faces that the day was a triumph from beginning to end.
'Our wedding day was a big mash-up of all our favourite things – the countryside, good food, dancing and, of course, our little dog. All we wanted was for everyone to feel relaxed and have a bit of a party in our most favourite place in the world'
Carrie and Mark were married on 20th June 2015. The Church service was held at St Helen's, Waddington, Lancashire followed by a reception at The Inn at Whitewell, near Clitheroe, Lancashire. 'We're very lucky to live in one of the most beautiful places in the country, so we always knew we were going to get married in the Ribble Valley. We were married in the beautiful St Helen's Church in our favourite village, Waddington, and then had our reception at the rather rural Inn at Whitewell. We have spent many a Sunday lunch sat with the dog and a roast in front of the fire at the Inn, or dashing over their stepping stones on the River Hodder for a ramble in the Trough of Bowland – it seemed perfect to have our reception at a place that has given us so many happy memories. We had 90 guests for the day and 110 at night. We had a couple of years to plan our wedding, but we did most of the important bits soon after Mark proposed and then enjoyed just being engaged for the next couple of years. We spread out the DIY elements in the six months leading up to our wedding.'

How they met
We met at work and got together four weeks before I was due to move to London. Cue two years long distance before I moved back to Lancashire. We've been together five years, with the addition of our naughty Beagle, Eleanor Roosevelt, to our family two years ago.
The Proposal
Mark planned a trip around Italy for my birthday. We had just arrived in Florence after spending a few days in Milan when, on the night before my birthday on a quiet pathway just down from the Piazzale Michelango, he got down on one knee. Just as I said yes, about 30 Japanese tourists stumbled on us and tried to hide behind trees – we could hear them giggling as we ran off to celebrate with some Prosecco!
How did you allocate your budget
We spent the most on the things that were important to us – good food, a DJ that would keep everyone on their feet and photos we would enjoy looking at forever.
Where did you splurge and where did you save
We saved on stuff we could DIY – I made our invites, orders of service, table plan, table names and guest book table. We also chose an untypical wedding car – a very noisy AC Cobra – so saved on the wedding premium there.
How did you choose your photographer
I always knew I wanted the Lawsons to take our photos, even before Mark proposed! I've been following their work for years and they were actually the first supplier we booked, just a few days after we got engaged. Their photos are incredible – natural and beautiful – and they're just the loveliest people. All of our guests commented on how naturally they fitted into our wedding – on the morning, one of Mark's friends thought Pete was just a wedding guest with a posh camera!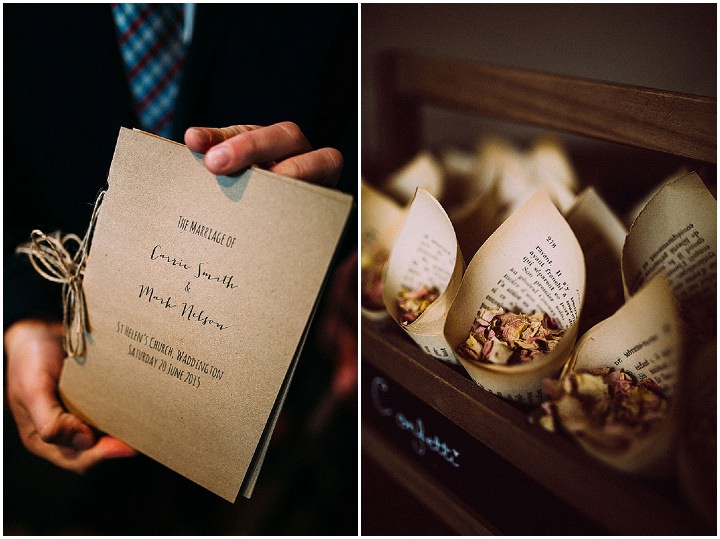 The Dress
My first dress, plus veil and head piece, was by Johanna Johnson. I had a bit of a nightmare trying to find a wedding dress and found it very difficult to find something that was 'me' – every dress I saw online that I liked seemed to be exclusive to Australia! The Johanna Johnson team were lovely and went the extra mile in every aspect (a couple of weeks before our wedding I decided I wanted a headpiece which they managed to make and ship to me from Australia before our big day). My evening dress was by Grace Loves Lace and my shoes were by Carvela. I borrowed the bracelet from my mum, wore my grandma's locket on a chain that my best friend Louise bought me and Tiffany earrings were a wedding present from my husband.
The Suit and Bridesmaids
Mark wore an amazing crushed blue velvet jacket as part of his suit, all from Hugo Boss. He also wore Lanvin cufflinks and River Island shoes. My lovely bridesmaids wore dresses from ASOS, headpieces from Claire's Accessories and their own shoes. I didn't live up to my threat to force my bridesman to carry a bouquet down the aisle, and he wore his own suit. Mark's two best men also wore their own suits.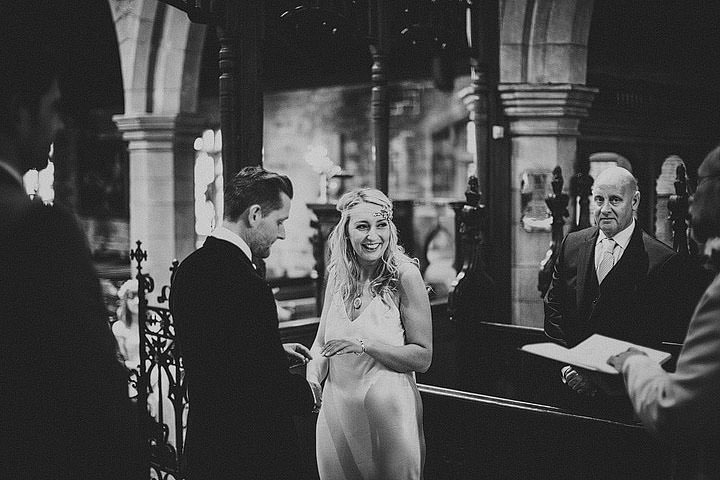 Theme or Colour Scheme
We didn't really have a colour scheme or theme – we didn't want things too matchy-matchy. We both spend a lot of time outdoors and as the Inn at Whitewell is in such a beautiful and green part of the world, we wanted to reflect that with lots of natural foliage. I'm a bookworm so wanted to incorporate this into our wedding – I used some of our hardbacks as centre pieces and also made origami cranes out of pages from an old book.
Flowers
I'm not big into delicate pastel flowers, so I asked our florist to use as much green as possible and picked the biggest and most blousey flowers I knew – chunky white peonies and hydrangea.
Decoration
We decorated the tables with vases of a hydrangea and foliage and the top table was draped with a huge swag of foliage and white flowers. The tables also had some of my books, origami cranes and I also stuck fake moss around the rims of glass jars which we used to hold candles. The ceiling was covered in fairy lights and we also had a sweets table of all our favourite sweets. For the backdrop, I spent hours dipping goose feathers in gold glitter. My maid of honour, Louise, and I tied them to fishing wire the night before the wedding so we could string them behind the sweets table.
Food
The lovely Love My Trike served Eton Mess flavoured ice cream and champagne sorbet from their tricycle before the sit down meal. The food at the Inn is always incredible and we ended up choosing pate to start, followed by chicken in a watercress sauce. Dessert was white chocolate and raspberry creme brule and in the evening we served bacon and sausage sandwiches. We also served the cheese from our wedding cake with crackers and chutneys.
Wedding Cake
We're not big sweet lovers so we had a 'cheese cake' made by the fab Churchmouse Cheeses.
Entertainment
Miranda Myles sang before our wedding breakfast and then the lovely Paddy from Disco Wed played tunes into the night. He was amazing and even played Blink 182 for me!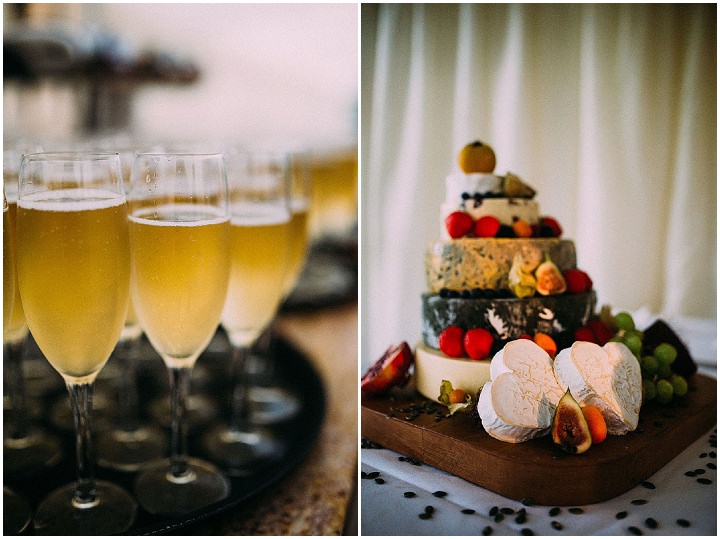 The Stationery
We DIY'd all our stationery, including invites, order of service, table plan and place names. I designed them on my Mac and printed them on Kraft card. Our tables were all named after places we had been to and for the table plan I stuck luggage labels with everyone's name and table onto a big map.
Personal or Handmade Touches
I'm a big book lover and used books from around our house to decorate the tables, along with origami birds I spent hours making, and glass jars decorated with fake moss.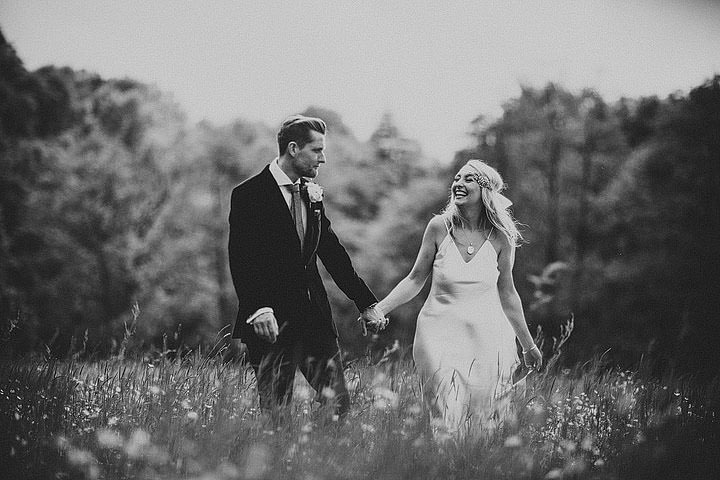 Special Moments
One of our favourite moments was when our dog, Eleanor, made an appearance. She was so excited that we couldn't get her to pose for any photos though! We also had a lovely walk through a meadow in the grounds of the Inn – it looked like something out of a painting. It was really nice to get away for a few minutes, pull on our wellies and take some time out (even if my dress ended up completely caked in mud!). Mark's speech was also really special. He's not exactly renowned for public displays of extreme emotion, but his speech was really moving and he had half of the room in tears. We had a bit of an unconventional first dance and went with our favourite ever song, the romantic A Thousand Trees by Stereophonics. I put on my second dress for dancing and loved the four minutes we had of just jumping around and twirling and spinning, not caring what we looked like.
Advice to other couples
Enjoy the entire process and get as much as possible planned early on so it doesn't start to feel like a chore and you can enjoy the whole experience. A couple of weeks before your big day, ditch the diet and enjoy your menu tasting, cake sampling and just generally relax. Book the week before you wedding off work and spend at least a couple of days just enjoying the time with each other!
Biggest surprise
Just how much we enjoyed every single moment of the entire day – there wasn't one bit where we felt stressed or wished we had done something a different way. Every single supplier involved in our wedding was an absolute dream to work with. The Lawsons are the most genuine and down to earth people who put so much into every wedding – we loved catching up with them for a brew before our day and discussing our plans. And Sam, who did the make up, was so lovely, warm and professional. When I was sat in the chair getting my make up done, it felt like we were a couple of old friends messing around in my mum's make up box – she has that instant effect on you.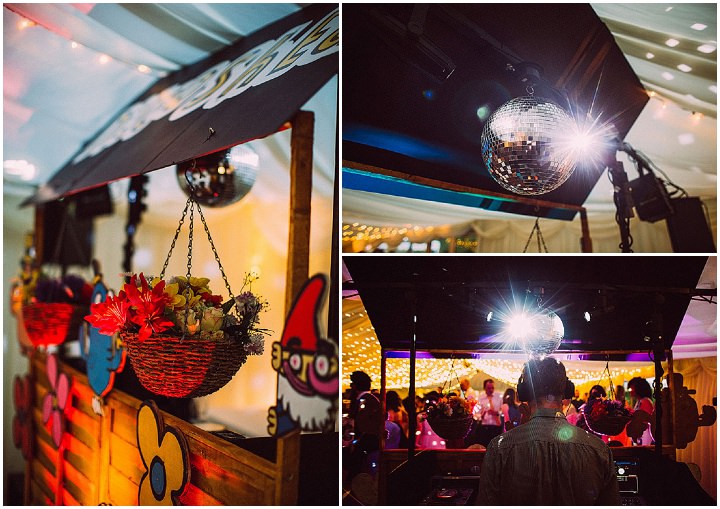 Supplier Shout Outs
For more information on Pete and Laura's work please go to:
www.lawsonphotography.co.uk / www.lawsonphotography.co.uk/blog/ / [email protected] / [email protected] / FACEBOOK  / @LawsonHQ / 07855 312857 / I: lawsonphotographyuk