I have a gorgeous wedding for you today all the way from South Africa. It was sent to me by Kat Forsyth and I knew as soon as I saw the outdoor ceremony that I had to share it with you.
It's the wedding of Lauren Hill and Ross Dold who got married on 1st May 2011 at Lauren's family home just outside Nelspruit in South Africa, they had 112 guests as well as Smudge their  dog!  Lauren and Ross met through mutual friends and  had been dating for 5 years before getting married, the wedding took 8 months to plan.
I love the simplicity of this wedding, with all the rustic details, so many things that I just want to take home and keep for my own house like those cushions and the gorgeous confetti cones! Most of all though is the look on Ross's face during the ceremony, Kat has captured the emotion perfectly!
Lauren and Ross describe their day as 'Our wedding was a unique, joyous and festive day spent in the company of our very special loved ones and in an incredible setting'.
The proposal
We are a couple that love doing different and alternative things. So one Saturday, Ross told me that he was taking me somewhere at 5 o'clock. He had picked out my outfit which was lying on the bed and packed a picnic basket. We arrived at the A-maize-ing Mazes in Honeydew for a moonlit walk through a huge maze. We had been given a piece of paper with clues to find different items in the maze while trying to find your way out, which adds a fun dimension to the maze. While we were getting hopelessly lost in this huge maze he "tripped" and fell onto his knee, when I turned around to see if he was OK there he was with the box in his hand and of course I said YES! We then had to try find our way out the maze – which turned out to be more difficult than we thought.
The venue
My family live on a game farm outside of Nelspruit and it is truly the most beautiful location – we couldn't think of any other place more meaningful and special (not to mention beautiful) than our home.
The Dress
I designed my dress myself and had it made by a family friend. My shoes were from Spitz and my accessories were from a little shop down the road, as well as a few gifts from family members.
The suit and bridesmaids
Ross didn't wear a suit. We had the groom's and groomsman's waistcoats made and the pants were from Woolworths. The bridesmaids' dresses were bought from YDE (Young Designers Emporium)
The Theme
We had a theme more than a colour scheme. We worked around the theme of Rustic Elegance and Natural Chic.
The Food
Wow, there was the most amazing food. We had mini wraps filled with coronation prawns and falafel and Tahini canapés. The starter was cucumber soup and bread. For main we had a beautiful buffet comprising of fillet, baby potatoes, fresh bread and numerous types of salads. Desert was our gorgeous chocolate mud cake (made by Ross's mom) and home-made nougat and a very yummy cheese board.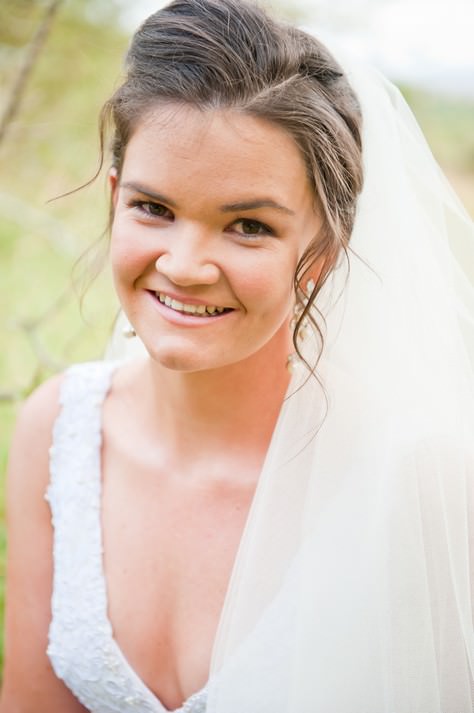 Entertainment
While we were having our photos taken there was a live band playing in the garden and then Ross organised the music for the evening. We also set up a photo booth with a remote triggered camera which was great fun for the guests (and us). Lots of funny, and interesting, images and memories were captured at the booth.
Flowers
We had everything from white tulips to succulents to dirty pink roses and Syringa berries. My godmother combined all the beautiful flowers into individual containers. No two containers were the same and that is what we loved – the personal touches and uniqueness of every table.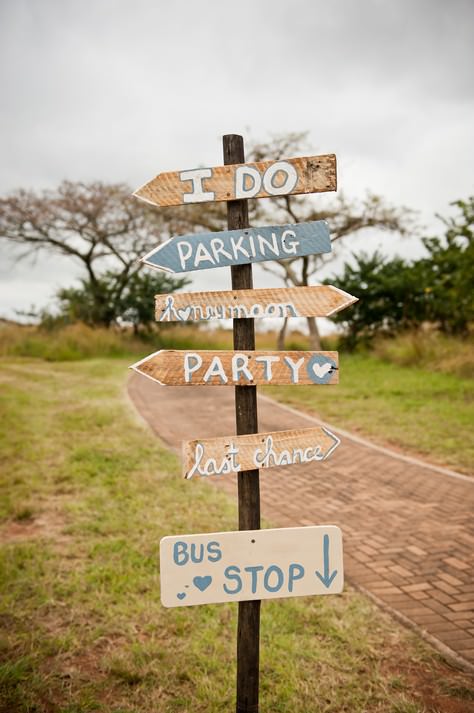 Decoration
We had very simplistic take on our wedding. We hired a Bedouin tent to put up in the garden, lit by fairly lights. We rented chunky wooden tables and let the location and the beautiful flowers set the scene.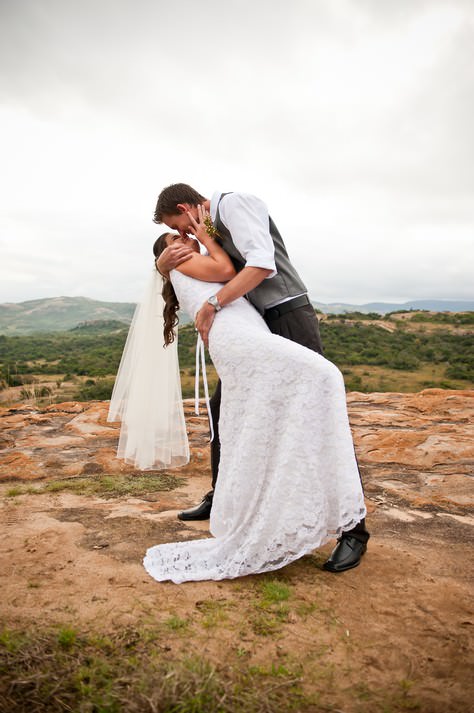 Personal touches
There were a lot of personal touches.
– Our invites
– Confetti cones with our love story on the wrapper
– Wedding fans for the reception
– Photo Booth Background
– Table Runners
– Guest Book – Fingerprint tree
– Our beautiful cake courtesy of my mother in law
– Our flowers courtesy of my godmother
– Strings of photographs between the trees
– Thank you cards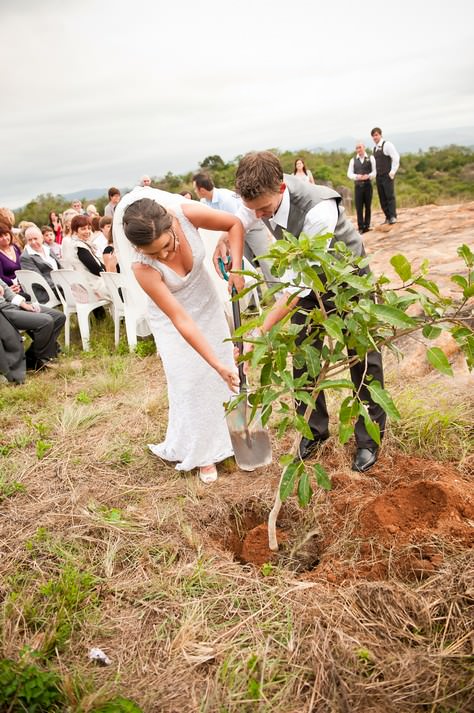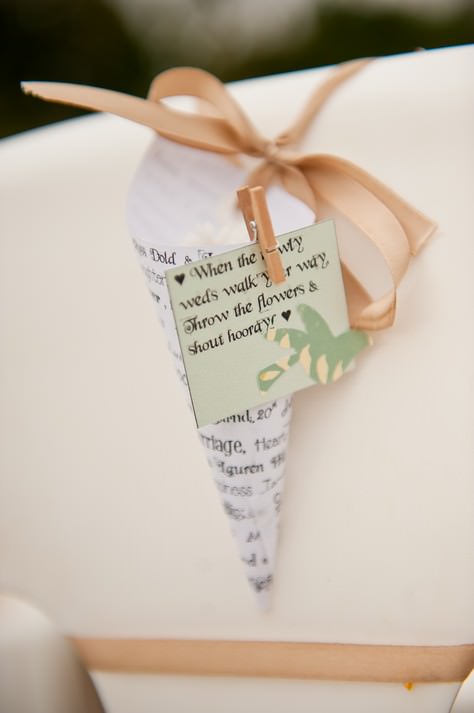 Special Moments
EVERYTHING. When I stood at the top of the aisle and saw Ross for the first time. Saying our vows to each other and being surrounded the whole day with our closest friends and incredible family.
Planning advice
As a bride we think about every little thing and get wound up with all the tiny details and stress over the flowers, dress, music etc. However, at the end of the day it's all about marrying the person you love – it doesn't matter what colour the flowers are or the style of your dress. Remember that you are getting married for a marriage and not a wedding and most of all enjoy your day – soak it all in – it goes past so fast.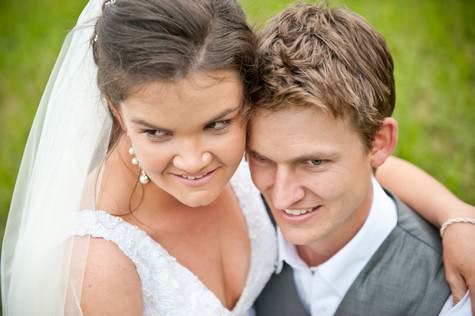 Biggest Surprise
My biggest surprise of the day was when my husband said "I love Mrs Lauren Dold – my wife". It was so special that I am now his WIFE!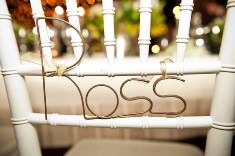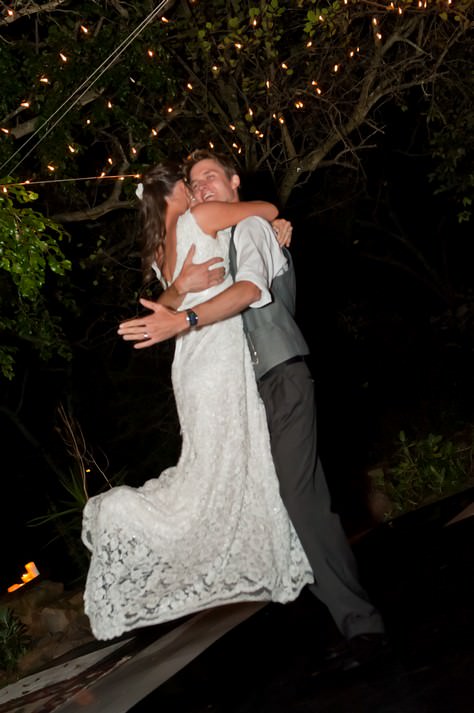 Supplier shout outs
About  Kat and her Work:
My photography style is fresh, bright and natural. I love warmth and I adore bright colours, as well as crisp, clean black & whites.
'At the moment I'm starting off on a huge and exciting new adventure, which is moving myself and my business (oh, and my husband and cat) from South Africa to London. I'll be arriving in early March 2012, and I can't wait! I'll be based in North London, but I'm happy to travel anywhere and everywhere –it'll all be part of my adventure.'
Web & blog address: http://katforsyth.com
Email: [email protected]
FACEBOOK
TWITTER
Due to an email issue if you have emailed me between the 2nd & 9th of December, please resend it.
X