Happy Friday everyone and how are you all this cold Friday? I don't know about you but I NEED Spring to hurry up and make an appearance! Warmer dry days and a bit of sunshine would be amazing! I'm hoping this weekend might stay dry so we an get outside for a bit. Saturday I am taking Dexter to the theatre, which I am looking forward to, and then we are meeting Nik for an early tea in town. Today though I am taking you back to last summer when it was sunny and warm for the lovely wedding of Joyce and Thomas. This wedding is super pretty but all done on a budget, an amazing £6-£8K in fact. This just goes to show that you don't have to scrimp to have the perfect day, you just have to be clever with what you spend your money on. I love this venue, Pimhill Barn is absolutely stunning, I especially love the bridesmaids outfits, and Joyce looks beautiful. Big thanks to Maddie Farris Photography for the beautiful images.
A relaxed vintage summer wedding that has been inspired by its natural surroundings with homemade touches and heaps of nostalgia.  The day was gloriously sunny filled with love and laughter from start to end.
Joyce and Thomas were married on 24th July 2019 at Pimhill Barn in Shrewsbury. 'I was talking to my best friend katie (bridesmaid) and I said that my dream venue would be a barn with nature all around and red exposed brick but we have paid for all the wedding ourselves and saved up all year to pay for it, so its seriously budget and thought I was dreaming to ever achieve this. Katie then said that I won't believe her, but she knows a venue that is exactly what I'm looking for, it even had the exposed brick!
It all felt too good to be true, it really was within our budget so we thought it would be fully booked up, but we were super lucky to secure our dream venue. We wanted a venue that spoke for itself, we were doing it on a shoestring budget and skipping out flowers and the pretences and expectations that people have from a hotel wedding. We knew with a barn we could keep the theme relaxed and cost effective and let the natural beauty of the venue do the talking. We had roughly 80 guests in the day and 120 at night and it took less than a year to plan.'
How they met 
We met 11 years ago May 2008. We both met in Shell Island (North west wales coast) may bank holiday 2008 whilst camping separately with different friends. Tom was camping with his friends a day earlier and I got there the day after, my friend that I was joining had befriended Tom's group. When I arrived, I went over to meet them all and noticed tom straight away. As I went back to my campsite, I was in the woods near by and heard him looking for me. I overheard him say to my friend where is the girl with the beautiful blue eyes. I Knew then that the feeling was mutual.
We snuck off together that evening and lay on a sand dune drunk and giddy, we star gazed and chatted for hours about life and soon realised we had loads in common.The next day when we were leaving, we swapped numbers and planned our first date
The proposal
Last Year – April 2018 (after 10 years together). We decided to take a little holiday. We booked a cute converted cow shed in the Cotswolds for the first bit of the road trip, then a Geodome clamping for 3 nights in central Cornwall and then the last night in Penzance Cornwall in 'The Artist Residence'
By the 3rd day of our trip we decided after a few days of going to nice sea restaurants to eat in our little Geodome Tent and use the little kitchen. Tom insisted I went and chilled and had a bath whilst he cooked. By the time I came back into the dome tom had the log burner going candles lit everywhere and he'd set out our picnic basket under night sky in the dome.
After tea we both sat all cosy hugging in front of the log burner on the sofa. Then tom started to announce how much he loves me and how much he means to me. Then he pulled out the ring box from his pocket. I noticed the song now playing on my album was my favourite tune 'Let there be Love, by Nat King Cole' I was sobbing we just held each other crying. Tom had brought some fizz in his bag that he pulled out. I must have just stared and stared at the ring. He got it spot on. We where the first ever people to stay in the Eyl geodome so the owners where delighted that it was where we got engaged. We left a write up in there guest book and they got in touch to congratulate us.
How did you allocate your budget?
I work as an interior designer so I treated it in a similar way to how I would treat one of my schemes.
It was a budget wedding, altogether it cost between £6000 to £8000 and we had to save this all up ourselves in just over a year. I broke it into categories of where I felt the money would be well spent and looked at ways to completely cut out some of the traditions.
I'm a believer in the saying 'Less is more' this always translates so well in design. 
Where did you splurge and where did you save?
The biggest chunk of money to be taken out of our budget was the venue at £3200, it helped that we had to pay that upfront meaning it got the hardest bit out of the way so we could focus on saving up for everything else. I knew if the venue was strong then we wouldn't need 'add ons' to the day.
The other two payments that we knew we couldn't scrimp on was the dress and the photography. I have a degree in Fine Art so I wasn't prepared to settle for less on the photography and as most people will tell you, you grow up dreaming about your dress your whole life, its quite a momentous moment in your life.
The best saving, we made was choosing to not have catering, we got agency staff to serve the afternoon tea in the day and this cost us £200. They did an incredible job (but it really did keep me up at night thinking it could be a disaster) Our best man got us discount on the M&S food, and we mixed this with Chester's Phillpotts sandwiches.
For the evening so that people had something hot Tom found a pizza van hire that was only £900 for all our guests. This was a huge hit with everyone. We bought san Pellegrino cans from Costo to have with them.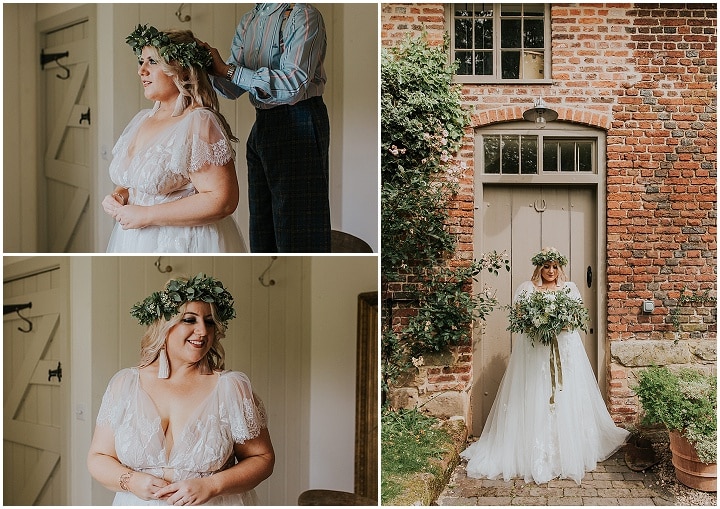 How did you choose your photographer?
My passion is Art and having a degree in Fine Art the photography had to be right for our big day. I wanted someone who considered the composition, the light and what the bride and groom is trying to capture from their personalised day. I Looked at different photographers and felt that the balance wasn't quite right, either being too dramatic or too twee.
Then I discovered Maddie on Instagram and was blown away, she projects heaps of personality through her work. One thing that was important to us was that the natural environment was captured. As we both have a shared love of the outdoors and walking. Maddie's photography perfectly captures natural elements and celebrates natures hues.
The dress
I was wearing Galatea by Willowby Watters –  it is from a local shop right by my work. I knew I wanted a bohemian, natural aesthetic as our wedding venue was a Shakespearean Barn in the untouched Shropshire countryside, however I felt all the delicate style wouldn't suit my curvy figure. The owner Moira made me feel completely at ease and gave me the confidence to try on the dream dress. I walked away and purchased the dream dress I fell in love with and didn't have to settle for a dress that suited. To me that took incredible talent on her part to be able to have given me to confidence to simply try the dress on.
Shoes: Office in the sale for £20 they were white pointed with some stud detail
Accessories: I wore Tassel earrings from etsy and my bracelet was a gift from my mother in law,
The suit and bridesmaids
The suit was a local shop in Chester however they seriously messed up on the big day and had only packed half the suit by accident. Tom had to walk round in shorts whilst some of the guests arrived and Maddie had to take the morning photos waist up. Luckily, they all found humour in the situation, but I wouldn't be quick to write a recommendation as they weren't that apologetic.
I got the flower girl dresses from Not on the High Street called Matchimony Limited in Kent.  They were a steal at £35 and beautiful, loads of detail. Beautifully made.
The Bridesmaids wore asos dresses, they were one of the first ones we found and every one of the girls was so excited by them. Their shoes were black block heal sandals for comfort from Matalan and I got them yellow tassel earrings for a little splash of colour and a nod to a less formal look.
Theme or colour scheme
You could say our 'Theme' was Nature, natural aesthetics. (wood, brick, foliage) This naturally picked out our colour palette of greens with small accents of gold (mustard) and oranges.
Decoration
I made a few bits as it was a budget wedding, we had afternoon tea in the day, we collected the China cups and saucer and teapots all year from charity shops but we found our friends gave us a lot too. This gave a vintage feel/ theme to the day.
I bought a writing bureau desk and painted it with Annie slone in Amsterdam green and changed the handles.
I made confetti cones for the dried flowers from a Romeo and Juliet book.
Another film reference was the light up Neon sign we got and put behind the bar, it said the quote 'You're so cool' this is mine and toms all time favourite film 'True Romance' We played the true romance soundtrack as we walked back down the aisle after our vows.
We also saved money on flowers by getting eucalyptus bunches instead. My mum grew us some eucalyptus trees all year to use as decoration. My mum and nieces (the flower girls) also got a load of old books and painted them and tied them into little book piles.
My friend Dana bought us a vintage suitcase for our cards.
I made the invites myself
We also had a Polaroid guest book. 
Flowers 
We chose not to have flowers to save money and we felt that the gardens that surrounded this incredible Shakespearian barn was the bouquet.
I did get a bouquet to hold and myself and the Bridesmaids and flower girls all had flower crowns.
Food 
We had afternoon tea in the day. Classic finger sandwiches, tarts, scones, jam and clotted cream with a mix of earl grey tea and Yorkshire tea. We put wine on the tables and glasses.
In the evening we had the Stone baked vintage pizza van. He was incredible 
Wedding cake
The wedding Cake was by M&S, it was plain white 
Entertainment
We were incredibly lucky to have our friend DJ for us at an unbelievable discounted price. This saved us a lot of money, he provided the lighting decks ect and looked the part dressed in peaky blinder style clothing.
We also had our friend sing and play acoustic for us free of charge. He played a mix of our favourite indie tracks and played outside whilst we lit the sparklers in the evening.
We also used a company called 'the Shropshire Garden party' for vintage style outdoor games, these were amazingly priced and worked wonders for entertain the children and drunk adults. We didn't even see them set up in the morning or take them away, they were so efficient. We chose the coconut shy, tumble tower, four in a row and horse show toss.
Who supplied the stationery?
I did all the stationary myself. I work as a designer so have access to photoshop and printers and the cutting tools. I hand drew my 'save the dates' too and scanned them in.
Personal touches
Hand tying ceremony – We got inspired by our celebrant who suggested we have a hand tying ceremony. This is an old pagan tradition and she thought it suited our nature inspired wedding and mine and toms love for the outdoors and our spirituality.
We both had loved ones close to us who passed away. To make it feel that they would be a part of our day I sewn a locket to the hand fastening bows that I had plated together. The locket contained a photo of my dear brother and Toms Dearest Dad who were key men in our lives that we loved and lost.
Our celebrant read out the poem I Would Live in Your Love – Sara Teasdale, this perfectly summed up our relationship. The first time we both read the poem we could not stop crying, it was simply beautiful and perfect for us. Its not often Tom cry's so it was very touching how much it moved him. 
Special moments 
The Sun, the weather was unreal. We never expected that, not in the UK.
Also, how smoothly everything seemed to go, and how not bothered you are at the little things that go wrong because you are so loved up.
Having my best friend come all the way from Australia to be my bridesmaid.
How incredible Tom's Best man was and his funny speech. He managed to make be cry laughing and cry emotionally. He was memorable and we are so grateful to him.
Advice for other couples?
Not to get stressed, it not worth it. Enjoy making things and make them fun activities with your friends. Friends and family want to be a part of your day, let your friends and family get involved rather than trying to control the day yourself, its more enjoyable.
You really can do it on a budget, but you must let go of the 'fancy' material things. They don't matter and no one cares, if they do then they are not worth you concern.
My advise would be to keep your suppliers local, although Maddie was the exception we chose to go a bit further afield for her talent. Having Local suppliers meant that I could ask for help picking up the supplies from friends and family. With me working in the heart of Chester it also meant I could nip out on my lunch to see the suppliers or go for fittings making the process a dream for your calendar.
When it came to giving reviews it means so much more to be able to help a friends business or your local community I still get a fuss from the ladies at Philpotts when I nip in for my lunch, they were over the moon with the photos and the reviews for the afternoon tea sandwiches and scones.
Biggest surprise 
The sun! We prepared for rain, I even got fancy umbrellas as we live in the UK, let's face it! but it was the hottest day of the year, our loved one were smiling down on us all day.
Supplier Shout Outs
FOR MORE INFORMATION ON MADDIE'S WORK GO TO
 maddiefarrisphotography.co.uk / [email protected] / 07967118002 / FACEBOOK / INSTAGRAM
"Maddie Farris is a wedding photographer based in the North West of England. Her photography style is warm, fun and natural and she has an unobtrusive approach to wedding photography