Today I am taking you on a trip to South Carolina for the gorgeous backyard barn wedding of Kandace and Thomas who were married on 7th November 2020 in Gable in their friends backyard. The day is a mixture of Boho meets vintage meets DIY! So many personal projects all went together to make this barn wedding super detailed and super cute! The rustic touches really add to the feel of the day, with homemade pies making up the dessert station. A gorgeous outdoor Covid safe ceremony was followed by a barn reception where the DIY decor really came into it's own! Big thanks to Megan Manus Photography for the lovely photos.
Megan the photographer tells us more abut the day
Kandace and Thomas were married in a friend's backyard, in what used to be an old lumber warehouse….but you would never know it! Most elements were DIY, with nods to vintage and boho vibes. Kandace's free spirit shown through in her choice of a flow, lacy gown and wispy, loose braided hairstyle. Her bridesmaids carried handmade, flower embellished sewing hoops with velvet ribbons streaming down.  Kandace's bouquet was a masterpiece of greenery, thistles, feathers and roses all tied in jewel toned velvet ribbons.
The ceremony took place outdoors under the shade of the trees, with an arbour made of trees and greenery and a vintage red oriental rug. The bride walked through two antique wooden doors, adorned with lanterns, candles and greenery. The reception, which was held in an old wood warehouse, boasted fabric wrapped ceilings, greenery and the coolest chandelier made of wispy greenery and hanging "bubbles"! There was even a tepee set up with colour books and games for the kiddos, and a red wagon with blankets to use around the fire.  Homemade apple and peach pies were the centre piece of the "sweets" table, with other Southern favourites served for the main course. A sparkler exit sent this happy couple off to their life together.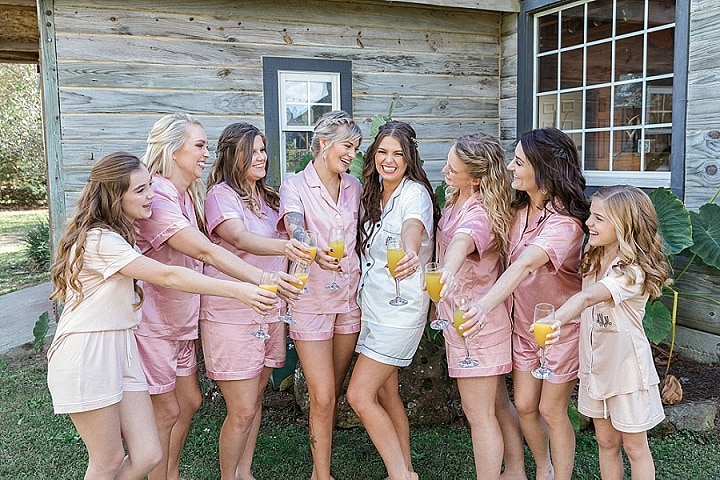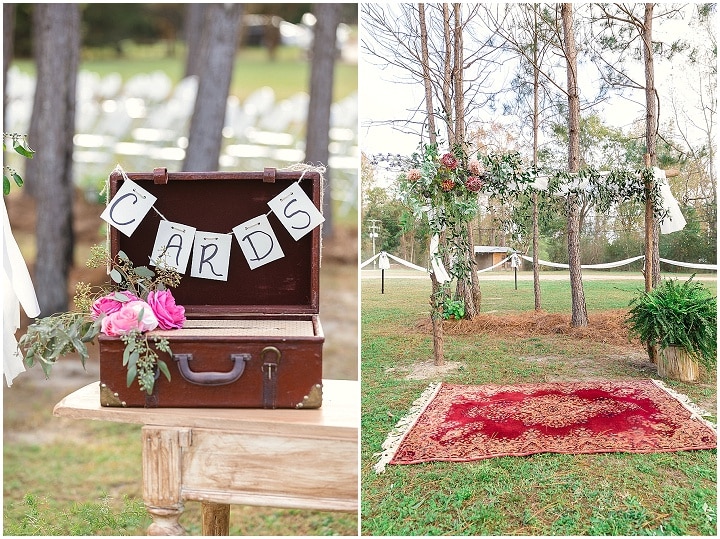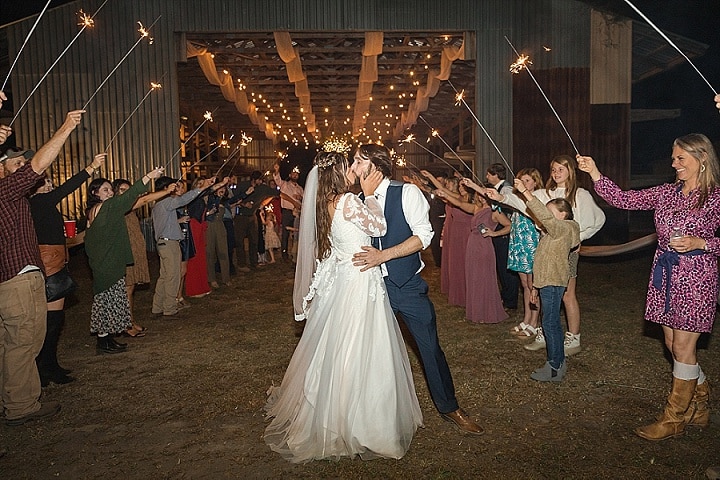 Supplier Shout Outs
For more information on Megan Manus Photography go to