This afternoon we are all about the men here on the blog, men's wedding rings to be specific. So much time is dedicated to the bride when we are wedding planning that too often the men get forgotten. Today though I thought it was time to change that. Men's wedding rings are often overlooked, but they are just as important, and potentially stylish, as wedding rings for women. If you are looking to buy a wedding ring for your soon to be husband, or if you are a groom looking for your own ring, then consider the following essential tips that will help you pick out the perfect ring for your upcoming wedding.
Shop online for the best prices and variety
You should ideally shop for Men's Rings Online for two key reasons: you will find the best prices online and you will also find a much wider variety of rings available. Ring shops may only have a few options for men, and none of them may be ideal for your soon to be husband's personal taste or needs.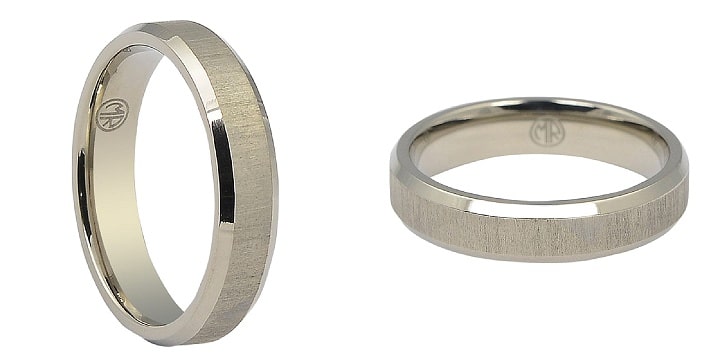 Consider the material
You should carefully consider the material used to create the ring. The material plays a large part in the ring's durability, weight, and other factors that can influence how long it lasts or what it feels like to wear. One of the most popular materials for men's rings is zircona ceramic, which is not only stylish but is durable and easy to clean as well. It is also affordable, which makes it an appealing option when you don't want to go outside of your budget for the rings.
Find out what style he enjoys wearing
There are a surprising number of men's wedding ring designs, so you will need to carefully consider what type of style he enjoys to wear. Does he prefer rings with a thinner band or thicker band? Does he have a certain colour preference in mind? Is he looking for a plain wedding band or something with a stone or other type of decoration? You will also need to consider whether you will be getting matching wedding rings. If so, then make sure that the men's ring you are looking for has a counterpart for yourself.
Consider the practicality
If your soon to be husband will be wearing the ring daily, then the ring needs to be durable—and practical. Depending on what your husband does for a living, he may need to be able to easily remove the ring when working with machinery, wearing work gloves or otherwise doing something that makes wearing a ring potentially dangerous. You should also consider the durability of the ring; if your husband is the type of person to be a bit rougher on his jewellery, make sure the material is sturdy so it's not as likely to become damaged.
Ask for his help in picking out the ring
Remember that your soon to be husband needs to enjoy wearing this ring, so don't leave him in the dark: it's best to ask for his help in picking out the ring. This way, he can pick the colour, style, and other elements that will influence how much he loves wearing the ring.
With the above tips in mind, buying a men's wedding ring will be much simpler!
in collaboration with Men's Rings