Well hello and welcome to a little piece of calm away from the current UK storms. We have had snow, hail, gale force winds and a whole lot of rain here in Sheffield over the past 48 hours, so I'm hoping today's trip to sunny California will take us away from all the winter weather and get us in the mood for Summer. Dillon and Caitlin wanted a natural, laid back wedding that reflected their love of the outdoors and they found this in abundance when they found their venue Dancing Pines.They kept things pretty neutral, letting their surrounding be the decor, but added their own additions of green, white, and copper highlights in the flowers and minimal decor. Caitlin wore a stunning Rue de Seine gown, in fact this is the third Rue De Seine gown of the week, with Mondays and Tuesdays brides both wearing Rue de Seine, a very popular choice of bridal wear with Boho brides. Cori Ann Photography was there to work her magic with the camera.
 Our wedding was the perfect, raw, unfiltered snap shot of our love story. We were married underneath the pines; surrounded by our loved ones; took pictures on top of a bluff; drank whiskey by the river; broke bread at a farm table; and danced under the stars
Dillon and Caitlin were married on 17th August 2019 at Dancing Pines, Sierraville, California. 'I grew up in the foothills near Lake Tahoe, and always imagined getting married in the mountains. My husband also grew up backpacking and loves the outdoors, and nature is very much a part of our love story. We looked at several other locations around California from beach venues to wineries, but as soon as we got out of the car at Dancing Pines, we knew it was the place for us. The entire property was so naturally beautiful. Tall pine trees. Stone pathways. The Little Truckee River. Thousands of acres of untouched land surrounding it. We knew it was the perfect place for us! Plus, Elizabeth (owner and coordinator) was amazing from the start, and we knew we were in very capable hands from the start. We had 120 guests and it took about 2 years to plan.
How they met
Caitlin and Dillon met in 2014 while living in San Luis Obispo, California. After a year of being nearly inseparable, Dillon moved to Arizona to finish his degree in economics while Caitlin stayed on the Central Coast to pursue her degree in agriculture. Although they were 500 miles apart, there was never a doubt that they were meant to be together. Two years later, Caitlin moved to Arizona to attend graduate school – but more importantly to be near Dillon.
The proposal
Dillon had the engagement ring made over the previous summer, and was a part of the process from the initial design to picking out the diamonds. In August of 2017 the ring was sent from California to Arizona, where he patiently stored it until the right moment came along. In October, Dillon and Caitlin went camping in Flagstaff, Arizona to see the aspens change colour and get a much needed break from the city. After three days of tent camping Dillon and Caitlin drove south to Sedona, Arizona to enjoy one last night away in a creekside cabin. Before they left for dinner, Dillon proposed to Caitlin on the deck of the cabin overlooking the creek, and it was perfect.
How did you allocate your budget?
We wanted to focus on atmosphere, food, and drinks, so we allocated the majority of the budget to those areas. We felt it was most important that we, and our guests, were relaxed, comfortable, and able to enjoy themselves and their beautiful surroundings.
Where did you splurge and where did you save?
We splurged on the venue, flowers, and the food and drinks. The venue was so beautiful and natural we didn't really add any decorations besides flowers, and we knew going in that we wanted the food and drinks to be the highlight of the reception – we are both big on that. We also splurged on having our dinner served family style, which I think made all of the difference and our guests loved it! We saved on pretty much everything else. All of the copper detail pieces were made by my husband's parents at their shop (table numbers and tags on the mule mugs), and I did all of the design of the invitations, menus, and seating charts myself.
How did you choose your photographer?
Cori Ann Photography was our engagement photographer, she actually did the pictures for my best friend's engagement and wedding this year as well, and I think that's how I originally found her. We loved how comfortable she made us feel during the shoot, and once we saw the engagement photos we knew we wanted to have her at our wedding! Cori is also just a pleasure to be around and extremely sweet, so that helped a lot in our decision making process! 
The dress
My dress was by Rue de Seine, and was altered by Tailored in White in Scottsdale, Arizona. I didn't wear any accessories besides flowers in my hair, and my shoes were basic tan low heels that I bought at DSW the week before the wedding, lol. I am a simple woman! 
The suit and bridesmaids
The bridesmaid dresses were by Shona Joy, and the girls all loved how they fit and made them feel. My husbands, and the groomsmen's suits were by Generation Tux, and online suit rental service. Dillon (my husband) already had a nicer grey suit, but we wanted everyone to match – so renting ended up being cheaper and easier for everyone.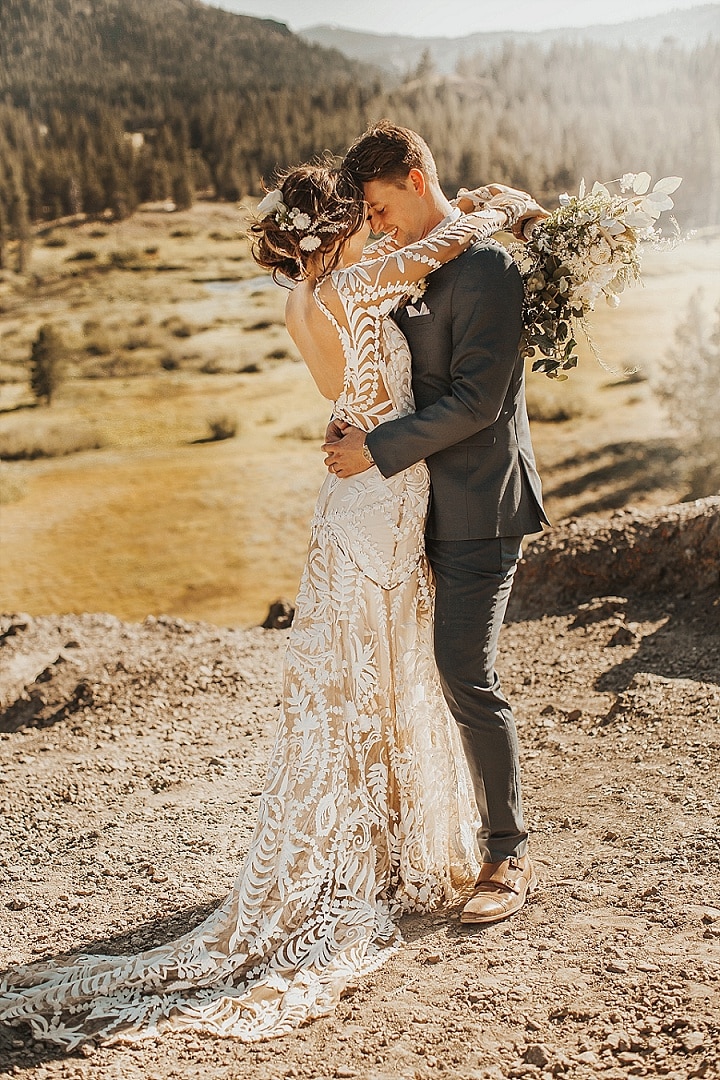 Theme or colour scheme
We didn't really have a theme… but you could say it would have been "natural." Dancing Pines is such a beautiful venue, we really just wanted to highlight how wonderful it is to spend time with family and friends in the middle of the forest, next to a river, on a beautiful day. Our colour scheme mimicked the natural surroundings with different tones of green, white, and copper highlights. 
Flowers 
Oh boy, we had all kinds of flowers. Sweet Roots Floral is amazing, and they grow all of their own organic flowers on a farm in my hometown. We had an array of different textures and types of foliage, and a myriad of white flowers. We also used wild sage and other foliage from around the venue for the place settings, which added a personal and local touch. 
Decoration 
Not much! We had a lot of copper highlights in the form of a handmade copper mailbox for cards and gifts, copper mule mugs with copper tags, copper table numbers, and copper pedestals. We also created a lounge seating area with a lot of antique furniture. Originally, we were going to rent all of the furniture for the lounge area, but we ended up thrifting most of it and gathering the rest from family and friends.
Food
We worked with Butter & Salt to create a menu full of food that we would eat every day if we could. Butter & Salt were amazing, and the food was one of the most highly complimented parts of the wedding! 
Wedding cake
We actually didn't do a wedding cake. Both of us felt like having a wedding cake (and making an ordeal out of cutting it) was an unnecessary expense, and that we could put that money and time during the reception to better use. Instead of a traditional wedding cake we had three wonderful deserts for our guests – and spent the time that we would have been cutting the cake enjoying the evening with our friends and families. 
Entertainment
Brian Hess was both our DJ and performed our live music (he was amazing). For our ceremony, cocktail hour, and dinner Brian Hess and a fellow performer played a number of beautiful songs with an acoustic guitar and saxophone. We both love live music, and we thought it added a really special atmosphere to our outdoor wedding. At the reception, Brian Hess was also our DJ and he did a wonderful job both playing the music that we provided him (and loved) and improvising with songs of his choice. We also had a giant Jenga game and cornhole for our younger guests.
Who supplied the stationary?
I designed all of our stationary, which was pretty minimal, and had it printed at a few different shops. My lovely bridesmaids tore the edges on all of the menus for the perfect deckled edge, which I was extremely grateful for! 
Personal touches
Some of my favourite personal touches were the lounge area furniture, the wood and copper table signs, and (although this wasn't technically on the wedding day) our rehearsal dinner the night before. For the lounge furniture, we looked for weeks at all sorts of rental sites and couldn't find anything that we both liked AND was in our budget. Where we were living at the time had tons of antique stores, so instead we decided to go thrifting together and found similar things for ¼ of the price. All of the furniture from our lounge area is now a part of our first home together, and every time I look at it in our house it reminds me of the happiest day of my life! The wood stands that held the copper table signs were made by my wonderful father, and the copper signs themselves were made by my father-in-law.
Special moments
Everything about the day was a highlight! I think for us, the amount of love that we received from our friends and family throughout the night was what made it so special. That being said, a major highlight for us was the speeches. Although only my matron and maid of honour, and Dillon's best man, were supposed to give speeches, people kept grabbing the microphone and toasting us – people that we had no idea were going to say anything. Another highlight was the dancing at the reception. We choose very specific music because I didn't think many people would dance, and I hate awkward nearly-empty dance floors at weddings. But lo and behold, we danced. We danced a lot. And our DJ did a wonderful job of playing music that fit in with what we originally asked for, but kept our guests dancing throughout the night.  
Advice for other couples
I stressed myself out so much the week before the wedding trying to make everything perfect that I barely had time to enjoy myself leading up to it. Don't worry about every little thing. It will be just as beautiful as it is meant to be. People aren't there for your flowers, or menu, or makeup, or suits, or the weather – they are there to celebrate your love and the beginning of a new chapter. Don't let all of the little details take away from your wedding day, or even the days leading up to your wedding, because you only get to experience those once and they really do matter. 
Biggest surprise 
How fast everything went by! I always thought the most cliché advice people give you about your wedding is to "take time for just you two because it goes by in the blink of an eye" – but it is so true.
Supplier Shout Outs 
For more information on Cori Ann Photography go to
www.coriannphotography.com / INSTAGRAM / PINTEREST