Today's wedding takes us to Sunny California for this lovely DIY same sex wedding. Kyle and Scott were married on 4th May 2019 in Los Molinos, California. They have a real love of the outdoors and this is reflected in their choice of venue. A big open space for their outdoor ceremony with lots of empty fields around them. The day was super relaxed and ended with a meteor shower, which was the perfect end to this wonderful day. Big thanks to VILD Photography for the wonderful photography.
Marie Louise from Vild Photography tells us more about the wedding 
It really is a small world. After emailing back and forth with Kyle and Scott about photographing their May wedding, we realized that Kyle and Rob actually went to high school together in Nashville (and graduated THE SAME YEAR?!)! Excited to work with an old friend, we caught up with the couple to learn more about them as a couple. Avid hikers and backpackers, Kyle and Scott actually fell in love after hiking the Appalachian Trail, which made the nature preserve location they chose for their wedding in Northern California absolutely perfect.
The day of the wedding took place on a new moon and just so happened to pay on the evening of a spectacular meteor shower. We were so excited to get to dive into some astrophotography for the occasion.
Although the day was long, it was wonderfully relaxed, which made our job fun and easy. We truly love the feeling of just being around friends. After the emotional ceremony, the guests and the wedding party headed to an airplane hangar for the reception. Because of Rob and Kyle's high school connection, the reception definitely had a bit of a reunion vibe – it was so much fun meeting so many old friends and catching up!
Getting to head out into the night to capture the meteor shower with Kyle and Scott was definitely magical. And the fun didn't stop there! The day after the wedding, we joined the newlyweds' families for a hike in the area before everyone said their goodbyes. It was the perfect way to end a perfect weekend!
Congratulations Kyle and Scott!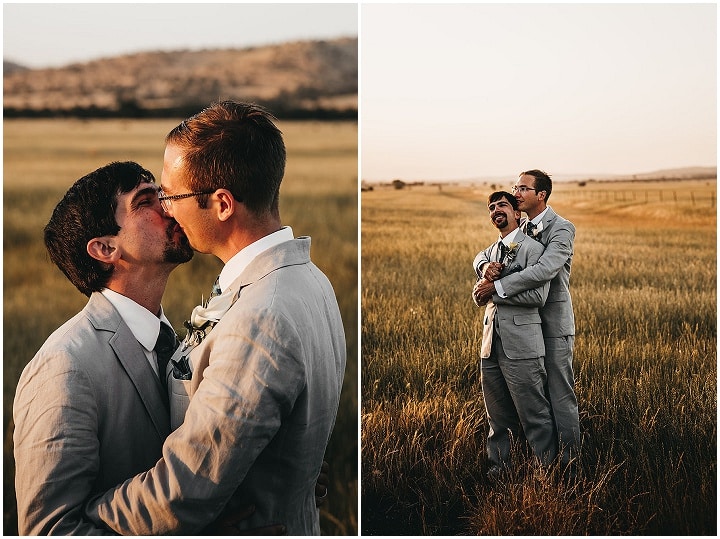 Supplier Shout Outs
For more information about VILD Photography go to 
www.vildphotography.com / www.vildphotography.com/blog / [email protected] / FACEBOOK / INSTAGRAM / PINTEREST