Happy Tuesday everyone, I hope you are all warm and safe and surviving the terrible weather we are ?having? I am taking you away from all the wind, rain and snow today with this gorgeous wedding from Chicago. Sarah and Andy were married on 19th May at The Joinery in Illinois. Their rustic, organic decoration worked with the industrial, urban nature of the venue perfectly. The white washed walls, exposed bricks, wooden tables and abundance of table greenery is quite striking. As for the ceremony backdrop, my oh my how stunning, I just love it! Sarah is wearing not one but two amazing wedding dresses, from two of my favourite designers. Her day gown is by Rue De Seine and her evening gown by Anna Campbell and they are both beautiful. Julia Franzosa Photography was there to capture the day.
'organic rustic industrial'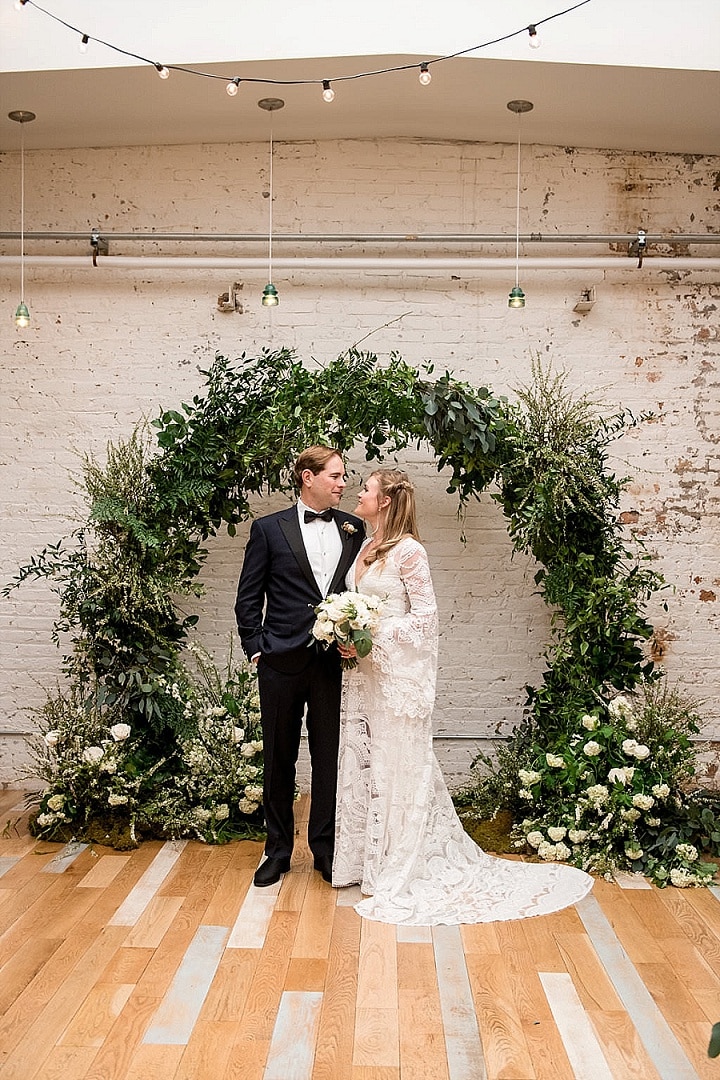 Described by the bride as "organic rustic industrial" with touches of white,ivory and wood, Sarah + Andy's black tie wedding the perfect balance of modern and whimsicale. 150 guests attended their special day to watch the couple say their vows, then plan and water them.
How did you meet?
We met through the dating app called Hinge. It matches you with people based on mutual Facebook friends or friends of friends. We met at Bordel and talked nonstop for a few hours. When it was time to say goodnight, Andy thought I was blowing him off because I politely refused his offer to walk me home. Andy never texted me to say that he had a great time or ask me out for a second date, and we never saw each other again. Just kidding! 6 weeks later, after I returned home from a trip to Australia, I broke her #1 dating rule and reached out to Andy to ask him on a second date. I was thinking of doing it but changed my mind but eventually saw (what I thought was) his last name ( – long story -) on the side of a truck I parked near. Accepting this gentle nudge from the universe, I texted Andy, we went on that second date, and the rest is history.
What's your favourite thing about him?
I love the way his eyes smile when he's happy and sparkle when he's also a little mischievous. His hugs feel like home.
What's your favourite thing about her?
I like her energy and sunny disposition. I like how she makes me happy.
Supplier Shout Outs
For more information on Julia Franzosa Photography go to