Today I want to talk about flowers and the trend there is currently for that 'just picked look'.
As a wedding planner I am getting more and more requests from my brides for a less structured look within their flower arrangements. So many brides are moving away from the big formal arrangements and table centres to the more rustic, wild flower/just been picked look! With more and more brides turning to the DIY, country garden and shabby chic option their wedding flowers are tacking on a much more relaxed feel.
image source www.maxwanger.com

I have quite a few wedding coming up this year where the brides are doing the table arrangements themselves, heading off to the wholesalers while furiously collecting old jam jars, wine bottles, jugs, even old tea pots to place their flowers in for a much more relaxed and quirky feel.

Sometimes Ieven  get drafted in as florist for the day………….I actually don't mind as I quite enjoy it! Here are a couple of my attempts!
For this wedding they wanted a selection of bright and vibrant flowers, it's actually harder than you think making things look random!! Photo credit www.lisaabbottphotography.co.uk
For this wedding they wanted a mix and match feel, the bride had collected jars and bottles, it was my job to arrange each one so it looked 'just picked' and natural
It took a while to do but each arrangement is different!
the finished result!

This is all well and good, but I don't want anyone to think it's easy! the flowers are going to a massive part of your day and you don't want your pictures ruined because you find out on the day that your not as creative as you first thought. Achieving that 'just picked loook' can sometime be best left to the professionals.

With that in mind I asked Karen Morgan from Passion for Flowers to give us a bit of advice.

SO YOU WANT TO ACHIEVE THAT JUST PICKED LOOK FOR YOUR WEDDING

Make sure you only take on what you are capable of, leave items like the bouquets and any large scale arrangements to the experts and concentrate on table flowers in casual arrangements in rustic containers, an eclectic mix of jam jars, collect old jugs, urns or terracotta plant pots.

Combine the look with hessian, twine, old lace and ribbons, no need to match everything just create a carefree, handpicked look.
Ideas:
Create a great look with a random mix of bottles with single flower stems. Great for long tables, set out on hessian runners, add slate tiles
Collect jam jars, old sauce bottles and have a go, perfect for a barn wedding or an outdoor ceremony. Use the bottles as escort cards to help guests find their seat.
For bridal party flowers ask you florists to create a random mix of button holes for all the guests, give these as a gift for each guest in keeping with your just picked style. Tie with different coloured ribbons and pins.
Terracotta pots decorated with bulbs for a spring wedding celebration, top off with moss. Muscari (grape hyacinths) perfect blue for spring.
How to guide:
If you want to make any decorations yourself make sure you:
Order flowers in advance and have a trial run working on quantities
Source flowers from a reputable supplier
Condition them well – you will need plenty of buckets, flower food and water
Place somewhere cool until needed – remember blooms can easily wilt in the summer heat
What about:
Check out floral workshops for a chance to experiment before the big day, book in with your Mum or one of your bridesmaids for a fun day well before the wedding. Have fun in a relaxed environment making table centres which you can then confidently make again for your special day.
What to Avoid:
Anything too complicated
Get help from friends and family. You don't want to spend your wedding morning knee deep in buckets and flowers!
Don't underestimate the time needed for buying, preparing, storing, and setting up as well as transporting to your venue.
Having Second Thoughts?:
Enlist the help of a well recommended florist, one who knows your venue and whose work you love.
Remember for florists wedding work is their business and they take the responsibility for delivering perfect bouquets, button holes and wedding flowers for a living. Even that 'just picked' look needs thought, care and attention to detail.
photo credit: www.astonandainsworth.co.uk

Which flowers to choose?:
Spring flowers tulips, ranunculus, craspedia for texture
Pussy willow for texture
Gypsophilia
Summer include herbs rosemary and sage for scent and texture, stocks and veronica.
Hydrangeas and peonies for summer blooms
Roses are great but need conditioning
Eucalyptus for soft greenery
photo credit: emmacasephotography.blogspot.com

What to avoid:

Anything poisonous – sounds obvious but many of our flowers are toxic!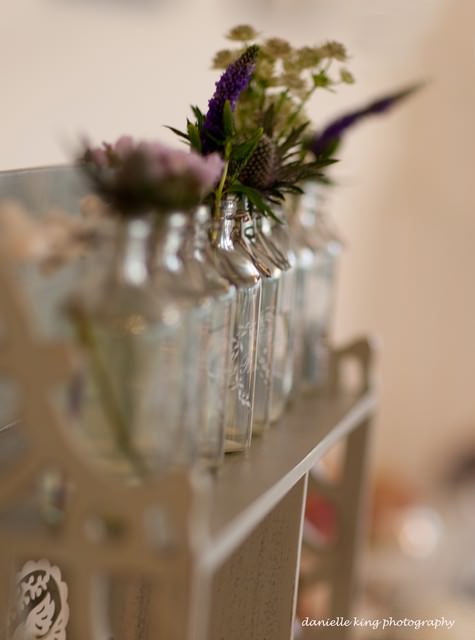 If you have any experiences of DIY flowers or any hints and tips then do share. Have you seen it doen well? or done badly? are you planning to do your flowers yourself and in the middle of prepparing for it. I would love to hear your stories.
A big thank you to Karen Morgan from Passion for Flowers, for more information on her shop go to:
www.passionforflowers.net
phone: 01676 529014
email: [email protected]
FACEBOOK
TWITTER
Also visit their sister site www.theweddingofmydreams.co.uk for some gorgeous table decorations, weddings ideas and all round lovliness.