Hello you lovely people and welcome to another wonderful wedding here on the Blog. Yesterday I shared with you this gorgeous Preston Court wedding and today I am taking you away to beautiful Portugal for this simple, laid back outdoor wedding courtesy of Piteira Photography. Anna and Menne didn't have a theme for their wedding but it turned out to be 'Loose Boho'. All of their friends and family pitched in with so many elements for the day, making it a truly personal DIY affair. With a simple yet super romantic outdoor ceremony carried out on a number of scattered rugs, followed by an open air reception and dancing under the moon light. Such a charming laid back day, full of laughter and bursting with love.
Our wedding was full of love and joy; where there was a lack of formality, there was an abundance of fun. It embodied who we are and if we had to do it all over again we wouldn't change a thing!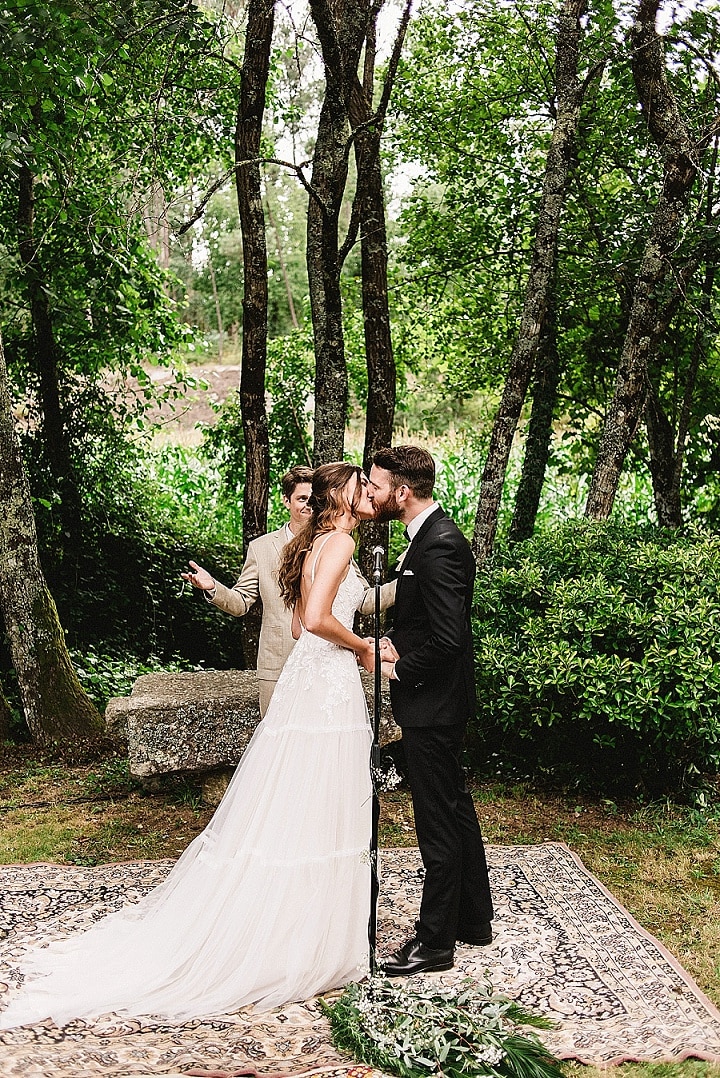 Anna and Menne were married on 10th August 2019 at Quinta Herdade do Porisso Cervães, Portugal. 'We knew since we started planning our wedding we wanted to get married in Portugal. It is where we met and lived together for the first period of our relationship. We always wanted an outdoor wedding, both for the ceremony and the reception. We were looking for a space that felt less of a wedding venue and more of an unkept open field. This venue not only had more space than we could use (our Dutch friends even camped on the grounds, as we also did on our wedding night), but also featured a professional kitchen, plenty of bathrooms (very important), and a very friendly open minded proprietor. We had 100 guests. We began to properly plan about 6 months before the wedding date. We took a casual approach to it and luckily everything fell in place. Can't stress just how lucky we were.'
How they met 
We stumbled upon each other on Instagram! Anna, a model, appeared in a photoshoot by a Portuguese photographer, the same photographer that Menne, a musician, had been seeking out to take photos for his portfolio. He liked one of her posts, she liked one back. A week later we met for our first date and have been together ever since (5 years and a half, to be exact).
The proposal
Anna had been working in Portugal during her birthday and was under the impression, due to his work schedule, that Menne wouldn't be there to celebrate with her. Over her birthday brunch with a friend (who was in on it), Menne walked through the door as a birthday surprise. Anna was in happy tears. The waterworks really started when he suddenly got on one knee and proposed right there and then, in front of the whole restaurant. She said yes. Later that night we had champagne and oysters in a palace-turned-restaurant… not too shabby. He flew the next morning back to the Netherlands.
How did you allocate your budget?
We didn't want to spend a lot of money and so we kept a tight budget. We have always liked DIY projects and really wanted to included our friends and family in the making of the wedding. However, there were some costs that couldn't be avoided because of their importance and/or out of their necessity: venue, caterer, and photographer. These expenses were very much worth it. 
Where did you splurge and where did you save?
We were fortunate enough to have friends that were willing to help us with various wedding details that saved us an incredible amount of money. For example, the DJ, sound equipment, floral arrangements and lighting. We splurged on the caterer because it was important to us that there was good food and drinks in abundance.
How did you choose your photographer?
Anna found Piteira ages before marriage was a topic for us. It stayed bookmarked until we finally got engaged and Menne was on board instantly. The style of photography was just up our alley and we were fortunate enough that they were available. Luis and Kerry are amazing people and take gorgeous photos to boot! 
The dress
My first dress was by Fara Sposa, tailored heavily by Diogo Miranda. My second dress was bought 5 years ago at Zara for €50, after dating Menne for a month and thinking it was a cute summer festival dress (it was, in fact, my subconscious telling me he's the one!). The only accessories I wore were tiny golden stud earrings and a hairpiece consisting of a few beaded floral pieces (I took a pretty necklace, broke it into pieces, gave it to the hairdresser and he worked his magic. Thank you, Rui Rocha!). The shoes were bought for €20 at a Dutch shoe store. 
The suit and bridesmaids
My suit was by Hugo Boss. We didn't have bridesmaids nor groomsmen.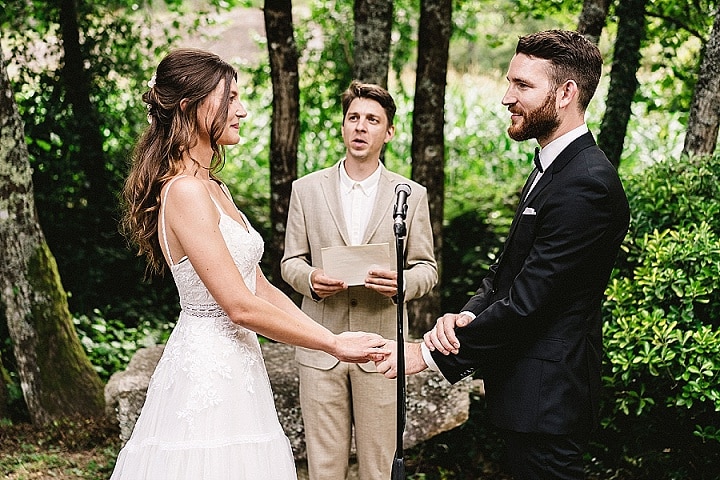 Theme or colour scheme
We didn't have a colour scheme nor a theme for our wedding but when everything came together we realised that it was very much a bohemian styled wedding. 
Flowers 
We had some family members cut different types of eucalyptus leaves, olive branches, and several other leafy greens. The mother of one of our close friends offered my bouquets and an arrangement of small white flowers that we placed on the dinner table.
Decoration 
We bought a multitude of second hand carpets that we used for the aisle, lounge areas and dance floor. We placed mason jars with tea candles on the dinner table alongside the eucalyptus table runner. The venue was lit by a string of warm light bulbs and the trees nearest to the dance floor were lit by led bars that could change colour. The DJ booth was lit by our bedside table lamp.
Food
We have always enjoyed family dinners in Portugal and wanted to have that feeling at our wedding. It was a traditional Portuguese BBQ with a few Canadian and Dutch dishes. 
Wedding cake
The dessert table was comprised of various sweets, homemade pies (the bride's mom makes a killer pecan pie), and three two-tiered "wedding" cakes. They were naked cakes with just a few eucalyptus leaves as decoration. 
Entertainment
There was a surprise performance by the saxophonist Henk van Twillert and the best man was the DJ for the entire night. The music was a wild mixture of Balkan tunes, Portuguese folklore, and happy hardcore from the Netherlands. Needless to say, we danced our butts off. 
Who supplied the stationery?
Menne designed the save-the-dates and the invitations and had them printed at the local HEMA. Anna further personalised the invitations by signing our initials and the names of our guests by hand.
Personal touches
We did a lot ourselves since we love doing DIY projects and also to keep our budget in check. One of the things we took to heart were the wedding favours. Menne and his mother-in-law spent the entire day in the kitchen baking over 2000 biscottis. These were then packaged and wrapped in brown paper boxes with white string and with personally written thank you notes to all our guests.  
Special moments
Our exchange of vows was a very special moment. We had both agreed to improvise and to just look at each other and say what was in our hearts. It was heartfelt, emotional (the waterworks came from both of us and from our guests), and funny. Another highlight was our first dance (again, the waterworks).  
Advice for other couples
Don't aim for perfection, go with the flow, make sure to take a deep breath and savour as much as you can (it goes by in a blink of an eye).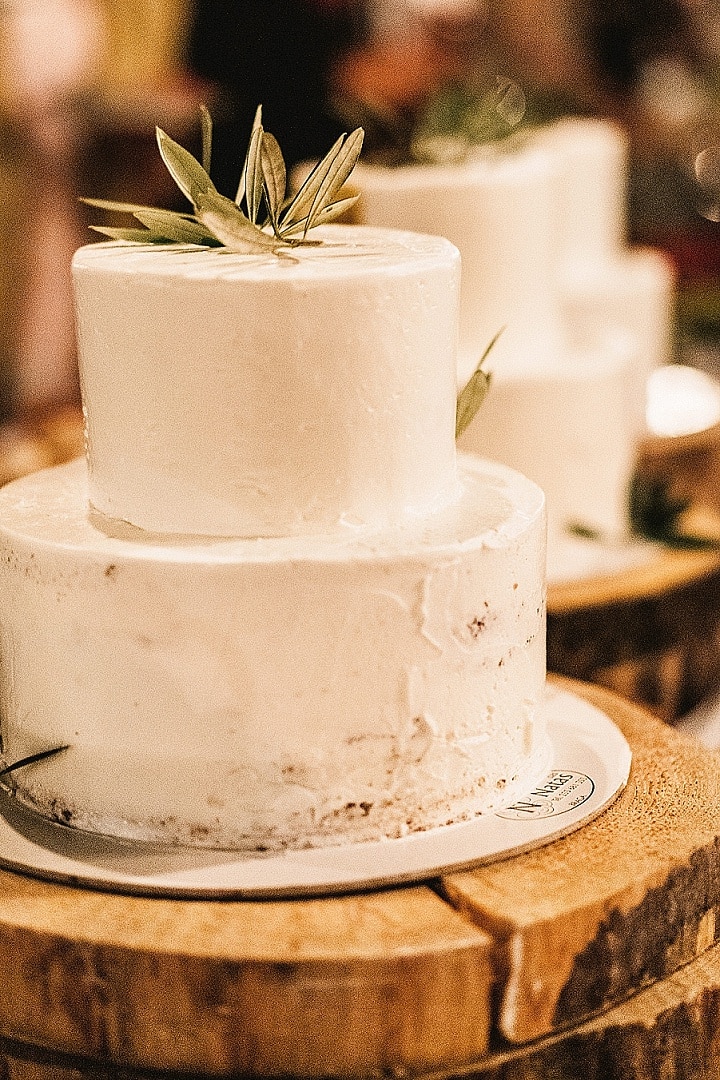 Supplier Shout Outs
Fore more information on Piteira Photography go to
www.piteiraphotography.com / FACEBOOK / INSTAGRAM / PINTEREST