At the beginning of each year I always get asked about wedding trends. What will be big for the new year? What will we see a lot of? What am I hoping might make an appearance? One of the main subjects on wedding trends is the old faithful wedding dress. As much as I try and keep ahead of the game on all things weddings, sometimes it is best to call in the experts and ask their opinion. Today I have done just that. I have called in the help of wedding dress experts Wed2B who carry out a wedding trends survey every year and today they are here to share the results with us. Since launching in 2009, bridal wear retailer WED2B has opened 42 stores across the UK, Ireland, Belgium and Netherlands, becoming the leading Bridal Experts as the demand for affordable, luxury bridal continues to grow. They are big on value with their average gown costing no more than £599. So please welcome Wed2B to give us their predictions on this years wedding dress trends.
The Wedding Dress Trends UK Brides Will Be Wearing in 2020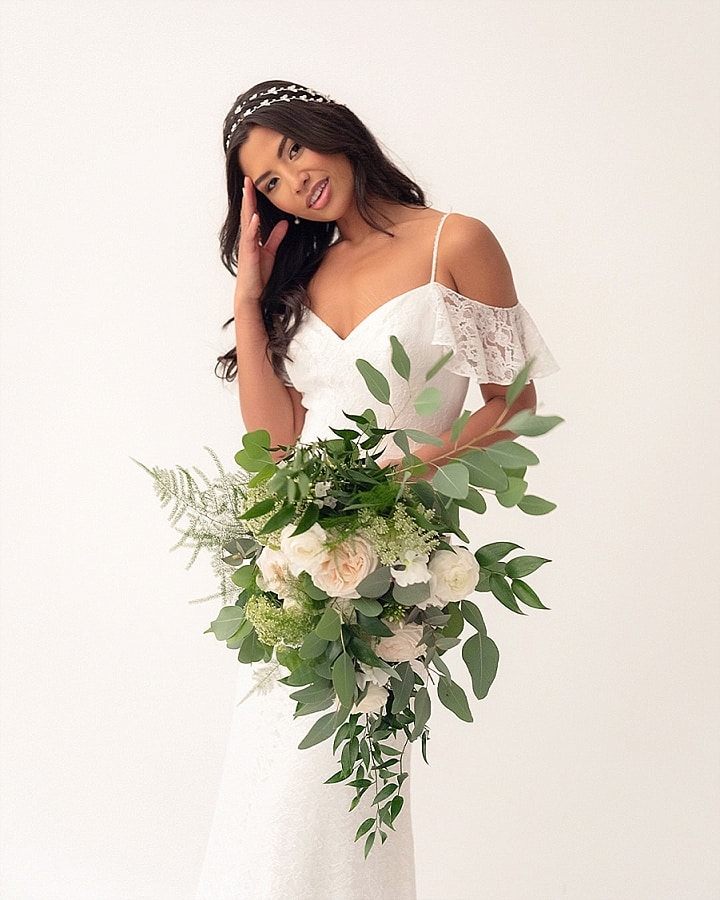 The WED2B Wedding Trends Survey 2020 captures the shapes, silhouettes and bridal details brides want for their big day. With over 10,000 survey respondents combined with the brand's design studio producing limited-edition and first to market collections, this is the definitive resource for what brides-to-be will be wearing next year.
The mission of WED2B is simple; 'to design beautiful and exclusive wedding dresses without the luxury price tag, designing for every style, shape and budget.' With 5 in-house brands, dresses £599 and under* (*excluding Platinum Edition) and sizes UK 6 – UK 30, WED2B offers the perfect marriage of quality, luxury and affordability. 'We want your bridal dress experience to be fun, informal and gives brides the best in bridal service & expertise – it's that simple!'
Flattering Fits & Statement Drama
A-line Wedding Dresses continue to be the timeless, flattering silhouette for 2020. 39% of brides opt for this classic shape from the traditional Dawson by Anna Sorrano to the subtle shimmer of Liana by Viva Bride. 2019's figure hugging fishtail has been edged out by a softer fit & flare style with 18% of brides wanting to highlight their waist in this super flattering style. Whilst 18% of brides go for the fairy-tale dream in classic ball-gowns like Karolina by Anna Sorrano Platinum Edition for the ultimate statement.
All About The Detail
Lace never goes out of style as 37% of brides want this delicate and often vintage feel as seen on Meribel by Bellami or what WED2B predict will be the best-selling Winslet by Anna Sorrano with soft chantilly lace and effortless hourglass shape.  There is a growing trend for pockets for practical and nonchalant cool as seen on Amber by Viva Bride and more brides than ever (32%) are looking for unexpected back detail as they walk down the aisle, with illusion or keyhole backs such as Quinn by Viva Bride. 2020 see's embellishments and applique techniques come to the forefront, from embroidery tapes on necklines and waistlines to more ornate lace and 3-D effect sparkle.
Elegant Simplicity & Beautiful Boho
As per 2019, brides continue to want classic (36%) and princess (19%) style wedding dresses for their big day, and more brides are choosing traditional satin or mikado fabrics as seen on Gianna by Anna Sorrano giving a timeless elegance. Whilst brides who want to channel a more boho and relaxed feel for their big day are loving the dreaminess of chiffon gowns such as Dylan by Heidi Hudson or Enya by The Signature Collection as the trend for more rustic, informal and destination led wedding's continues to be popular.
Affordability Is A Growing Trend
Over the last year, brides are looking for more affordable gowns, 17% (Vs. 11% last year) are willing to spend £300-£500 on their dress, and fewer brides are wanting to spend more than £700 (26% Vs 37% in 2018) indicating that being a bride doesn't mean wanting to break the bank!
For more information on Wed2b go to
www.Wed2b.co.uk / FACEBOOK / INSTAGRAM / PINTEREST / TWITTER
this is a sponsored post