Today we are off to Portugal for some much-needed sunshine with this gorgeous Algarve Wedding. It's a beautiful homespun wedding, where Hannah and Doug worked to a tight budget, so brought in lots of friends and family to help with as many aspects of the wedding as possible. This made it not only very personal to have so many people involved but it really helped to keep the costs down. The wedding itself is set in Doug's parents garden, with its own beautiful pond and amongst the most stunning rural setting. The outdoor ceremony is so peaceful and lovely and the outdoor recption is full of fun and lots of lovely lighting ideas. I just love this wedding, it's so laid back and perfect for a sunny Boho day. Big thanks to Kerry and Luis from Piteira Photography for the wonderful images.
'A sunny fiesta of love, music and dancing with our family and friends!'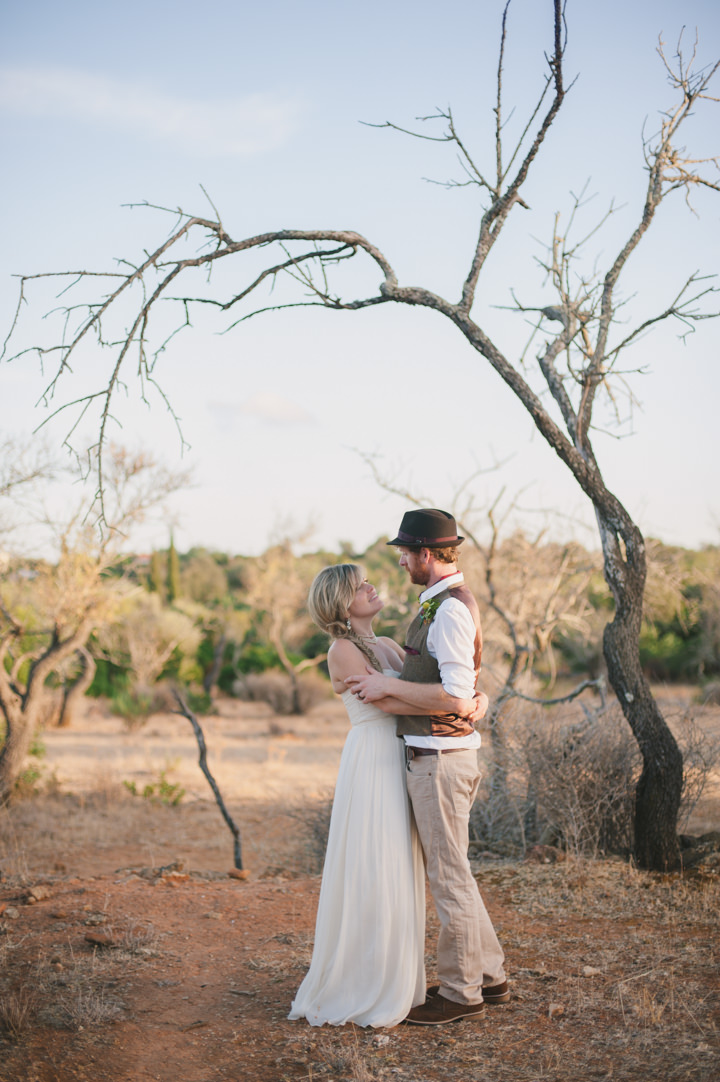 Hannah and Doug were married on 6th September 2014 at Doug's parent's garden in rural Algarve, Portugal. 'It's somewhere that holds heaps of happy memories for us. Over the last decade we've spent holidays here with family and friends so it felt very personal and intimate. It's also very beautiful and the eco-pond with lily pads and jetty is really special. And financially, well, having a free venue is like gold dust when you're on a budget and made it possible to spend money on flowers, wine and photography. We had a total of 50 guests. Planning the wedding took about 1 year. We were determined to not find the process stressful. We live in New Zealand, a lot of our family are in the UK, and the wedding was in Portugal, so we new we had a lot of logistics to sort out remotely. Me and Doug would go for breakfast every Saturday to our favourite café and set this time aside for planning. Obviously closer to the time it was a bit less civilised.'
How they met
We met at Leeds Uni as housemates in 2002 and got together a few years after graduating. We've been together for just over 9 years.
The Proposal
It was on a trip back to the UK in 2013. Doug had planned a surprise punting trip in Oxford which was very entertaining as he'd never tried punting before and had decided to captain our vessel! He'd also packed a picnic, and we stopped at a grassy spot. When I stood up after lunch he stayed on one knee and asked me to marry him. As we have both always been pretty ambivalent about marriage (but very sure about our love and commitment to each other) he actually left the marriage bit as an optional aside, and made it more about marking the importance of our relationship.
How did you allocate your budget
We didn't want to get in debt or spend beyond our means so the budget was pretty tight. We wrote a wish list of the most important ingredients – music, wine, food, photography – and worked from there.
Where did you splurge and where did you save
We splurged on photography (so worth it), fairy lights and a mega sound system! We saved by doing things DIY style. The only thing we outsourced was the main meal, hairstyling, 2 wait staff, our awesome celebrant & on-the-day co-ordinator Melanie, and our fantastic photographers Kerry and Luis. Everything else was made, arranged, organised, cooked, done by ourselves, our family and our friends.
How did you choose your photographer
We were so lucky to have Kerry and Luis recommended to us by another Portuguese photographer. As soon as we saw their website (their company's called Piteira Photography) we new that we'd found the right people. We met before the wedding for some pre-wedding photos and felt like we'd met two old friends. It was genuinely lovely having them at the wedding and the photos they took continue to make us very happy.
The Dress
My dress was J Crew and was purchased second-hand but unworn on Ebay (I purposefully bought a size too big and then had it fitted by a dress-maker so it fit perfectly), My earrings were BHLDN and the pearls were my great granny's costume jewellery. The shoes I already owned (they were my 30th birthday present from Doug) and they're from Irregular Choice.
The Suit and Bridesmaids
Doug's shoes were from Overland, his waistcoat was tailor made by Cock and Bull, and his hat was from Bailey. His jeans are just a levi pair that he already had. We bought the bridesmaids dresses from Ebay for under 20 pounds each. I think one of them is from Zara. I'm very lucky they fit so well!
Theme or Colour Scheme
If I'm honest, I spent a lot of time on Pinterest working this out as it's something I really enjoy! Our idea was to have the majority of décor in a base shade of off-white and then use bright pops of colour and gold to create a happy fun vibe. I love colour! The main accent colours were peachy pink, mint green, chartreuse yellow, and hot pink, which sound clashy but worked really well.
Flowers
We had to be flexible as Portugal mid-summer is a bit limited on fresh flowers. But we new we wanted bright flowers with grey/green foliage. We bought from a wholesale market and me and my friends did all the arrangements, bouquets and buttonholes the day before the wedding.
Decoration
I love to craft and a big hope for our wedding was that we could catch up with our friends somewhere sunny and get creative. About 10 of us lived on-site the week before the wedding and got crafty! I made around 100 metres of off-white bunting, we made tree decorations made from scraps of material that we termed 'rag dangles', I whipped up some bright throw cushions for chairs and tent areas made from serviettes, and we finished it all off with a LOT of fairy lights. There were so many little touches that people contributed, from the hand painted signs to the totem pole tree wrapped in ribbons!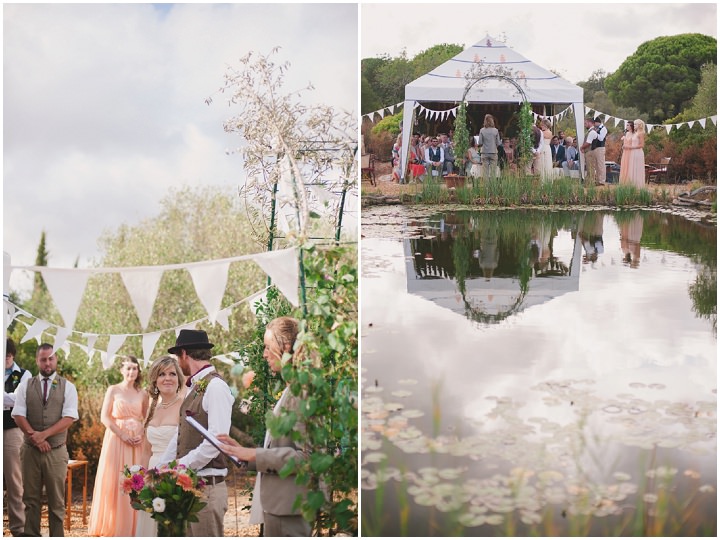 Food
We had curry with all the trimmings. It was a buffet style dinner and pretty simple. For desert we had a tropical fruit platter with crème fraiche. The plan was to keep the desert light, because later on we had a table full of home made cakes to devour!
Wedding Cake
Doug's mum made three of her famous fruit cakes with marzipan and fondant icing.
Entertainment
We're extremely lucky to have some very talented friends and family. My Best-Woman sang me down the aisle, and then later she performed duets of our favourite songs with my sister (who also happens to be a professional singer) accompanied by my brother-in-law on the guitar. Their version of the Bugsy Malone classic 'We Could Have Been Anything We Wanted To Be' was a massive highlight, especially the kazoo solo!
The Stationery
We didn't do paper invites – instead we set up a temporary web page and invited people to view it. This saved us money and time.
Personal or Handmade Touches
Our rings were passed around in a Paua shell (from New Zealand) – each guest took a few moments to hold them and 'marinate' them with love and happy thoughts before our vows. We also wrote most of the ceremony. As with a lot of non-religious people our age we wanted to use the language and spiritual elements that are actually important to us. We were also very keen to reject a lot of the patriarchy of traditional wedding ceremonies. That being said, it also had humour and a lot of tenderness. Knowing that we had written the words made the ceremony very personal.
Special Moments
It sounds ridiculously cliched but there were so many special moments… one of our best friends (and best man) had written us a hilarious song instead of a speech, our first dance spontaneously merged into a hokey-cokey style circle with all of us singing the lyrics of our favourite song, we all ended up in the swimming pond with beers at around 3am, and the next day all of the guests watched The Big Lebowski with White Russians on the patio.
Advice to other couples
If you're doing lots of the decorations, flower arranging and food yourself give yourself PLENTY of time because you really don't want to miss out on spending time with people during the run-up. Delegate A LOT: having a few wait staff was a God send. Don't underestimate how many bottles of bubbles you'll need. And cheap glow sticks go down a treat on the dance floor!
Biggest surprise
Whilst me and Doug were off having photos taken, our good friend Sally decided to keep people entertained by reading their fortunes, She'd handwritten dozens of fortunes and set up a trail of little signs which led to an old horse cart where she dramatically foretold each guest's future glories. We heard about these hilarious fortunes from our guests for days and weeks afterwards. So, in short the biggest surprise was how much our families and friends contributed, embraced and exceeded our festive vision for the day. We wanted to bring our favourite people together & throw a fantastic love-filled party and that's exactly what happened.
Supplier Shout Outs
For more information on Piteira Photography's work please go to:
www.piteiraphotography.com / FACEBOOK / @piteira_photo / PINTEREST I:piteirada / [email protected]
Piteira Photography is Kerry and Luis, wedding photographers based by the sea in Lisbon, Portugal. We are artists, travellers, dog lovers and spend as much time as we can on the road. 2016 is the year of great adventures as we will be travelling southern Europe in a camper van from May until December… we can´t wait!
Due to an email issue if you have emailed me between the 2nd & 9th of December, please resend it.
X