Boho chic is one of the most common wedding themes at the moment. It has been a growing theme for many years but it really is coming into it's own now. One of the best way to show off your boho theming is through your outfits, there are so many beautiful boho wedding gowns out there, you really are spoilt for choice. If you are considering a boho moment for your own wedding this autumn/winter, here are some really useful tips for you. These are suggestions based on the latest trends, but we encourage you to make your own twist on these, to make sure your wedding stays true to you and your own wedding personality.
Latest trends in boho wedding dresses for the upcoming autumn-winter season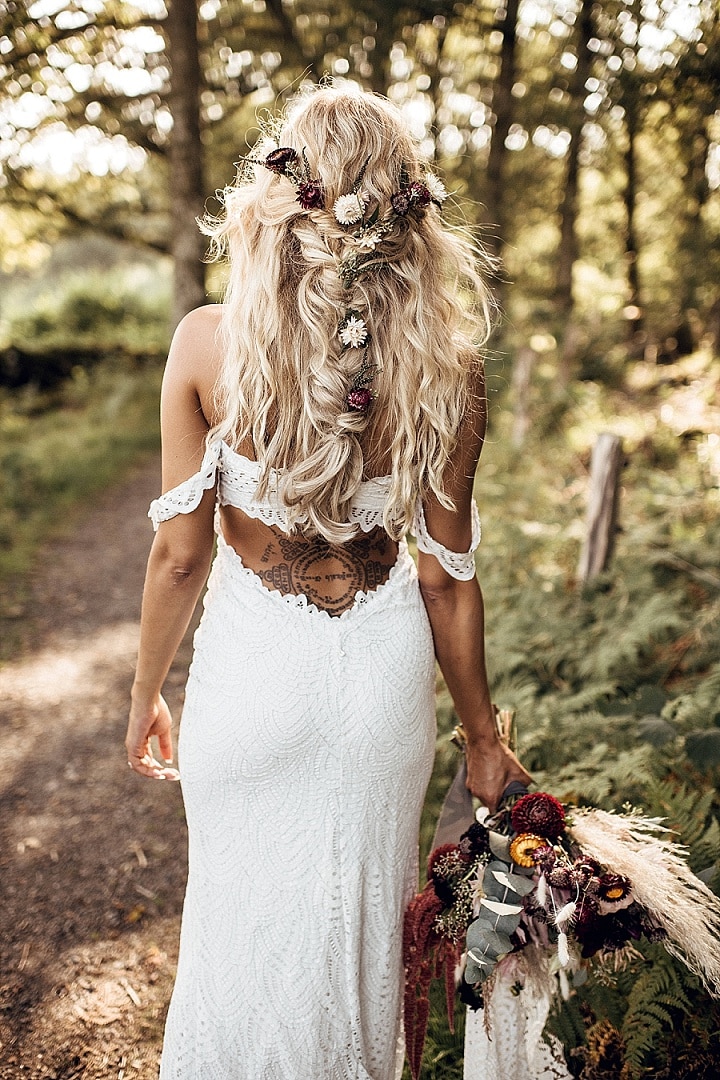 Forever popular lace
As we have previously mentioned, lace pieces have been the epitome of class, elegance, and style for ages. Lace is an essential part of boho chic. It offers a vintage twist to modern times and silhouettes.
Handsewn lace is always on trend. It can get kind of expensive, but the finished look is heavenly, so if you are not on a tight budget, handmade is the way to go. For an extra vintage look, and also a bit sentimental, altering a loved one's wedding dress to fit you can be a beautiful thing.
The best tip for choosing the right dress is to firstly pick an overall vibe of the ceremony. Boho style has its own types, so choose as precisely as possible. Venue, decorations, lighting, everything is equally important for your special day.
If you're searching for a sophisticated yet elegant boho-style wedding dress, choose a white boho dress from recent fashion collections. Always keep in mind that the marriage ceremony is a significant event for both the bride and the groom. The way you look on this greatest day will affect your mood to a great extent. Pay specific attention to the presence of impressive details that make your wedding attire look romantic. No matter what length your bridal gown is, it must include hand-crafted lace accents, a variety of trims, or beadwork.
Consider the weather
There is something extra romantic about autumn weddings, or winter wonderland ones. When it comes to the dress, you should consider the temperatures. Consider a stylish option from The Sposa Group and add some cute and warm accessories to complete the look while staying cozy.
This is especially important if you want an open space venue. Temperatures can vary from place to place, autumns are warm in some places, but chilly in others. Make sure you have that in mind. Long sleeved dress is also an option.
Flared long sleeves, or even super long ones can up the elegant and sophisticated look. Embroidery, perls, or gems on sleeves are also very popular in this style, so you do not have to change a lot in order to fit the boho spirit.
Same goes for winter weddings – something cute to cover up your arms if you feel like it is not a bad idea. If you are in the mood for a more casual boho look, a nice knitted cover up, bridal top, or even a cape can be perfectly combined with this style.
A-line flowy dresses
Go-to silhouette for boho chic is definitely a classic long, flowy, a-line dress. It is simple, beautiful, and looks wonderful on all body shapes and sizes. A decorative waistband can accentuate the waist even more, and add a bit more of a wow effect.
Boho brides are free-spirited, sometimes non-conventional, so if you like this style, you can always add your own signature to the look. This style is inspired by natural and light materials, flowy dresses and skirts that move along with your body, and gorgeous lace patterns and beads.
Colours and accessories
A white wedding dress is a classic, but what if you want to go past it? That is perfectly fine, especially when it comes to boho chic. Off-white, champagne, buttermilk dresses can look glorious with lace details.
If you feel bolder, or your personal style is a bit more dark or alternative, you can always go with deep reds, purples, emerald green, or even black wedding dresses. These all can nicely fit the boho spirit. A deep red dress paired with autumnal colours of nature can look otherworldly! For a breath-taking look, match your bridal bouquet's colour with your dress, or accessories.
When it comes to bridal accessories, sometimes less is more. If your engagement ring is a staple piece, you do not need to add more jewellery to your hands, as the wedding ring will also take its place there during the ceremony.
If your hair is up, a nice pair of diamond studs is never a bad option. You can go with the classic look and pick white ones, or experiment with colors, it is your choice. If you decide to wear your hair down, a nice flower crown or a classic lace weil can complete the look. If you want to wear a necklace, we suggest pairing the necklace and chain with your earrings or engagement ring for a more polished look.
This is a collaboratve post