Happy Wednesday everyone! With exactly one week to go before Christmas day, I am so excited and feeling super festive! What about you? So far this week we have had some amazing Christmas related weddings and articles, so we are carrying on with our Christmas theme today with this absolutely stunning snow filled mountain wedding straight from Colorado. This is such a gorgeous wedding – the backdrop is jaw-dropping. The decoration is just beautiful with much of it having been created by Jessie, the bride. Beautiful blooms, amazing outfits, and an outdoor ceremony in the snow. This winter wedding is just stunning, all perfectly captured by We Are Matt + Jess. 
Our wedding day felt like we were in this beautiful little snow globe with all our favourite people. If you were to turn the music crank on the snow globe something truly magical, like Untilted #3 – Samsketyi by Sigur Rós, would play.
Jessie and Tom were married on 14th October 2018 at Della Terra Mountain Chateau, Estes Park, Colorado. 'We wanted to find a venue that showcased the beauty of the Colorado mountains, especially so that out of town guests could experience what we love most about where we live. When we found Della Terra, we loved how close it was to Rocky Mountain National Park, the breath-taking property and the phenomenal staff. When some wild turkeys wandered out to the ceremony site during our tour, we knew it was the place for us. We had 100 guests, we checked things off little by little over the course of a year so that we could truly enjoy the planning process instead of feeling rushed or overwhelmed.'
How they met 
Tom and I met in the fall of 2013 when we both found ourselves at our mutual friend's apartment to watch some hockey. By the time the game ended and we went for ice cream, I remember glaring at my friend when he tried to innocently pay for my scoop with a gift card. He didn't get the hint, I wanted Tom to know I was single. Turns out, Tom did notice. He threw a party that Friday night so that we had a reason to see each other again. Tom likes to refer to that night as the first and only party he's thrown. We hit it off and started dating a month later. We've been together for over 5 years now.
Tell me about the proposal
Tom proposed at a sunset along the shores of Lake Michigan near my hometown. As we walked along the sand, Tom reminded me that we had walked the same beach years ago, when I had finished my spinal fusion recovery and was ready to head back to Colorado. Tom reminded me of all the dreams we had made for our lives together back then and how many of those dreams were now a reality. Tom said it was that day on the beach that he knew he wanted to spend the rest of his life with me. When I turned around, he was down on one knee asking me to marry him!
How did you allocate your budget?
We allocated our budget with the help of our month-of-coordinator, Kendra of KCIDY Design. During an initial financial consult, she helped us prioritise what mattered most to us and line out all the expenses we could expect. From our ideal budget, she then helped us figure out where we could save to make it a reality.
Where did you splurge and where did you save?
We splurged on catering (delicious food was really important to us) and videography. To offset these costs, we limited spending elsewhere. For example: in lieu of a Save the Date, we sent out our invitations early, and limited our bar to a selection of beer & wine. I also worked with my maid of honor to DIY a lot of the day's details.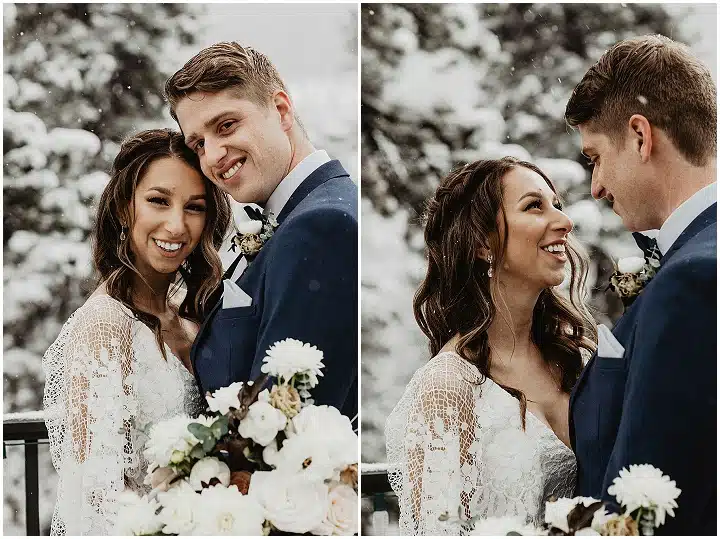 How did you choose your photographer?
A friend of mine had recently gotten married and I loved her photos. I looked at their online portfolio of other weddings and fell more in love with their work. I reached out to We Are Matt + Jess right away to secure them for our day!
The Dress 
Dress: Grace Loves Lace. Earrings: Ti Adoro. Shoes: JCrew. Last minute addition of a Treasure & Bond fringe scarf for warmth!
The suit and bridesmaids
The men's suits were all from Generation Tux. The bridesmaids wore dresses from Fame & Partners that they each had altered to be a bit different.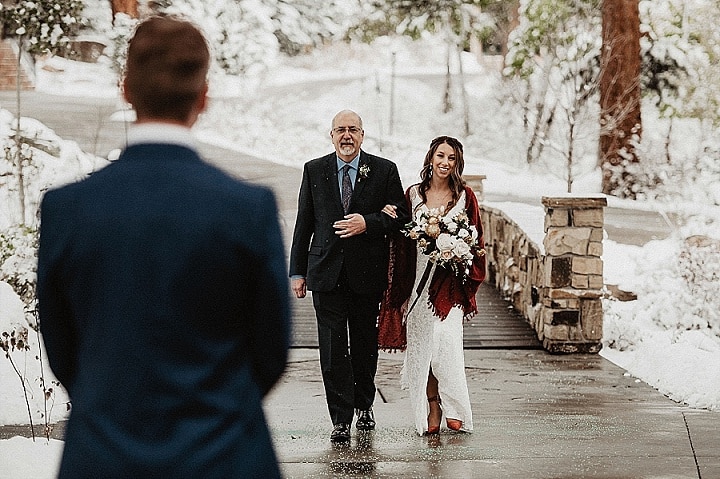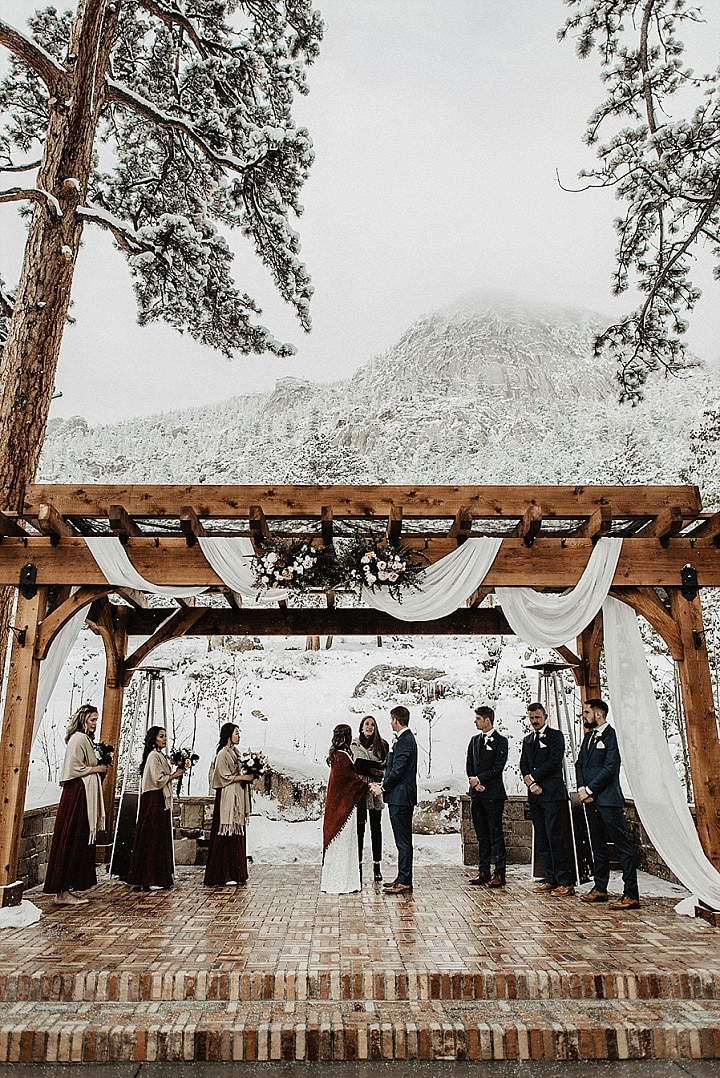 Theme or colour scheme
Our colour pallete was composed of white, ivory and cream, contrasted by deep burgundy, navy and green shades. We also incorporated earthy tones like blush, golden yellow and rust for mid-tones that would complement the fall season. We opted for a simple, modern and romantic aesthetic with a lot of texture and emphasis on the gorgeous mountain surroundings.
Flowers 
We had the most beautiful blooms thanks to Emma at Emma Lea Floral. She put together spectacular arrangements and bouquets with seasonal roses, ranunculus, dahlias and dark foliage with amazing textural elements like bunny tail grass (so fluffy!). She took such great care in styling our wedding, which was no small feat given it was below freezing the entire day!
Decoration 
Since we went for a more simple, modern-romantic approach, most of our decorations were the flowers themselves. Our day of signage was all acrylic either hanging on copper backdrops or resting on aspen wood. Our place cards had a navy watercolour wash and copper calligraphy to mimic the invitation suite. Then we adorned each napkin with a velvet burgundy tie and a few dark leaves for some added texture and contrast.
Food 
We had hot apple cider for guests to take with to the outdoor ceremony site since it was so chilly. Several appetizers (my favourite of which was the tomato basil bisque shooters with mini grilled cheese sandwiches!) and a fresh Palisade peach salad to start our dinner. Then guests had either a New York Strip Steak, Cedar Wood Grilled Salmon or Balsamic Mushroom "Scallops" as their main, with roasted fingerling potatoes and chargrilled broccolini. For dessert, we offered a variety of warm cookies and milk!
Wedding cake
Our caterers helped me pull-off this fun surprise for Tom, a Funfetti cake (his favorite)!
Entertainment
We didn't have any live music, but Tom's twin brother (and best man) recorded a beautiful acoustic guitar melody for the processional song. Tom worked closely with our DJ to create playlists for cocktail hour and dinner, planning the perfect musical backdrop for everything (I think we even cut the cake right as the music swelled!). Then the DJ transitioned us to some Motown classics, R&B and hip-hop to dance the night away to.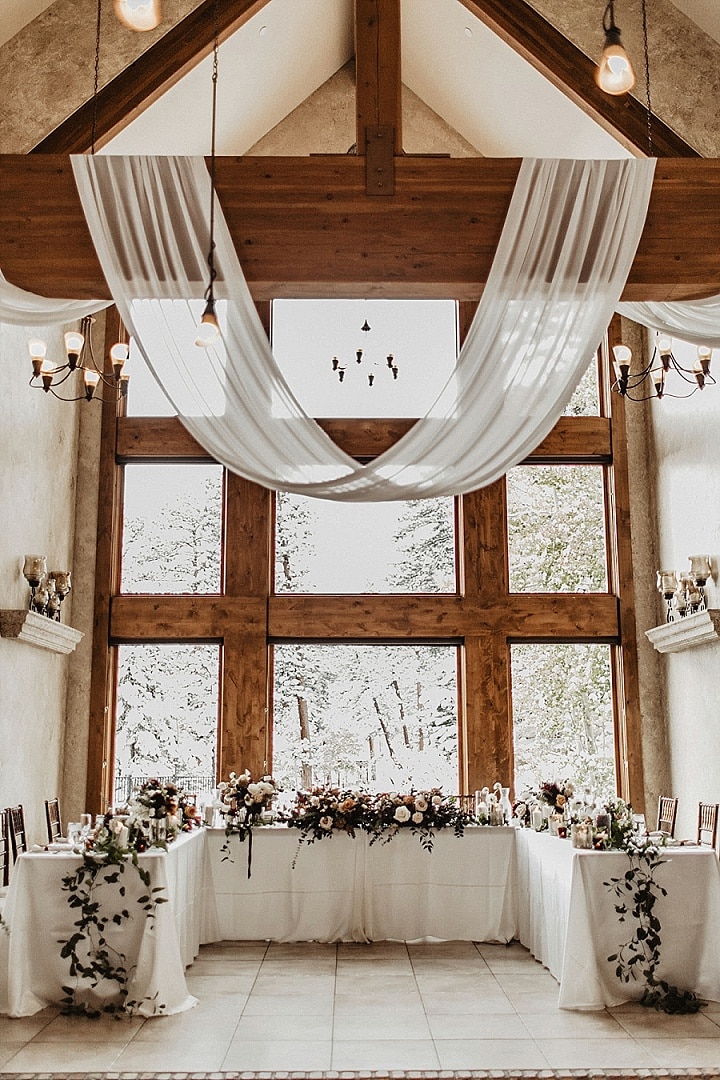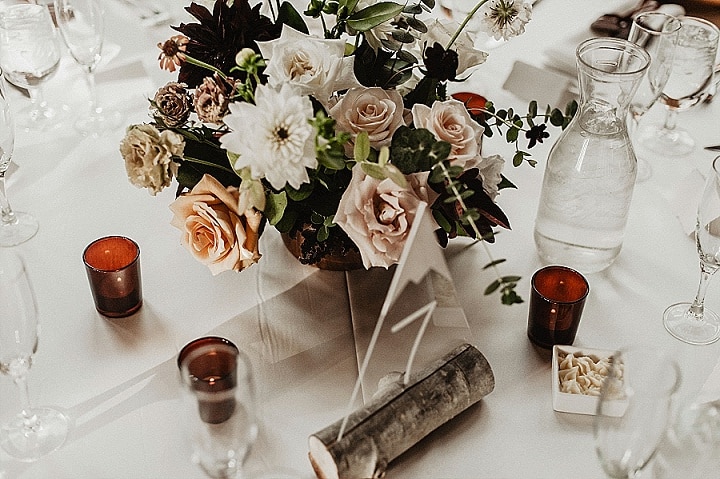 Who supplied the stationery?
I actually worked with my maid of honor to design and produce the invitation suite. Janie painted the beautiful watercolour landscape and penned the calligraphy, while I digitized everything and laid it all out. We went together to select the paper, envelope colour and soft penny foil at a local print shop. Over several late nights, Janie hand addressed every envelope and together we assembled the liners, stamped the return address, placed the vintage stamps and poured the wax for the seal. I loved watching all the little details come to life. As soon as we were done, we started dreaming up our day-of stationary from the large acrylic seating chart to the smaller details. We adored the project so much, we've started taking on a few others and hope to turn our passion into a business!
Personal touches
Creating our stationary with my maid of honour was really special and I love that our invitation suite is something we can cherish for years to come. I also loved that our day-of DIYs meant that I got to work with Tom's dad on a few projects. Together we used a downed Aspen tree from their mountain cabin to create the bases to all the table signs. He also helped me cut the acrylic table signs into the triangle shape that Janie later transformed with white ink into snow-capped mountain tops. Seeing all those personal touches throughout the room made the day feel even more like us.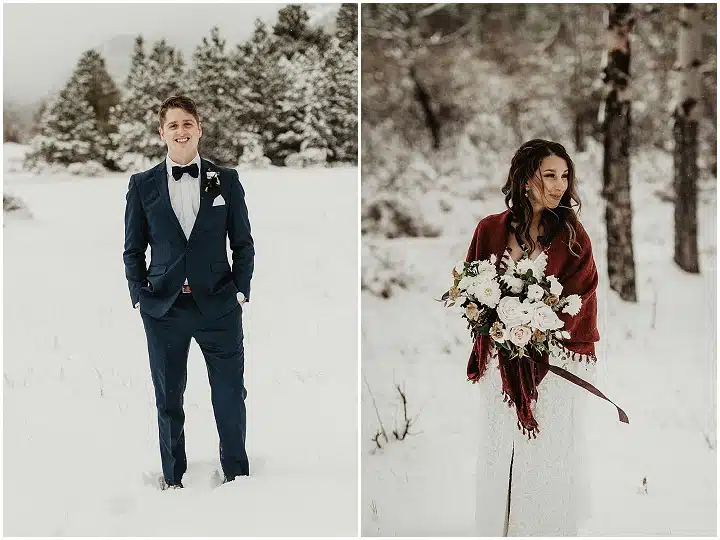 Special moments 
There were countless special moments throughout the day, but one that stands out to me was our first look. It was so picturesque with the big snowflakes falling and the beauty of the mountains all around us. I know some people would think snow on your wedding day is less than ideal, but Tom just LOVES snow. When he turned around to see me in my dress, he whispered, "Wow. You look like a snowflake." It was the most wonderful thing he could have said!
What advice would you give other couples?
Tom: Have your wife be an event planner (ha!).
Jessie: Don't be afraid to voice your opinion. There can be so many opinions when it comes to your wedding, but unless you advocate for what you want, your wedding day might feel like a compromise. Instead find creative ways to involve your family and friends in meaningful ways that still allow you to stay true to you!
Biggest surprise 
Waking up to so much snow! Best. Surprise. EVER.
Supplier Shout Outs