Over the past few years I have seen Elopements become more and more popular. I have featured my fair share of them on the blog and they are always stunning, intimate and full of love. From desert locations, to mountain tops, waterfalls and safari's, you really can elope anywhere. The world is your oyster! If you are having problems with your guest lists or family troubles have taken over the planning, then why not opt for an easy life and elope! Just you, your fiance, someone to hold the ceremony and a really good photographer! You can of course invite a handful of guests if you want to, there really are no rules, but eloping can be the problem free option for tying the knot and having your wedding your way! Emily from Emily Black Photography is here today to tell you a little more about her experience  with elopements and a few of reasons why you might want to try one.
I'll pass you over to Emily
Elopements are no longer a dirty word and are becoming more and more popular. Not only can you save a lot of money, you can get married somewhere really epic and tie it in with your honeymoon.
Eloping allows the opportunity to really do things differently and throw tradition out the window! There are so many options around the world – it's yours for the taking!
A lot of countries let you legalise it there, but another option could be to get it legalised in the UK first, then you are free to do what you like, without making sure you have witnesses.
The reason I love elopements so much, is that they are small, intimate and you can really be adventurous about your location without having to plan something that caters for all you guests. You are also doing something completely tailored to you as a couple and you really are free to do what the heck you like. Fancy getting married with a backdrop of mountains? Or a waterfall?
I eloped myself back in 2013 in Italy, by the mountains on the coast and it was stress free, intimate and I wouldn't have changed anything for the world.
I got together with a lovely bunch of wedding suppliers to put together a styled shoot elopement in Iceland. There are so many beautiful spots in Iceland like the Black beach in Vik, and endless stunning waterfalls and caves. We stayed within 30 minutes of Reykjavik and the couple got ready in the Glass Lodge, which is a beautiful tiny lodge with a glass lodge overlooking the stars and mountains.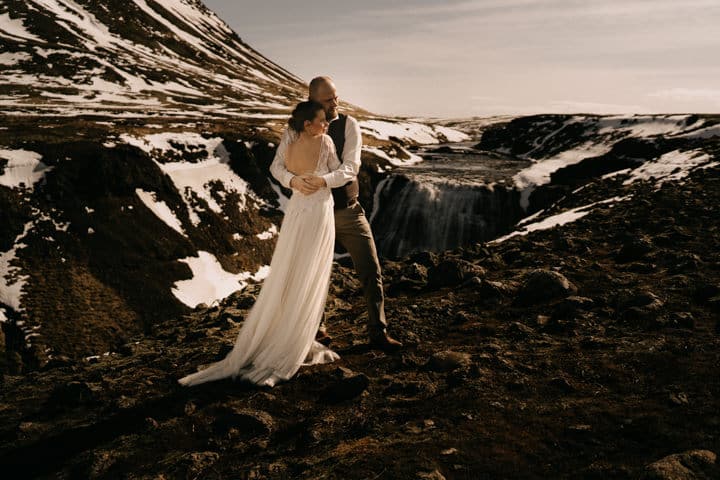 Supplier Shout Outs
For more information on Emily's work go to
www.emilyblackphotography.co.uk / FACEBOOK / INSTAGRAM / PINTEREST