Happy Friday everyone, and how are you all? Ready for the weekend? I certainly am! It's been a really busy week here at Boho HQ and the next few weeks are looking to be even busier! So I am looking forward to a relatively quiet weekend before it all gets really hectic! On Sunday Dexter and I are off to Cannon Hall Farm to watch Aladdin, we are meeting up with some friends, so that will be good. What about you? Today I am finishing off the week with this gorgeous, greenery filled, rustic  DIY wedding from Somerset. Filled with rustic goodness and a whole load of foliage, it's a feast for the eyes. The decor in this wedding is quite beautiful, the classic white flowers mixed with the greenery is of course a timeless winner, but the venue for me is the true star. The white walls of the Silk Mill Studios are the perfect blank canvas for any DIY couple, and Victoria and James have really put their own stamp on the day. It has been captured perfectly by Chloe Mary Photography
Our wedding was filled with love and laughter being both traditional with a church ceremony and personal by making a chic yet rustic DIY wedding reception venue.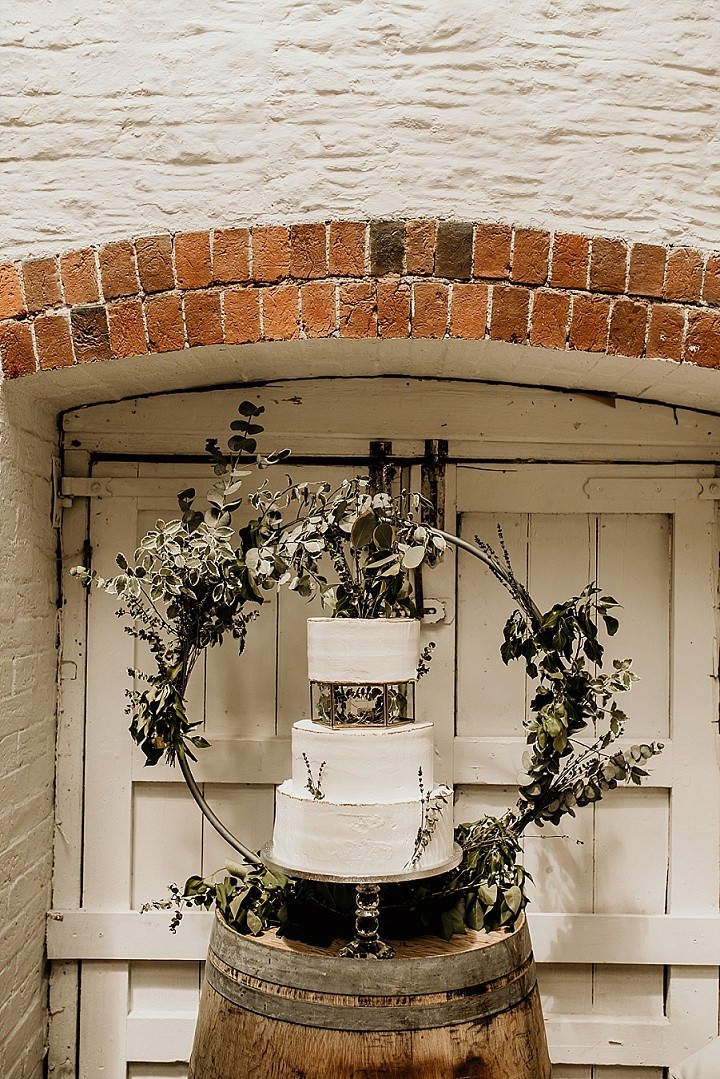 Victoria and James were married on 15th June 2019, with the ceremony at St John's Church, Frome in Somerset and the reception at Silk Mill Studios, Frome. 'We viewed only two other venues until we found the Silk Mill studios in frome, it gives the freedom of making it completely personal- blank canvas and is extremely reasonable in cost for hire of four days and then to find the most beautiful church across the road we were sold! We had 93 guest in the day, 116 by the evening an it took 18 months to plan.' 
How they met 
We met through an online dating website and our first date was at a pub over a pint of cider and a packet of crisps, me being from Bristol and James from southampton this totally impressed me and we hit it off completely on the first date and our second consisted of him whisking me off for an incredible spa day in the new forest, the day after a festival we had both been to but never managed to meet up at. We have been together now 6 years.
The proposal
The proposal took place amongst the month of my (Vikki's) 30th birthday, everyday in July I had a surprise which included a photo of me/him/family from the time we had already spent together alongside a funny/thoughtful quote. My actual birthday surprise (14th July) included a trip to north Spain the following week in which mid holiday (26th July 2017) we walked to the top of a mount to oversee the city and James produced an incredible handwritten poem which resulted in him on one knee! The engagement ring was his late grandmothers and he'd carried it around in the pocket of his linen shorts the previous two days waiting for the perfect time to propose. Undeniably romantic.
How did you allocate your budget?
With the help of parents we manged to divide our budget pretty well with a church ceremony and the silk mill being so reasonable to hire for four days we had quite a lot to spend on food, drink and entertainment. We used an app called bridebook which breaks down your budget into all main categories required and worked from there! James produced many a spreadsheet!
Where did you splurge and where did you save?
We splurged on having a free bar and probably the wedding breakfast was a little above our budget. We saved on the dresses (mine being in a sample sale, highly recommend!) and suits just by buying at the right times and bargain hunting. Also by doing so much ourselves and paper lite invites.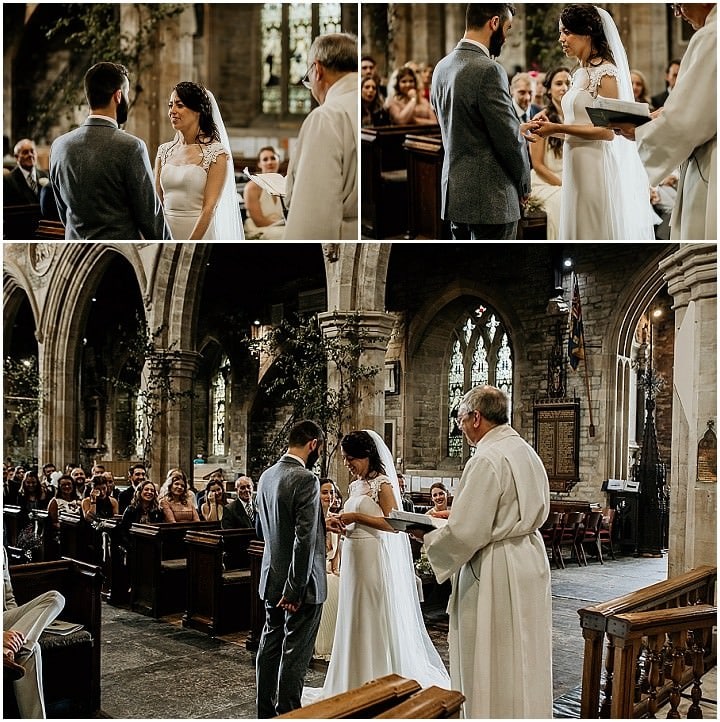 How did you choose your photographer?
We found Chloe online by searching local photographers to us in Bristol and the loved what we saw on her Instagram and then instantly clicked when we met her for the first time. Her style immediately met what we were looking for and her personality shone through and made us feel completely relaxed.
The dress 
My Dress is Mikaella by Palomar Blanca a Canadian family owned designers. As mentioned I bought this in a sample sale at a bridal shop in Keynsham and managed to get it £800 cheaper than its original price and with little alteration needed. Super chuffed with that! My veil was bought at lace and grace bridal shop in Bristol where they customised the bottom with stitching lace detail that matched my dress. Earings were small pearl which are my mums and my shoes from the bridal selection on ASOS.
The suit and bridesmaids
The grooms suit was from Next, James had a big voucher to help towards this which cut the cost. But he made up for it with new Ted Baker shoes (which I ended up buying him!) The Groomsman's suits were all ASAO, the page boys trousers were H&M and shirts from matalan and braces from amazon, all groom parties and page boys Bow ties were dickiebow.co.uk. The bridesmaid dresses were all ASOS.
Theme or colour scheme
There was no set colour scheme we both love foliage and plants so we knew we wanted to incorporate a lot of green and then we matched around it with Yellow and Gold.
Flowers
White and green only and lots of foliage. My bouquet was big white flowers with the touch of one blue flower by my florist for my something blue. I am hopeless with flowers so told Becky she had free rein as long as the flowers were only white and it included lots of foliage and some trailing, along with sending her lots I saw and liked on pinterest. She nailed it! Bridesmaids were the same as was our spray in the church. We included sprigs of lavender at the end of every other pew in the church and tied behind every chair at the silk mill, it smelt amazing! The men had one white rose and greenery for button holes. Very simple but effective.
Decoration 
Simplistic decoration. We bought vintage gold frames to hang along the gallery wire filled with old photos of us family and friends and some from our engagement shoot with our photographer. Three handmade wooden beams full with foliage placed by our florist that were hung from the ceiling beams. Our table plan was written out by hand by me on a huge gold framed mirror. A bunch of lavender sprigs tied to the back of each chair. We hired some decorations from a company in Exeter called prop factory which included, a foliage covered huge heart hung behind us on the top table, foliage covered giant LOVE letters outside. A green velvet chesterfield sofa and chair. Farmhouse style trestle tables painted white and bench. Farmhouse style coffee table. Light wooden barrel for the cake. 2 tin baths for storing cans and bottles for guests.
Food 
Our wedding Breakfast: we scrapped having a starter and dessert as we had trays of brownies and other treats sweets etc on a display table next to our cake. So it was a BBQ consisting of Cedra plank salmon, prime rump steak, 3 types of skewers on a sharing board and sides of corn, homemade slaw and potato salad and dressed mixed leaf salad. Our evening food was a vintage pizza van with options of 5 different wood fired pizza!
Wedding cake?
Our wedding Cake was made by James sister-in-law. It was three tiers with the top tier separated by a terrarium style glass filled with foliage and fairy lights. Lemon flavoured sponge in each tier all vegan and gluten free. Covered with white icing and thin gold lining around the edge of each tier. It was placed on an old barrel with a hoop placed behind decorated with foliage.
Entertainment
A table tennis was set up outdoors. We had a saxophonist play for a couple of hours after the wedding breakfast outside, alongside our favourite cocktails being served, aperol spritz and Pimms. Our evening entertainment was a local DJ who had the whole set up with lights etc and an array of music that we'd chosen with him.
Who supplied the stationery?
We did all the stationary, James designed the save the dates and we printed them stuck them and posted ourselves. We used theknot.com to make our personalised wedding website for invites and all details for the big day required. Name places were serviettes with initials stitched in by James incredible mum.
Personal touches
We did most things ourselves, with the help of family and friends. We made our own confetti by use of the two huge rose trees we have in our very small back garden, we picked and dried it over the few weeks leading up to the wedding. The collection of gold frames and printing and inserting the photos. James mum hand stitched initials in green cotton on white cotton serviettes for each guest as there table place name. Which was accompanied by a succulent candle as our favours. We spray painted the inside of a wooden bread bin black and wrote cards in gold as our card box.
Special moments 
The I do's and first married kiss in the church. Speeches and our First dance.
Advice for other couples
Soak up every part of the day but not so much so that you get conscious of missing anything. Relax, it is the best day of your life you must sit back and enjoy your hard work and all the special moments. Utilise all online resources Pinterest, Instagram etc and be sure to get your friends and family involved they love to help and trust me you'll need them to!
Biggest surprise 
Doing our first dance (unplanned) outside in the court yard under the awning at the hint of our photographers suggesting the lighting was great and it was dry and sunny. It felt even more special than I could have imagined!
Supplier Shout Outs
For more information on Chloe's work go to
www.chloemaryphoto.co.uk / www.chloemaryphoto.blogspot.com/ / [email protected] / 07719011701 / FACEBOOK / INSTAGRAM
My photography style is all about being super relaxed, fun and offering an alternative style to my couples that differs from the bulk standard 'wedding photography' on the market. I capture 90% of my couples day with documentary-style alone, allowing my couples to truly relax and enjoy their day their way. I am based in Bristol but offer photography all over the UK and abroad. I want to be more than just my client's wedding photographer. I want to be their badass friend who will help with whatever they may need on the day, the one who laughs with them, the one who throws some shapes on the dance floor and the one who just happens to be able to take super epic photos