Today's wedding is another one sent in from one of my lovely readers, in fact all the weddings this week have been sent in by Boho readers, which really does make me happy! I am getting more and more submissions from loyal Boho Brides which shows me that the blog is doing what it should do! I get so many lovely emails telling me that the blog has inspired and helped them that they now want to share their day with other readers. Today's wedding is one of those very weddings, so a big thanks to Gem for sending in her gorgeous wedding. With a smaller budget Gem really went to town with all her DIY and handmade projects, creating the cake herself, the flowers, her hair and make up and decoration, while drafting in friends to help with other big jobs such as the catering. It goes to show that you don't need a massive budget to have the wedding you want. Thanks to HoneyBee Photography for the images.
'A 'rustic, romantic and vintage' theme with a very relaxed, child-friendly atmosphere and packed full of DIY details and a festival vibe!'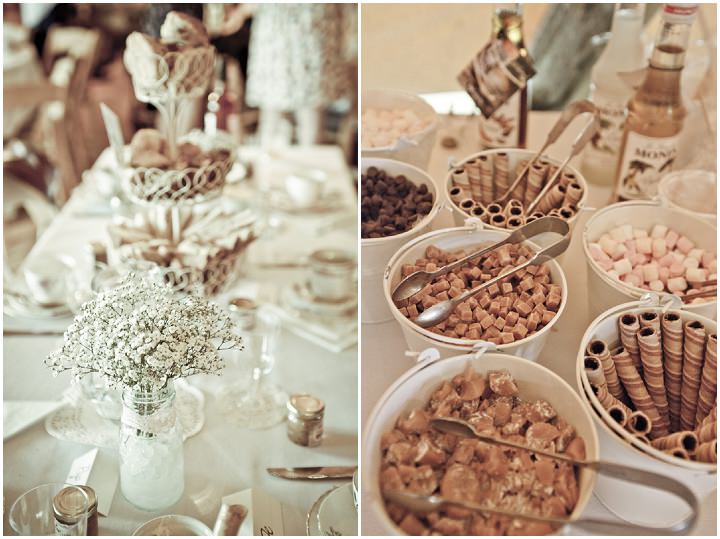 Gem and Tim were married on 17th August at Puriton Village Church, then a field in Puriton, in Somerset. 'Tim grew up in the village, and we've lived in the village together for four years. Also, Tim's dad is Head Bellringer for the church- it also was a bonus that the church is really old and therefore beautiful! We fell in love with tipis very early on in our planning and were willing to make sacrifices elsewhere in the budget if it meant we could have them for the wedding. We had around 80 guests for the ceremony and tea party and around another 50 for the evening reception. We were engaged for over 2 years, but only set a date and cracked on with planning the wedding around 6 months before the big day.'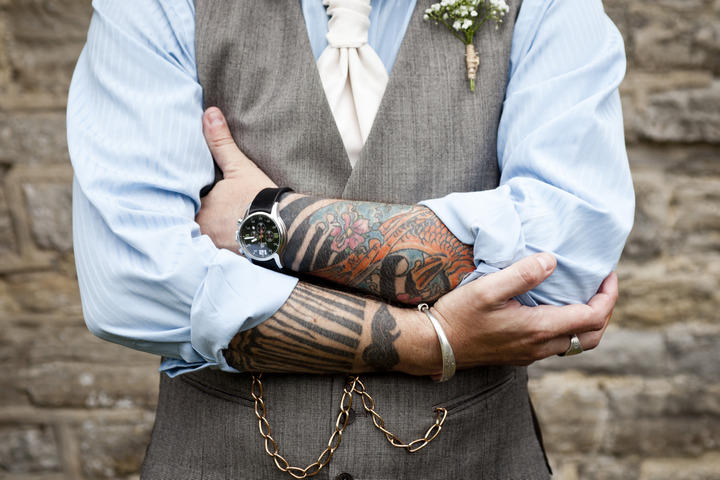 How they met
We've been together for five years. We lived five hours apart- Tim in Somerset, me in Suffolk- but met through Festival Branch of Samaritans- we were both volunteers & travelled to festivals talking to festival-goers who were in need of a listening ear. Tim invited me to stay with him one weekend, and that weekend we fell in love- we got to the train station for me to travel home & both decided we couldn't say goodbye, so decided I've move in with him that very day! I resigned from my job via email the next day and we never looked back!
The proposal
It was Easter Sunday, and Tim told me he'd hidden an Easter egg somewhere for me to find. He led me round the house telling me if I was getting hotter or colder. We eventually ended up in the garden where a trowel was sticking out of the vegetable patch. I dug up a massive box & was very excited at the prospect of a massive Easter egg- but instead of an egg, there was a small ring box! I turned around and Tim was on one knee. We both cried!
How did you allocate your budget?
We were very lucky that our parents helped us financially. We were determined not to get in any debt so our budget was £8,000 (half of which went on our fabulous tipis!)
Why did you choose your photographer?
Sarah at HoneyBee Photography is a very good friend of mine, which meant she knew our personalities well and we felt really comfortable with her. Aside from that, her style fitted our theme perfectly- we weren't too bothered by having traditional portraits but wanted somebody to really capture the feel and emotions of the day and all the little details we had worked on. Sarah did such an incredible job and we have so many stunning photos to remember our day by.
The dress
My dress was by a UK designer based in Cheltenham, Cocoa Couture. I actually bought it from a standard bridal shop in Cheltenham, who had been sold some dresses from Cocoa Couture that were bespoke dresses needing repairs. I knew I wanted something to fit our vintage theme and as soon as I tried it on I knew it was The One. And it was a bargain at just £300!
My earrings were my 'something borrowed' from a friend, my veil was from eBay and my necklace was also from eBay- only £2.99! My shoes were cream crochet wedges from New Look.
The suit and bridesmaids
Tim's and the best man's suits were from Matalan. The four bridesmaid's wore pink lace dresses from Next, and our son River's outfit was also from Next.
Theme or colour scheme
Our theme was 'rustic, romantic and vintage' with a relaxed festival feel and our colours were pale pinks, ivory and white. Our tables were named after festivals, since we met working at festivals.
Flowers
I had grand plans to grow my own wedding flowers, and planted lots of gypsophila seed as did a green-fingered cousin. However, mine didn't produce a single flower and Tim's cousin's flowered a couple of weeks before the wedding and were no use! So I ended up ordering them from Triangle Nurseries, an online wholesaler, and made the bouquets, buttonholes and decorations on the morning of the wedding.
Decoration
An amazing friend made us 100 metres of bunting which we hung up inside the tipi. We also had fairy lights wrapped around the beams and uplighters on dimmer switches. We wrapped lace ribbon around jam jars and used them for floating candles and gypsophila flowers, and had lots of chill out furniture including bean cubes, floor cushions and low tables. We spent 2 years collecting vintage china and teapots from charity shops and car boot sales, and they looked so pretty on the tables.
Buy or DIY your Stationery?
We made all our own stationery.
Food
We hired an ice-cream trike- VeeDoubleMoo- to serve yummy ice-cream when everyone first arrived at the tipi from the church. Instead of a traditional wedding breakfast we opted for a vintage tea party. One of Tim's cousins made lots of delicious sandwiches, Tim's mum made lots of scones and Tim's aunt made some yummy fruit loaves- all served on white three-tier cake stands in the centre of each table. There were also small baskets with tea bags, coffee sachets, fruit tea bags and hot chocolate sachets on each table, with vintage tea pots filled with hot water.
We have everything we could want in life so we asked guests not to buy us a gift but to bring a plate of their favourite dish to our reception buffet. We had some amazing dishes!
We also had a sweetie table and a cake buffet table- I made some rustic cakes and a friend made sweet canapés. For the evening we made a hot chocolate bar with various toppings in enamel buckets. It was a real sugar-fest!
Wedding cake
I make wedding cakes for a living so I made my own cakes. I went for ivory, pink, peach and coffee colours and detailed them with roses, peonies, buttons and vintage-inspired piping. I didn't actually have a clear vision for the design until I started decorating them the day before the wedding! They were displayed on a cream dresser that usually lives in our kitchen!
Entertainment
On our RSVPs we asked everyone to name their favourite song. We put them on an iPod playlist with all of our favourite songs and borrowed the best man's PA system. I also have three friends who play in different orchestras- two in Scotland and one in Swindon. They all planned a surprise mini-concert on Facebook and played some Ceilidh which got everyone dancing!
Personal and handmade touches
Us: Stationery, flowers, cakes, hot chocolate table, sweetie & cake buffet tables, kids activity packs, jam favours, suitcase table plan, all the china bought from car boots & charity shops, I did my own make up, basket with pashminas and slippers, lots of kid's games in a Kids Chill Out Tent, bathroom baskets with lots of essentials like plasters, hayfever tablets and tic tacs, toddler snack table.
We also made a large breakfast hamper for all the campers with instant porridge, mini cereal packs, fruit, croissants, brioche and cereal bars.
Relatives: All the tea party food, wedding signs.
Friends: Bunting, PA system, iPod playlist, helping set up & decorate the tipi, playing live music, making sweet canapés, making photo booth props, videography.
We bought an old suitcase & re-lined it with wallpaper to make our table plan. We bought vintage postcards and mini wooden pegs and hung up some twine for people to leave messages for us with, as an alternative to a guest book.
A small mishap on an online grocery shop- when I accidently ordered 8 punnets of kiwis instead of just 8 kiwis!!- led to me making miniature pots of spiced apple and kiwi jam as favours.
We used a big 8-man tent as a Kid's Chill Out Tent- one compartment had a sofa bed and duvet in it, and another was a nappy changing area. A quarter of our guests were under 12 so keeping the kids happy was a large focus for our day!
We also hired a vintage sun canopy from a local wedding props company and a friend made lots of props to turn it into a photo booth. It was so successful that the company have started promoting it as a photo booth!
Special moments
We took our son, River, home to bed at his usual time of 6:30pm. The drive home was lovely to just have a few minutes together as family to digest the day. We also sneaked into the field into opposite our house for some photos, which turned out beautifully.
My favourite moment was probably walking into the church- I had been dreading it for weeks as I absolutely hate being the focus of attention and the thought of everyone looking at me terrified me!- but once I got there I was just so, so excited to be marrying Tim that all my nerves miraculously vanished! Tim's speech was amazing too and made everyone cry!
Advice for other couples
We faced some criticism for planning an 'alternative' wedding- mainly for not having a traditional venue and meal- but everyone was blown away when they saw it. Stick to your guns! It is your wedding and it represents you as a couple, so it should reflect it. Make it as personal as possible!
Also, do not fret about the weather! I think I checked the forecast every hour for three days before the wedding (torrential downpours were due.) On the day, there were showers on and off but we were so happy to be married that we really didn't care.
Everyone says it, but the day really does go so quickly- try to snatch a few moments just the two of you to soak up the moment.
Biggest surprise
There were three; the fact it didn't rain all day as predicted, that our friend who did a read a poem that we love in the church had managed to get the author to send us a signed copy congratulating us on our marriage, and my three musical friends forming a band for one night only and surprising us with an amazing concert!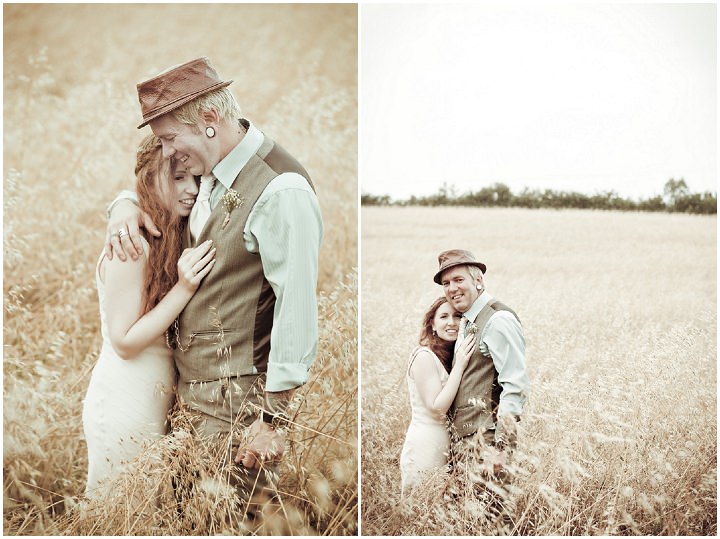 Supplier Shout Outs