Today we are in sunny Somerset for the gorgeous laid back wedding of Gemma and Darren, courtesy of  Special Wedding Day Photos. The couple wanted a wedding that was budget friendly, personal, and expressed their love of the outdoors. The results are this super relaxed, outdoor woodland wedding, with a load of DIY projects. They kept the costs down by doing a lot themselves, from the flowers to the decor, to the stationery, this really is a DIY heavy wedding, as well as being so chilled and totally relaxed. Perfect for any Boho bride and groom.
Relaxed, informal and loads of fun. We enjoyed every minute, including setting the venue up the day before to taking everything away again on the Sunday.
Gemma and Darren were married on the 8th July 2017 (and 19th August 2017!) in a blessing and reception at Streamcombe Farm, Dulverton, Somerset in July, and a legal ceremony at Hasting Town Hall in August. 'We wanted something that was relaxed and informal and subject to weather conditions – outside! When we visited Streamcombe it was pouring with rain and we still loved it. The venue is a beautiful woodland, with wildflowers, gardens and a stream. We love camping and wanted an outdoor, back to nature wedding (compost loos and outdoor showers included!). There were 52 guests including us. We got engaged in 2014 and started planning from then. Things were put on hold for about a year when Gemma's best friend was diagnosed with terminal cancer and passed away very suddenly. So over all it probably took about a year to plan.'
How they met
We met on a ferry coming back from France. Had a 16hour long first date in Bristol and have been together 6 years before we got married.
The Proposal
Darren has actually proposed 3 times! Third time lucky! We were in Northumberland looking for Red Squirrels and Darren proposed to me in a bird hide! (and I finally said yes)
How did you allocate your budget?
For us the most important thing was the venue and food. This was where the majority of our budget went (about 60%).
Where did you splurge and where did you save?
The venue and food was our splurge at 60% of the budget.
We tried to save pretty much everywhere else. I bought my wedding dress in a sale at Monsoon for £50. Our friend did a blessing for us. We dried our own flower petals for confetti, we made our own bunting, candle holders, vases, paper chains and origami birds for decoration, we grew our own flowers for the vases (bulked up by a few from my Mum's local grocers). We made our own save the dates and invites. Gemma's sister made the most amazing wedding cake, we made our own playlist with over 5 hours of music and Darren made a trip over to France (his dad and sister both live there) to stock up on wine, beer and bubbly. We even had a live performance from my Dad and his best friend (joined by Ian from Streamcombe) on guitars and harmonica!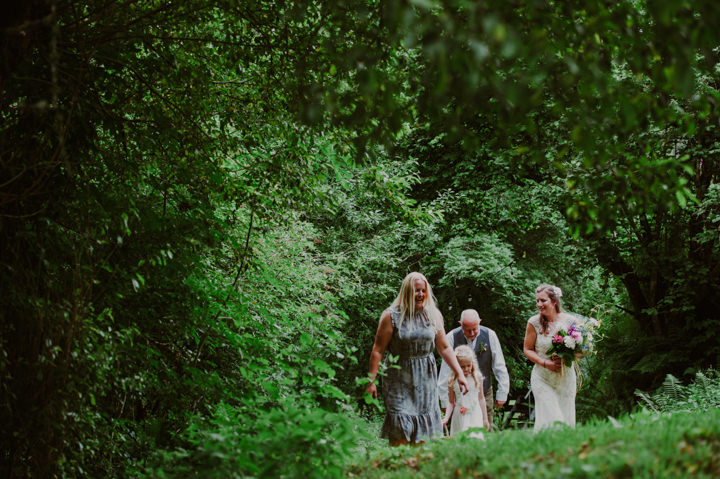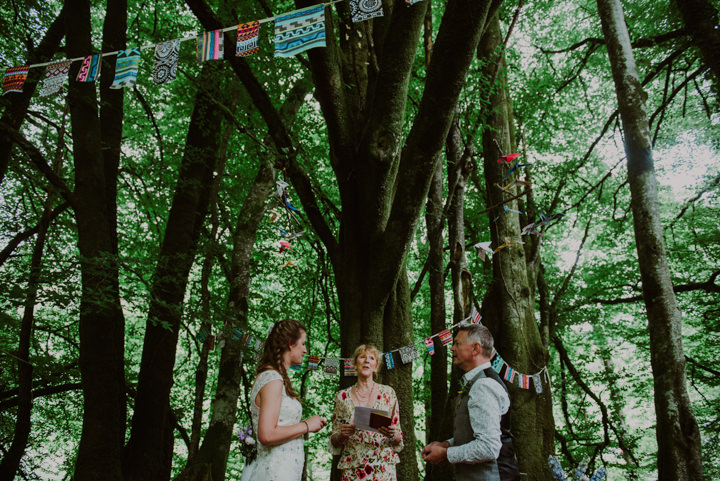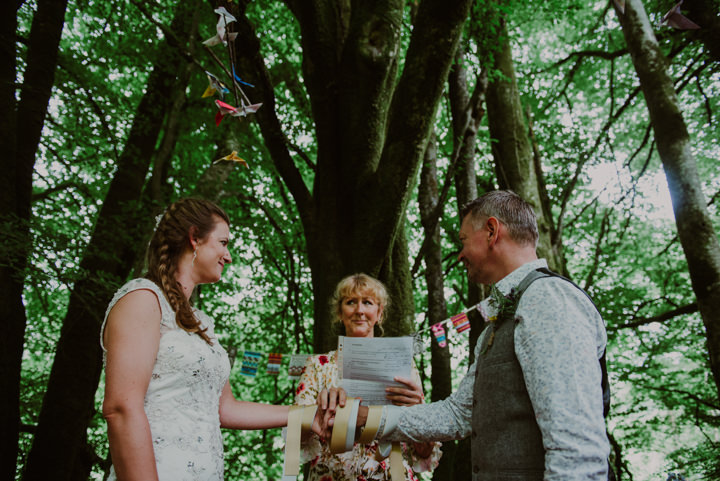 Why did you choose your photographer?
I am a keen hobby photographer and so having beautiful photographs as lifelong memories was important.  However – We had a limited budget so we needed value for money too. We wanted natural looking photos and found Anthony's site firstly by googling local photographers in the Devon/Somerset area. We got it down to a choice of two and Anthony was luckily available (as it was also reasonably short notice!)
The Dress
Dress was Monsoon – Isabella. Shoes were Topshop, I had a flower head piece that was my mums from her wedding, handmade silver earrings from The Blue Room in Nailsea, and a bracelet that belonged to my best friend who passed away.
The Suit and Bridesmaids
Darren didn't wear a typical suit. He had dark green trousers from Racing Green, a shirt from John Lewis, a waistcoat that he already owned and shoes from House of Frazer. I had my sister as a bridesmaid –her dress was from Laura Ashley. I had one flower girl – I bought her dress from Etsy (it was shipped from the states)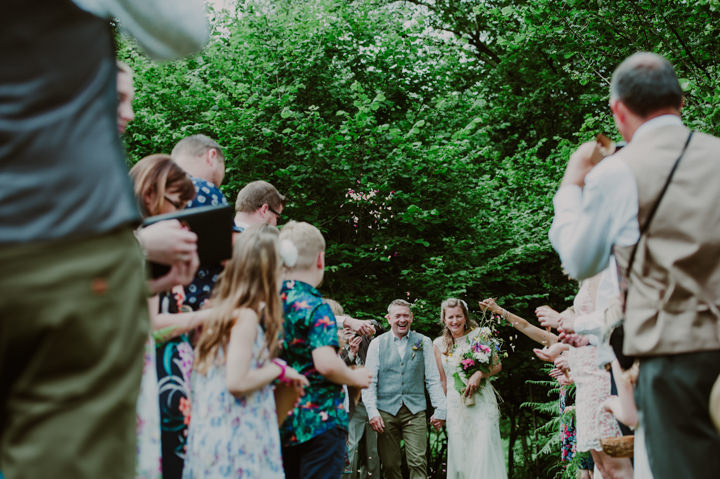 Theme or Colour Scheme
Colour scheme was pretty much all colours apart from black! Basically summer colours. We also had a vague theme of travel and maps.
Flowers
Mixed flowers (some native wildflowers) all grown in mine and my mums gardens! Our favours were little envelopes of wildflower seeds from Emorsgate.
Decoration
We hand made the decorations – old glass bottles cut into candle holders and vases. Paper chains. Square bunting.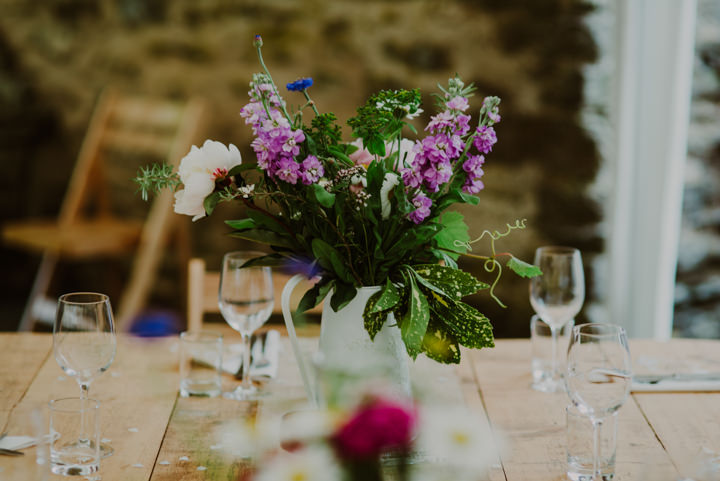 Food
Luxury bbq provided by Karen and Ian at Streamcombe
Wedding Cake
Chocolate, Chocolate and orange, Chocolate and raspberry, chocolate and banana covered in edible flowers and handmade wildlife by my sister.
Entertainment
Music playlist played on a speaker system at Streamcombe, Garden games (e.g. croquet and swing ball) and a piñata! The kids all played with the chickens at Streamcombe too.
Stationery
We made our own.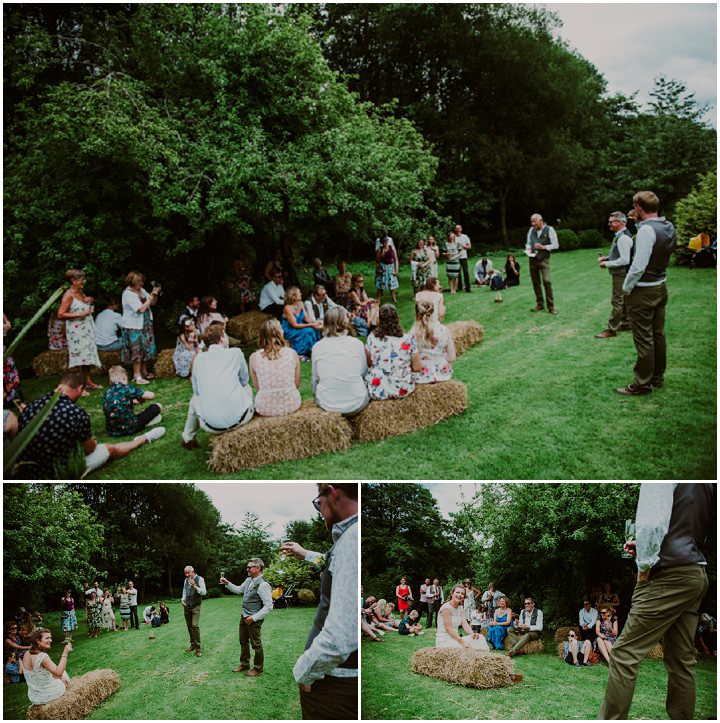 Special Moments or Highlights
The blessing in the beech woodland, the food, games, sunshine and dancing.
Advice for Other Couples
I wanted a relaxed day and I wanted to enjoy myself. The main stress came from trying to hard to keep everyone happy. So my main tip is – do what you want to do. Make decisions. Book stuff and stick to it. Keep a hold of your budget. And then relax! Even if it goes wrong you'll still have fun.
Biggest Surprise
How much everyone helped out on the day.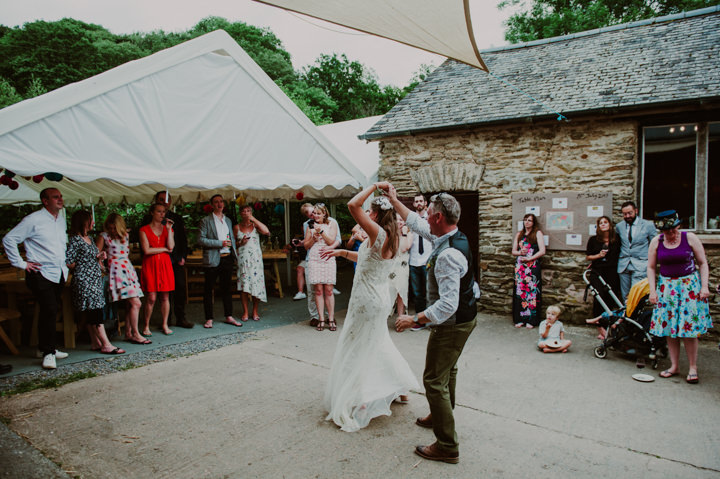 For more information about Anthony's work go to:
www.specialdayweddingphotos.co.uk / specialdayweddingphotos.co.uk/category/latest-wedding / [email protected] / 07974674024 / FACEBOOK / T: @Ant21Lyons / I : @specialday.weddingphotos / PINTEREST
My name is Anthony Lyons and I live on the the edge of Exmoor in North Devon. I offer a relaxed documentary style of wedding photography. I like to capture the fun, love, laughter and plenty of emotion from the day as it unfolds
Due to an email issue if you have emailed me between the 2nd & 9th of December, please resend it.
X