Happy Monday everyone, I hope you all had a wonderful weekend? Was it sunny where you are? We managed to grab a bit of sunshine, which was lovely, trying to make the most of any excuse to go outside at the moment, as I'm sure Autumn will be knocking on our door very soon! I am starting the week with this lovely English country wedding that took place at the brides parents' back garden, making it super personal and even more idyllic. They wanted a rustic theme and with this they really went to town with the decor, from the beautiful blooms to the wicker baskets and super pretty signage. I just love the Tipi reception, the 4 tipis together look magnificent in the garden setting, so summery and quintessentially English! Sarah and William have created a wonderful looking day and really looked after their guests with an abundance of food and drinks. Joe Mallen Photography was there to capture the day for us.
A day filled with love, laughter, great food, live music and plenty of booze! Our wedding ceremony was traditional and took place in the local village church, celebrations took place in the Bride's parents garden in a giant tipi with an English country garden/rustic theme!
Sarah and William were married on 25th May 2019 at All Saints' Church, Tilford with the reception in Sarah's parents' garden in Tilford. Sarah has always dreamed of a wedding in the garden and both her parents built their own house so it was extra special to have it there. Sarah's parents are also unwell with cancer, mother of bride terminally ill and it was therefore extra special that we were able to have it at home. We had 160 guests in the day, 180 in total in the evening, it took 17 months approx to plan.
How they met
We have been together for 5 years. We met on a blind double date in London! Sarah's friend was dating Will's friend. Will was meeting his friend for a burger in Clapham and Sarah's friend basically invited herself along. They agreed to her coming if she brought a friend for Will; that reluctant
friend was Sarah! We were together essentially from that day onwards.
The proposal
Will proposed in Kuala Lumpar on New Years Eve on a rooftop. It was a huge surprise. We then travelled to Vietnam for 2 weeks.
How did you allocate your budget?
Budget went a bit out the window but we prioritised the tipi, food, open bar and live band as we knew these elements would be important to set the atmosphere.
Where did you splurge and where did you save?
Splurged on food and booze, saved on the rustic touches which we made e.g. flower jars, signage. We also saved on not doing wedding favours; no one ever takes them and if they do remember to take them, they are hardly ever used. We used a company called VM Bespoke to machine cut the place names in wood; they were about £1 each or less, as I used them when they had a special offer on. Guests then took their own wooden name home instead of a pointless wedding favour! The wooden names went well with the rustic/tipi theme too.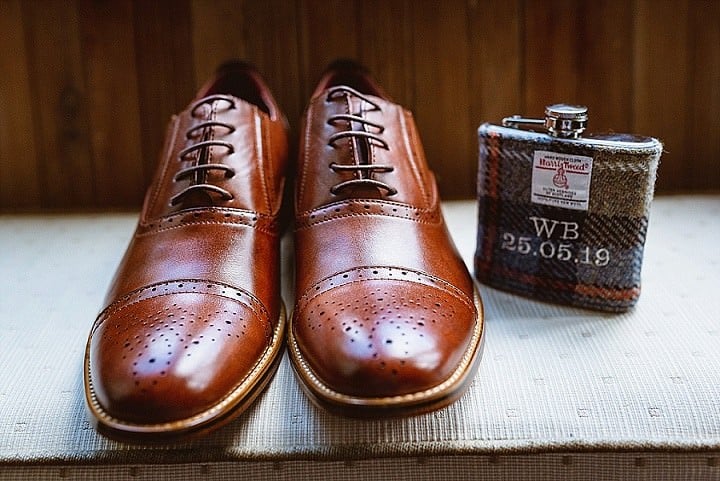 How did you choose your photographer?
We googled and then followed on instagram.
The dress
Stella York (dress), accessories including hair vine was Ivory&Co and shoes were office.
The suit and bridesmaids?
Bespoke suit for groom (Black Tie tailors in Crowthorne) and groomsmen suits hired from same tailors. Bridesmaid dresses are from Victoria Lou (online store, many colours to choose from and all one size, only alterations were to the length of each dress).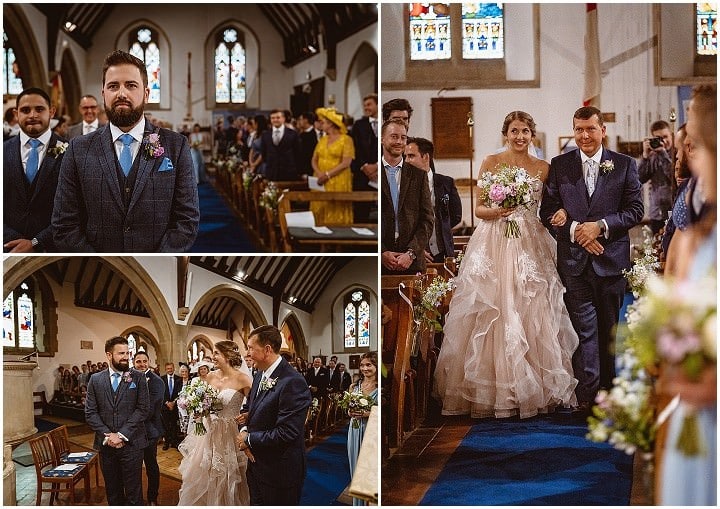 Theme or colour scheme?
Rough colour theme of English summer country garden, with light blue. The flowers were pinks, greenery and hints of the light blue that the bridesmaids were in.
Flowers 
Flowers were by Lavender Hill Company in the Bourne, Farnham. We went for rustic, hand tied, lots of greenery and herbs with pinks and blues. We had giant milk churns filled with flowers including delphiniums to decorate the venue, flowers on each table in little glass jars and some flowers in other props e.g. an old bicycle. We wanted a relaxed, rustic, country feel.
Decoration
We used lots of baskets, trunks and hampers we had and decorated these with dried hops, which were also hung in the tipis. We had fairy lights in the tipis too (provided by the tipi company). We had wooden hearts and other wooden rustic bits which I picked up cheaply from shops such as the Range. We used colourful bunting to decorate the top table and various homemade signs around the garden.
Food
Our caterers (Nyama) were fab! They cooked the food on South African Braiis so guests could smell it when they arrived, we went for the platters on each table option so we had shared salads, potatoes, bread etc then a meat board of picanha steak and piri piri chicken; the food went down brilliantly as people could take as much or as little as they wanted, and each table was asked if they wanted seconds of anything. We also had desserts. In the evening, Nyama set up a pizza oven area and cooked three types of pizza – that was very popular! We also had canapes during the drinks reception earlier in the day, again by Nyama. We couldn't recommend them enough as a company, brilliant service and food considering how many people they were catering for.
Wedding cake
We had our cake made by Cakes by Nina in Camberley. It was expensive but worth it. We had a bespoke cake made to look like a birch tree with flowers and mushroom decoration to match the flower/colour scheme. We both love owls (weirdly) and had sugar owls made for the topper to the cake by Nina. We have kept all the beautiful sugar flowers. We had different cakes in each layer, cookies and cream was one of them – all delicious and again went down well with the guests.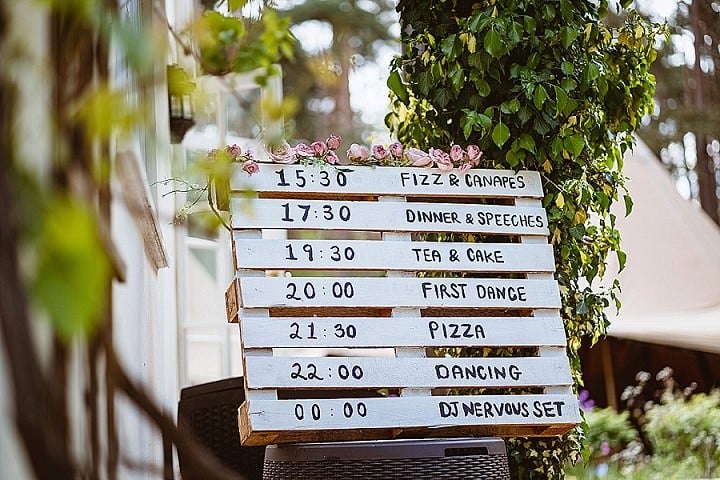 Entertainment
We had a singer and guitarist in the Church to play music as guests arrived and then they came to the reception with us to play background music during the drinks reception. They also did the song we walked out to (Etta James – At Last)! They are called 'Melissa and Reece Music'  In the evening we had a band called 'The Nameless Three' which were absolutely incredible! We have had so many guests asking how we found them. We paid a bit extra to add a trumpet player to the ensemble as Sarah plays the trombone. They were fab and the atmosphere was incredible – Sarah got up on stage (unplanned) with a trombone her mum had found in the loft and played with the band and sang too. We found the band on the Alive Network.
Who supplied the stationery?
A friend of Sarah's brother, called Abby Cook, is an illustrator working out of her home studio. She has just started doing wedding stationery and designed all of ours. We had invitations designed with a cut out of a tipi shape and handpainted flowers to match the bouquets. Once Abby had designed the invite, we used this for other elements of the stationery e.g. our table plan was golf course themed (as Will loves golf) but with the same flowers and hops border as on our wedding invitations. We also used this design for the Order of Service Booklets. Abby charges by the hour for the designs and then arranges printing through her printers; it wasn't the cheapest option but we liked the idea of supporting a new small business and having a bespoke design.
Personal touches
We made our own wooden signs e.g. for the bell tent we slept in on our wedding night (which had a double bed in, from Beautiful World Tents, same supplier as the tipi). We came up with the idea of the golf themed table plan and the tipi cut out on the invitations. We did pretty much everything ourselves in terms of organising because it was a wedding at home we didn't have an event organiser or hotel manager to help. That meant we had to hire a generator for electricity, toilets and even table cloths! There was a lot of admin involved.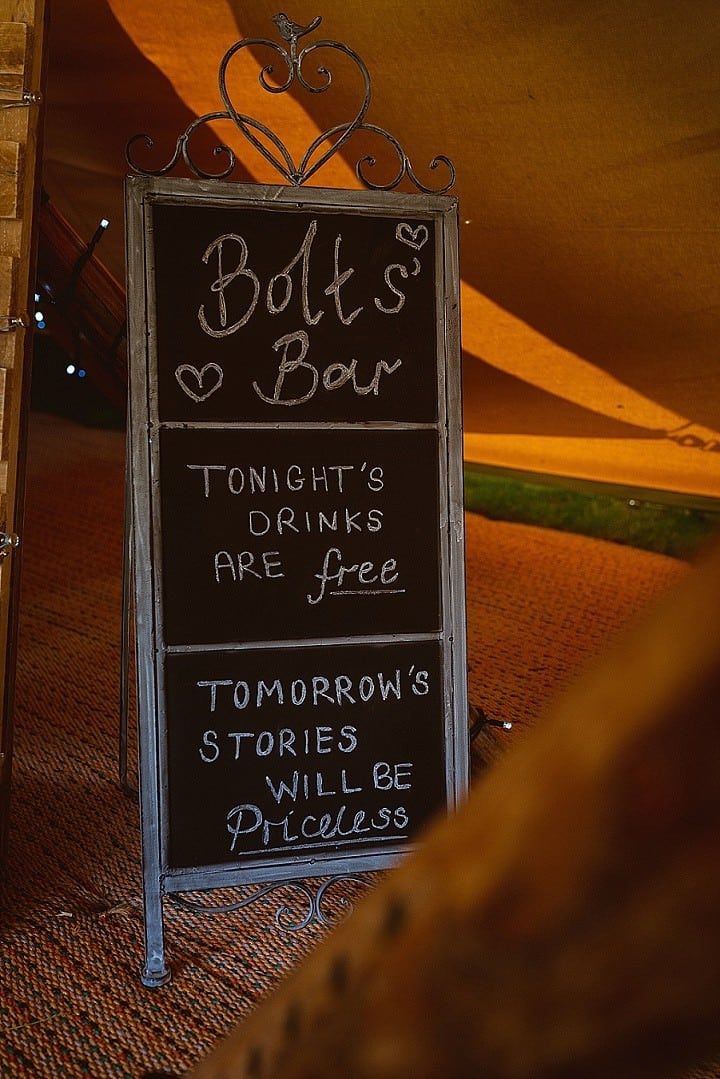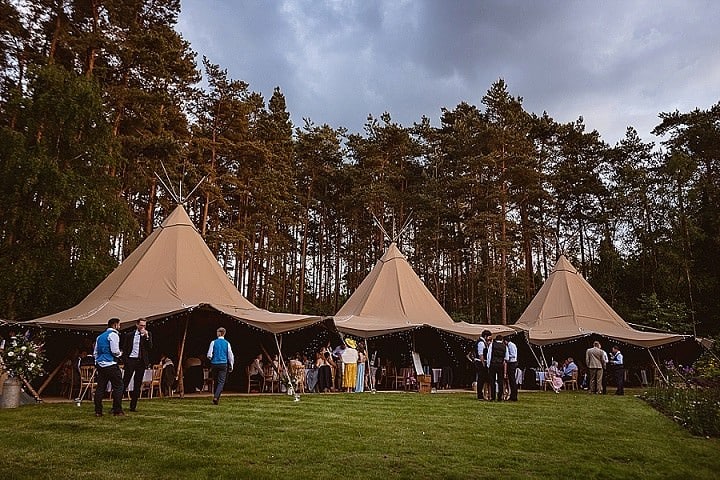 Special moments 
All of it! Getting married and walking down the aisle hand in hand. Our photoshoot at Frensham Ponds afterwards. The speeches, the dancing and just having everyone we loved with us. We felt like celebrities the whole day.
Advice for other couples
Life's too short – go for it, but be sensible – what do you guests really want? They don't want expensive and pointless wedding favours, and they probably won't look too hard at ornate large floral arrangements, but they will want free booze and delicious food. Prioritise. Try and inject your personality into your day – we love food and drink, we both enjoy public speaking and we love a dance – we therefore focused on these things and loved that the tipi gave us the flexibility to do what we wanted in a relaxed environment. And, brides – do a speech! Why should the man do a speech on your behalf, its 2019 and I can bet you do most of the planning for your wedding…. oh and Etsy is your best friend.
Biggest surprise of the day
Just the feeling you have the entire day, you feel elated, like a celebrity, like you're in a bubble of pure bliss – you can imagine it but the feeling is beyond your wildest dreams. We had the best day of our lives and made very special memories.
Supplier Shout Outs
For more information on Joe Mallen Photography go to
www.joemallenphotography.co.uk / [email protected] / 07737186311 / FACEBOOK / INSTAGRAM

For me, weddings are about the people and the coming together for a unique one off occasion of epic proportion.  I try to capture the emotion, the love, the laughter, and the whole awesomeness of a wedding day in pictures that tell a story through a combination of documentary and creative photography.

[jprel]