When today's fiance Iain proposed to his lovely girl Frances, amongst the flora and fauna of the Cambridge Botanical Gardens, it was then only fitting to continue the English country garden theme and hold their wedding in the beautiful gardens of his family home. So it gives me great pleasure to share this wedding with you today. With photography by Pam Hordon, an abundance of homemade, personal touches created by the bride and her mum and all set in a stunning English country garden.
'It was an English country garden wedding, intended to have lots personal touches. The bride (me) and mother of the bride made all of the stationery and table decorations; Iain's parents tended to the stunning gardens. It was a real family affair.'
Frances and Iain were married on 21st June 2014 with their ceremony at All Saints' Church in Rothbury, Northumberland – the Camerons' local church and the reception in Iain's parents' garden in Rothbury. "Iain's parents have a fantastic garden with a stunning long drive. We thought it set the scene for an English country garden style of wedding perfectly."
How they met
We were introduced by a university friend in 2005 in Cambridge. We started dating in 2006 after a very long and flirtatious set of Facebook messages. I presume we were some of the first Facebook users in the UK. It only took Iain 7 years to propose!
The proposal
Iain proposed in Cambridge Botanical Gardens with a bottle of Champagne and picnic blanket hidden by the staff. This is where we had one of our first dates (also a picnic) when Iain came to visit me at University. Actually, the staff at the gardens have since sent us a lovely letter asking us to write about Iain's proposal in the gardens for their records. I think that they were touched that Iain chose to do it there.
How did you spend your budget?
We decided to blow out on the amazing tipis provided by Kate and Dave Lowe at Special Event Tipis (who were fantastic) and try to save money by making a lot of the decorations. It was well worth the investment as everyone commented on how fantastic the tipis looked, especially in our setting. I am not sure how the cost would compare to an ordinary white marquee because once I'd seen them I was hooked!
Why did you choose your photographer?
Pam Hordon was our photographer. We'd seen her work at our friends' wedding last year and were so impressed by: (i) how calm and unassuming she was on the day letting everything run naturally; and (ii) how amazing her photographs were. She was fantastic and the photos have proved to be exactly what we were looking for – very natural.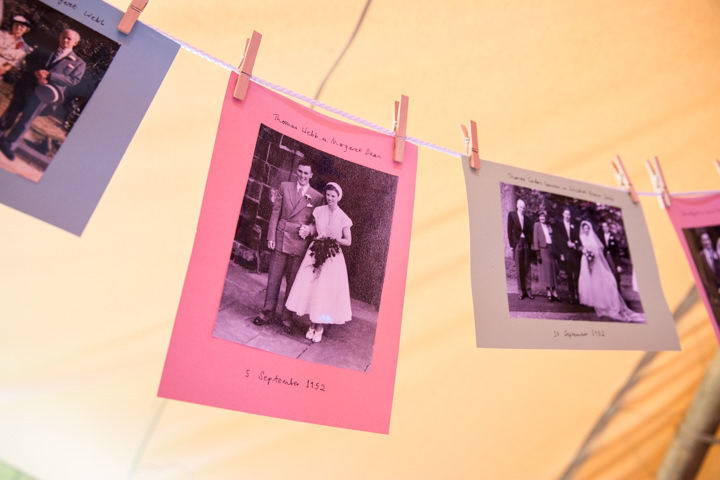 The dress and accessories
My dress was Alan Hannah. The accessories all came from Wedding Belles of Otley who, again, were really lovely and helped me out with all the details. My shoes came from Rachel Simpson.
The suit and bridesmaids
Bridesmaids' dresses were Dessy. Suits were provided by Blades, Blagdon, Northumberland.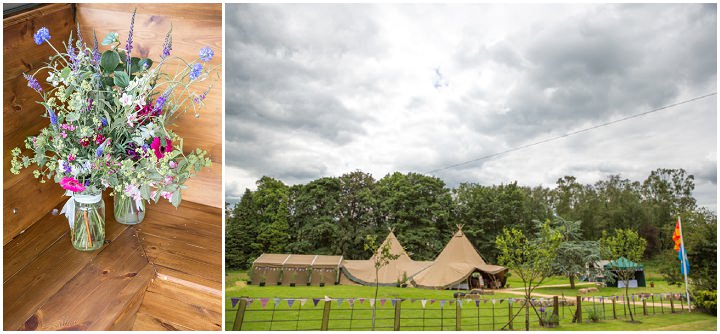 The theme
English country garden. No colour scheme – as I'm fairly arty and I wanted tonnes of different colours.
The flowers
Sarah at Flowers and Foliage in Rothbury supplied the flowers for the church and arranged the flowers for the reception. She did a fantastic job. She used various purples/pinks/creams/greens to make the flowers look like they came straight out of the garden. I even had Scottish thistles and herbs. She put the flowers in big old Kilner jars for the tables. Two ladies in the village (Margaret Sinclair and Frances Smallman) along with 4 other helpers from church spent the Friday before the wedding arranging the flowers in the church and, again, were just brilliant. They did lovely pedestals and also wound the flowers up the screen by the choir stalls.
The decoration
Bunting (600m made by my Mum, her friends and my Grandma), twinkly lights, homemade signs, homemade lavender tealights…I could go on.
The food and wedding cake
Food was provided by Neil Wilkins at Wilkins Fine Dining – he was brilliant and so attentive! He remembered all the tiny details (such as I wanted a veggie starter because I love goats cheese!). The waiting staff he used were amazing, the food looked incredible and was cooked to perfection. It was an impressive feat to cook 132 duck breasts to perfection in a tent!
Mixed (delicious) canapes including mini Yorkshire puds (as I am from Yorkshire).
To start:
Salad of Cured Ham Hock, garden peas, radishes, baby carrots and Fennel
Goats' Cheese Tartlet with Red Onion, spinach (v)
Then:
Honey Glazed Duck, sweet potato Puree, five spice sauce, fondant potato, and roasted leek
Puddings were mixed miniature cakes provided by Great British Cupcakery in Newcastle. Also fantastic.
The cake was three tiers and made by my mum!
The entertainment
We had the Wannie Liners choir, who sang Northumbrian songs as we signed the register.
The Vieux Carre Jazzmen played wonderful 1920s jazz during the reception
Real to Reel ceileidh band in the evening, followed by a DJ
Again, I sound repetitive but, both bands were absolutely fantastic and the choir made the service perfect.
The jazz band fitted perfectly into the relaxed English country garden theme. The celeidh was a fantastic way of getting everyone up and dancing from the beginning and really appeals to all ages. We had an 8-year-old and 75-year-old dancing to the same music!
Buy or DIY your stationery?
I made everything myself.
– For the save the dates, I did a little ink drawing of Iain's parents' house.
– For the invitations, I did a drawing of Rothbury church.
– For the favours I did three drawings of Northumberland and three drawings of Yorkshire, these were then converted into postcards. Iain's from Northumberland and I am from Yorkshire so we thought this was a great personal touch. I bundled the postcards up with a little ribbon and brown luggage label for the place setting.
Any personal or handmade touches
Almost everything!
– Save the dates
– Invitations
– Favours
– Table plan
– Parents' garden
– Polaroid camera with a guestbook and homemade props (none of this expensive photobooth malarkey!)
Special moments
– Clearly, the church service was very special. Rev Michael Boag was fantastic and really made the service personal.
– All the local villagers lining up outside the church to wave me in and out of the church.
– Iain's elderly cat (he got as a teenager) wandering down to the tipi to have a look inside.
– Iain getting lavender confetti thrown straight into his mouth by an over-enthusiastic confetti thrower.
– All four parents dancing in the celeidh with us!
Advice to other couples
Take on advice from other people but, ultimately, go with your own tastes and don't let everyone else tell you what you should and should not do. It's important that it reflects your own personalities.
Biggest surprise
Just how it really was the best day of my life. I know everyone tells you it will be but I don't think I quite appreciated what that meant until it was over.



Supplier Shout Outs:
For more information about Pam's work please go to:
web: www.pamhordon.com
email: [email protected]
tel: 07557 415130
FACEBOOK 
@pamhordonphoto