Today I am taking you off to Hertfordshire for this gorgeous barn wedding courtesy of Hayley Pettit Photography. Victoria and Joe had their hearts set on a barn wedding and when they first saw Milling Barn they knew it's beautiful rustic charm would be perfect for their day. They created a 'Rustic Botanical' ceremony area, followed by the most gorgeous reception, filled with fairy lights, hanging decor and lots of personal details. With a wedding breakfast of burgers and mac and cheese, followed by a super pretty doughnut wall, they kept the celebrations laid back and relaxed. As for Victoria's stunning Temperley wedding dress, she looks amazing!
A truly magical and unforgettable day to mark 10 years of love and forever together. Every inch of that venue, every tiny detail, it all represented the two of us so perfectly
Victoria and Joe were married on 17th November 2018 at Milling Barn, Buntingford in Hertfordshire. 'It absolutely had to be a rustic barn, where our ceremony could also take place and the mezzanine completely stole our hearts! We had 110 guest and it took 14 months to plan.'
How they met
At the age of 15, we met in a train carriage from London to Staines on our way to Thorpe Park. It was inevitable that we would one day cross paths as we attended the local boys and girls school in Finchley. Fast-forward 9 years and Joe proposed, a day I never saw coming! And we've now been together for almost 11 years!
The proposal
On our 9th year together, we planned a 10 day trip travelling around our favourite country, Italy. Our final destination was the beautiful city of Florence, where we spent three days. On our first night in Florence, Joe insisted we climbed a very steep hill to get to a beautiful view of the entire city during sunset. Of course, I moaned my whole way up, questioning if this view would really be worth it! When we finally got to the top, the sun was almost setting and Joe went to grab us an Aperol Spritz. On returning, we found a wall to sit on, overlooking the entire city. Joe asked a passerby if they would take a photo of us on his camera, and little did I know he had hit the record button and filmed what happened next. Whilst I pose for our photo, Joe grabbed the personalised wooden ring box from his pocket and held it out for me asking "Will you marry me?" I did eventually say "yes" when I'd finally got over the shock. I then called our parents and best friends to tell them what had happened. We went for dinner and spent the entire evening talking about our wedding plans!
How did you allocate your budget?
'Budget' is not really a word in my vocabulary, however, Joe is very careful with money, thankfully (someone has to be)! We hadn't long moved into our first home together, and therefore didn't have huge amounts of money to play around with, however, we were extremely lucky that our parents helped us a little bit when we went over budget.
Where did you splurge and where did you save?
I'm extremely sentimental, so a photographer and videographer were an absolute must for us. We saved by making quite a few of the littler details, such as the place names and limoncello shots for favours, hanging floral hoop decorations and the postbox for our cards. All of these little handmade touches made the day that extra bit special and personal.
How did you choose your photographer?
We found Hayley Pettit on Instagram, as she had shot a wedding at Milling Barn before. We fell in love with her style instantly and knew that she was the one for us!
The dress 
My dress was by British designer Alice Temperley from Notting Hill. I fell in love with it online the day after we got engaged, but never really thought I would end up in it as so many people had told me that you never end up liking the style of dresses you think you like. But this just wasn't the case for me. I absolutely fell in love with it the moment I tried it on, and I really didn't want to love it as much as I did as it was completely out of our budget. My shoes were Manolo Blahnik's in the classic blue, as seen on Carrie Bradshaw in SATC! My floral headband was created by my florist and my pearl headband, worn during the ceremony, and fur shawl were from Lace and Favour. I cannot recommend this shop enough for accessories as they are very, very affordable and have a fantastic customer service.
The suit and bridesmaids
Joe found his suit from an online tailor and my bridesmaids wore beautiful ASOS dresses!
Theme or colour scheme
The bridesmaids wore a sage, vintage green colour, however, we didn't really want a colour scheme running throughout the wedding. Our theme was rustic and botanical!
Flowers 
Wild, yet elegant! Lots of greenery and eucalyptus with some white flowers sprouting through.
Decoration 
Rustic with LOTS of twinkly lights! We loved that the barn was so beautiful that it didn't actual require much decorating, although we did still add some additional lights and decorations to make it personal to us.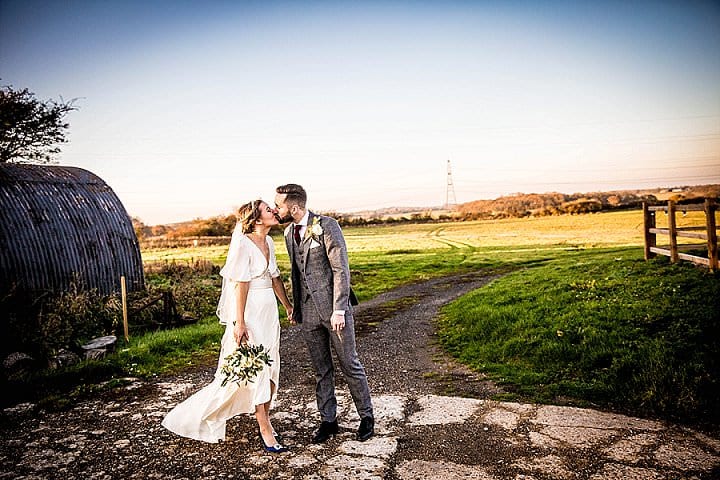 Food
We knew from the moment we began looking at venues, that we needed a venue with  catering team who would be willing to do something a little alternative. We just couldn't serve our guests a regular three course fancy meal, as that just wasn't us at all! Everyone who knows us, knew we'd be serving our favourite, burgers, mac and cheese and fries! These were served on wooden boards in the middle of the table and guests could help themselves as well as jazz up their burgers with various toppings. We didn't serve dessert at the tables, instead we led the guests into the other room for a doughnut wall, sweetie table and ice-cream bike, which surprisingly went down well even in November!
Wedding cake
I imagined a semi-naked, botanical cake, however this wasn't quite what we ended up with, however we didn't let this ruin our day as it still tasted delicious! Our cake was a lemon and elderflower flavour, inspired by the royal wedding.
Entertainment
We had a fantastic band that we had seen at another wedding. It's always best to go off of recommendations or something you've seen first-hand as bands can be very expensive.
Who supplied the stationery?
We found a seller on E-Bay who made our beautiful invitations, however we didn't go too wild, as we decided to use www.gettingmarried.co.uk for the majority of our wedding details and RSVPing.
Personal touches
As well as making the place names and limoncello shots for favours, hanging floral hoop decorations and the postbox for our cards, we named each table after a country we have visited as we love to travel. We also placed little polaroid style photos on mini easels of us on these trips. Our food of burgers and chips was very personal to us, and completely expected by our guests.  We also had a little sparkler send off in the evening, which was so lovely and Hayley, our photographer, captured some gorgeous photos of this.
Special moments 
Everyone gave us the advice that the two of us should find time to sit together and chat, and I remember thinking 'Of course we will!' however this isn't as easy as it sounds! We had just five minutes after our ceremony and photos, to sit and chat before we sat down to eat with our guests, however this time was so precious. We laughed at how overwhelming the day was, panicked at how quickly the time was already flying, and we never wanted the day to end.
Advice for other couples
I spent the weeks and days leading up to the wedding so anxious that something might go wrong, and things did go wrong, however on the day I really couldn't have cared less. You think that minor things will ruin your entire day and they just don't. Our cake wasn't what we were expecting at all, which is something I would have cried about just days before the wedding, however it didn't bother us in the slightest on the day. We were too happy to stress!
Another bit of advise for brides: Use petals as confetti, as this is not damaging to the environment, but do not, I repeat DO NOT use very dried petals, as these got stuck in my hair and when I tried to remove them and messed up my hair!
Biggest surprise 
As lovers of Autumn, we decided November was the perfect time of year to get married, however we knew this could mean cold, rainy weather. We were blessed with the most beautiful, sunny, Autumnal day! We think Joe's grandad, who sadly is no longer with us, was watching over us.
Supplier Shout Outs
For more information on Hayley Pettit Photography & Film go to 
www.hayleypettitphotography.com / www.hayleypettitphotography.com/blog-1 / [email protected] / 07496150659 / FACEBOOK / INSTAGRAM / PINTEREST / TWITTER
We're Hayley & Craig, a team of two photographers based in St Neots, Cambridgeshire.  We're not big on cheesy posing and much prefer capturing natural moments, that have a more documentary/ storytelling vibe!