Today I am taking you off to New York for this gorgeous rustic chic barn wedding. When you think of New York you may automatically think of Manhattan, sky scrapers and a city backdrop, but today I am showing you a different part fo new York, Roxbury to be specific. Alexandra and Nicholas wanted to have a New York wedding but a country one at the same time, so they opted for this rustic chic day filled with elegant decor with rose gold accents, while keeping a rustic edge. The results are this charming wedding day, filled with style, love and embracing the autumn colours around them. Big thanks to Rick Messina Photography for the lovely photos.
Our Rose Gold Rustic Chic New York Wedding 
Alexandra and Nicholas were married on the 8th October 2016 at Stone Tavern Farm, Roxbury, New York. 'I'd always wanted a barn wedding but wanted to be chic and modern at the same time.  I wanted it to be a "NY wedding" while being in the country. We had 200 guests. We were engaged for almost 2 years so the first 6 months all I did was "Pinterest" for inspiration. Once we made the guest list (we both come from very large families), we began searching for "barns in tri-state area to fit 300" and came across Stone Tavern Farm which was rustic but not too rustic. After we found the venue, we just started crossing all other vendors off our list one by one. Nick was in charge of music and transportation and Alex was in charge of… everything else.'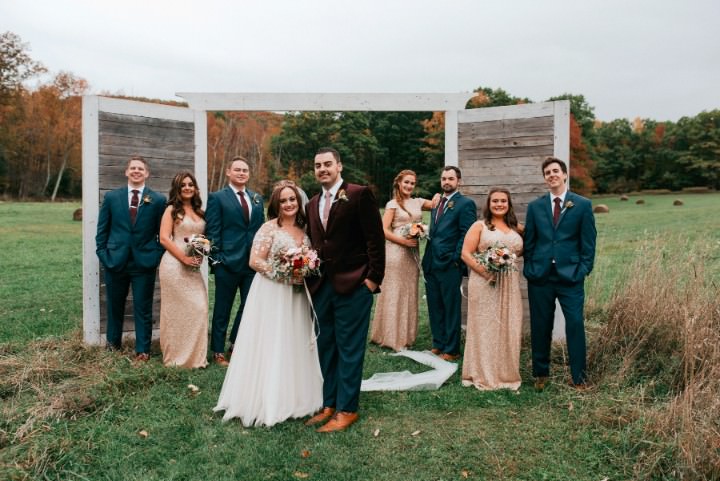 The Proposal
We were having a "day date" to the Brooklyn Brewery and planned to walk from Manhattan over to Brooklyn via the Brooklyn Bridge during the day and from Brooklyn to Manhattan at night so we could get the best of both worlds in terms of views. After spending some time at the brewery, Nick said we had dinner reservations back in the city so we'd better get a move on if we wanted to walk over the bridge one more time. In the middle of the walk, Nick started hyperventilating and saying he needed to sit down because he couldn't breathe. Alex still had no idea what was going on at that point. We sat down together and Nick said that he couldn't breathe because he needed to ask me a very important question. He said will you marry me? and Alex responded with, well I'm not answering until you're down on one knee. Once he moved from sitting to kneeling, Alex started crying and of course said yes! They called their respective parents, switching phones on the walk of the remainder of the bridge. At the end of the bridge we start hearing "Congratulations!" and Alex looks up to see her sisters (read: best friends) and their significant others. Nick had planned that we all go out to dinner and drinks to celebrate our engagement!
How did you choose your photographer?
Rick and Mel Messina – a married couple who really make you feel at ease in front of the camera. We first met them at my older sister's wedding the year before as her photographers. By the end of the wedding we were booking them for our save the date photos!
The Dress
Hayley Paige dress, homemade veil, Etsy headpiece. Because I had used Pinterest so much for inspiration, and I work in the fashion industry, I had a really good idea of what I wanted to wear on my wedding day.  I went to Kleinfeld's with my mom, my 2 sisters, my soon to be mother in law and soon to be sister in law. My dress was the 2nd one I tried on and it was the consultant's pick! I just kept envisioning Nick and I dancing in the barn and that's how I knew it was the one!
The Suit and Bridesmaids
Michael Kors navy blue suit pants, Alfani maroon velvet suit jacket. Bridesmaids wore sequin rose gold dresses of their choice from designer Sorella Vita.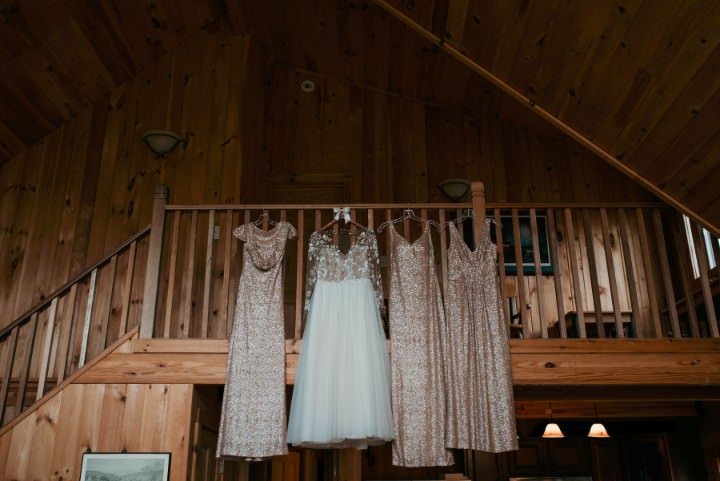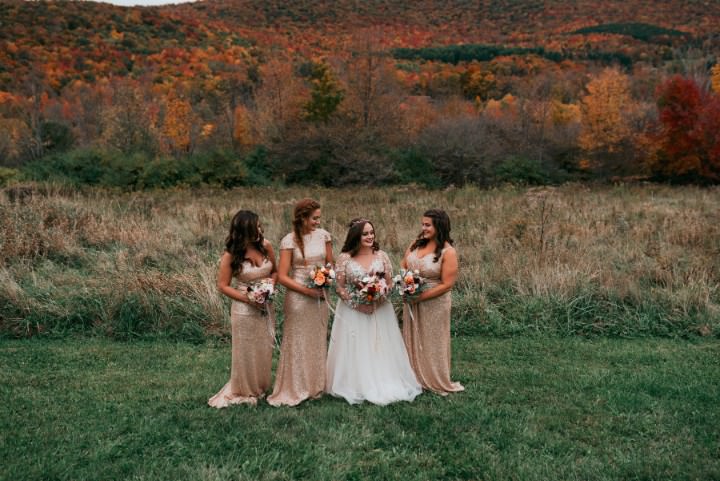 Theme or Colour Scheme
Rose Gold. my engagement ring is also rose gold and I wanted to add that color in the mix wherever I could.
Flowers
Farmhand Flowers – a local farm that produces flowers for special occasions. Alex had photos to send to Sarah, owner/farmer at Farmhand Flowers, of examples to which Sarah let her know which flowers were able to grow at that time of year. Alex had no idea really what her flowers would look like exactly but trusted Sarah to deliver. And she truly did!
Decoration
Our planner, Heather Cullen, really put all the little details together for us. She had a shed up at the farm full of different themed decor that truly tied everything together!
Wedding Cake
We knew we were serving pie for dessert since it came with our catering package but still wanted that classic "cake tasting" moment so we went to Milk by Momofuku in NYC and picked up a "birthday cake" flavored naked 1 tier cake to cut and save for our 1 year anniversary.
Entertainment
JTD Productions – Dave Leonard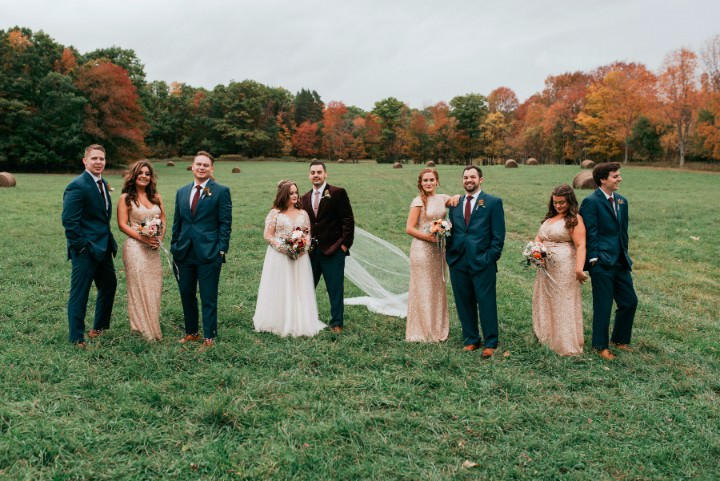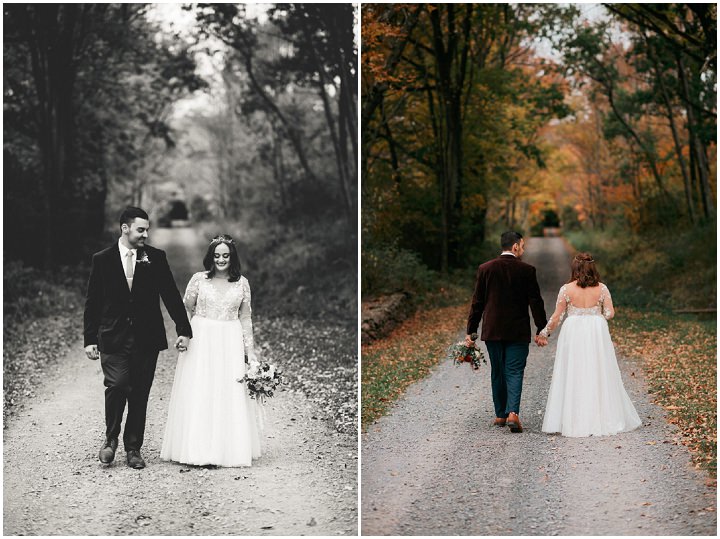 Special Moments
During the reception, Nick's dad, Scott, climbed up the bales of hay to dance to one of his favorite songs. No one caught it on photo or video but we'll always have that image in our head!
Advice for other couples
Don't get stressed over the little details; your guests won't notice what you don't have. (I wish I followed this from the beginning instead of the last month leading up to the wedding.). Also, if having a large wedding, stay together when greeting your guests at each table so you can help each other move along. The faster you thank your guests for coming, the faster you can get on that dance floor!
Supplier Shout Outs
For more information about Rick Messina Photography go to:
www.rickmessina.com / rickmessina.com/blog / [email protected] / FACEBOOK / (913) 274-9925 / I: @rickmessinaphoto
Rick Messina Photography: As a husband and wife team we love to combine documentary and editorial photography to capture the candid emotion of your day. A stylized approach to your formals adds to the fun. To portray what makes you truly unique, we look for the emotion and beauty that explains what it felt like to be there
For more information about NST Pictures go to:
www.nstpictures.com / www.nstpictures.com/blog / [email protected] / 212 643 3200 / www.facebook.com/nstpictures / @nstpictures / www.pinterest.com/nstpictures
NST Pictures: NST Pictures is an artistic videography company serving couples across the US. Our mission is to artistically preserve once-in-a-lifetime events for our clients and future generations so that every moment can be relived for years to come.