Today I am taking you off to Preston for the gorgeous wedding of Jessica and Simon. The wedding took place this March at Samlesbury Hall in Preston and Jessica and Simon really made the most of it. They held both the ceremony and reception in the venue which made it super easy for the guests and made the whole day flow easily. They filled the venue with rustic DIY detailing and decoration, from wooden log slices on the table to hanging flowers from the ceiling. The whole day is beautiful and is filled with charm and personality. Thanks to Simon Herridge for capturing the day for us.
A perfect celebration of our love for one another, filled with friends, family, booze, food and plenty of dancing!
Jessica and Simon were married on 16th March 2019 at Samlesbury Hall in Preston. 'To be honest, we found picking a venue quite stressful, nothing seemed to fit us right. I organise events for work, so I didn't want to pick a venue that had "a work feel" to it, which took all hotels out of the running.  We also didn't want something too grand, like a castle, as it felt like me were playing make believe.  After a few weeks of searching, Samlesbury Hall appeared on my google results and it looked perfect – an old chapel to get married in, lots of character, big open fires and multiple rooms to use throughout the day.  We also wanted accommodation onsite and this came with the best!  Little Shepard's Huts, complete with heating, en-suites and big comfy beds – this suited us to a T as we love a bit of glamping, often taking our vintage caravan to festivals. We had 78 guests to the day and 140 to the evening. We got engaged on 1st January 2018, the first couple of weeks were spent planning the engagement party and then it was straight into the wedding, so it was only 13 months in the making.'
How they met
We met the good old fashioned way, through friends on a drunken night out one Boxing Day night.  We flirted and dancing to Hounds of Love by The Futureheads, which was the follow up song to our first dance.  We've been together now for just over 7 years.
The proposal
The proposal took us both by surprise.  Si had ordered a custom made emerald and diamond halo ring and it wasn't due to be ready until the February.  Unexpectedly, Si got a phone call over Christmas to say that the ring was ready for him to collect.  Skip a few days to New Year's Eve 2017 and our plans changed last minute, as we had to take a little trip to A&E and then ended up just staying in, drinking champagne and watching Jools Holland.  The countdown came and went and I posted a Snapchat of my ring-less hand saying "Happy New Year, no ring" just as a joke, as it was a frequent question from friends and family.  Then during the last two minutes of the first hour of 2018, Simon came downstairs, got down on one knee and asked me to marry him!  I was in floods of tears and so happy.
How did you allocate your budget?
To be honest, the budget made me a little sick at first, I had always said that I wouldn't have an expensive wedding and hoped that it could all be done for around £10-12k.  Once we made a list of everything that we wanted we knew that wasn't possible.  The total for our dream wedding was coming out over £21k, so we had a big master spreadsheet tracking every single penny and luckily, we managed to bring the total down by about £3k.  Mainly through planning, getting as many deals as possible and DIYing.  Although it all cost more than I hoped, before planning, I wouldn't change it as we had everything and everyone there that we wanted.
Where did you splurge and where did you save?
Our biggest savings were on flowers and venue dressing, we were able to save almost £400 by using a local florist, doing the venue dressing ourselves and by making the bridal parties headbands / hairpieces rather than buying fresh ones. The biggest splurge has to be our outfits, but we wouldn't change that for the world.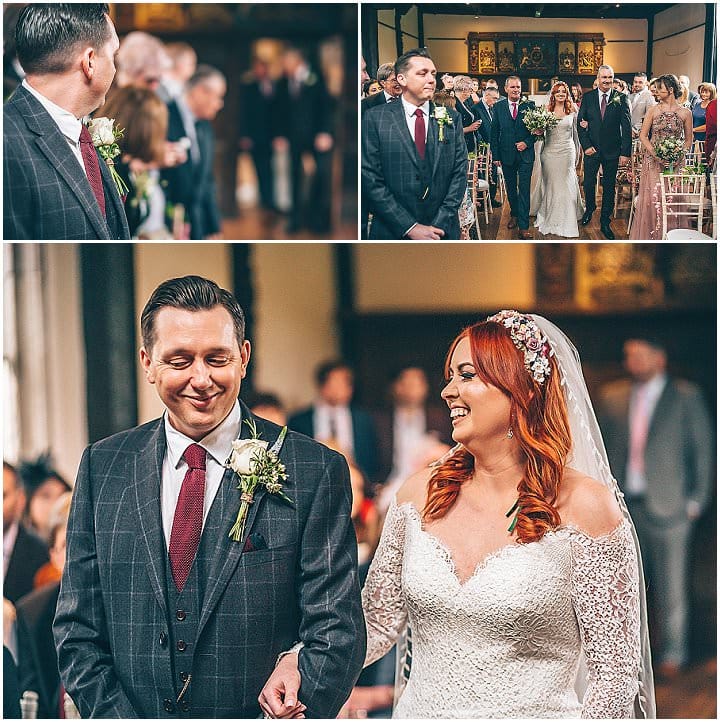 How did you choose your photographer?
Simon Herridge was actually recommended to me by a colleague, as Simon was her Wedding Coordinator when she got married and had recently set up doing his own photography.  We were a little nervous going with someone so new to the game, but once we saw the photos from our Pre-wedding shoot, we knew we were in safe hands.  Everyone has commented how amazing his photos are and my cousin has already booked him for her wedding next year.
The dress
My dress was Adele by Augusta Jones from Bethany Hannah Bridal.  As soon as we got engaged, I booked an appointment at Bethany Hannah Bridal, with my Maid of Honour who was also engaged.  As soon as I walked into the shop I spotted a lace sleeve and instantly said "I have to try this on".  It was perfect, the shape, the lace, the neckline, but it was a little more than I was planning to spend.  I spent the next month and a half trying on as many wedding dresses as I could, I think I tried 30 in total and then went back to Bethany Hannah Bridal.  As soon as I put the Adele dress back on, I knew it was the one, no other dress compared!  One of the shop assistants even said "oh you look like Jessica Rabbit", without knowing that's actually my nickname.
The suit and bridesmaids
I was getting quite nervous about the suit, as Si took about 9 months to pick it.  Luckily, after a couple of shopping trips, he found the perfect 3-piece suit in Ted Baker.  On the other hand, I knew which bridesmaid dresses I wanted straight away, as I had already fell in love them on ASOS.  I just loved how the flowers cascaded down, and on the day it looked perfect with the bouquets, just like the flowers were falling straight out of them.  The flower girls dresses were from Zara, teamed with the handmade floral headbands and wands, they looked just like woodland fairies.
Theme or colour scheme 
We didn't want a plain colour pallet, but did want everything to coordinate.  We had a whole mixture of colours, but I suppose the underlying theme was "bringing the outside in".
Flowers 
The flowers were a mixture of freesia, veronica, sweet peas, white roses, rosemary and fillers.  We used Flowers By Annette, who I had known for many years.  I wasn't too fussed on the actual flowers themselves, but gave Annette an idea of the overall look I had in mind and she captured that perfectly.
Decoration 
We wanted to keep the decoration quite simple, as we picked the venue for its own beauty.  For the ceremony room, we added an ivy background, topped with wisteria.  We also had wisteria hanging from each chair that lined the aisle.  To finish off, we scattered glass jars filled with ivory pillar candles and moss, around the room.
The reception room was centred with a huge chandelier, that we decorated with more wisteria.  I'm currently training to become a Crystal Healer, which was our inspiration for the table décor – each table was named after a crystal, that had been selected for its connection to love and marriage.  The table decorations included log slices that had been cut by my dad using a tree trunk from my cousin's garden, these were topped with dinner candles and flowers in various bottles, and of course the crystal that each table was named after.
Food 
For the canapes we had Mini Yorkshire puddings with roast beef & horseradish, Tiger prawns in tempura batter and sweet chilli dipping sauce and Shortcrust chicken & tarragon pastry pies and mash.  Our wedding breakfast was asparagus soup, followed by chicken breast, fondant potato, carrots & green beans with a white wine sauce, finished off with a lemon cheesecake with a raspberry coulis and lemon sorbet.  We selected and provided all of the wine and prosecco for the day ourselves, which accompanied the meal perfectly.
Wedding cake
My cousin Amie, kindly made our wedding cakes as our wedding gift and not only did they look stunning, but they tasted amazing too.  We had two cakes, one was a Victoria Sponge and the other was a Salted Caramel Drip cake.
Entertainment
We have a little caravan that we take to festivals and I'm a big fan of The Housemartins, so my number one choice of song for walking down the aisle was Caravan of Love.  Lucky for us, my brother's fiancé is an amazing singer and musician and she sang and played a beautiful rendition of the song for us.
Picking the right band for the rest of the day was really tricky.  We wanted to find a balance that would suite all genres without it being a cheesy cover band.  After many months of searching, we saw that Gypsies of Bohemia were head lining a small festival and loved them!  We were thrilled when we contacted the band and they were able to do the wedding!  They started by playing us out of the ceremony room with an acoustic version of The Wedding March, they then entertained everyone during the reception drinks, with laid back music, and really got the party going with a couple of amazing sets at the night, covering everything from The Backstreet Boys to Prodigy.
Who supplied the stationery?
We selected a design for the main invitations off Vista Print and had a set of matching stamps made by a seller on Etsy to make the Save the Dates.  I created the Save the Dates myself – again using the tree cut down from my cousins garden, I sliced, sanded, stamped and added magnets to wood slices.  These were then tied to printed cards saying "Pop me on your fridge", and finished off with a sprig of rosemary from our garden.  I loved creating these myself, but I'm glad I only had to do it for the Save the Dates, as they took ages!
Personal touches
There were loads of little things that I had put my DIY cap on for, but my favourite, would be my veil and headband, the flower girl's headbands and wands and the bridesmaid's hair pieces.  I planned from the beginning to make the headbands and hair pieces myself and spent quite a lot of time researching the best type of flowers to use, in the end I made them using Mulberry Paper flowers, which I had never heard of.  I also attended a floral crown workshop, to learn some tricks of the trade.
Special moments
The day was filled with special moments throughout, but if I had to pick, I'd go with having both by dad and step dad walk me down the aisle, listening to our friends and family recite the readings during our ceremony and the speeches.  As I had both my dad and step dad walk me down the aisle, I decided to ask my younger brother to do a Brother of the Bride speech and he floored me.  I never could have imagined how overwhelmed I would have felt.  That, followed by listening to my new husband speak such wonderful words about me, that was the moment that I felt the most loved.
Advice for other couples
Do what you can to make the day enjoyable for your guests, but on the day, focus only on yourselves.  And don't stress the little things, they're probably things that people won't even notice.
Biggest surprise 
That has to have been when the fire alarm went off and the fire brigade turned up!  Some naughty guest had been sheltering from the rain in the porch while having a cig and set the fire alarm off.  At the time I thought it was going to ruin the whole night, but after about 15 minutes we were all back inside, one of my friends made sure I had a drink in one hand and a pizza in the other (happy bride).  After that, the band played another set and everyone really got into the party.
Supplier Shout Outs
For more information on Simon Herridge Photography go to
www.simonherridge.com / FACEBOOK / INSTAGRAM

[jprel]