Happy Monday everyone, I do hope you have had a good weekend? We have another busy week planned on the blog, so I hope you are ready for a weeks worth of amazing weddings, styled shoots, inspiration and fab wedding articles. We are starting off the week with this fabulous festival wedding from Mike Plunkett Photography and it really is gorgeous. Filled with so many cute ideas, from the ceremony area itself, which is filled with decorations made by Amy the bride. Right through to the wonderful tipi reception area, which is laid back, chilled and full of gorgeous DIY projects. I am loving so much about this wedding, the glamping pods especially look fantastic! The colours, the outfits and the overall feel of the whole day is just wonderful.
'It was a relaxed day filled with love, laughter and sunshine. The atmosphere was amazing and the wedding set up looked stunning'
Amy and Michael were married on 1st August 2015 at Stanley Villa Farm, Preston. 'I set my mind on having a festival/boho type wedding right from the start. I wanted to create all the decorations myself, so I was looking for a venue that would allow me to do this. I also wanted the opportunity for the wedding party to be able to 'Glamp' over the weekend. I wanted the wedding to last as long as it possibly could. When we arrived at Stanley Villa Farm, the setting was stunning! It had 24 'Glamping Pods' (Perfect) there was also the option of people bringing their own tents, which they did. There was a beautiful lake which photographed perfectly, there was a forest and field which were a blank canvas for me to get creative with and the best thing about Stanley Villa Farm was Alex the site owner, his words were 'Do what ever you want' this was the best thing someone could have said to me. We had 160 guests who attended the whole day. 120 of the guest stayed for the whole weekend. 48 in 'Glamping pods' 50 camping and 22 in a local hotel. We had 16 months to plan and arrange the wedding. I loved every minute of it!'

How they met
We me at University, we first became best friends. We used to spend all our time together creating memories with our amazing friends. Some where along the way we became more than friends. But after we had finished university, we decided that we would make the relationship official. Our friends would say that nothing really changed as they say we always acted like a married couple. I know lots of people say this, but we really did marry our best friend.
The Proposal
We are both Primary school teachers and both love our jobs! Mike decided that he was going to propose to me in school as he thought that I would never suspect that he would do something like that. Days prior, the whole school were involved in the set up of the forest and I didn't have a clue! They were secretly carrying hail bails across the playground, decorating the forest with candles, photographs and pallets. On the actual day, my best friend/ work colleagues had planned a treasure hunt because our topic at the time was 'Pirates'. So we set off with 60 children to carry out the treasure hunt. When we got to the final clue there was a treasure box to open but it didn't have a key. The last clue stated 'Miss Bowden must go into the forest to retrieve the key to open the chest, but be careful you never know what is lurking in the forest'. This was where I first saw my other best friend and her little boy they pointed me in the direction I had to go. I then knew what was about to happen, I was in shock! Then I saw Mike, knelt down in the willow cave where I teach the children on a weekly basis, I was completely blown away. After I said yes, we came out of the forest and we were greeted by 280 children and all staff were cheering. It was completely magical!
How did you allocate your budget
Our budget was only supposed to be small but I got carried away. The biggest expensive was the hiring of the tipi's, but they were totally worth it! We hired a family company called Boutipi, who were amazing from day one. Both our families contributed to the cost of the wedding, which helped us to make our day as magical as it was. The next biggest cost was the food, I had always wanted to cater for all guests, so we decided to hire a company to provide a BBQ service on the day. It really fitted with the theme. We allocated a substantial amount for decorations too as I wanted to make everything myself.
Where did you splurge and where did you save
We splurged out on the tipi and saved on the mens suits, bridesmaid dresses and venue cost but you would never have been able to tell.
How did you choose your photographer
Mike Plunkett was recommended by our good friends, they had worked with Mike at different weddings before and their brother had recently got married and Mike photographed their wedding too. We arranged to meet Mike, again he was amazing right from the start, and instantly we knew from looking at his work that he was perfect. We wanted someone who would naturally capture the day. We wanted the photographs to tell the story of the day and Mike did this perfectly! His natural shots were amazing, better than I could ever have imagined. We liked Mike's alternative, unique and quirky style this made him stand out from everyone else. We also instantly knew he understood exactly what we wanted.
The Dress
My dress was by Eliza Jane Howell. My shoes were Kurt Geiger and my accessories were off a jewellery maker on Etsy.
The Suit and Bridesmaids
The men's suits were from ASOS and they were perfect! We didn't want a traditional suit, we wanted some quirky and modern. We looked everywhere for a suit that would flatter everyone. The bridesmaid dresses were shipped from America and were a bargain! I ordered one to check the quality because they were so cheap compared to other site, but I couldn't fault them. The girls loved them and I did too!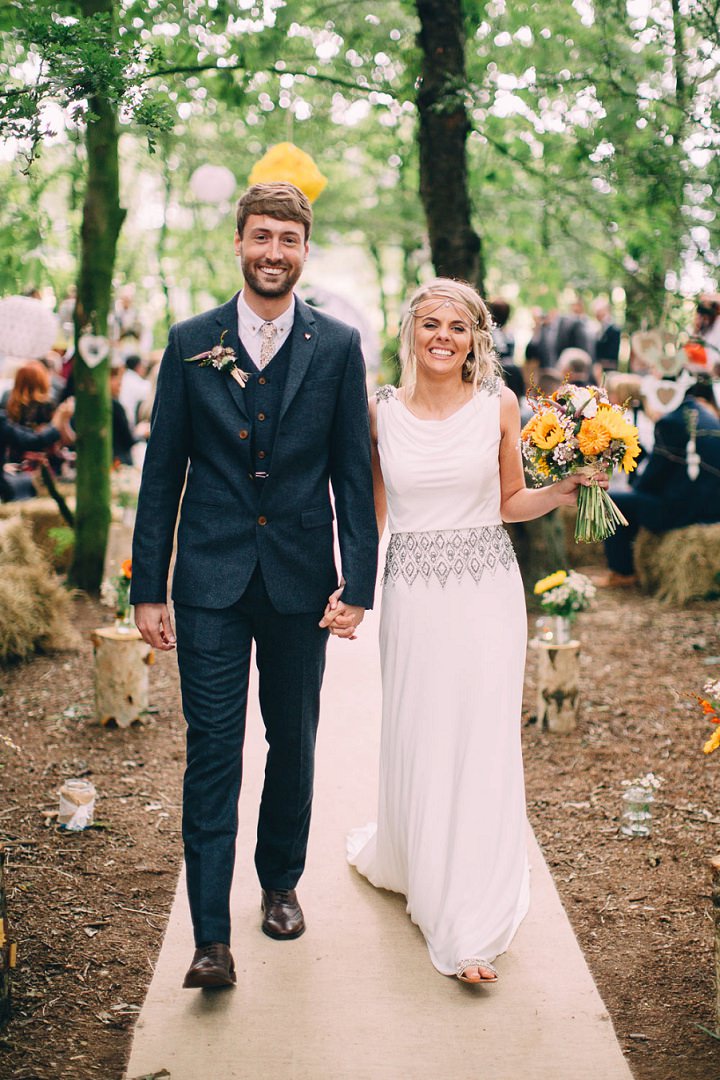 Theme or Colour Scheme
Pinterest was and still is my life! I didn't want a set colour scheme, I wanted the whole wedding to be colourful and vibrant. So when I saw ideas about having different coloured dresses I knew this was the option for me. I created a colour pallet and decided which colours worked best.
Flowers
I wanted the flowers to be wild, the only request I asked for was Sunflowers as these are my favourite! The rest I left up to my amazing florist 'Baytree Flowers'. I told her the colour scheme and on the day she brought up my amazing bouquets and button holes. She then delivered a massive bunch of wild flowers which I randomly put together myself to decorate the venue. The flowers were stunning!
Decoration
I got carried away with decorations but I didn't care they looked amazing. I made all the decorations myself with help from my bridesmaids, step dad and mum. We created bunting, pom poms, wooden signs, photo props, confetti table, table numbers, table decorations, glass jars, lettering, tin cans, sparkler favours, arches and much more. Again, I wanted all of these things to be colourful and vibrant. Everything you see in the pictures was designed and created by myself. I would spend hours making and designing.
Food
We had a massive BBQ, it was amazing. The guests were allowed to eat whenever and where ever they wanted. There was a variety of different options and salad to accompany. Everyone commented on the food.
Wedding Cake
The wedding cake was made by a friend of one of my bridesmaids. It wanted it very plain so that I could decorate it with the wild flowers on the day. It looked perfect! She also made cupcakes to accompany it, which matched the colour scheme. They didn't last long.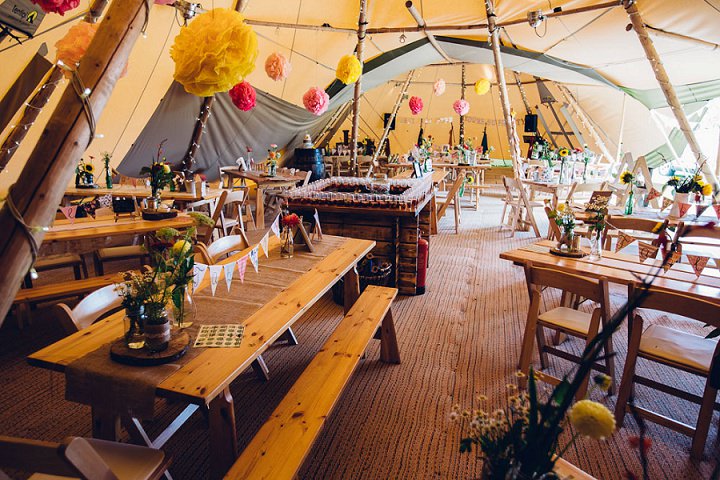 Entertainment
Two of our best friends Claire and Steve are in their own band 'Ginger and the Ninja's' they are AMAZING! Claire and Steve sang us down the aisle and arrange a little surprise for the exit song. They had, with the help of my bridesmaids, created signs for the audience to wave and they sang 'All you need is love' as we left. The rest of the band then joined them to perform a live set later on. They had everyone up dancing, this was my favourite part seeing everyone having a good time. They also, put together a song to dedicate to my Dad who passed away when I was younger. As they sang a mash up of stand by me and I'll be missing you, any male who has been in my life came up to dance with me. This was a perfect way to include a sad moment in a happy occasion.
During my hen weekend in Brighton, the girls had arranged to take part in a dance class. We learnt a dance and performed in on the day. We danced to a mash up of 'dirty dancing song' and at the end the girls lifted me up to imitate the famous lift at the end of the song. This is one of my favourite photo's.
The Stationery
I bought it all myself.
Personal or Handmade Touches
All of it!
Special Moments
I loved every minute of it. It is hard to pick one moment because every aspect together created the most magical and special day of my life. I did enjoy the little moments where we went off to have some photographs taken, getting 5 minutes away together allowed us to catch up and spend some quality time together. It amazing how little time you actually spend together on your wedding day!
Advice to other couples
Enjoy every minute of the planning, preparation and the day itself. It leaves an empty hole in your life once it has gone; so do not get stressed by any aspect, if the little things don't get done no one will ever know. It is about surrounding yourself with the people you love and creating an atmosphere that you will forever dream about. Remember to take a little moment, step back and look at day from afar and appreciate being surrounded by everyone you love. It is very rare in life that you will have everyone you in love in the same place at the same time! Relish in it!
Biggest surprise
I had planned every aspect myself, I had arranged for lots of companies to come together to provide different services on the day. I cannot believe it all pulled off and came together. It was all perfect!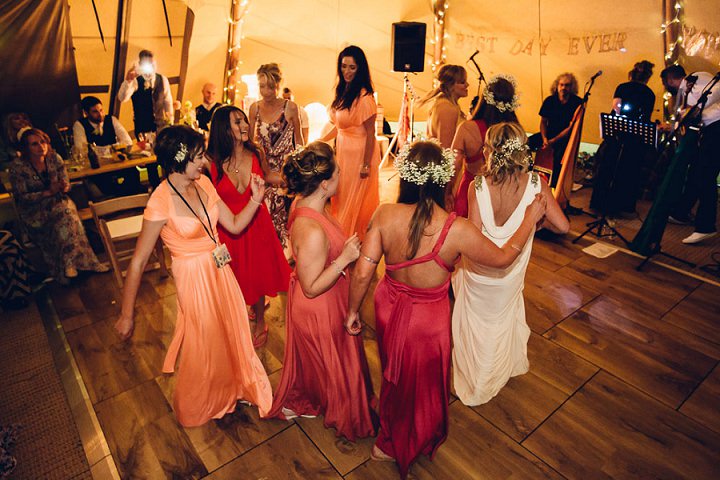 Supplier Shout Outs
For more information about Mike Plunkett Photography
 www.mikeplunkettphotography.com / 07875546132 / [email protected] / @m_p_photos / I:mikeplunkettphotography / FACEBOOK
I'm good at telling stories with my camera and I can easily blend into the background to be a natural and easy part of your wedding, capturing moments you expect will happen and moments you didn't expect too!  My style is artistic documentary and I use natural light whenever possible.