Today I am on my to Dubrovnik for a little 3 day trip. I'm back on Sunday, but I am super excited to be having a few days R and R. I will be sharing my trip over on Instagram Stories if you want to see any of what I'm up to. Today though in wedding world I have the adorable wedding of Lucia and Antoine to share with you. Lucia and Antoine were married on 26th August at La casa del Obispo, Las Rozas, Madrid. Lucia is from Madrid, and Antoine is from Annecy in France. They had around 100 guests and it took 6-8 months to plan in total. The whole day looks amazing, I am a BIG fan of long wedding reception tables and this is maybe one of the longest I have ever seen. The festoon lighting and rustic chic detailing works so well against the Madrid backdrop, and as for Lucia's backless gown, she looks exquisite. The whole day was captured by Leyre Canizares.
Leyre tells us more about the day
It was a country, vintage and informal wedding, the couple wanted a natural place surrounded by nature and woods. They wanted a simple celebration with their most beloved friends and family. Many of the guests traveled from France (where the couple live), so it was a Spanish-French wedding.
I liked the decoration and the relaxed atmosphere throughout the wedding. I really liked that the couple didn't want to place the guests on separate tables for dinner. They chose to sit with all their guests at a huge table outside!
Also, as a "honeymoon", the couple were traveling throughout Latin America for 6 months before the wedding!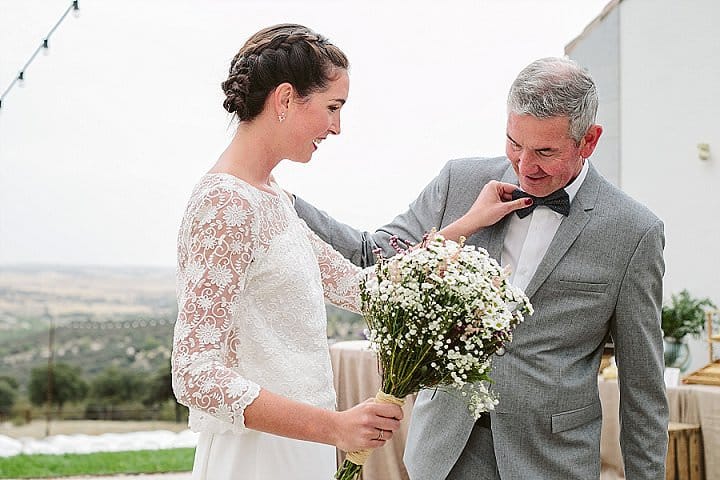 For more information on Leyre's work go to
www.leyrefotografia.com  / +34 634 10 20 71 / FACEBOOK / INSTAGRAM / TWITTER

[jprel]