Food, one of my favourite subjects! And one of the main factors you really need to nail for your wedding. There are SO many options when it comes to choosing your wedding food, but with the help of our resident catering experts, Goose and Berry, you will have your wedding food sorted in no time. Today they are here on the blog talking about wedding food trends, what to avoid and what you really need to look at. Food is a real way to inject your own personality into your day, a large proportion of your budget will go on feeding your guests so why choose anything but the best? From simple sharing boards to bang on trend grazing tables, the options are endless and all totally delicious!
Goose & Berry was founded from a love of food and entertaining, recognising that there was a gap in the market for high quality London standard catering and events. Using the highest quality produce, the award-winning caterers deliver fabulous taste, seasonality and dedication in every bite to the Home Counties and beyond.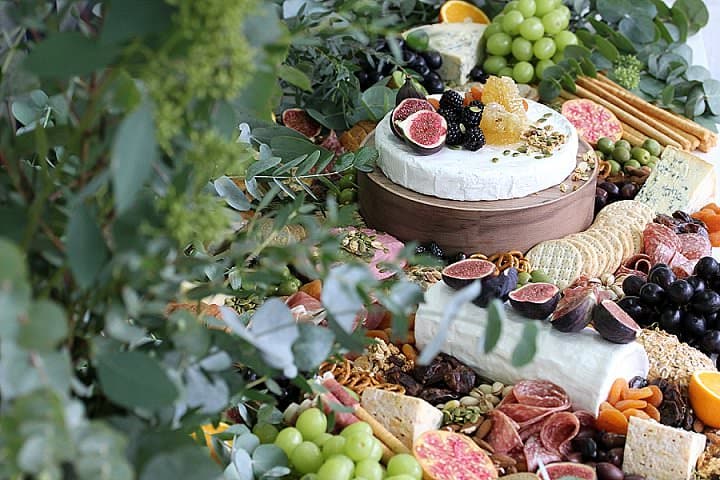 What catering trends are on the rise for 2019?
Couples and caterers alike are opting for locally sourced food and produce, we want to know where our food is coming from, how many miles it's traveled to reach us, and who's grown it. This will continue to make its debut for the foreseeable, people want to feel a connection to their food, do their bit for the environment and community and having either sustainable or foraged food on your Wedding day is absolutely the way to do it… plus there is no doubt that it tastes better this way!
What catering trends are out in 2019?
It's time to wave goodbye to the classic buffet and say hello to new and exciting food stations; an innovative way to serve amazing food in an informal way. People want to follow the trends and to do the next best thing and grazing stations is the way to do it.
With so much choice of glassware out there, people aren't settling for less (or short) glasses anymore and with your tableware having such an impact on the overall appearance of the Wedding reception, who can blame them. It's out with the old and in with the new, lovely long stem, coloured or crystal glassware.
Gin has increased in popularity and couples are even using it as table names, treating their guests to a bottle of gin on each table along with little bottles of botanical flavoured tonics. On the topic of drinks, I could go on forever, Aperol Spritz is storming its way to the top with being a summer favourite. Not only is it tasty, but it is the perfect way to refresh your guests on a hot summers day.
What are your cocktail trend predictions for 2019?
Believe it or not, 2019 is set to see plenty of low and no-abv cocktails. After the non-alcoholic spirit Seedlip launched, and we mean launched, the want for 'mocktails' is going to rise this year with studies showing over 45% of under 35's are more likely to order a virgin drink than an alcoholic drink. It isn't necessarily about replacing or removing the alcohol completely, but about people experimenting and creating intricate drinks for everyone to enjoy at any time.
We're also being asked for more interesting and innovative options for arrival drinks with more and more couples wanting a fun cocktail, something that reflects their personalities or the drink they
celebrated their engagement with, rather than the standard bubbles and Pimms. The 'once upon a
time' go-to cocktail is sadly out of favour this year, but who can blame when there's so much more
choice and opportunities to make twists on the already classic cocktails. Rhubarb margaritas and
salted caramel expresso martinis will be all your guests are wanting to talk about.
What style of service will be big in 2019?
The majority of foodie restaurants are loving tasting menus, and so are we. With anything from 5 to
12 courses this style of service is a great way to show not only an insight to a chef's brilliant mind,
but how it works and engaging the consumer to go on this journey with them. Long gone are the
days where dining used to be about three courses, eating and leaving… food and service is becoming
a show itself and we are ready and waiting for the next act.
Taking it back to the informal and relaxed themes, 2019 is set to see the convenience, and not
forgetting fun factor with guests being able to help themselves to their food. Whether it be with
sharing plates on the tables, to a grazing station, everyone is loving the freedom to choose what
they would like to eat. Who says you can't have chocolate fudge brownies on the same plate as your
Cambozola? Not us!
FORE MORE INFORMATION ON GOOSE AND BERRY GO TO
www.gooseandberry.co.uk / [email protected] / FACEBOOK / INSTAGRAM / TWITTER