Today I would like to share with you one of my own Boho Planned weddings. It's the wedding of Jenny and Tim who got married on Friday 15th July at my favourite venue in Sheffield the Sheffield Botanical Gardens.
This wedding was a real challenge for me but highly enjoyable at the same time as Jenny and Tim booked me for my Rescue Remedy package 7 weeks prior to the wedding. Jenny had become all consumed by her job as Doctor and she had basically got a bit lost with the whole wedding planning. They had booked the gardens for the wedding and the reception, booked a marquee, found her dress, booked a DJ, and got a family friend to do the photography, but nothing else was really sorted for her, so that's where I came in and pulled the rest of the wedding together.
It was a pretty hectic 7 weeks, in the height of wedding season, but I worked like mad  firstly to get to grip with what sort of day Jenny wanted, and to then turn her and Tim's wishes into reality.
Firstly I worked on getting the catering sorted out, Jenny and Tim wanted a relaxed Italian style meal with sharing platters to start with and also for the desserts, to give more of a family style feeling. I called PJ Taste who stepped in and were amazing, they offered loads of different menu options and were completely flexible with everything and so accommodating. After that came the flowers, as Jenny wanted the flowers to be quite relaxed I suggested they use Swallows and Damsons as their style is very English country garden with a vinateg twist and they were amazing. The flowers on the day were just beautiful! then onto sorting out the finner details of the marquee. I had to change the original order as Jenny and Tim's numbers kept going up, they hadn't actually sent out the invitations before they booked me so only had an estimate pf 60 people, as it was the numbers went up to 100 once the invitations finally went out (5 weeks before the big day.) I ordered a bigger marquee, and made sure there was enough room just in case of rain on the day. As it turned out the day was stunning, so sunny we couldn't have wished for better weather! Then I got on with finding a make up artist, bunting, outdoor games, security to man the marquee and other entertainment for the receptions drinks
With most of the suppliers sorted out it was then time to think about the finer details and the styling of the day. I sent Jenny a few links to blog posts I had written about wish trees, guests books and table plans to give her some ideas, she loved all of them which then gave me more if an idea of her personal style. She was  a massive lover of Cath Kidston so that was a bit of a  theme to work on. One of the best bits for me was Jenny gave me a set amount of money to go away and use as I wished to decorate the marquee and the outdoor area. I was like a kid in a candy shop, buying lanterns, hanging crystals for the trees, outside fairy lights, lanterns, table runners, favours, wooden hearts, confetti petals, and lavender and raffia for the serviettes………I LOVED it!!
The day was amazing, I hired in my lovely assistant Rachel for the day who was an absolute star, I couldn't have done it all without her! the marquee only went up the day before so all the set up had to be done that day! but with her helping me and a wonderful catering team on side we all worked hard and pulled it together!
It was a beautiful day….boiling in that marquee though while we were setting it all up! my word were we warm, but by the time the guests came to sit down for dinner it was just the right temperature for them.
The wedding tself was wonderful and a joy to work on! It went without a hitch and Jenny and Tim really enjoyed themselves. As a couple they were a joy to work with, they listened to my advice and really just let me get on with it….a planners dream. And what a wonderful couple. I know every wedding is full with love but you can really tell how besotted they are with each other, and Jenny looked STUNNING on the day like a movie star.
I'd like to say thank you to them both for letting be be involved in their big day, it was a total honour!
Jenny has answered a few questions for me to give yo her side of the wedding day and a bit more my planning services:
Full names
Jenny Simpson and Tim Scott
Date of wedding
15th July 2011
How did you meet and how long have you been together?
We think we met in 1988 – and had been friends and colleagues from then on. We were together as a couple from August 2007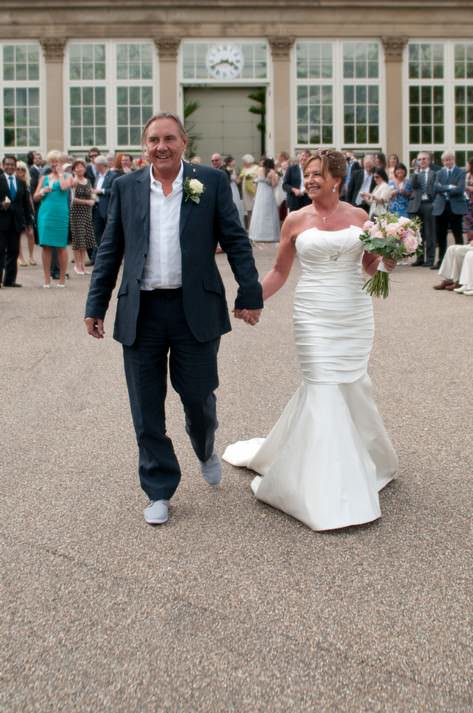 What planning service did you book from me?
The Boho Rescue remedy
What made you decide that you wanted to book a planner?
The realisation that there were so many small details to get right at a time when work and family pressures had suddenly emerged – and that I couldn't possibly do it all
Location of the wedding
Botanical Gardens Sheffield
What made you decide to get married where you did?
The gardens are beautiful, I've loved them since I first came to Sheffield, I wanted the wedding to be outside
How many guests?
100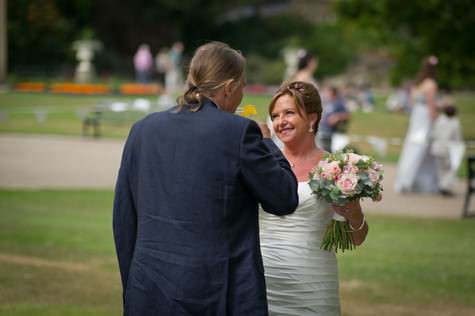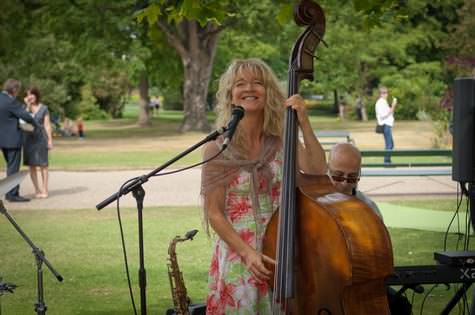 Who was your dress by
Julian
And the shoes, accessories etc.
Shoes – Monsoon, hair accessories – House of Fraser
And the suit?
House of Fraser
What do you feel were the biggest benefits of having a planner involved with your wedding?
Not having to worry about the organisation of the day at all -I could just smile and enjoy every minute
Did you have a theme or colour scheme?
The theme was 'family' – and I wanted the day to feel like a warm family party. The colour scheme and style was natural, to fit with the surroundings – pale pinks, soft greens and blues
How would you sum up your day?
A joyful wonderful day, with warmth, smiles and lots of laughter
Did you have any personal touches? Or things that you did yourself?
We brought pebbles back from our favourite beach in Greece and used them, with peoples' names on them, as place markers on the tables. They looked really good with the flowers and the lovely raffia and lavender idea that Kelly came up with for the napkins. Actually – lots of the personal touches were Kelly's – and they were great!
What were your special moments and highlights?
Walking up the long path to the pavilion with all my children and my grandchild – to see Tim waiting for me -with the most amazing look in his eyes….
Is there anything you would do differently?
Not really in terms of organisation -I was very pleased with how the day went. I should have been firmer with the jazz trio who left far earlier than they said they would
What advice would you give any other couples?
Hire Kelly! Even if you are trying to economise – it was the best investment ever. Kelly knew how to do things in the most cost-effective way and saved us time, money – but most importantly – a happy relaxed lovely day. I know that if I'd done everything myself I would have been totally exhausted. As it was, I was chilled and calm throughout – and the guests could see that I was just incredibly happy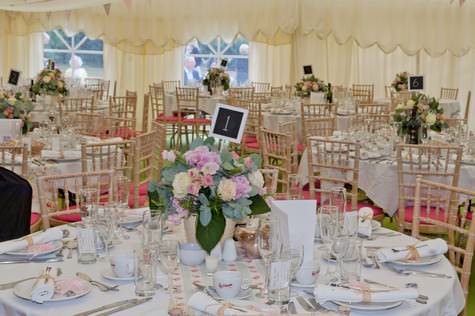 What was your biggest surprise of the day?
How many people came and how quickly it all came to an end
What was the best bit about having me involved with your wedding?
I had started off doing everything myself, then become really busy at work. Suddenly it was 7 weeks before the wedding – and I was dreading it – because I knew I'd have to work flat out to get everything done and also work flat out at work too. The sheer relief of handing the project planning over to Kelly was just amazing. From then on, the wedding became a lovely exciting time and a very special time rather than an utter nightmare!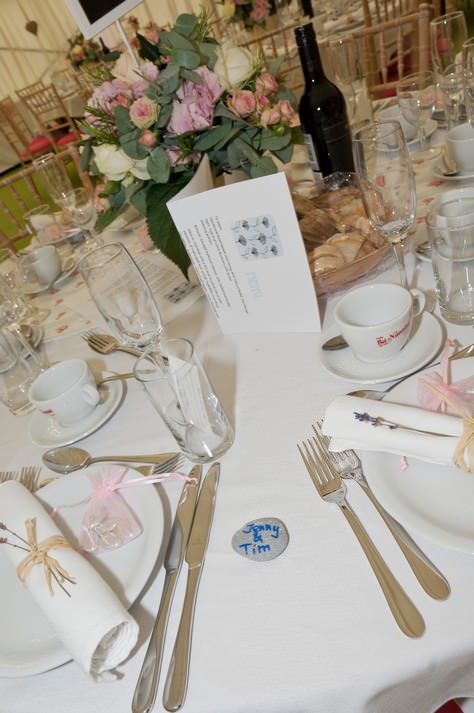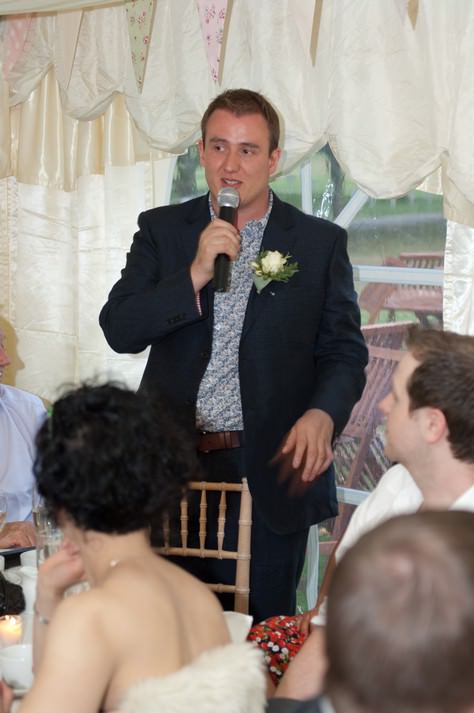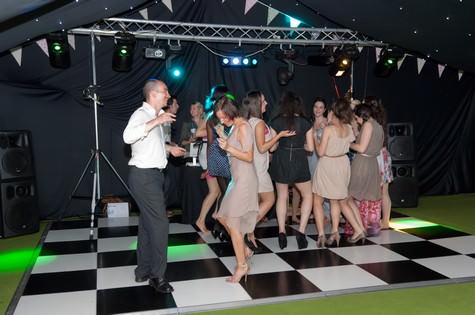 All the wonderful suppliers involved in the day
Photography – John Reilly  – Photography www.jrjphotography.co.uk
Venue – Sheffield Botanical Gardens  www.sbg.org.uk/index.asp
Marquee and furniture  – All Occasion www.marquees4alloccasions.co.uk
Caterering – PJ Taste http://pjtaste.co.uk
Evening Bar service – Coxtails www.coxtails.com
Florist – Swallows and Damsons – http://swallowsanddamsons.com/
Cake – Family Member
Make up – Sam Galton www.samgalton-artist.co.uk
DJ – Emilys Disco http://emilysdiscos.co.uk
Entertainment – Richard Smith illustrations www.richsmithillustration.com
Garden Games – You Can Hire www.youcanhire.co.uk
Music – Nicola Farnham jazz trio
Bunting – Bunting Queen www.buntingqueen.co.uk
Cath Kidston table runners – www.fineandfunkyevents.com
Planning and styling – me www.bohoweddingsandevents.com