Todays wedding is going to be a longer than normal post, so I apologise now for its epic proportions! The reason for the huge amount of images is that it's the wedding of my sister in law Johanna, (Nik's sister).  I have to say trying to pick the photos for this wedding was soooo hard especially as I was a guest and most of the people in the photos I know! So I have tried to edit the wedding as an outsider not as a guest, but it wasn't easy!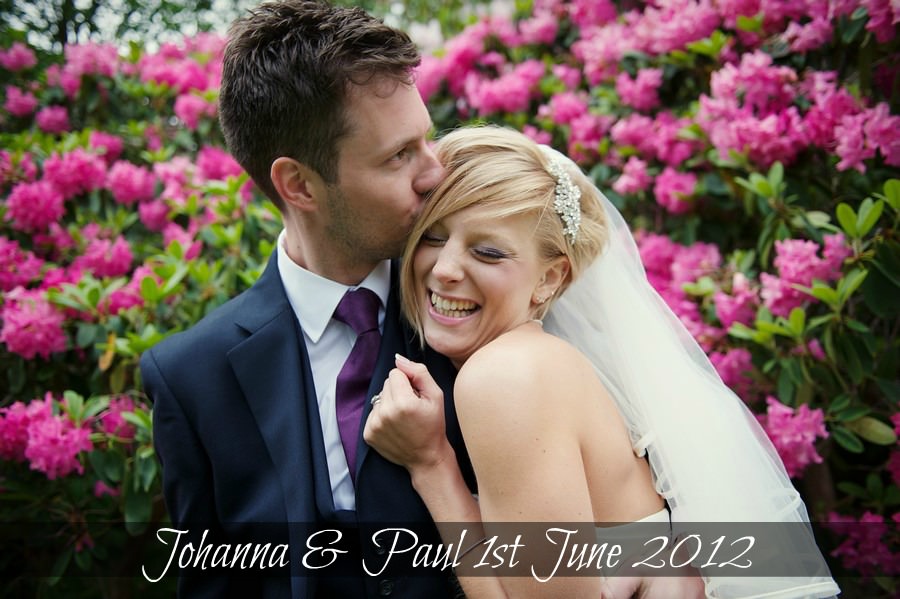 Johann and Paul have been together forever, they met when they were 17 and for as long as I have known Johanna, all she has wanted to do is marry Paul and start a family! So on 1st June in Sheffield Botanical Gardens Johanna's dream came true and she married her prince!  It was an amazing day, incredibly emotional, I cried from 9am till  12am, by the end of it I had no eyeshadow left on and my false eyelashes were hanging on for dear life! Nik along with Paul's Brother was joint best man, which made it even more personal! I'm probably biased but the speeches were the best I have ever heard! touching, yet so so funny!
Johanna and Paul describe their wedding as 'A laid back, relaxed and great fun. A combination of a wedding and a fun filled party.' and that is was! It was great fun, full of wonderful people yet at the same time the right amount of sentiment, love and warmth.
In my job I go to a lot of weddings but it was refreshing to go to a wedding of a couple so close to me just to remind myself what weddings are all about. Yes the details are great, themes, crazy ideas to make the day different, but at the end of the day a wedding is about love, about 2 people coming together to show their love and affection for each other in front of those people they hold dear!
I really couldn't be happier for them both, they make such a  fabulous couple! I hope  these photos show you what an amazing day it was. Thanks so much to Nicola Thompson for sharing the images with us she did a great job and was a total trooper all day!
On a planning perspective Johanna got be on board to help with the beginning stages of the day. I helped her find her venue first and then we moved onto the big suppliers. The marquee company, the caterers, the photographer, the DJ, from there on she did the rest herself. She wanted a very classic day, not too much fuss, not too much decor, just white, cream with a hint of her favorite colour purple. As much as I could have completely taken over and planned the whole day down to the last detail, this was Johanna and Paul's wedding not mine, plus they also wanted me to enjoy it as a guest……and that I did…..with bells on! (I think you will be able to spot me in a few of the photos)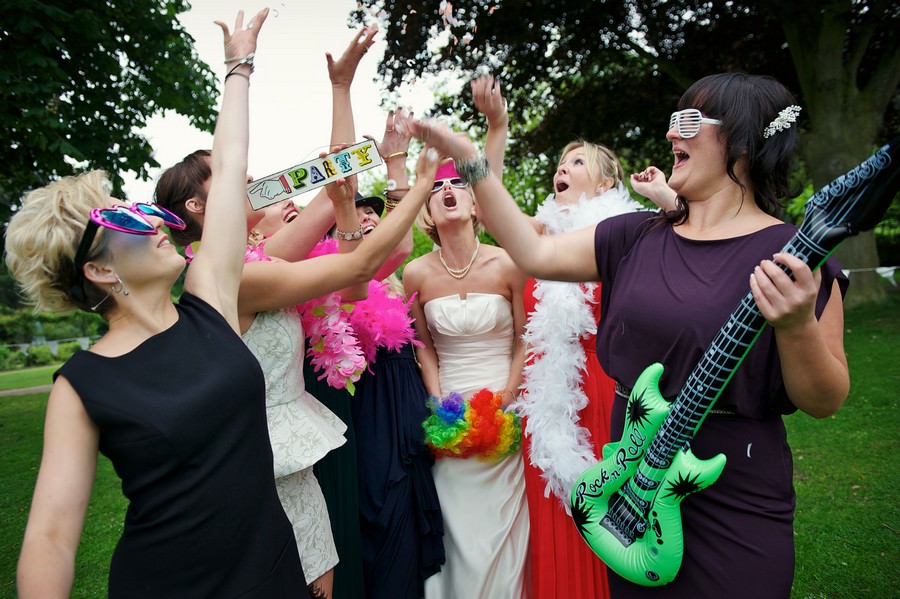 How they met
I met Paul. It was our first day at Norton College in Sheffield and I was sat with my best friend in the canteen. We both spotted Paul as he walked into the canteen but he was shortly followed by a girl we presumed was his girlfriend. We later found out that she wasn't and we all became great friends along with others at the college.
Paul and I took English Language and Sports Science together and after 6 months of pretending we didn't fancy each other we finally got together. We spent the day shopping in Leeds (only as friends of course) then that evening Paul had to work but we were texting each other all evening like you do at 17 years old. Finally Paul sent me a text message that read "how's about a guy like me and a girl like you get together sometime?". I had that nervous feeling inside as I hit send on a text to him that said "yeah". It wasn't until 3 years later when we were relaxing at Uni watching the great film "Dumb and Dumber" that I heard the line again and realised Paul had stolen it straight from that. We couldn't stop laughing. He had got away with it for years. He informed me that he used that line so he had a get out if a said "no", he said he could have joked it off saying he was fooling around with a line from the film.
So 10 years later, 3 degrees, one diploma, 6 houses, one year of a long distance relationship between Warwickshire and Sheffield and 2 months between South Africa and Leamington Spa we are now married.
The proposal
we went on holiday to Turkey with great friends of ours in 2011, 5 days into the holiday Paul and I went for a walk along the beach to a lovely wooden shack in the sea and whilst sat on there, looking at the beautiful view Paul came and sat beside me and used the same line again followed by "lets make it more serious" and handed me the most beautiful diamond ring. He had been hiding it in the safe all week. I did wonder why I was never allowed to get anything out of the safe but was enjoying Paul doing it all for me. I was disappointed that he didn't actually say "will you marry me?" but me being me, I told him to actually ask me to marry him and I immediately responded with "yes". We were both so excited we rushed back to the beach where our friends were and the celebrations began there and lasted for a few weeks. Once home we celebrated with friends, family and colleagues. We were overwhelmed by the lovely messages, cards and gifts we were given. It was lovely.
Planning the wedding
It was 10 months from the proposal until the wedding but it didn't really take all that time to plan the wedding. I loved planning it and found it really enjoyable.
The venue
Sheffield Botanical Gardens is a gorgeous venue with lots of lovely trees, greenery and flowers. The pavilion is gorgeous too. It also meant we could have the laid back fun wedding we wanted. We wanted a marquee so we could design lots of the wedding and put our own spin on things.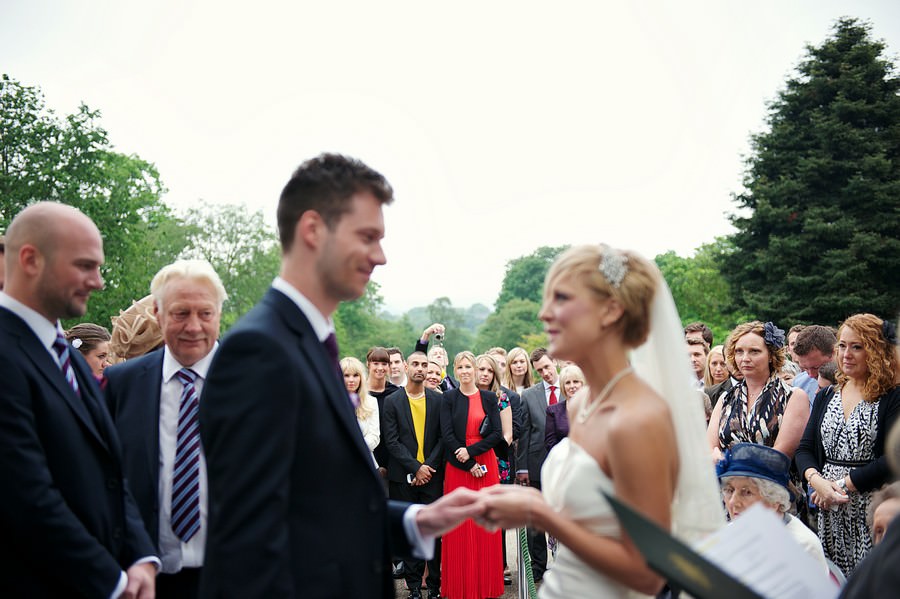 The Dress
The dress was by Pronovia, shoes were LK Bennett.
The suit and bridesmaids
The suit was from House of Fraser, and was by Lingwood, shirt and pocket squares were from Charles Tyrwhitt. Lucy's dress was from Debenhams, the older flower girls got theirs from a website called 'Love in the Box' and the younger flower girls go theirs from Next.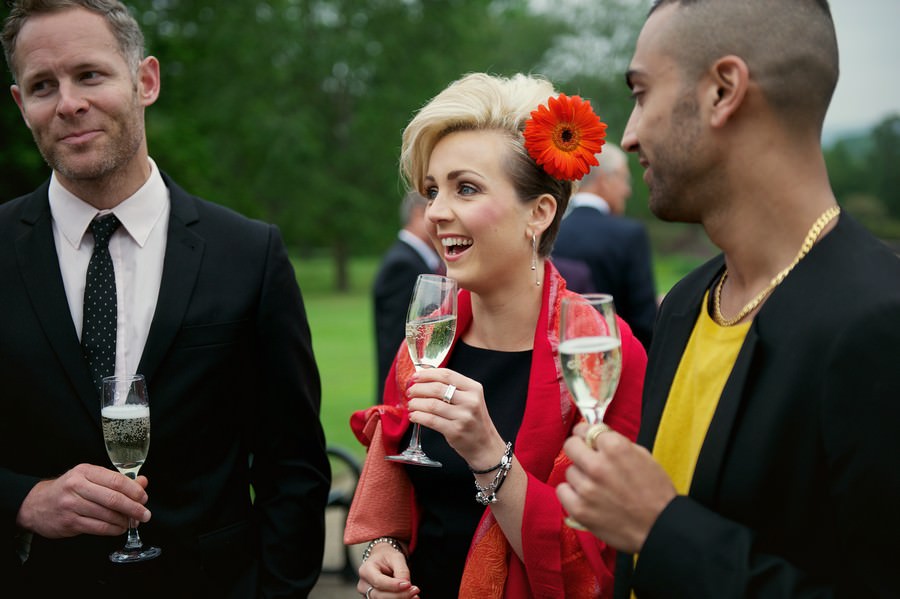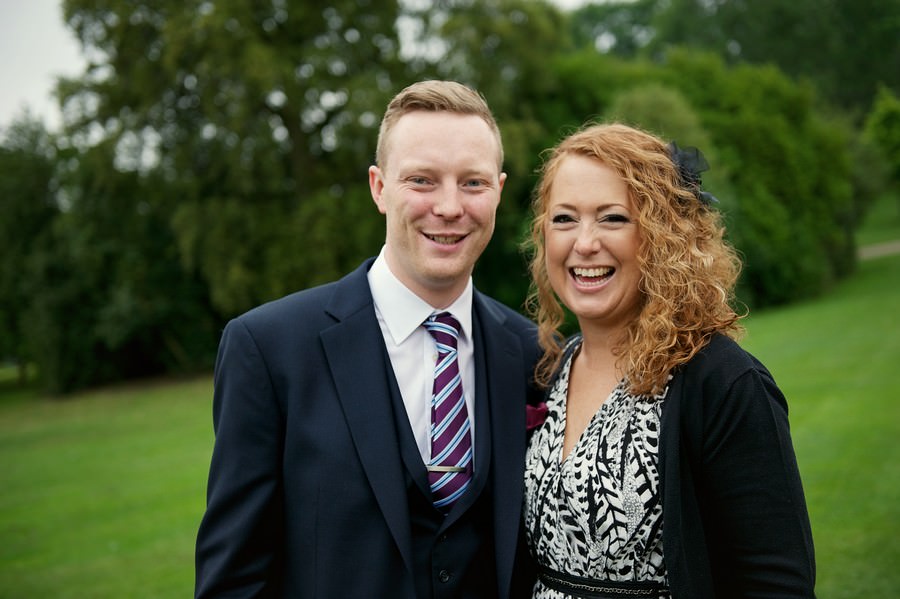 Theme
Dark purple was our colour along with creams, whites and ivory.
Food
Champagne and canapés of king prawns, salmon, veggie burgers and mini Yorkshire puddings with beef and horseradish sauce.
Starter was a sharing platter
Main was chicken stuffed and wrapped with dauphinoise potatoes and Mediterranean vegetables
Desert was chocolate brownies with cream
Entertainment
Photo booth and Emily's DJ.
Flowers
White roses for me and Lucy and the flower girls had Calla Lilies
Decoration
Wooden woven hearts hanging from the trees outside the marquee. Milk Jugs with flowers on the tables, along with old fashioned sweets from our local sweetie shop as favours. Candles scattered around and candle bags outside when it went dark.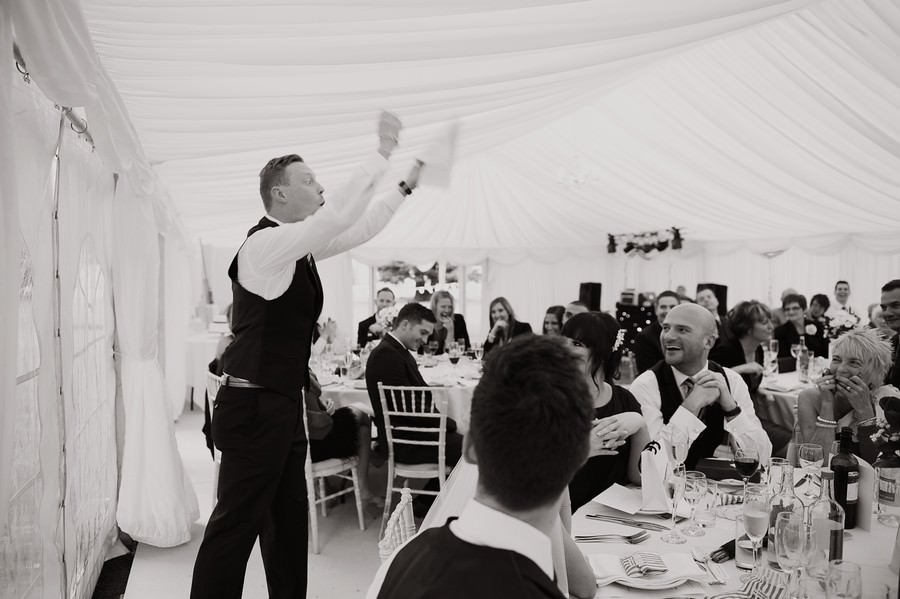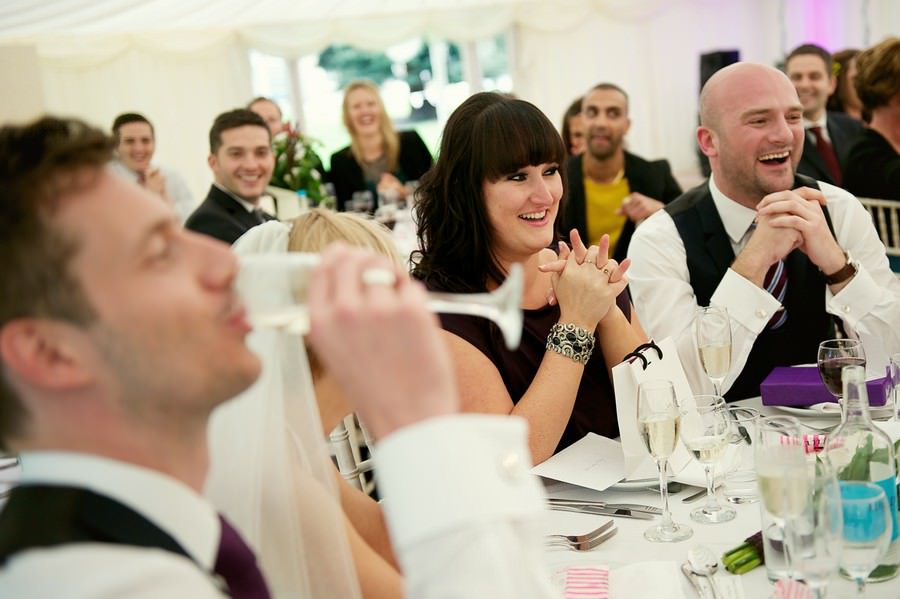 Special moments
Seeing Poppi's (my niece) face when I got out of the car. She had the biggest cutest smile ever, she seemed so happy and excited.
To be honest it was all so perfect and enjoyable, everything sticks out. I wouldn't know where to start.
Planning advice
Just enjoy it all. It's over so quickly so you need to take it all in, even stressful moments.
Biggest surprise
My brother getting me a Maserati car with ribbons on it and arriving with champagne and Paul's parents getting him a Rolls Royce. Also the gorgeous wedding cake which Paul's Mum made for us.
Boho Planning Details
Planning service booked –  Partial Planning
What made you decide that you wanted to book a planner?
As we live in Leamington Spa and Kelly is in Sheffield it seemed the obvious choice to get her to help with the beginning stages of the planning. We initially needed help choosing a venue as we didn't want anything really traditional. Kelly helped us with this first and then the suppliers all came after that. It was much easier having her knowledge of local suppliers at our finger tips.
What do you feel were the biggest benefits of having me involved with your wedding?
We wouldn't have known where to start if you hadn't of assisted us and throughout you kept giving us great ideas and contacts.
Supplier Shout Outs
Venue – www.sbg.org.uk
Photographer – www.nicolathompsonphotography.co.uk
Marquee – www.amplitudeav.com
Catering – www.pjtaste.co.uk
DJ – http://emilysdiscos.co.uk
Favours – https://www.facebook.com/pages/Lantern-Corner-Sweet-Shop/138380519514448
Wooden Hearts and Photo Booth – bohoweddingsandevents.com/hire
Wedding Planning – www.bohoweddingsandevents.com
For more information on Nicolas work go to:
http://nicolathompsonphotography.co.uk
[email protected]
FACEBOOK
TWITTER
07525233778