Children at weddings, yes or no?
Today I wanted to discuss the rather contentious issue of children at weddings. I really want to hear from you and what your thoughts are on this subject.
As a planner I have worked at a lot of weddings, some children friendly and some not, each have their own merits, but is a subject that often comes up with my brides, and it really does seem that people are either dead against having children at their upcoming wedding or completely up for it.
So lets look at both sides of the story
Children at weddings – Yes
I hear so many people say 'Children make a wedding right?' and so many people do believe this. Weddings are all about family so how can you have a family wedding without children? If you didn't have children at weddings then how would you have all those cute flowers girls dressed up in their gorgeous outfits, little boys in miniature sized suits dancing to the beat of the lighting system at the disco? Children just being children and bring all their cuteness to a wedding day can keep the guests amused and with smiles on their faces for hours!
And what about the parents? If you're told you can't bring your child to the wedding then what? If you have to travel along way for the wedding this may mean that you can't actually go, or maybe only one of you can go while your other half has to stay at home and look after them?
These days people are getting married later which means that it is quite likely that a lot of people will already have children before they are married, so often now the couple getting married already have children, and their children then become flower girls or page boy……..so not allowing children at weddings could be very tricky, epically when all of your friends already have children!
There are ways round it of course. Hire in a nanny for the day, hire in childcare, a bouncy castle to keep the children entertained, children entertainment. There are so many mobile crèche companies out there these days offering a variety of child care solutions that it is easy enough to still allow children at your wedding while giving the parents a bit of time off while they are supervised by the professionals!
Children make a wedding, a wedding just wouldn't be a wedding without them
Children at weddings – No
More and more people are asking guests politely not to bring children to their wedding, and it seems there are many reasons why. Children don't behave, some do but some are just terrors! There is nothing worse than half way through the ceremony than a child crying, talking, wriggling, kicking, just generally ruining the moment when two people get married and say I do! How many wedding have you been to when you have thought to yourself 'take that child outside before it ruins it all together' not just during the ceremony but through the reception drinks and the wedding breakfast itself. Weddings are a long day, often to long for any child attention span, which can more often than not result in tired cranky children who run around knock stuff over and generally misbehave.
Children need putting to bed earlier than the wedding ends, this means that quite often your guests with children will have to have to leave the wedding reception early to put their little ones to sleep which is not only annoying for the guest in question but annoying for the bride! Who wants a half empty wedding reception because half of your guests have had to go home to look after their kids? Children can seriously up the numbers of guests at a wedding so bumping up the price. OK so most children will only be classed as half a meal, but you add those halves together and it makes up quite a lot of money when it comes to food and drink, especially when they are more than likely to leave most of it. It can also have a knock on effect on who you invite, if you have limited numbers at your wedding but feel you have to invite certain children then this can have a knock on effect on inviting other guests, quite often there just isn't room for everyone!
It seems that even though couples think they are obliged to invite their friends children, more often than not the parents are more than happy to leave the children at home, happy to have a 'night off!!' Weddings are notoriously long days full of drinking, a place to let your hair down with friends and family that you may not have seen for a while, all the better if you don't have little ones to look after!
So there are a few Yes and No reasons. Personally I don't have children so it's hard to put myself in the shoes for parents who do, all I know is the weddings I've been to as a gust RO a planner. Some weddings have been amazing and have had a huge proportion of children, while others have been completely ruined due to children misbehaving and simply being way to noisy!
For my own wedding I asked people not to bring them….well I suggested, I may not have said it was a flat no. Nik and I had limited numbers, so wanted to keep the guest count to adults only, we did have a couple of friends with very young babies who obviously couldn't be left at home so we made the exception for them, but our wedding was in Ibiza, it wasn't a children friendly wedding especially when the whole day was set around a swimming pool, not exactly safe! So we made the decision of no children and our friends were fine with that. Most of my friends do have children and they were happy to leave them at home, some came out on their own for a couple of days and left the children with their dads, while others came out as a couple and had a few days holiday to themselves. No one really made an issue of it…well maybe the family were a little un happy, but at the end of the day it was our wedding, we don't have children and didn't want them at our wedding.
The main thing to remember is to do what makes you happy….its your day after all! Someone will always have something to say about it, but it's you getting married not them! So do what you want!!!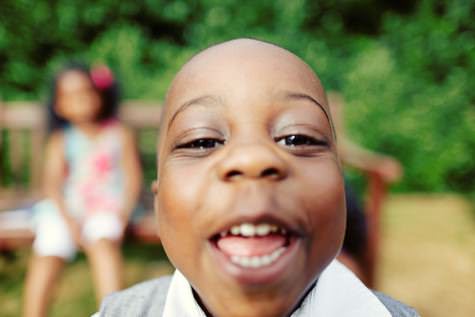 So now it's open to you! What are your thoughts? Yes or no to children? Are you getting married and faced with this decision? Are you already married and have some experiences of both situations? Have you been to a wedding and had a good or bad experience either way?
I'd love to hear what you have to say.
Big Boho Love
Kelly x