Today will be part 3 of my #bridalblogathon experience which also means it's my last post about the Caribbean *sobs*.  I will add the links at the bottom of this post if you haven't managed to read my other posts about the #bridalblogathon.  Where on earth do I begin with such a magical experience?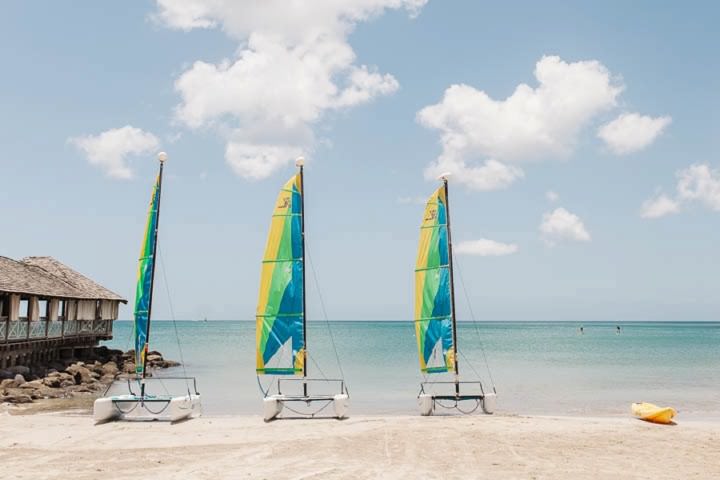 As well as exploring  the wedding experience in St.Lucia and Antigua I also had some down time.  Travelling on your own can at times, be quite lonely but the amazing people at Kuoni and Elite Island Resorts kept me busy with excursions and treatments that I had no time to feel lonely.  Instead I felt relaxed and also felt that I had really had time to explore the islands and all that the St.James's Club in St.Lucia and Antigua had to offer and there is so much to offer.  Be it relaxation, time to chill and relax without the children, adventure, water sports, cooking….the list goes on because they really have it all!  (This is why Paul and I choose to  honeymoon in the Caribbean.  It really is amazing)
The day after I arrived (Friday) I had kindly been asked if I wanted to go zip lining.  Zip Lining is one of the excursions that they offer at both resorts.  My first thoughts were, 'are you crazy!'  I have a fear of heights and the thought of standing on a tiny platform in the rainforest had me trembling at the knees.  This excursion has so many great reviews I just had to say yes.  And you know what?  It was brilliant.  After feeling a little queasy before the zip lining ans after,  I can quite happily say that it was amazing!  For any couples out there wanting a little adventure it really is a great excursion.  Oh…and now I don't have a fear of heights!
That evening I was invited to attend a romantic sunset cruise on the resorts own Catamaran (Calypso Cat).  For any couple this is a MUST trip.  It is so very romantic, exclusive (only 8 couples, the crew and myself were on board) and gorgeous.  Words are really difficult to find for this trip.  I have some images below and they truly do not give the sunset cruise justice.  The staff keep you constantly topped up with rum and delightful canopes and are so very entertaining and knowledgable about the island.  Yes, I was that one who was asking lots of questions about the Island.  If I can recommend one trip in St.Lucia this has to be the one!
I was also able to experience the Catamaran cruise at Antigua.  This was a daytime excursion and was really beautiful.  We were taken to a bay on the other side of the island to the resort and wow.  The sea was turquoise.   I have never ever seen a sea look so beautiful.  There are times in your life when sometimes you feel like you are in a dream and are going to wake up at any second.  This was one of those!
There is also Shirley Heights in Antigua where you can party, eat good food and drink good rum.  This is held every Friday night and is the talked about place in Antigua.  Unfortunately, I wasn't on the Island on Friday (this happens only on a Friday) but I have promised myself that I will return to Antigua and I will visit Shirley Heights.
Both of the Islands are truly amazing.  There is so much relaxation to be had.  So much so that one day when I had an hour spare in Antigua I decided to sit on the beach and catch some rays and a beach buggy drove onto the beach and handed out drinks for all the sunbathers.  I didn't even have to move.  Now that is what I call good service!
I have said it before and I will say it again.  Honeymooning in the Caribbean is fantastic.  It's relaxing, warming, hot, fun, full of rum and breathtaking all at the same time.  I had such a great experience and I am already looking for my next Elite Islands Holiday this time taking my family.
The team who made it happen
www.eliteislandresorts.com
St. James's Club Antigua
www.kuoni.co.uk
www.tippettpr.com
www.ultrasun.co.uk
The Verandah
www.eliteislandresorts.com/st-lucia/morganbay

A Few people I want to mention

Alina and Paula – The wedding team in Antigua.
No 1 Travel in Gatwick Airport
Pamela – The wedding co-ordinator in St.Lucia
Mark Grebby – General Manager St.James's Club in St.Lucia
Hayley and Mike – A lovely couple who chatted with me on the sunset cruise and whenever they saw me walking about in St.Lucia
Mr and Mrs. Hardie who I danced the night away with on the beach until the very early hours on my first night.  Thank you for such a fun evening.
Rob and Ali from Wales.  They kindly invited me to join them for a meal on my last evening and we enjoyed a sing song in the evening (Rob.  You have such an amazing voice)
Aqulene Bishop – Manager from The Verandah.
Antoine – Manager at Antigua
Nkems – The beauty lady in Antigua
Driftwood – The BEST taxi driver on the Island.  He knows everything about Antigua.  The man is amazing!

Previous Posts
Bridal Blogathon Introduction
My Best Bits
Weddings in St.Lucia
Weddings in Antigua

*All flights and accommodation for this amazing Caribbean adventure were provided by Elite Island Resorts and Kuoni. No compensation was received for this post.  All views are Boho's own.*

[jprel]