Happy Friday everyone! I hope you're all well and you've enjoyed the week? Are you ready for bonfire night? We're off to a display at our local pub tomorrow night followed by a big family friendly fireworks event on Sunday. I can't wait and neither can Dexter – he is really excited about it! Once this weekend is over, it's officially time to get excited about Christmas! Eeek! Before that though, we have this gorgeous barn wedding to share with you, which was sent in by Natalie the gorgeous bride. Natalie and Thomas chose this dramatic barn venue as they loved its rustic nature and kept the rest of the decor in tune with this. Creating a lot of it themselves, with the help of friends and family, this wedding is a real homespun affair. I just love the bright vivid colours of the amazing flowers, and as for the cake table….delicious! Thanks to Hollie Nicole Photography for the lovely photos.
A special day filled with excitement, funny moments, wonderful food and some epic dance moves!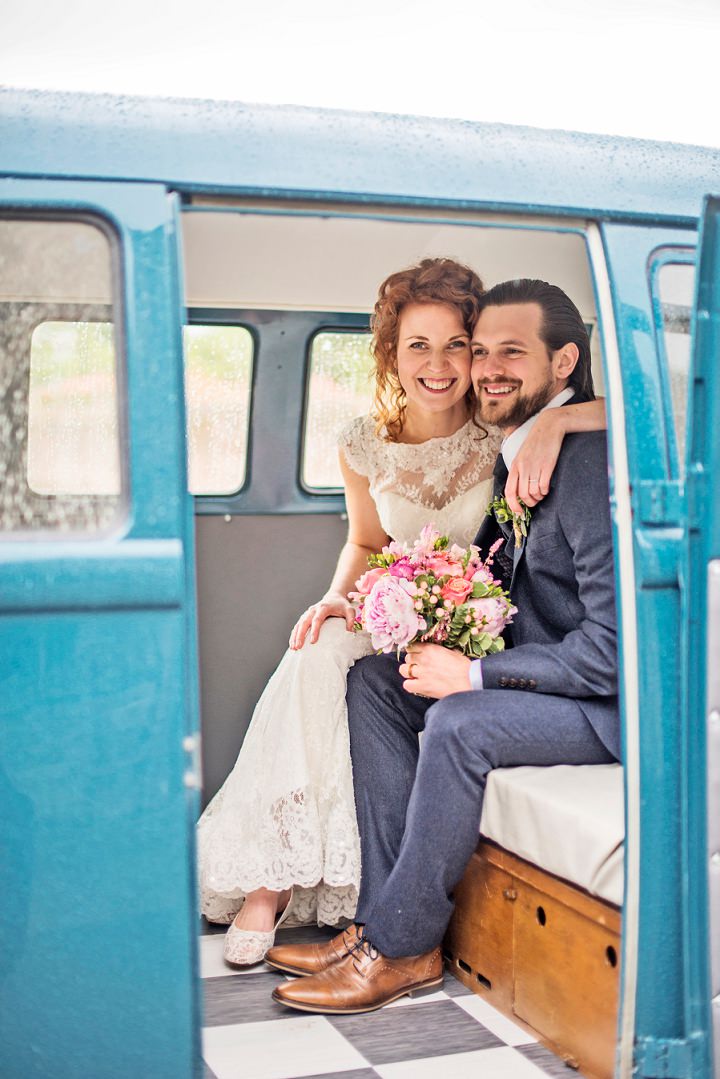 Natalie and Thomas were married on 20th May 2017 at St Bedes church in Rotherham, followed by a reception at Whiston Manorial Barn. "We'd always known we both wanted a traditional church wedding, and somewhere local so that everyone special to us could make it. The father was really welcoming and friendly too. As for the reception venue, Whiston Manorial Barn was somewhere we'd known about for a long time and we loved its rustic vibe and thatched roof. I was really excited to get started on the wedding decor but knew we had to focus and get the big decisions out of the way first. Within a couple of months of getting engaged, we had booked the church, reception and photographer, as they were the most important elements for us. By Christmas, we had sorted the florist, transport, and bridesmaid dresses, and the after that we just took one decision at a time, made it, and moved on to the next. We both on the same page in terms of our priorities for the day and overall budget. We made the big decisions together and Tom let me play around with the stuff I loved – decor and details! We had 78 guests in the day and 120 in the evening."
How they met
We met at college when we 17 and put in the same class for further maths. Within a couple of months we ended up sitting next to each other as maths was hard! We got on really well, started spending more time together and started dating a year later, just as we finished college. We separated for about a year in the early days, but have been together now for about ten years.
The Proposal
Tom had suggested walk in the Peak District earlier in the week, so we set off nice and early one Saturday morning in June. We'd been hiking for about an hour, and had started scrambling up to the top of a rocky landmark. It was a lovely crisp morning, with no one else around, and that was when Tom took my hands, got down on one knee and pulled out a gorgeous ring! I couldn't believe it, it was such a surprise and I didn't suspect it at all. I kept asking if he was being serious. Tom had also planned a surprise party that evening for us too with just our family. The walk back down was full of sunshine and excitement, and it was the most perfect proposal Tom could have ever planned.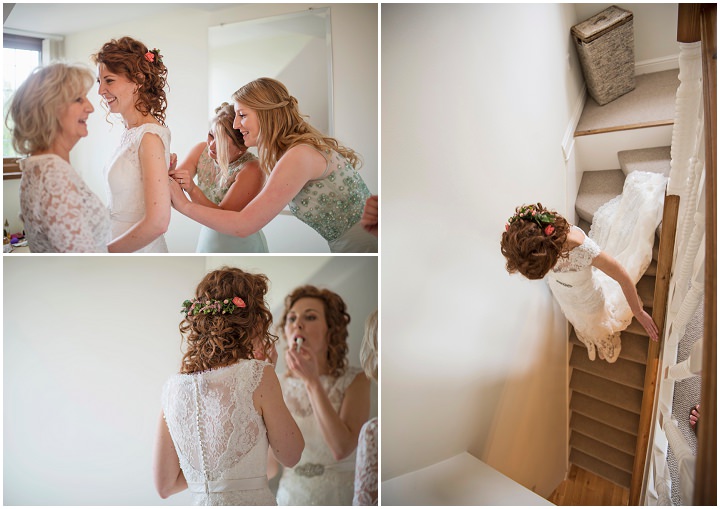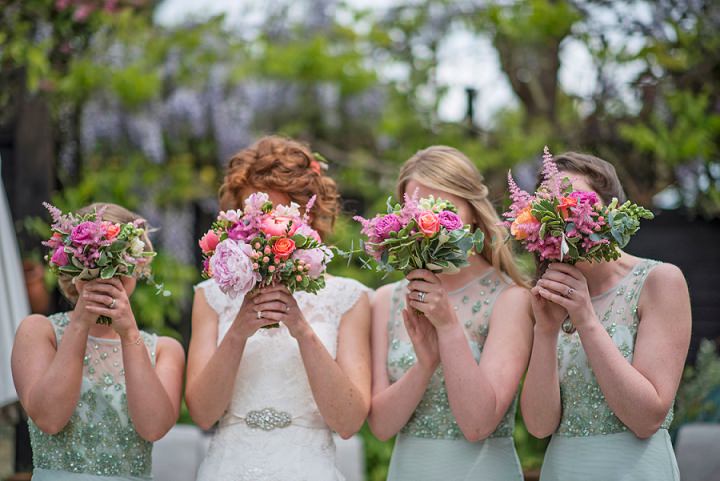 How did you allocate your budget?
We didn't set ourselves a wedding budget. Instead, we just ensured we were sensible with the decisions we made and didn't get carried away. We made a spreadsheet and listed the expected cost of all the essential wedding details and then started to add in all the other stuff. I suppose we prioritised what was most important to us, looked at everything else sensibly and then thought about where we could add our own homemade touches.
Whwere did you splurge and where did you save?
It was important to us that we had tasty food and well fed guests. We also prioritised the photographer so that we would have amazing photographs to cherish and look back on once it was all over. We splurged on a few non essential things like the vintage photo booth and the VW camper van, but they were both so fun and  come with special memories and I'm so glad we had them. My dress was a bit of a splurge too, but my parents kindly bought that for me and paid for a few other things too.
We saved on the stationery, venue decor, flowers and wedding cake. I'm pretty crafty, and create wedding stationery and hire venue decor for a living so we saved a lot here as we already had everything we needed to style the reception venue. We took fresh flowers from my mum and dads garden for the top table feature, and plants from the local garden centre for a few of the decor features. As for the cakes, more on these later, but they were all home made!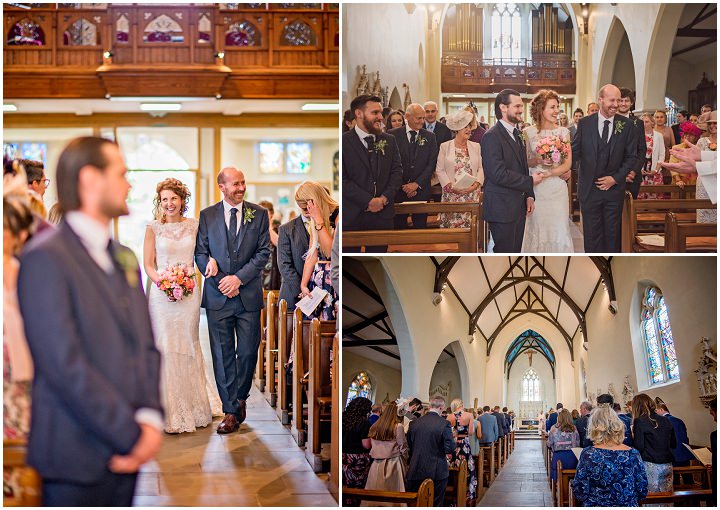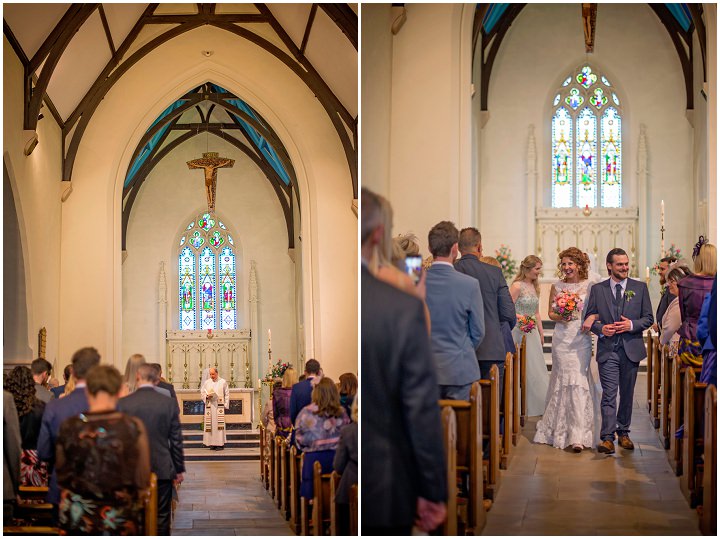 Why did you choose your photographer?
The photography was a really important part of the day for us, and when we started looking at reportage style photographers I came across Hollie Nicole Photography. When I met Hollie, she was so friendly and passionate, and I left feeling really excited about having Hollie at our wedding. We booked her the next day. We had an engagement shoot a couple of months before the wedding too, and the photographs from this were stunning! She did such a brilliant job of capturing our wedding too. The photographs and are exactly what I had always hoped for, and I'm so thrilled we chose her – she was the perfect photographer for us.
The Dress
My dress was from the Snow collection by Lusan Mandongus.  When I first tried it on I loved the shape and fit, with gorgeous lace detail and a beautiful waist belt. Originally the dress had a really low back, but I asked the seamstress to create a custom lace back piece with satin buttons. I decided against a veil and went with flowers in my hair instead. 
The Suit and the Bridesmaids
Tom had always wanted to wear a navy suit and found a wool blend suit he loved with matching waistcoats at Next. We picked up some navy wool blend ties online, and asked the guys to choose their own brown leather shoes. As for the bridesmaid dresses, my maid of honour was really helpful and sent me a link to some mint green floor length dresses from Coast. They were the perfect colour, with gorgeous embellishment and the bridesmaids loved them!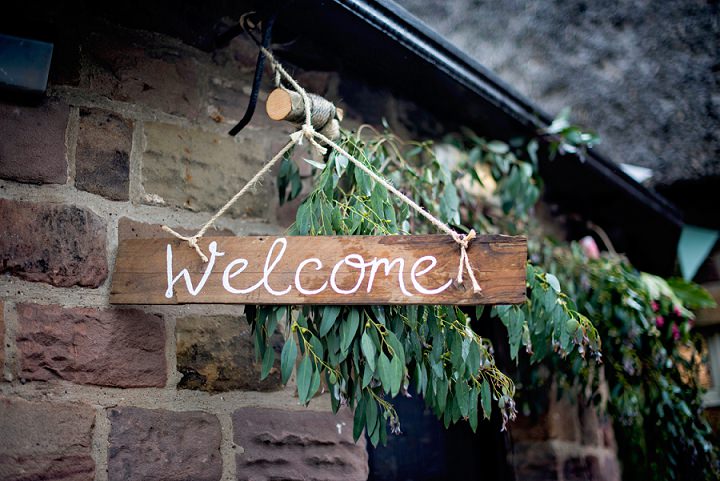 Theme or Colour Scheme
The theme sort of came about itself once we had started to pull everything together. As for colours, it was a navy, cream, mint, coral and pink colour pallette that was anchored by the suits, dresses and flowers. We just made sure all the little extras like bunting and decor complimented this. We were aiming for a rustic vibe which we pulled together with the wooden decor, candles and festoon lighting. It sort of had a hint of an english garden theme too it to, with all of the flowers and the home grown lavender, chives and rosemary favours which went down a treat.
Flowers
I'd had a picture of a gorgeous bouquet saved on pinterest for years, and always knew I'd love flowers just like that for my wedding. I took the image to the florist, and we started from there, building in a few of my favourite flowers and working with our colour scheme. The bouquets were made up of peonies, freesia, roses and some smaller wild flowers, with lots of greenery. They arrived on the morning of the wedding and the scent was amazing, and I wish I could have bottled it up! She also made me a floral headpiece, and all of the boutonnieres for the gents and some individual pieces for our mums.  
Decoration
We had candles and copper wire lights to illuminate the tables, and some industrial festoon lighting strung between the wooden beams. We had lots of flowers and plants everywhere too – in jars, watering cans, plant pots and gin bottles. There was plenty of handmade wooden decor too. We used the wooden crates to create some little feature corners with lights and flowers and signage. We had a mix of wood and slate signs to point out where things were, to welcome guests, and used one for our order of the day. We used wooden crates and a log slice cupcake stand that my dad made to display all of the tasty desserts, which looked incredible. Outside the barn we covered the entrance to the barn with some hanging willow branches, wooden steps with flowers and plants, and a vintage bicycle.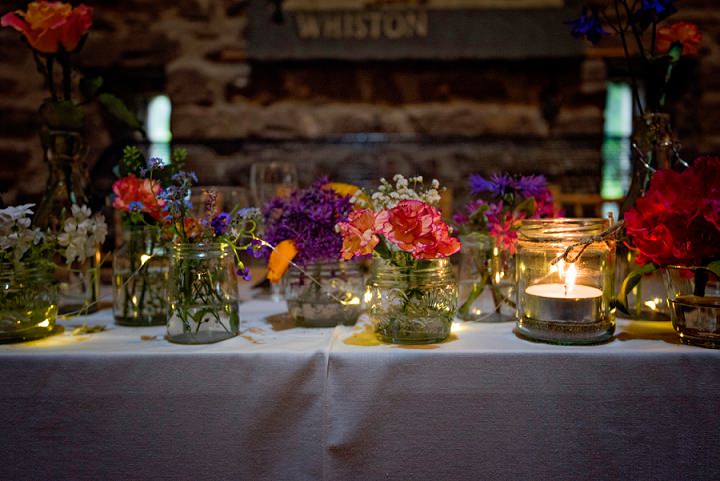 What did you eat?
We had a bacon, celeriac and herb potato salad to start with which was amazing, followed by roast beef and vegetables with huge Yorkshire puddings. For dessert we had a delicious sticky toffee pudding and ice cream.
Wedding Cake
We couldn't decide on just one cake, so we decided to go with a cake table with a selection of tasty home made treats! I'd always fancied a naked cake, and my mum who is a pretty remarkable baker made a three tiered cake with lemon & lime buttercream and some chocolate cupcakes. I baked lemon & poppy seed muffins, Tom made rocky road, and Tom's mum made two iced fruitcakes! 
Entertainment
We had so much fun in a vintage photo booth at our friends wedding last December, that we really wanted one at ours too. It was a really quirky set up with a vintage camera and fabric hangings, that printed out black & white pictures for guests to take home. I created a guest book, some chalkboard signs and provided some glue sticks, and our guests did the rest! At the end of the night we got a USB stick with about 300 pictures on, which were great to look through.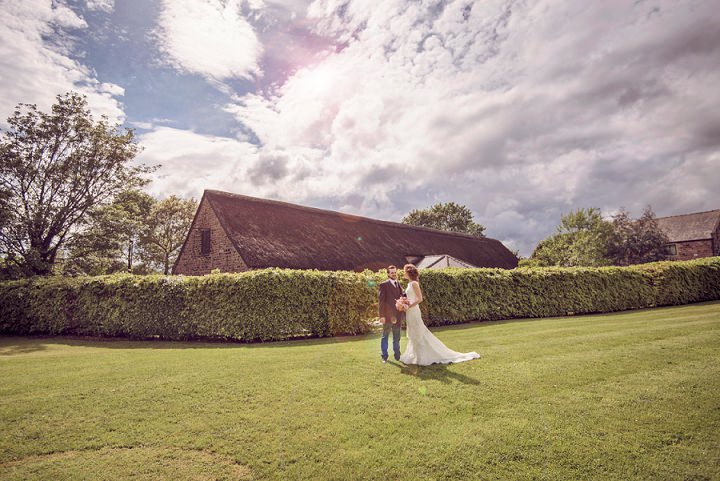 Who supplied the stationery?
As I create hand painted wedding stationery for a living via Rustic Wedding Box, I always knew i'd be doing my own stationery. In the end I decided to create a greenery themed stationery set in watercolour paints, on ivory card mounted on soft metallic gold. I put the invitations in kraft envelopes and sealed them with a green wax leaf seal. I then created matching decor for the venue, with table numbers, menu cards, and table plan cards which I nailed to a whitewash wooden board.
Personal Touches
We did lots of stuff ourselves, and so personal touches were pretty much everywhere! My dad made the cake stand, apple crates and wooden card box; our mum's made the cakes; we grew our own plants for favours – lavender, chives and rosemary; I made all of the signs and smaller bits of venue decor; my mum dad & brother made all of the bunting and as for flowers, my mum arranged all flowers in jars the day before the wedding and my dad created an amazing hanging willow entrance feature at the barn!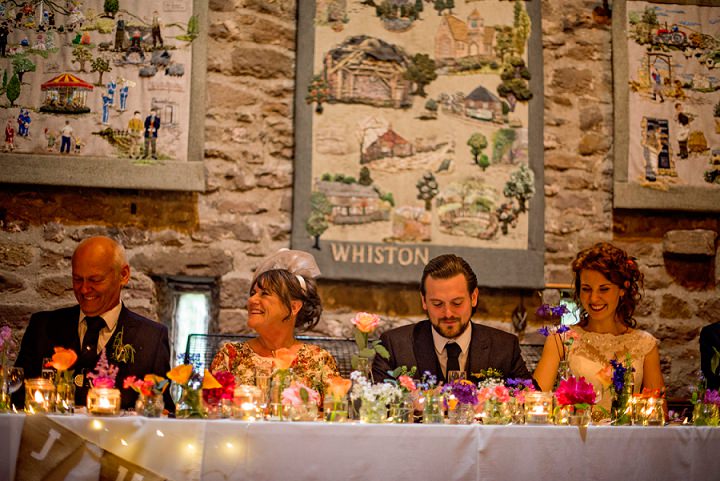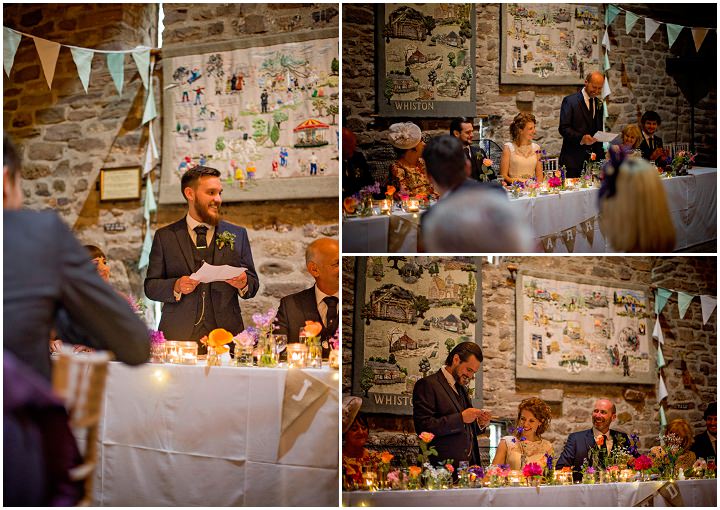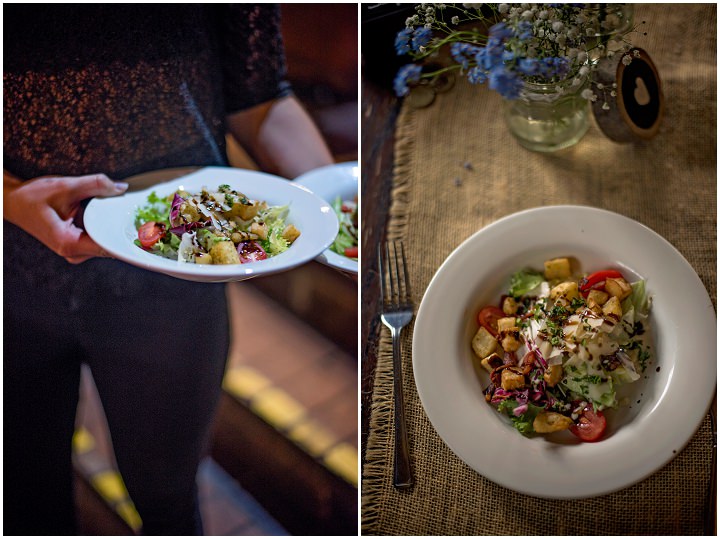 Special Moments
There were so many special moments. Getting ready at home and putting my dress on with mum. In church, I loved walking down the aisle with my Dad, seeing Tom with a big smile on his face at the front of church, and having our brothers who mean so much to us present our wedding rings during the service. The speeches were really fantastic too and I'm honoured that so many lovely things were said. As for dancing; the first dance, last dance, and all the dances in between with our parents, brothers, bridesmaids and friends were amazing. The confetti throw was pretty magical too and the confetti cannons that I bought last minute added a real bang! That was a fun moment.
Advice for other couples
When it comes to planning, friends and family can be great sounding boards for advice. Use it when you need it and then make the decision with your partner. Don't worry about following rules or expectations; it's your special day, so do what you want and do what makes you happy. Your guests will notice the special little details and that make it unique.
On the day itself, just enjoy every moment because it goes so fast. Just go with the flow, trust in your planning and the people around you, and take the time to look around and take it all in. During the wedding breakfast, we ended up walking around all of the tables to chat to our guests between courses, which wasn't planned but something I am so glad we did. It was an impromptu decision, and we got to spend much more time with our guests and each other as a result.
Biggest Surprise
The speeches! They were all brilliant. My Dad said the most wonderful things and I was really proud. Tom's was a real surprise and I loved listening to his speech, and the Best Man's was just as expected! Lots of laughs!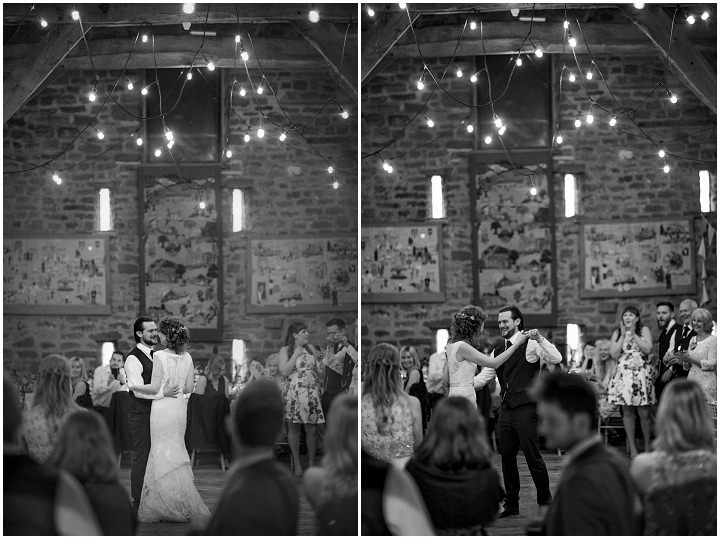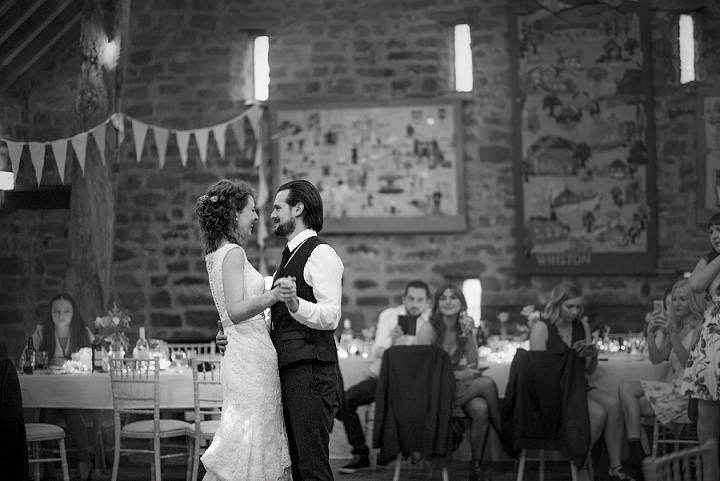 SUPPLIER SHOUT OUTS
For more information about Hollie's work go to:
www.hollienicolephotography.co.uk  /  FACEBOOK  /  INSTAGRAM