I love my job! this maybe a cliche but I really do! I love it even more when fabulous new suppliers come to Sheffield and make the wedding collective we have here even better than it is!
What am I talking about? The new Bridal shop The White Room Bridal Boutique that opened in Sheffield on 16th July.
The White room is run by the completely stunning Chloe who is the brains behind the new store! Chloe has succeeded where so many have failed in creating something totally unique in her bridal boutique. A beautiful store that holds the most amazing array of contemporary designers of both dresses and accessories. Her ethos is totally different as she looks more deeply into what makes a bride by a certain dress and works with each customer offering a different sort of customer service so making sure that each bride goes out of the door feeling a million dollars! Her passion for the designers and the dresses she stocks is something that is quite clear when first talking to her, she loves what she does and is completely in love with every detail of her stunning store.
Chloe told me her thoughts behind the opening of the boutique 'Our aim is to reach a bride who knows her own style and isn't afraid to push the boundaries of traditional bridal to whatever level that works for them. We wanted to create a calming and inspirational boutique and back this up with innovative and fashion forward designs and materials so that we are constantly evolving and moving forward'
The Boutique itself is very simple and modern with a small twist of vintage thrown in, with pale grey walls with white and chrome accents, the simplicity of the decor really lets the beauty of the dresses shine through.
The best thing for me is the designers she stocks, I am a huge lover of Jenny Packham….I just LOVE everything she does and Chloe has a wonderful selection of Jenny Packham gowns within her collection. As well as Jenny Packham she stocks a wonderful array of Stephanie Allin gowns which are simply stunning,  Claire Pettibone and  Cymbeline.
As well as the stunning gowns she hold some beautiful bridal accessories from our very own Sheffield lass DC Bouquets  as well as Jenny Packham and Rosie Willett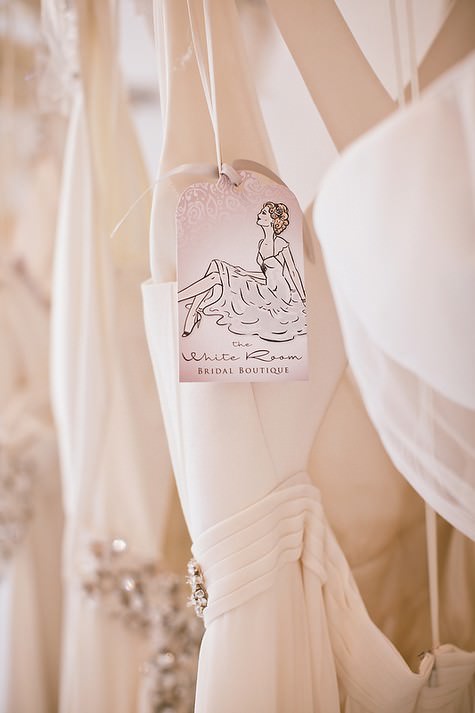 After being open for less than 2 months Chloe has already built up a fabulous reputation in a very short space in time. Her appointment book is full and she already has lots of happy customers who have bought their dress from her stunning boutique.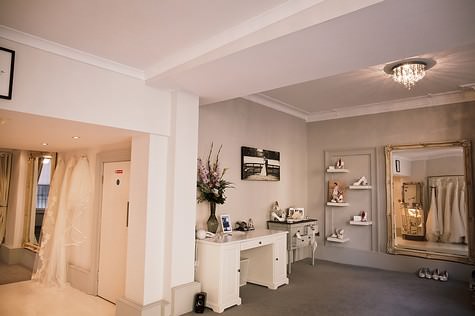 What's even more impressive is that in the 2 months she has been open Chloe is holding her first designer day next weekend and already her diary is full! What's even better (and another reason why I just love my job) is that I have been invited along to the open day to view the dresses and chat with the designer! which I will be reporting on in full on the blog in a couple of weeks. So a week today I will be off with my little notebook and camera to bring you no doubt some quite shockingly bad taken pictures!!
 (all photos of boutique taken by S6 Photography)
The Designer in question is the amazing Stephanie Allin Stephanie is one of the UK's foremost award-winning bridal fashion designers. Stephanie's commitment to excellence in design, beautiful fabrics and perfect fit have been her guiding principles over the past 20 years in Bridal Fashion. She will be showcasing her Jazz Era collection and the whole store will be transformed and styled in that era with the help of some very clever Sheffield wedding suppliers!
Stephanie says about the collection 'the 2012 collection called 'The Jazz Age' is inspired by the great age of Hollywood black and white movie. the glamorous collection mixes sumptuous fabrics and divine beaded lace. key pieces include our beautiful, delicate shrugs, which add sparkle and glamour to any dress'
(invitation designed  by Paper Dates)
So before I head off to look at all the wonderful dresses next week I thought I would give you a sneak peak of the Jazz Age collection that will be showing next weekend. the collection is adorable, It oozes Hollywood glamour, with it's classic lines yet fun and sexy tones. My personal favourite is  Ingid followed by Garbo! maybe next week I'll be aloud to try them on??????
Ingrid
Garbo
Fontaine
Lola
Hayworth
So why not make an appointment to try on this amazing collection, if you are thinking about buying a Stephanie Allin dress next weekend is the perfect opportunity for you. There will also be a selection of dresses from the other collections.
For more information go to:
(Please not this is not a sponsored post, I'm just supporting local talent)