Today I have another gorgeous rustic style celebration for you, in the form of this amazing wedding in the Canadian Outback. Aylin and Robert chose Maplestone Farm as it's the family farm where Robert's father was raised. For the couple, it seemed only fitting to hold both the ceremony and reception there. The farm brought with it, it's own beautiful whimsical decoration and a charming rustic nature. The couple injected colour into the venue, with flowers that were home-grown and other areas of decoration that they created. A beautifully crafted day that is stunning from beginning to end, captured perfectly by David at Todor Wedding Co.
A beautiful farm wedding in the Canadian outback with family traditions at the very core. A boho, al-fresco style wedding with a whimsical decor theme.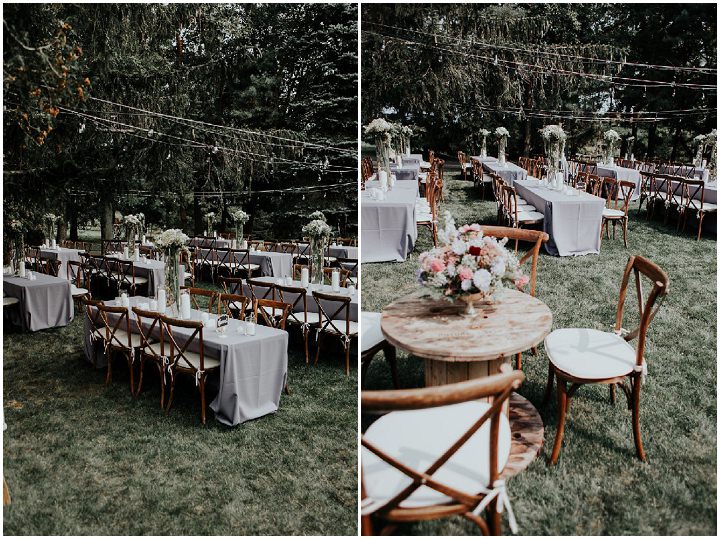 Aylin and Robert were married on 16th September, 2017 at Maplestone Farm and the Sugar shack in the bush. 'MapleStone Farm has been in Rob's family since the 1920's. Formally a dairy farm, it's where his father and the rest of his siblings were raised. Today, the farm is owned by Rob's father, but is still very much a family gathering place. It has recently undergone an extensive renovation that pays homage to the fieldstone masonry and original wood features. On the 100 acre property is a 12 acre sugar bush where the Rappolt family makes maple syrup every spring. The ceremony took place at the sugar shack, nestled along a beautiful meandering creek in the heart of the forest. This setting, and the grounds around the farm house, made for a beautiful wedding. We became engaged in September of 2016, and we started planning right away! The best part was waking up to pictures from Rob showing how we envisioned the wedding. We had 150 guests.'
How they met
We actually met on Tinder! I was on for less than hour, and Rob was the only person I spoke to. I promptly deactivated my account, but not before getting Rob's number.
The Proposal
Rob proposed in McGregor Bay ON, right by the lake as the sun was setting. McGregor Bay was a childhood summer getaway, where his grandparents had a cottage. The day after, Rob's grandparents joined us to celebrate. It was a very special time!
How did you allocate your budget?
We wanted to ensure that our guests had the best possible experience, so we focused most of our budget on food and entertainment. We were careful in how we spent in other areas, and in some cases it was equally expensive to rent as it was to buy, so we bought items that we would later sell. We also have an amazingly talented group of friends and family, and everyone pitched in! It was greatly appreciated.
Where did you splurge and how did you save?
We absolutely splurged on the fireworks and it was totally worth it! We saved money by growing our own flowers (thank's to my father in-law!).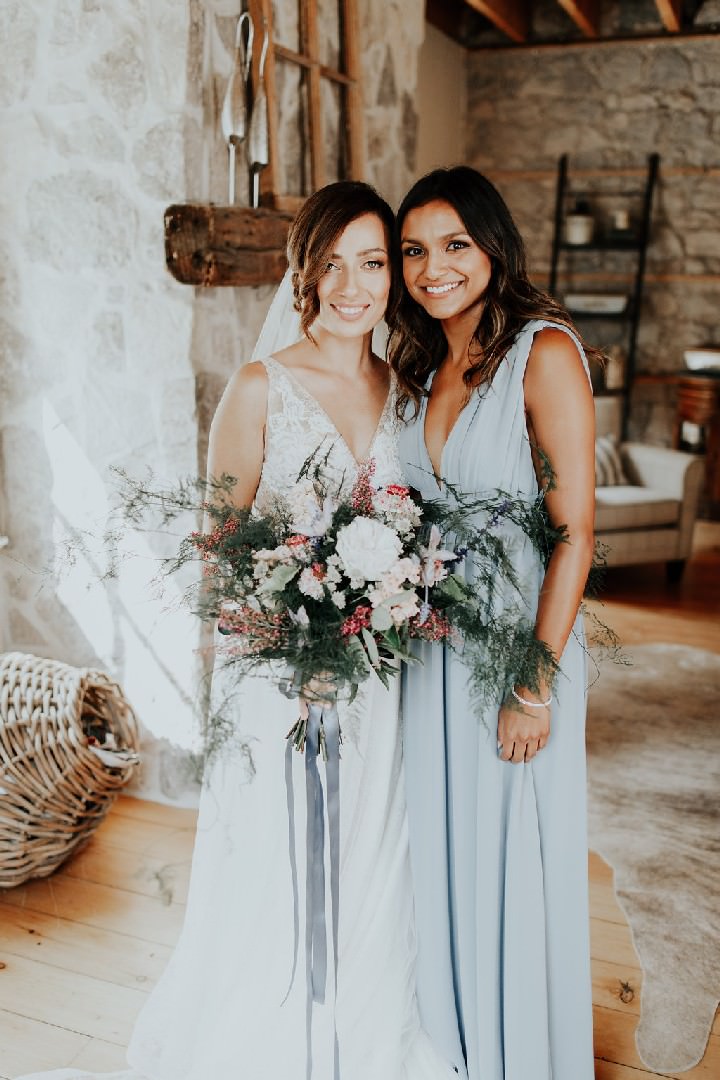 Why did you choose your photographer?
I became familiar with Todor Wedding Co's work through Instragram and by following his website. He specialises in al fresco / boho style weddings, so we knew it would be a perfect fit. I love the vintage feel to his work. 
The Dress
I tried on at least 50 dresses! I went to stores in Toronto and Kitchener-Waterloo. The brand of my dress is Mikaella Bridal and is from North York, Toronto. I love supporting local companies as much as possible. My veil was from The Brides Project which is a non-profit and all the proceeds go to fighting Cancer. My shoes were from Aldo and my earrings were from Taylors Bridal.
The Suit and Bridesmaids
The suit was from Reiss in the Eaton Centre. The salesperson, Mitch, was the nicest guy and really tailored the suit to Rob's taste. The bridesmaids dress was from Lulu's.
Theme or colour scheme
I asked all my close family members to wear something that had blue in it. The boys wore dusty blue accessories and my Maid Of Honor's dress was a dusty blue color. 
Flowers
For Christmas, my father-in-law gifted me a catalogue to a local seed company called William Dam. I was able to choose anything I wanted but because all the flowers were being grown on the property I needed to make sure they were going to be of season. I wasn't too specific of colours. I wanted it to be a free spirited flower wedding. Many times, guests don't notice flowers at weddings but at my wedding, I pointed it out during my speech. I wanted everyone to appreciate Just Blooms effort.
Decoration
The decorations were very important to me. I wanted to create a very whimsical, outdoor garden party so I wanted a lot of candles, with the fairy lights above everyone. We got some colour from the tablecloths and flowers, but the rest of all the rustic vibe came from the spools and cocktail tables from Warehouse84.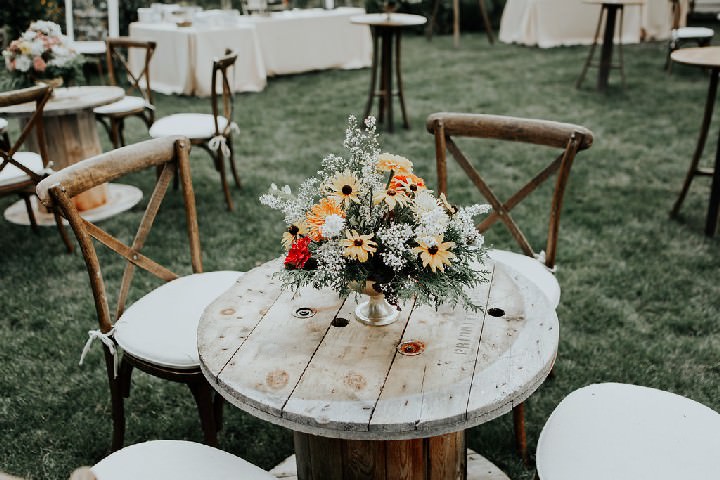 Food
Rob and I both wanted some of our all time favourite foods featured at the wedding and we also didn't want a sit down dinner. When we met with caterer Rachelle of Lily Ruth Catering, we threw all our ideas at her and she came up with a masterpiece that made the both of us very happy. To start, we had a large Mezze spread with cheese sourced from Turkey, roasted veggies, breads, hummus etc. During dinner, at the food stations we had mussels, striploin steak, chicken, salmon, lamb, soups, and salads. One guest said after the wedding, "I want to emphasise on the food- mind blowingly good!" 
Wedding Cake
The wedding cake was designed and made by our beautiful mother, Yvonne Weir. She and her sister Jackie (who was visiting from England) made the most moist and delicious white cake with fig filling and decorated with edible gold coated figs and flowers. We also had an impressive assortment of pies from a little bakery called Doohers in Campbellford, Ontario.
Entertainment
For entertainment we had our friend's band called The Rewind Line and a DJ so we could cover everyone's flavour in music.
For our first dance, we enrolled in dance lessons and had a choreographed dance that we surprised everyone with. The final yet best entertainment of all was the surprise fireworks display. It was the best fireworks display I had seen since being a kid! 
Who supplied the stationery?
All our prints were from Vistaprint! Great selection and reasonably priced. Couldn't go wrong.
Personal Touches
The wedding was filled with personal touches. I think it's so nice for your guests that know you to see little details of you from when they knew you to now. Starting with the ceremony area, we hung pictures from when we were born, adolescence, teenager to now.
Rob is an Urban Planner and lover of the outdoors, so we had seedlings that my Mom and I sewed burlap pouches for each of them. I pinned an evil eye on them to make them a little more interesting. We also had maple syrup in 100ml bottles that were from the Rappolt trees back in the bush and bottled by Rob's uncle Paul Rappolt.
Our signature drink, was a fig cocktail. I have an obsession with growing figs, and being Turkish, I love the taste of them. So I found a recipe from Dillion's Distillers site called 'I figgin' love you'. It was a huge hit!
My father in law, Bob, has an impressive garden full of vegetables, so one of the food stations was called "Bob's Roasted Vegetable Garden".
Special Moment
The 'special moment of our wedding' was definitely Rob's Boppa's champagne toast. The highlight of the day for me was the whole day. It was the most magical day.
Advice for other couples
Everyone says the day goes by so fast, and it's true it does. Do your best to take it all in and try your best to be guest at your own wedding. That's the trick to enjoying it all!
Biggest Surprise
Was that everything went perfectly!
SUPPLIER SHOUT OUTS
For more information on Davids work go to
www.todorwedding.com / www.todorwedding.com/category/wedding / FACEBOOK / PINTEREST / INSTAGRAM / TWITTER 
I absolutely love meeting new people and learning about their life experiences. Humans are beautiful creatures and our unique personality and flavors of life is what makes this journey so amazing. What fascinates and excites me the most are the incredible achievements and commitments that humans are capable of performing — purchasing your first house, commitment to unconditional love through marriage and growing your family.