On this damp and dreary Friday afternoon, today I have a lovely burst of colour for you from Long Meadow Farm in Canada! This gorgeous, whimsical wedding inspiration shoot is set on a wildflower farm that is so full of lavender you can almost smell it. A stunning Truvelle dress and atmospheric smoke bombs add to the whimsical wedding theme. I love a boho bride with a strong lip, too. Hats off to the fabulous styling team with this one! Many thanks to regular contributor Rikvah Photography for the images today; you can also see her latest real wedding featured here. 
Whimsical boho summer wedding, dripping with macramé and lavender. Purple smoke and two people moving in a technicolor beat.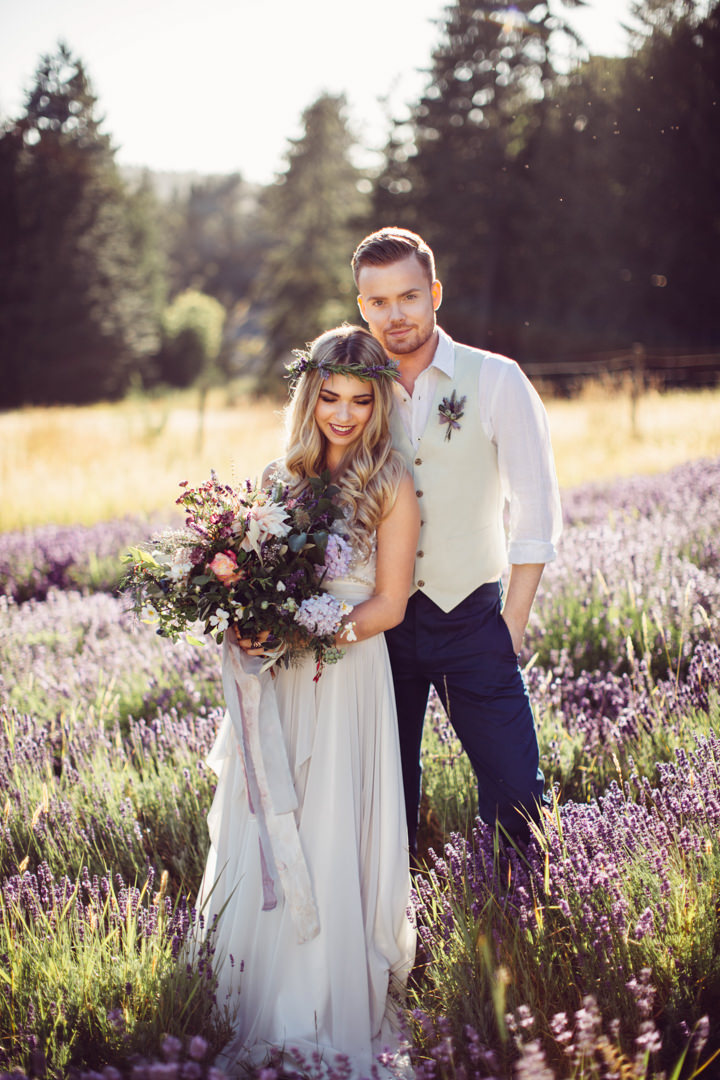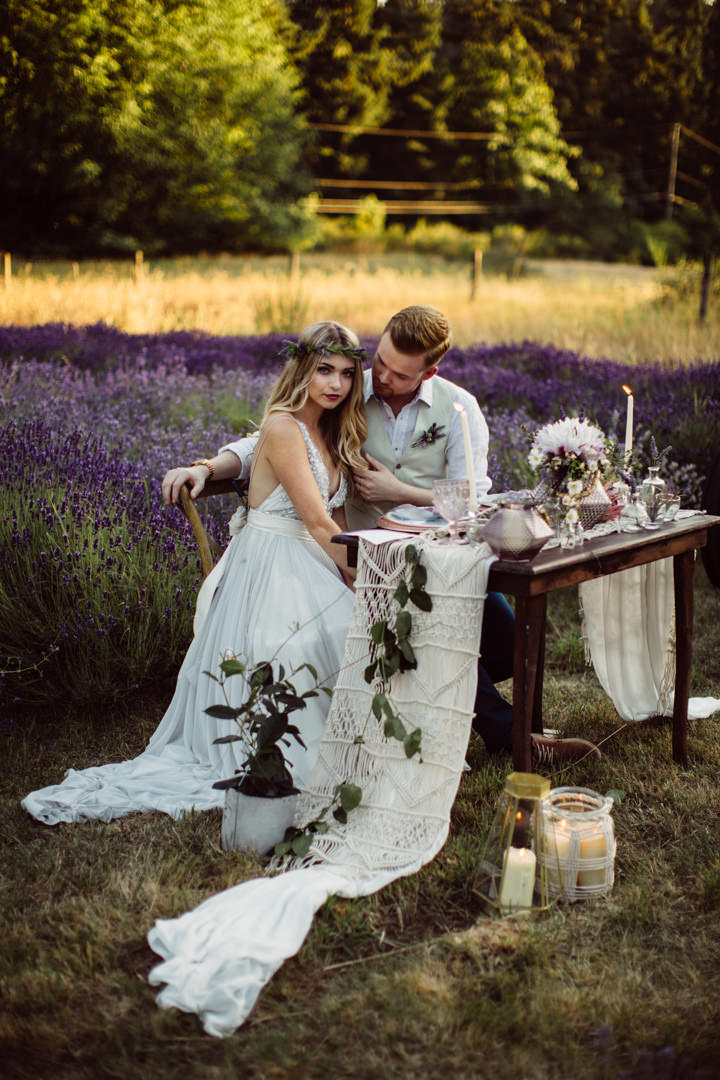 About the shoot
I have wanted to shoot a lavender bridal for two years but couldn't find a suitable place and missed the blooms. ! What was your inspiration behind it? Lavender was my ultimate wedding shoot inspiration because I love it so much. But I themed this shoot around the song Technicolor Beat by Oh Wonder. I had been trying to find a good medium between my light wedding shooting style and my darker editorial style, so I wanted a perfect medium…. and I did it!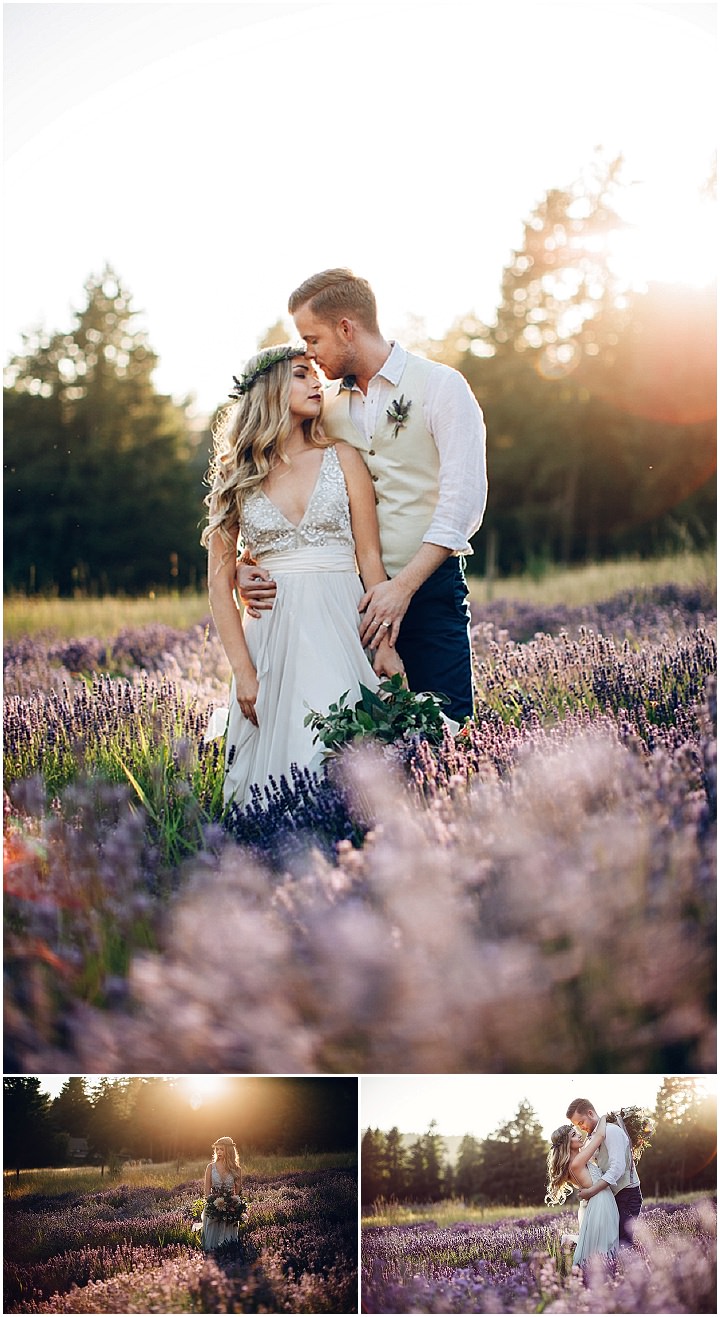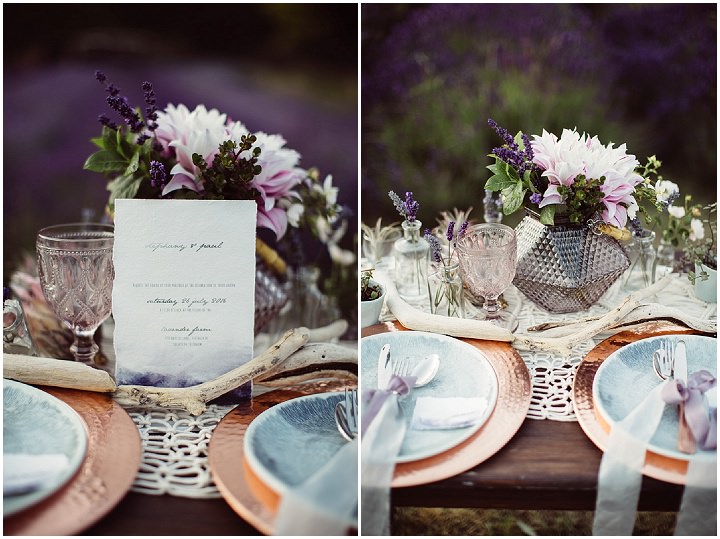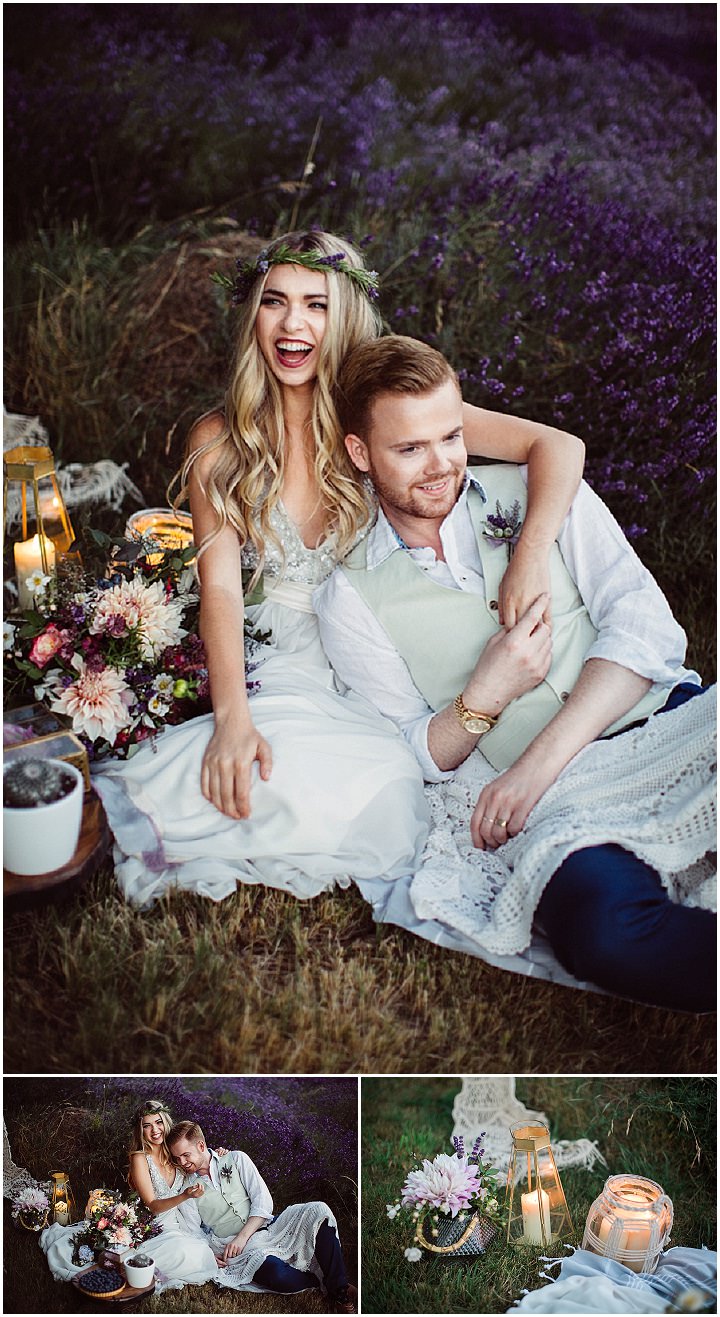 The Team who made the Shoot Possible
Photography: Rivkah Photography by Rebecca Carroll www.Rivkahphotography.ca
Models: Callum Shandley & Scarlet Redpath www.barbaracoultish.ca
Mens Wear: Out looks Clothing for www.outlooksformen.com
Gown: By: Truvelle truvelle.com from The White Peony thewhitepeony.com The Alexandra! A dove grey gown with hand beaded lace and double straps. It fit perfectly with our bohemian Lavender theme down to the stationary.
Decor: Trend Decor by Danielle Lewis Website: www.trenddecorevents.com
Flowers: All flowers were picked that day at Long meadow Farm and were styled by FLEURtacious by Lynda Marie www.lyndamarie.ca It's every florists dream to have a floral cutting garden as lush and varied as Longview Lavender Farm. Flowers featured in this bouquet consisted of the highly sought after Cafe au Lait Dahlias, beautiful Garden Roses and Hydrangeas. An abundance of Herbs including Lemon Verbena, Rosemary and Lavender for a sweet summer scent and touches of Blueberries added a fun twist to the combination. Ribbons used are a Plant Dyed Silk which complemented this all natural, ethereal styled bouquet perfectly. The Boutonniere was created using Lavender, Rosemary and a few Blueberries for some great texture
Makeup: Hollie Brown Website: www.privebeautylounge.ca
Hair: Amanda Adamec www.facebook.com/Studio2hairdesigns
Stationary: Studio 745 www.facebook.com/Studio-745
Location: Long Meadow Farm  Vancouver Island Canada. Long Meadow Farm is a beautiful flower farm in Saanich, B.C. They are currently taking small wedding ceremonies on their property and have a beautiful guest house and pool. Her property boasts amazing gardens full of Peonies, Dahlias, Roses and of course Lavender.
FOR MORE INFORMATION ON REBECCA'S WORK GO TO:
www.Rivkahphotography.ca / www.rivkahphotography.ca/blog / 250-589-3686 / [email protected] / FACEBOOK / PINTEREST / I: @Rivkah_foto /
My name is Rebecca, I am originally from the Isle of Wight England, raised on Vancouver Island British Columbia Canada. Located just outside of British Columbia's capital Victoria, in Sooke BC. I shoot mix of editorial and fine art photography. I am always evolving my style and I love to capture photos that make people feel something. I started in fashion and boudoir and moved into weddings and fell in love! Making moments into memories is amazing and I am so lucky to have people who love my work and allow me to do what I love for a living. I am very blessed